Wednesday's Therapist Has Another Kooky Connection To The Addams Family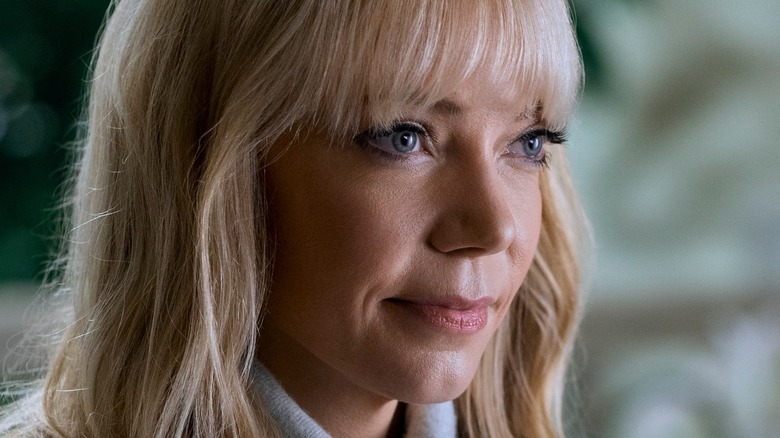 Vlad Cioplea/Netflix
In Netflix's new take on the dark-humored daughter of The Addams Family, everyone is a suspect. "Wednesday" follows Jenna Ortega's take on the character after she's enlisted into Nevermore Academy, and a body count begins to rise shortly after. But who is responsible? Which among the quirky cast of 'normies' and outcasts is the one with a taste for blood? There are plenty of potential killers in the crowd, but one of them is a cast member that actually has a history with the massively well-known and morbid family, and surprisingly, it's not Christina Ricci.
Yes, the OG Wednesday might be making an appearance in the show as one of Nevermore's teaching staff, but another star has already crossed paths with the Addams. Riki Lindhome plays the mild-mannered therapist Dr. Valerie Kinbott, who, while hoping to help crack through Wednesday's dark exterior, may hold some secrets of her own. Of course, while seeing the Wednesdays of past and present meeting makes for an enjoyable watch, it's worth recognizing Lindhome's connection to a different take on the iconic family — maybe even making a song and dance about it. 
Lindhome wrote Easy To Be Happy for the 2019 animated Addams Family movie
Proving to be a person of many talents, a skim through Riki Lindhome's credentials on IMDb reveals that she actually had some creative input on the 2019 Addams Family animation, one of the many adaptations, known for its pitch-perfect voice cast that brought it to life. With the likes of Oscar Isaac and Charlize Theron as Gomez and Morticia Addams, it also homed the song "Easy To Be Happy." The nails on a chalkboard tune was played when the family rocks up to their new suburban neighborhood, where everyone is far too happy when you have no choice, and incredibly, it was written by Lindhome herself.
Already having a history in horror in its various forms, from appearing in "Buffy the Vampire Slayer" to starring in the remakes of "The Last House on the Left" and "Black Christmas," it's great to see Lindhome also being a part of the more family-friendly, but equally frightening households in pop culture in more ways than one. It's just one of the many strings to Lindhome's eclectic bow, given her massive credit list. We're just glad that this unnecessary earworm didn't wriggle its way over to the Netflix take on Wednesday Addams.