Todd Barbee Had To Call In Back-Up For That Iconic Football Kick Scene In A Charlie Brown Thanksgiving
Lee Mendelson Films
Everyone loves the "Peanuts" holiday movies. One of the most popular "Charlie Brown" episodes besides "A Charlie Brown Christmas" and "It's the Great Pumpkin, Charlie Brown" is "A Charlie Brown Thanksgiving." Perhaps the Thanksgiving episode is all the more special to viewers because there are not as many iconic Thanksgiving specials as there are Christmas and Halloween specials. 
"A Charlie Brown Thanksgiving" came out in 1973, and the voice actor who portrayed him, Todd Barbee, was only 10 years old at the time. In the 30-minute short film, Peppermint Patty invites all the other children to Charlie Brown's house for Thanksgiving, even though Charlie is going away to visit his grandmother. Linus gets the idea that Charlie could cook lunch for his friends before going to his grandmother's for dinner. However, Charlie does not know how to cook, so Snoopy does it instead.
Although Barbee was able to handle voicing most of "A Charlie Brown Thanksgiving" by himself, he did have to enlist help for the iconic scene where Charlie Brown kicks a football and Lucy pulls it away, causing him to fall. 
10-year-old Todd Barbee couldn't scream loud enough when Lucy pulls the football away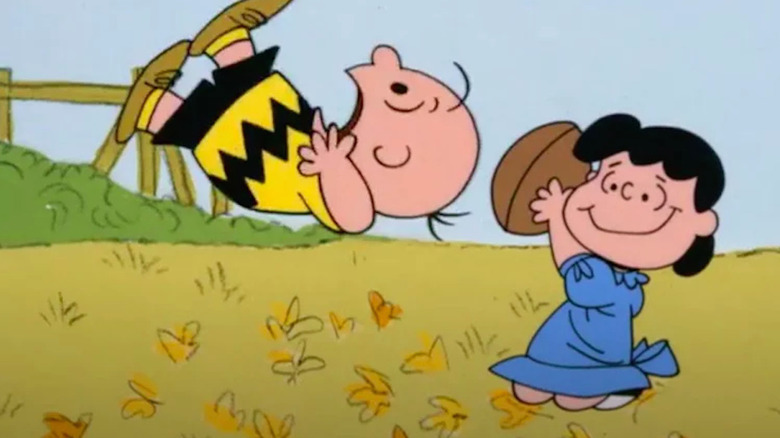 Lee Mendelson Films
In an interview with Noblemania, Todd Barbee was asked if he had any funny stories from his experience of voicing Charlie Brown in several of the specials. Barbee shared a story from "A Charlie Brown Thanksgiving." 
Barbee said, "One time they wanted me to voice that 'AAAAAAARRRRRGGGGG' when Charlie Brown goes to kick the football and Lucy yanks it away," Barbee said. "Try as I might, I just couldn't generate [it as] long [as] they were looking for ...  so after something like twenty-five takes, we moved on. I was sweating the whole time. I think they eventually got an adult or a kid with an older voice to do that one take. 
Similar to how some actors use stunt doubles for certain scenes, it would certainly be necessary for voice actors to enlist help with certain scenes, too. For example, if the film requires singing but the main voice actor can't sing, or in this case, if the show requires a louder scream than what the then-10-year-old child actor Todd Barbee could muster.