James Cameron Explains What It Will Take For Avatar: The Way Of Water To Break Even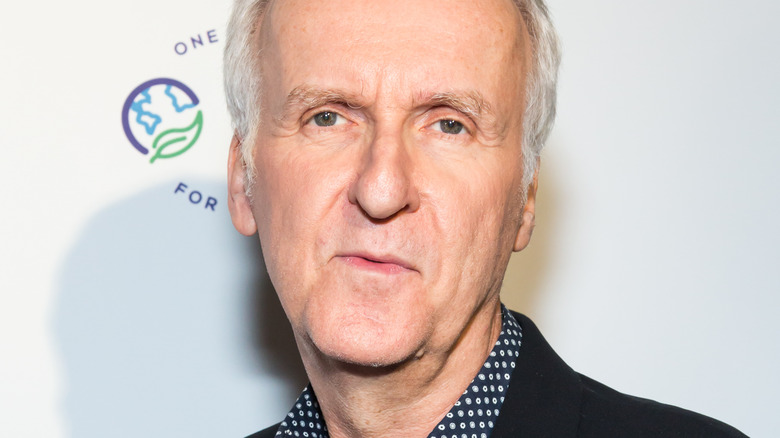 Vladimir Yazev/Shutterstock
The December 16, 2022 premiere date of director James Cameron's second "Avatar" movie, titled "Avatar: The Way of Water," is fast approaching. Since "Avatar" is the highest-grossing theatrical release of all time by at least one metric, it's hardly surprising that the lead-up to the "Way of Water" premiere is perhaps more considerable in scale than that of a typical blockbuster.
Most notably, the first "Avatar" movie — which originally premiered in 2009 — returned to theaters in late 2022, providing interested viewers a chance to reexperience the film in a theater environment before its follow-up's wide release. The "Avatar" re-release also surprised audiences with new "Way of Water" footage after its credits sequence, further teeing up viewers for the imminent sequel.
A trailer for "The Way of Water" likewise preceded theatrical screenings of "Black Panther: Wakanda Forever." In fact, some found its placement in this particular case to be to the detriment of the MCU, given that the visuals in "The Way of Water" overshadow those of "Wakanda Forever" in plenty of fans' estimation.
All in all, "The Way of Water" is a gargantuan production. Recently, Cameron discussed the cost of the upcoming "Avatar" sequel, revealing just what it would take for the film to simply make back its budget.
Avatar: The Way of Water will require a historic level of success before earning any profits
On November 21, GQ published an extensive profile of James Cameron and the work required of him to bring his vision for "Avatar: The Way of Water" to life. Early on in his piece, author Zach Baron mentions that making "Avatar" necessitated the invention of multiple new technologies. As it turns out, rather than reprise his past innovations, Cameron decided to implement entirely new technologies yet again on the set of "The Way of Water."
On top of the inherent cost of these developments, producing "The Way of Water" turned out to be a lengthy process, requiring countless revisions along the way. One special effects shot Cameron showed Woods, for example, went through 405 different incarnations alone.
With that in mind, Cameron initially replied with an expletive when asked how much "The Way of Water" cost. "You have to be the third or fourth highest-grossing film in history. That's your threshold. That's your break even," he continued.
Of course, "Avatar" is considered to be the single highest-grossing film of all time, so rather than tread entirely new ground, the upcoming "Avatar" sequel simply needs to approximate its predecessor's performance. Nevertheless, even just ranking within the top ten highest-grossing films of all time is a high bar, and "The Way of Water" must clear it and then some before making a single dime.