Why Jennifer Lawrence Stopped Watching Phantom Thread After Three Minutes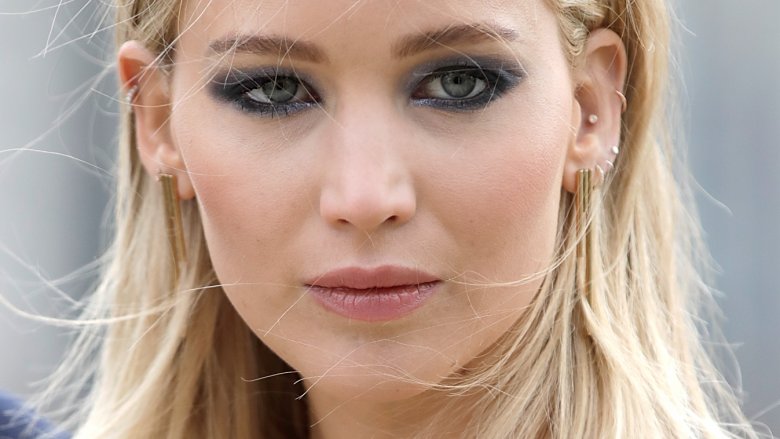 Getty Images
The world may have adored the Oscar-nominated drama film Phantom Thread, but Jennifer Lawrence could barely make it past the first scene. 
Speaking on stand-up comedian and GLOW actor Marc Maron's WTF podcast (via Entertainment Weekly), Lawrence revealed her disdain for the Paul Thomas Anderson-directed film. 
"I got through about three minutes of it. I put in a good, solid three," the 27-year-old actress said before addressing the fact that so many have lauded Phantom Thread. "I'm sorry to anybody who loved that movie. I couldn't give that kind of time. It was three minutes, and I was just [oof]," she quipped.
Phantom Thread follows now-retired actor Daniel Day-Lewis as the immensely talented (but somewhat narcissistic and definitely eccentric) dressmaker and British fashion house head Reynolds Woodcock and Vicky Krieps as Alma, the strong-willed waitress who disrupts his life and becomes his muse. Lawrence zeroed in on this central premise to reveal why she dislikes Phantom Thread as much as she does.
"Is it just about clothes? Is [Lewis' character] kind of like a narcissistic sociopath and he's an artist so every girl falls in love with him because he makes her feel bad about herself and that's the love story?" the starlet asked Maron. "I haven't seen it, so I don't know. I've been down that road, I know what what's like, I don't need to watch that movie." 
Lawrence was quick to assure Maron that she wasn't referring to her ex-boyfriend Darren Aronofsky with that statement. The two collaborated on mother!, the psychological horror film that, like Lawrence's reason for shutting Phantom Thread off before the five-minute mark, let many people incredibly confused. 
Regardless of Lawrence's inability to watch the whole film, Phantom Thread is up for six Academy Awards this year: Best Performance by an Actor in a Leading Role (Daniel Day-Lewis), Best Performance by an Actress in a Supporting Role (Lesley Manville, who plays Cyril), Best Achievement in Music Written for Motion Pictures – Original Score (Jonny Greenwood), Best Achievement in Costume Design (Mark Bridges), Best Achievement in Directing, and Best Motion Picture of the Year.