Why Did The Walking Dead's Title Sequence Sound Different In The Series Finale?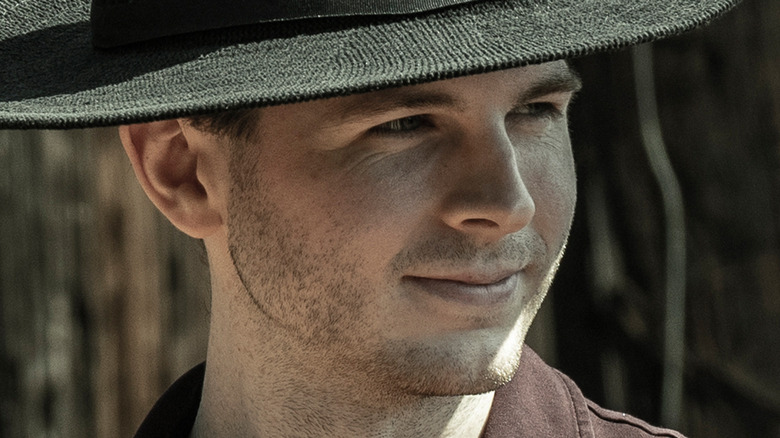 Jace Downs/AMC
After more than a decade on the air, the final episode of AMC's hit zombie show "The Walking Dead" premiered November 20. For fans still keeping up with the series, the end of "The Walking Dead" was plenty emotional, given that it's remained a staple of cable TV since its inception in 2010. As "Walking Dead" producer Scott Gimple promised ahead of its airing, the series' conclusion attempts to wrap up the hundreds of episodes of story preceding it rather than simply set the table for future spinoffs.
Gimple shared such a statement due to the fact that multiple spinoffs are currently in the works, despite some "Walking Dead" fans feeling spinoff fatigue. The fact that the series finale prioritizes a satisfying ending, then, lets viewers with no intention of following future incarnations of "The Walking Dead" simply stop watching without necessarily developing a feeling of missing out once the franchise's new shows begin to air.
For these viewers, the last episode of "The Walking Dead" provides a final chance to see familiar characters like Daryl Dixon (Norman Reedus) and Negan Smith (Jeffrey Dean Morgan) in action. That said, both longtime fans and newer viewers may have noticed that the music in the title sequence of the series finale sounds unfamiliar compared to what was used throughout the show prior to its final episode.
The Walking Dead finale uses an orchestral rendition of the music in its title sequence
After the final episode of "The Walking Dead" first aired, some viewers noticed that the music in its title sequence sounded different than usual. In a Reddit thread discussing the episode, user SendEldritchHorrors asked, "Did they add extra flourishes to the title theme? Sounds like it." More than 450 users upvoted this comment, and a few users replied that they heard some subtle differences as well.
User toxicbrew accounted for the changes, explaining that the show's composer Bear McCreary utilized a live orchestra for a new rendition of the show's usual title sequence theme. McCreary, in fact, posted about recording this new arrangement in July of 2022 on his personal Twitter account. "Recording the final episode of @WalkingDead_AMC, with a massive symphonic orchestra in LA. The ensemble was astonishing. 3 of our players were there a dozen years ago, recording the Main Title and score on the session for the first episode!" he wrote.
So, while the composition of the music in the title sequence of the series finale remains the same, McCreary enlisted a symphonic orchestra to record a new version to commemorate its last time airing on TV before a new era of "The Walking Dead" begins.