Inside Official Trailer Has Fans Sensing An Award-Winning Performance From Willem Dafoe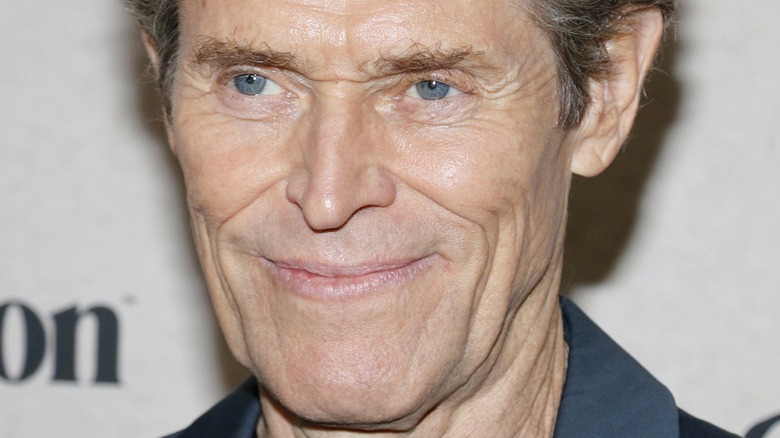 Tinseltown/Shutterstock
Would you believe that Willem Dafoe has yet to be the recipient of even one Academy Award? Criminal, right? Dafoe's engaging performances seem to elevate any project he is a part of. Whether he's giving some morbid company to Robert Pattinson in "The Lighthouse," pulling our heartstrings in "Platoon," or gleefully gliding around as the Green Goblin in Sam Raimi's "Spider-Man," it seems there's yet to be a genre or tone that Willem Dafoe could fail at.
His presence alone can dominate the screen with either the most ludicrous screams or the most silent stares. Probably owing to his background in experimental theater (via New York Magazine), Dafoe's understanding of the profession never feels boxed in. There's never a moment when the actor allows his reputation to take over, diving deep into what the source material asks of him and finding what part of him he can place into the role. That raw dedication to his craft kicks Dafoe a few notches above the rest and makes his performances so gosh-darn irresistible.
Despite all of Dafoe's exceptional performances, the actor has yet to win a single Academy Award, despite being nominated multiple times. However, his luck might just be changing, as a new trailer for the upcoming film "Inside" has fans' jaws on the floor from Dafoe's performance.
Inside might give us the ultimate Willem Dafoe performance
"Inside" follows a thief who gets trapped in a New York penthouse apartment for several months while performing a heist. If the premise itself doesn't sound tantalizing enough, then Willem Dafoe's performance surely will. In the "fiction feature directorial debut" of Vasilis Katsoupis (via Screen Daily), the film will see Willem Dafoe in the lead as art thief Nemo who must fight tooth and nail to survive in the isolated apartment. Dafoe delivers a raw and jolting performance in a two-and-a-half-minute trailer.
Fan reactions have been pouring in, all in awe of Dafoe's incredible work. On Twitter, user @toddthefox puts it bluntly, "That 'Inside' movie looks either deceptively mid or like it's gonna be the one to finally get Willem Dafoe his Oscar and there is no in-between." Similarly, @Road2Oscars had their worries about the film, saying, "I saw this trailer in the theater recently and thought this is either gonna be amazing or tiring. I'm banking on the former. It's Willem Dafoe!"
A Reddit thread led by u/Comic_Book_Reader saw numerous responses about Dafoe's award-worthy performance. Redditor u/karmagod13000 simply puts it, "We're in the defoessance," while u/QCKingFya excitedly exclaims, "WOW!! Take my money now and give the best actor award to Willem Dafoe already!!!" Will "Inside" be the film that sees Dafoe finally get that coveted golden statuette? We'll have to find out when the film releases on March 10, 2023.