Victoria Pedretti Credits Co-Star Penn Badgley For Inspiring Her You Performance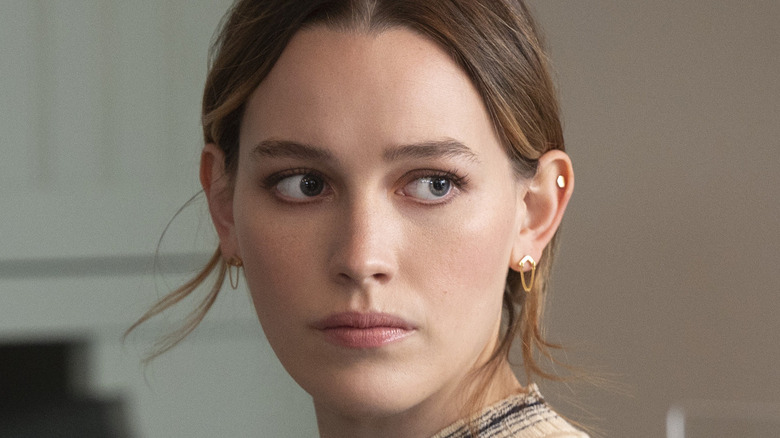 Netflix
Victoria Pedretti has quickly become one of Hollywood's most notable rising stars. Incredible performances in Netflix's "You," "The Haunting of Hill House," and its sequel, "The Haunting of Bly Manor," propelled her career to new heights.
While her roles in the "Hill House" horror series earned her numerous award show nominations, it's her portrayal of Love Quinn in "You" that fans have really gravitated toward. The series first premiered on Lifetime before making its way over to Netflix for Season 2, when Pedretti joined the cast. Following its addition to the streaming service, "You" reached new heights that it would never have on Lifetime. Audiences propelled the show into one of Netflix's biggest hits, with Season 2 receiving over 40 million views in its first four weeks on the platform. Netflix renewed the show for a third and fourth season, but Pedretti's time on the show ended in Season 3.
Although she's had a wildly impressive career for such a young actress, landing a role in Quentin Tarantino's "Once Upon a Time in Hollywood" along with her Netflix gigs, Pedretti isn't officially attached to any future projects. Her movie "Lucky" lost its financing, resulting in the studio scrapping the project, and she recently departed the Hulu series "Saint X" due to creative differences.
In her free time, she's appeared on "You" co-star Penn Badgley's podcast, "Podcrushed," where the two broke down her portrayal of Love.
Pen Badgley and Victoria Pedretti have nothing but praise for one another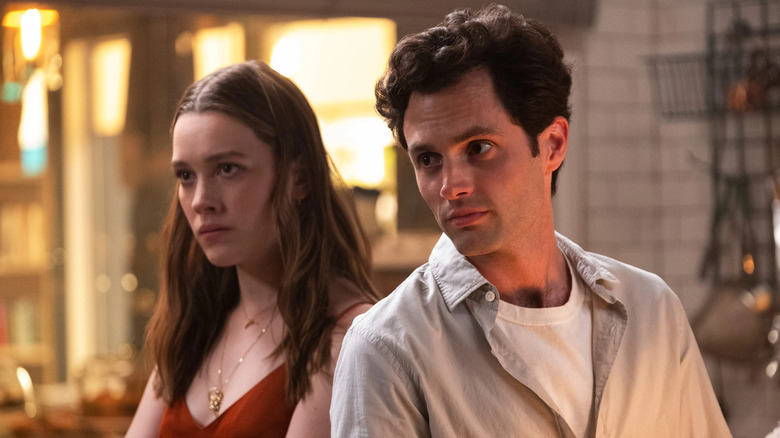 Netflix
Not only is Penn Badgley captivating audiences on Netflix's "You," but he also cohosts the wildly successful podcast "Podcrushed." Each week, Badgley, Nava Kavelin, and Sophie Ansari sit down to talk about anything from middle school embarrassments to on-set stories with frequent guest appearances. This week's episode featured Badgley's "You" costar, Victoria Pedretti.
The actress revealed that any praise she receives for her performance is thanks to Badgley. Joining the show in Season 2, following the success of Season 1, Pedretti had a lot to live up to, which would be stressful for any actor. She told "Podcrushed" that she based her performance on what Badgley accomplished in the first season. "I think I based my performance on what I saw Penn doing in the first season. You've got the recipe, you know? Like, you know how to make a character that is insane and yet sympathetic. And so, I think a lot of what I was trying to do was just, like, match that energy."
The "Podcrushed" hosts praised Pedretti's performance throughout Seasons 2 and 3, with Badgley stating that she reached a level with Love that he hasn't been able to get portraying Joe. "I think when you're on set and when you're playing her, you identify with her so much, and again, I think that's beautiful," he told Pedretti. "I think the way I view Joe, in some ways, limits the way I'm able to portray him, whereas you really embrace her." Badgley's cohosts Kaveline and Ansari echoed his sentiments, further highlighting the masterclass performance the actress put on during her time on "You."
Unfortunately, we won't see more of Pedretti's performance when "You" Season 4 hits Netflix next year.