A Charlie Brown Thanksgiving Director Tried To Remove A Woodstock Scene Over Cannibalism Concerns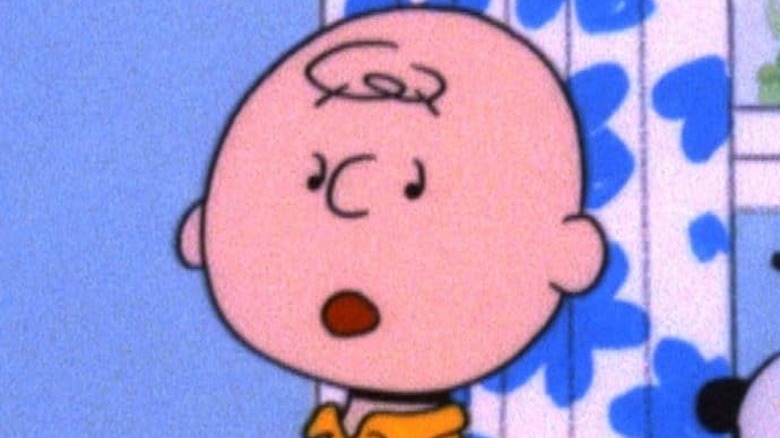 CBS
Back in 1950, when Charles M. Schulz had his first "Peanuts" comic strip published in seven different newspapers across the nation, he couldn't have possibly known that not only would it become a global sensation, but that it would still be on the public's radar more than seven decades later. Before announcing his retirement in 1999, Schultz saw his original comic strip grow to become published in over 2,600 newspapers (via Charles M. Schulz Museum). However, many fans have much clearer memories of those fictional kids from their annual animated holiday TV specials. 
After CBS found success with previous installments, "A Charlie Brown Christmas" and "It's the Great Pumpkin, Charlie Brown," fans were gifted 1973's "A Charlie Brown Thanksgiving." Adding to the seemingly ever-growing franchise, the Thanksgiving special, which won an Emmy Award, follows Charlie Brown trying to throw together a proper holiday meal for an expanding list of friends. In the end, Charlie, Snoopy, and their friends show up at his grandmother's house where they joyfully sing and eat. However, there's one detail in this ending scene that not only bothered some fans, but also the show's Executive Producer/Director. The specific detail in question occurs when Snoopy is carving the turkey to pass out. It's not so much the action of the food distribution that has people bothered, but who the food is being served to.
During a day of thanks, Woodstock may have done the unthinkable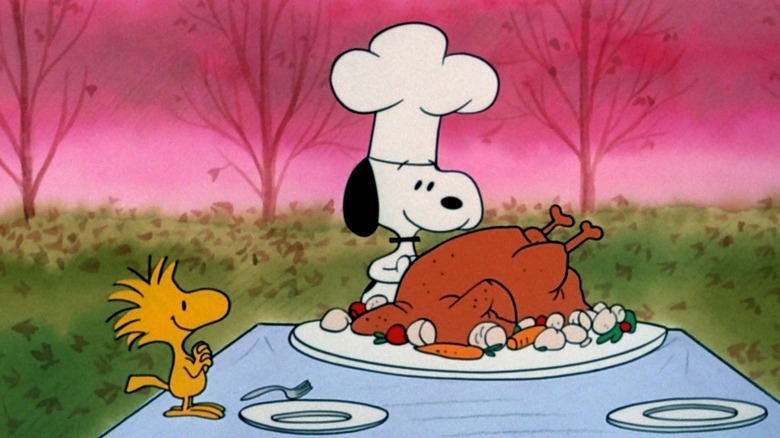 CBS
In the 1973 CBS special, "A Charlie Brown Thanksgiving," Snoopy carves a turkey to pass out to friends and family. However, handing over a slice of that very turkey to Snoopy's sidekick, Woodstock, made some people feel uneasy. "[Charles M.] Schulz insisted that Woodstock join Snoopy in carving and eating a turkey," wrote Executive Producer/Director Lee Mendelson in his editorial for the Huffington Post. "For some reason, I was bothered that Woodstock would eat a turkey." 
Of course, Mendelson refers to the fact that Woodstock may actually be committing cannibalism. After all, it's a bird eating another bird. But, Schultz disagreed. "I voiced my concern, which was immediately overruled," Mendelson recalled. He goes on to explain that the scene was cut years after when CBS shortened the special from 25 to 22 minutes. But, when the rights of the show were moved over to ABC in 2001, the network went back to its original length. 
This possible animated atrocity has not only been voiced by Mendelson but by fans as well. On Reddit, u/codcampaigner exclaimed, "Just rewatched A Charlie Brown Thanksgiving and at the end there, Snoopy serves up a nice looking bird for himself and Woodstock. Anyone else find this horrifying?" Meanwhile, u/turboshot49cents passed along helpful words of wisdom saying, "Cows are mammals, and it's socially acceptable for humans to eat cows ... It must be the same for birds. Woodstock is a canary, and he's eating a turkey."