Chicago Fire Fans Are Fighting Back Tears Over That Mention Of Evan
The sudden, unexpected death of "Chicago Fire" Paramedic Field Chief Evan Hawkins (Jimmy Nicholas) stands as one of the most heartbreaking character exits in the series' long history on NBC. The startling moment takes place in the "Completely Shattered" episode of the One Chicago show's Season 11, as Hawkins attempts to assist a victim outside a burning theater. As girlfriend Violet Mikami (Hanako Greensmith) looks on in horror, the façade of the building catastrophically collapses onto the two men. The Firehouse 51 squad moves in to dig through the building debris, finally uncovering the unconscious Hawkins. After Violet's frantic efforts to revive him prove unsuccessful, he passes away, leaving her and the rest of the team grief-stricken. 
The fact is, the romantic combo of Hawkami became a true fan favorite over the course of Season 10, even though the two share a complicated love affair that frequently tests what is clearly a powerful bond between them. That said, when Hawkins' memory was evoked in the "Chicago Fire" Season 11 installment, "A Beautiful Life," fans had to dial down the waterworks.
Fans are happy-sad when Chicago Fire namechecks Hawkins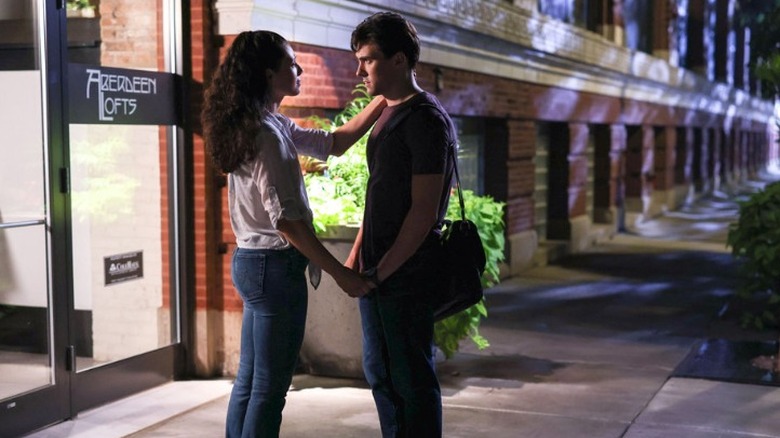 Adrian S Burrows Sr/NBC
In "Chicago Fire" Season 11, Episode 8, Violet and her paramedic colleague, Sylvie Brett (Kara Killmer), are chatting over drinks. It turns out that they recently met a man who knew Hawkins. Bemused by this unlikely coincidence, Violet is prompted to say wistfully that at the time it seemed like Evan was briefly in the room with them.
Responding to the moment on Twitter, "Chicago Fire" fan @jstark804 said that while they're not quite able to accept Hawkins being gone from the show, they're happy he's not forgotten, writing, "Evan Hawkins was a huge loss, and I'm still not over it. Also, I love that we're still bringing him up." After quoting Violet's line about it seeming that Evan was in the room with them, @MeetUsatMollys tweeted plaintively, "I am not okayyyyy." Two other fans were also feeling a mix of emotions about the scene, with @it_carley413 saying, "Am I happy that they remember Evan? Yes, but it still hurts," while @iamjadeeeee wailed, "Evan mentionnnnn pleaseeeee I'm cryingggggg." And "Chicago Fire" Chi-Hard @KristyWilson2 said the show just isn't the same without Nicholas's character, then suggested a possible fix, proposing that, "They need to let Violet have some dreams with him in it or something."