Glass Onion Has Some Costumes That May Rival Even Chris Evans' Infamous Knives Out Sweater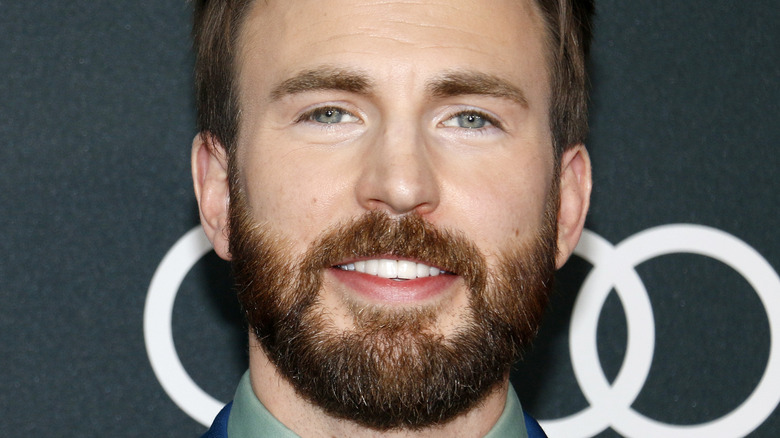 Tinseltown/Shutterstock
Rian Johnson's "Glass Onion: A Knives Out Mystery," the standalone sequel to 2019's "Knives Out," is nearing its release date. The film sees Daniel Craig returning as master detective Benoit Blanc, who must search for the killer amongst a group of friends after a murder mystery party turns deadly.
So far, the critical response to "Glass Onion" has been highly positive — it currently holds a 92% Tomatometer score on Rotten Tomatoes — with some critics even saying it's better than its predecessor. The story may be just as well written and surprising as "Knives Out," but there's still one important question on some fans' minds: will "Glass Onion" feature another instantly iconic outfit, on par with the infamous sweater Chris Evans wore in the first film?
If you need a reminder, there's a scene in "Knives Out" where Chris Evans' character, Hugh Ransom Drysdale, wears an ivory chunky knit sweater — one that looks incredibly cozy. The sweater took on a life of its own, gaining an abundance of attention from viewers to the point that there were written about it — including The Hollywood Reporter's in-depth interview with costume designer Jenny Eagan, in which they discuss the sweater in great detail. When addressing the fact that the sweater went viral, Eagan quipped, "I'm not sure if it's the sweater or who's wearing the sweater. That might be part of it, too. He looks pretty great."
In a recent interview, Johnson discusses which costumes from "Glass Onion" might just rival Evans' infamous sweater.
Johnson mentions two swim suit looks as potential rivals to Evans' sweater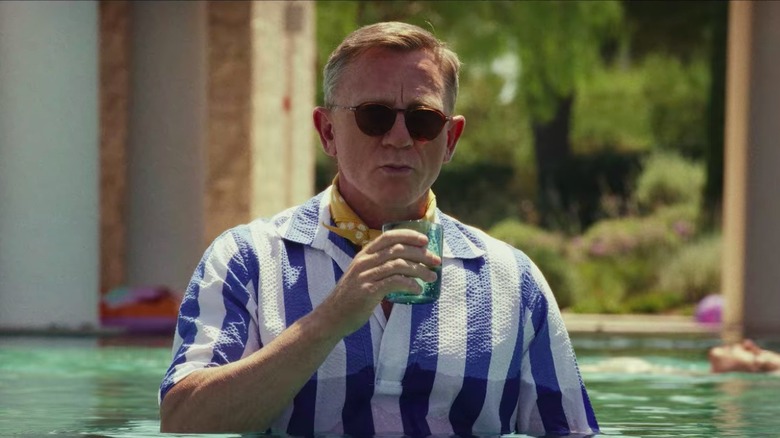 Netflix
In a November 2022 interview with The Hollywood Reporter to discuss "Glass Onion" ahead of its release, director Rian Johnson attempted to satisfy those curious sartorial-minded fans wondering if the outfits in the sequel live up to the infamous sweater from the first film. And for Johnson, it comes down to the swimwear. Johnson said, "I'd love to say Dave Bautista in his little bikini bottom swimming suit. Blanc has a pretty great swimsuit look that is kind of a [French filmmaker] Jacques Tati-style shirt and shorts, that's blue striped that he wears with a yellow ascot, which I think is a damn good look."
Benoit Blanc-portrayer Daniel Craig also recently discussed the striped swimsuit his character dons in a September 2022 interview with Entertainment Weekly. Craig gave all the credit to Jenny Eagan, who returned as the costume designer for "Glass Onion." Craig said, "Jenny, as you can easily see, has a huge sense of fun. She came up with that herself. I had some other ideas, and she showed me a couple of things, and she was like, 'What about this?' And I was like, 'Yeah, come on, let's do it.'"
The entire cast knew that it had the potential to be an iconic outfit. Detailing the first time the cast saw Craig wearing it, his co-star Kate Hudson told EW, "We all really loved it when Daniel showed up that day on set, and we saw it for the first time. It was a moment."
"Glass Onion: A Knives Out Mystery" will be released to theaters on November 23, 2022, before being released to Netflix on December 23, 2022.