The White Lotus Season 2, Episode 4 Recap: Art Imitates Life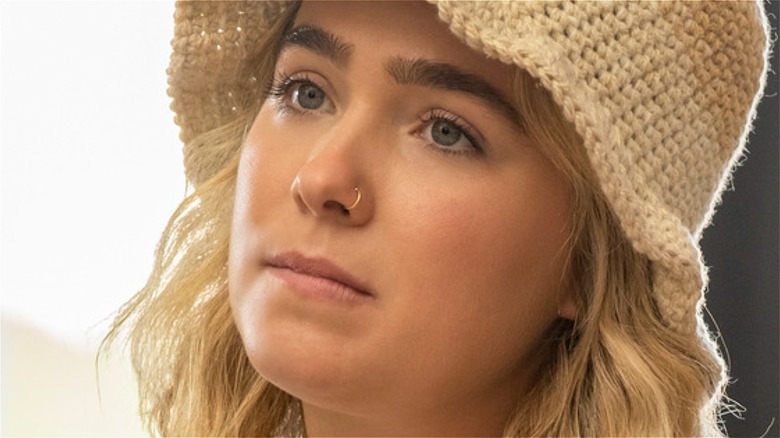 Fabio Lovino/HBO
Each episode of "The White Lotus" is a mystery waiting to be unraveled and Episode 4 is no different. Though many may be waiting with bated breath to see who dies at the end of the season, the real mystery lies in the visuals that accompany each scene. Disconcerting images of waves crashing into rocks become more and more prevalent, but the real stroke of genius is the art around the hotel. Baroque-style paintings seem to watch the characters' secrets and infidelities and pass judgment on their mistakes. And for further information on what these little dramas might entail, look no further than the credit sequence. Creatives Katrina Crawford and Mark Bashore took inspiration from Italian frescoes and chose to leave hints of what's to come in the images. 
"Nothing is in there by mistake," Bashore told TV Insider. "So whether it's a lamb sitting alone in a field, fighting birds, a boar hunt, or monkeys, the animals are doing a lot of the work to talk about people in a way that even a dog lifting its leg says more than you could with an image of a person." Television is a visual medium and Episode 4 of "The White Lotus" demonstrates that there is more than meets the eye.
Scenes from a marriage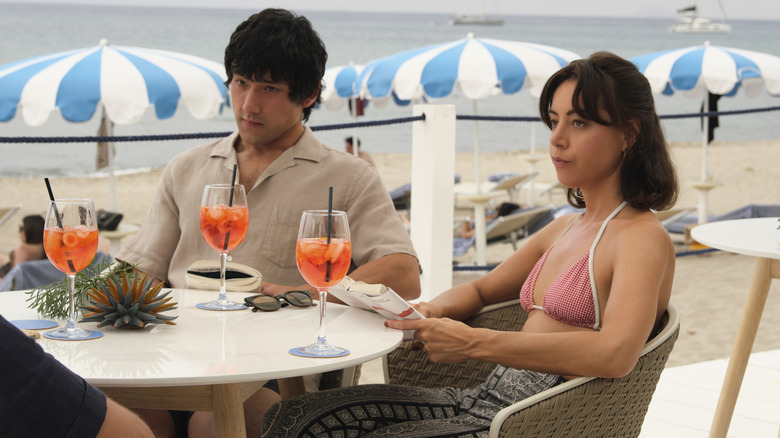 Fabio Lovino/HBO
Jealousy continues to rear its ugly head when Daphne (Meghann Fahy) and Harper (Aubrey Plaza) return from Noto. Daphne proudly tells Cam (Theo James) that it's going to be an Italian Christmas because of all the presents she bought. Whatever irritation erupted between the Sullivans has completely dissipated. The real jealousy comes from Harper, who quickly discovers a condom wrapper in her hotel room. She spends the rest of the episode in a haze, confronted with the possibility of Ethan's (Will Sharpe) infidelity. These themes have been prevalent from the first episode, highlighted by the meaning of the Testa di Moro statues. The sculpture tells the story of a man who was beheaded by his mistress after she found out he had a family.
"There's so much classic mythology about sexual jealousy and the sexual politics of men and women," creator Mike White told Variety. "It just felt like, maybe that should be more of the theme." Scenes featuring these marriages are forebodingly punctuated with more shots of the Testa di Moro, foreshadowing that one of these couples may end in violence. But the longer the season progresses, the more unlikely it seems that it will be the Sullivans (and especially unlikely that they are involved in whatever led to the dead bodies floating in the ocean, seeing as Daphne is the one who discovered those unfortunate souls). Cam and Daphne's relationship may be twisted, but when they are alone, they confess how much they miss each other. Contrast that with Harper's paranoia and it would seem that the Spillers are the pair currently on rockier footing. 
There's no party like a Sicily party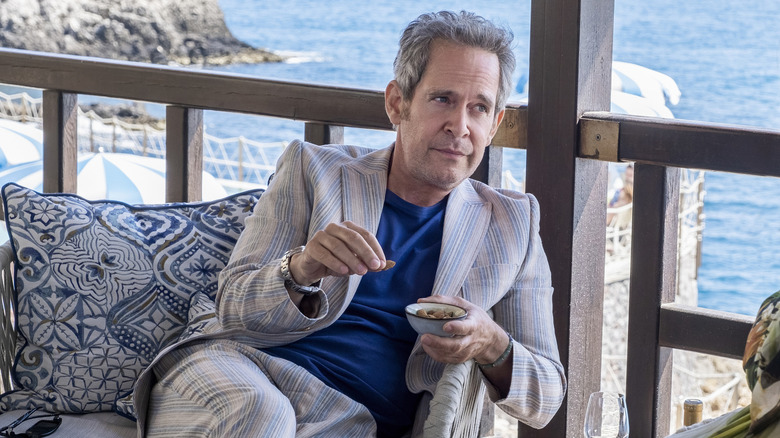 Fabio Lovino/HBO
After drifting through the Sicilian hotel like a ghost, it is high time that someone reminds Jennifer Coolidge's troubled character Tanya she is on vacation. Being abandoned by your husband while on a romantic getaway is a knife in the back, but there is no distraction like beautiful Italian beaches. And at last, someone finally comes into Tanya's life to shake her out of her stupor. While out to breakfast, she runs into the friendly stranger from Episode 3. In a piece of divine casting, Tom Hollander appears as Quentin, a British native who has settled permanently in Sicily. Tanya catches Quentin's eye thanks to her fabulous style, and he immediately invites her to party with him and his friends. Despite the compliments that Quentin lays on her, Tanya is hesitant at first. She was so committed to wallowing in her depression that it never occurred to her that she could have fun.
She tells Quentin she was on vacation with her husband who left her without ceremony. Quentin's disgust with Greg (Jon Gries) is the solidarity that Tanya needs. But this conversation is also laced with tension after Quentin tells Tanya the story of Isola Bella. While open to the public now, the house on the island was previously occupied by a woman who was killed by being pushed off the cliff. With shots of water and caves interspersed throughout the episode, this daunting tale just adds more dread to the episodes ahead.
The battle of the casual vacation hook ups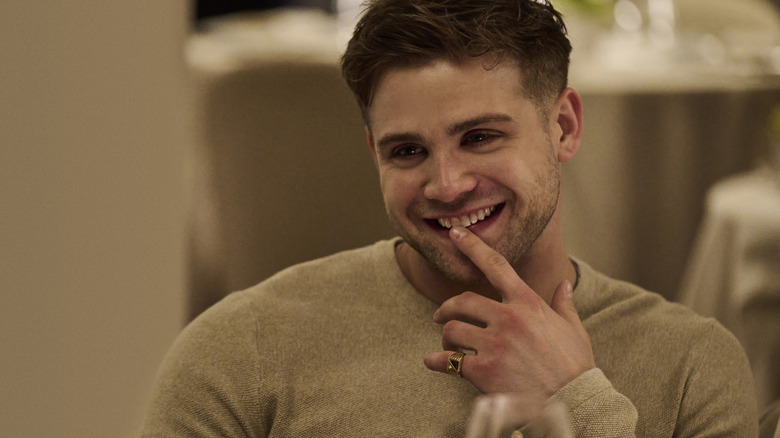 Stefano Delia/HBO
There are no rules in love or war or, in this case, hooking up with the best option you can find. Portia (Haley Lu Richardson) continues to lament how her work vacation in Sicily is just not exciting enough because she hasn't found the exact adventure she wants. Finally, the prime opportunity to live life to the fullest comes when she meets Quentin's ill-behaved nephew, Jack (Leo Woodall). The two of them find kindred spirits in one another. Jack hasn't found any woman under age 60 and Portia just wants to be excited. Bing, bang, boom, here is the perfect recipe for a spontaneous hook-up.
Of course, this throws into chaos the Albie (Adam DiMarco) of it all. Sensitive to a fault, Albie tries his best to connect with Portia but it's obvious that she reciprocates mostly because he is the only option. Portia's dismissal sends Albie serendipitously right into the arms of someone who has coincidentally also slept with his father. Lucia (Simona Tabasco) is on the hunt for a reprieve from her lifestyle and Albie is an easy mark. This all comes to a head when the two couples bump into each other at the hotel bar. Albie is visibly wounded that Portia has dispensed with him so easily, but any guilt that Portia has is only incidental. After making only a small show of remorse for ditching Albie, she finally gets what she wants in the arms of Jack.
Mia the monster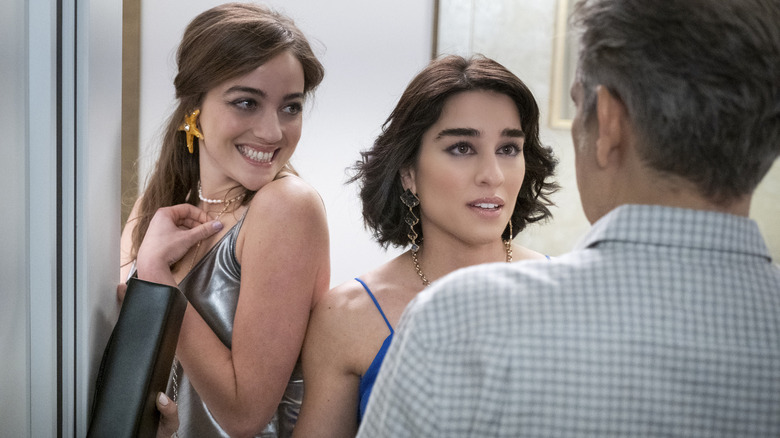 Fabio Lovino/HBO
After becoming embroiled with two different clients at the White Lotus, Lucia is having a crisis of conscience. When Cam shoves her and Mia (Beatrice Grannò) out of his room before his wife returns, the young sex worker starts to regret her chosen profession. All she wanted was to open a shop of her own and maybe travel to Los Angeles, which is her dream. But as Lucia becomes more reserved, Mia goes in the opposite direction. Mia is more determined than ever to chase her dream of being a singer. After her experiences with Lucia, sleeping with Giuseppe (Federico Scribani) doesn't seem so bad.
"I've created a monster," Lucia says as Mia dashes off. Giuseppe's vague attitude toward helping Mia is a red flag. After all, if someone had connections, would they be playing piano in a hotel bar? It does not matter to Mia, who is so insistent that she searches for Lucia's Viagra stash. Unfortunately, Mia grabs what is clearly not Viagra, and practically forces it down Giuseppe's throat. Lucia may be right that Mia has turned into a monster. The only concern that Mia has when Giuseppe collapses on the floor is that he may die and the whole affair would be for nothing. Mia is now dogged in the pursuit of her music, which may make her Giuseppe's natural replacement for hotel singer. For her, the ends justify the means.
When does The White Lotus Season 2, Episode 5 air?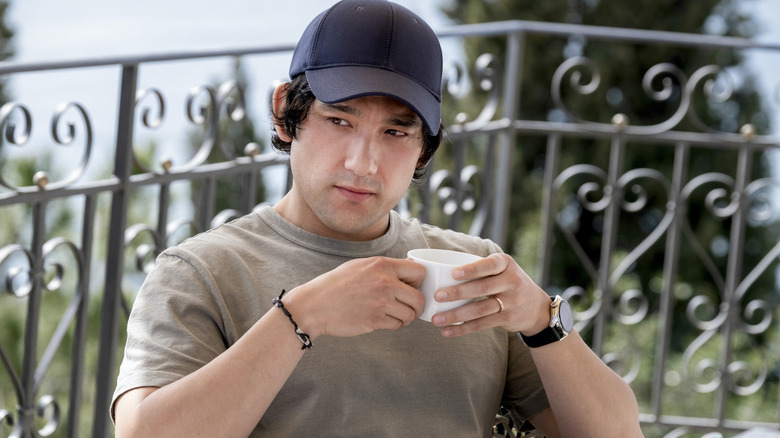 Fabio Lovino/HBO
The fifth episode of "The White Lotus" Season 2 premieres on Sunday, November 27 at 9 p.m. EST, airing on HBO and streaming on HBO Max. With the anxiety of these characters building, this powder keg is ready to burst. The once subtle visual symbolism of the series has graduated to in-your-face warnings. In addition to the Testa di Moro sculptures are also the paintings hung in every room. Sexual encounters are often juxtaposed with paintings of immense violence. While Portia and Jack get familiar in her hotel room, there is an ominous painting of a naked figure punctured with arrows. This visual is visually similar to the famous image of Saint Sebastian, a Christian martyr persecuted by Romans (via Britannica).
Harper also has a brush with heavy-handed symbolism. While restraining herself from telling Ethan of her suspicions, the final shot in the episode is Tarquin et Lucrèce painted by Jean-Joseph Taillasson. Per Art Institute Chicago, Tarquin was a Roman prince who sexually assaulted the Roman noblewoman Lucretia. This is not the first time that Harper has been paired with a story of sexual assault. The story of Hades and Persephone was also contrasted with Harper, implying that there is something violent in her future. Like Lucretia, Harper feels oppressed by her dynamic with men. Episode 5 does not seem to bode well for anyone involved.
If you or anyone you know has been a victim of sexual assault, help is available. Visit the Rape, Abuse & Incest National Network website or contact RAINN's National Helpline at 1-800-656-HOPE (4673).