Chicago Med Fans Can't Contain Their Excitement Over April And Ethan's Season 8 Wedding Invitations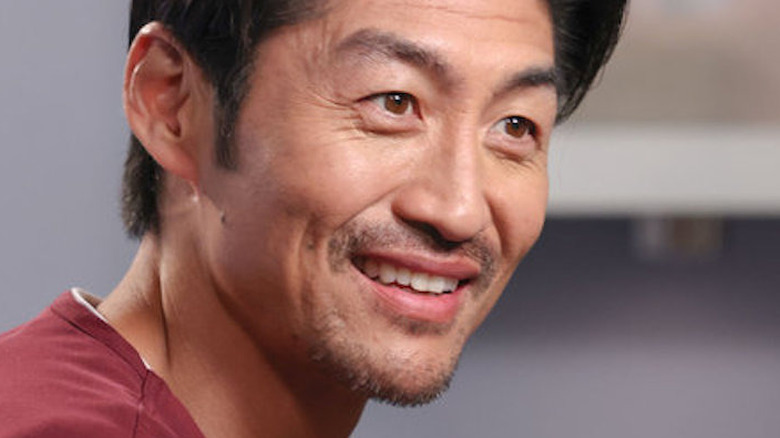 NBC
Long-simmering romances are often a hallmark of the "One Chicago" franchise. Over on "Chicago Fire," Matthew Casey (Jesse Spencer) and Sylvie Brett (Kara Killmer) have an off-again-on-again romance, while Hailey Upton (Tracy Spiridakos) and Jay Halstead (Jesse Lee Soffer) similarly have a long-gestating love on "Chicago P.D." Naturally in a high-stress environment like a hospital, there can also be strong feelings on account of trauma and emotions, and there is another example of a slow-burn love on "Chicago Med."
Originally starting their romance in Season 3, April Sexton (Yaya DaCosta) and Ethan Choi (Brian Tee) manage to keep their relationship relatively hidden from their coworkers, though they often raise suspicion and have gone through a temporary breakup. However, as "Chicago Med" progresses, their relationship does become known, and in Season 8's Episode 8, titled "Everyone's Fighting a Battle You Know Nothing About," April and Ethan finally decide to send out wedding invitations. The reactions of April and Ethan's co-workers are a mix of surprise and excitement, which very much echoes fan sentiment, who wasted no time in taking to social media to express their feelings.
Fans are getting emotional over Ethan and April finally getting married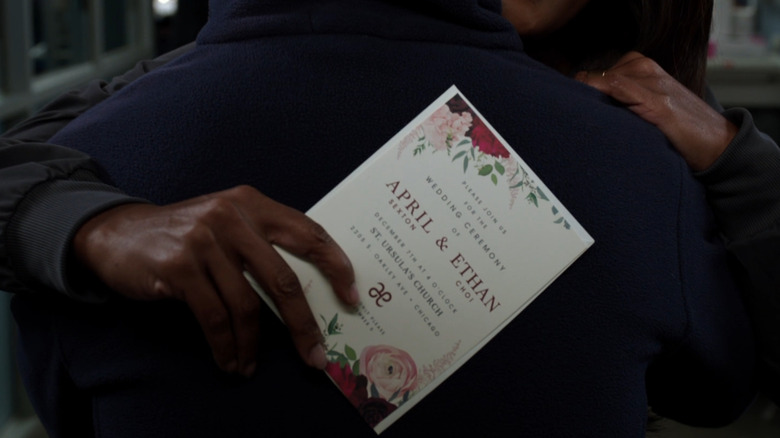 NBC
Moseying on over to Twitter, one can see that there has been plenty of responses involving this new announcement from Ethan Choi and April Sexton. @justwrite15 posted a short clip of April and Ethan exchanging side glances with each other, and said, "We're gonna get a #Chexton wedding! Can you just imagine how gorgeous these two are gonna look?! I'm still not over that club scene." @aclarkcountry could barely contain their excitement and posted in all caps that viewers we going to get a chance to see the Chexton wedding. This statement shows that many fans enjoy the celebrity-style mash-up name between the two characters.
Also a big fan of all-capitalized letters, @xotonironixo said, "#CHEXTON WEDDING I REPEAT #CHEXTON WEDDING." @merreaa shared a brief clip from "Chicago Med" that sees several characters amazed at hearing the news about Ethan and April's upcoming wedding, and they expressed excitement at a chance to finally see the two get married. @tannertz became very emotional at the prospect of Ethan and April tying the knot, and tweeted, "I know the wedding scene gonna make me cryyyyyy I cannot wait!" However, these weren't the only fans of "Chicago Med" that had something to say about this future wedding.
A series showrunner has said that Ethan and April truly love each other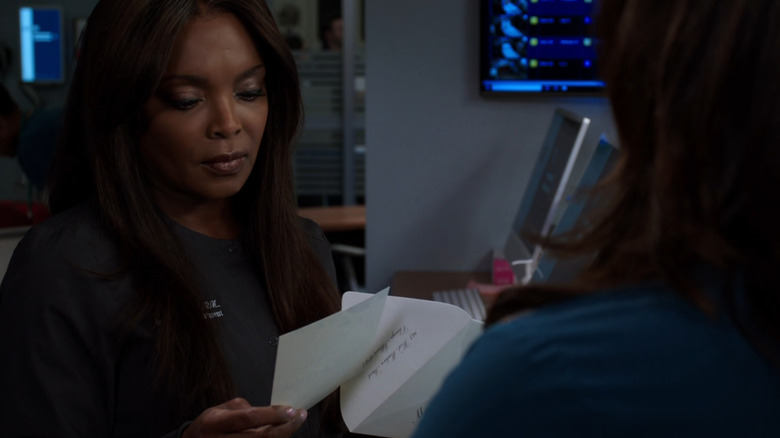 NBC
@Fitzandlivlove shared their thoughts by saying that the wedding between April and Ethan is long overdue and that they are very happy that it is finally coming to pass. @Allyiscute1993 asked their fellow "Chicago Med" fans if they were crying yet because they certainly can't stop crying because Ethan and April are finally getting married. @ladysnightpod joked, "I'm just gonna be ecstatic about this the rest of the hour. APRIL AND ETHAN ARE GETTING MARRIED. Also where are our invites?!"
Considering these words, it seems like fans absolutely adore that this long-running romance is finally solidifying. As mentioned earlier, April and Ethan have gone through an on-again/off-again relationship and had broken up previously, though this was mainly due to Yaya DeCosta starring in another show. Unfortunately, that show was canceled after the first season, but this allowed DeCosta to return to "Chicago Med." As such, the series creators were able to work her back into the story, and in late September 2022, series co-showrunner Diane Frolov told TV Insider of the couple, "They love each other. They do. Let's just say it. But it's been a long journey for those characters. They've been through a lot, and they were very unsure the last time we saw them of where they stood with one another." 
Still, between fan and showrunner comments, it seems like this marriage has been on everybody's mind for quite some time, and it's a delight for "Chicago Med" fans to finally see April and Ethan's relationship come to fruition.