Black Panther Beats Out The Avengers In Second Weekend At The Box Office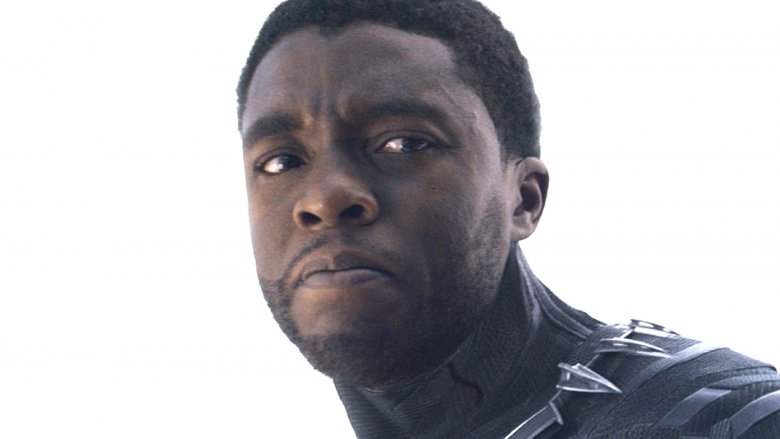 Black Panther is officially outgrossing The Avengers. The movie earned the second biggest second weekend of all time, bringing in $108 million and beating out the $103 million that Marvel's big team-up film earned in 2012. Black Panther was also able to beat Jurassic World's $106.5 million, although it lost out to Star Wars: The Force Awakens' $149.2 million.
Black Panther earned the second biggest MCU opening ever with $202 million over the three-day period. This fell just slightly behind The Avengers' $207.4 million and earned Black Panther the fifth-biggest opening weekend of all time. The movie earned rave reviews from critics with a 97 percent on Rotten Tomatoes and was a favorite with audiences as well, earning a rare A+ CinemaScore. The movie has been breaking records left and right, passing $400 million domestic in just two weeks and currently sitting at $704 million worldwide.
Black Panther follows Chadwick Boseman's T'Challa as he heads home to the technologically advanced African nation of Wakanda to take his place as king. His mettle is tested when the dissident Erik Killmonger (Michael B. Jordan) begins to threaten his rule. He also has to deal with Ulysses Klaue (Andy Serkis), who presents a threat to the Wakandan way of life, and Winston Duke's M'Baku, who is part of a mountain tribe that opposes T'Challa's power. Letitia Wright, Lupita Nyong'o, Angela Bassett, and Danai Gurira also star in the film, which was directed by Ryan Coogler based on a script he co-wrote with Joe Robert Cole.
Second place for the weekend went to the Jason Bateman and Rachel McAdams comedy Game Night. The well-reviewed comedy, which features the pair as an overly competitive couple who gets in over their heads when their regular game night turns into a night of crime and craziness, pulled in $16.6 million, above initial $12 to $14 million expectations from the studio. Kyle Chandler, Billy Magnussen, Sharon Horgan, Lamorne Morris, Kylie Bunbury, and Jesse Plemons also star in the movie, which was directed by John Francis Daley and Jonathan Goldstein based on a script from Mark Perez.
This weekend's other big new release, Natalie Portman's Annihilation, took fourth place with $11 million, right in line with $10 to $12 million expectations. The twisty flick features Portman as a biologist who joins a mission to explore an environmental disaster zone after her husband (Oscar Isaac) disappears. Although the movie was a favorite with critics with an 87 percent on Rotten Tomatoes, audiences responded less positively, giving it a C CinemaScore. Jennifer Jason Leigh, Gina Rodriguez, Tessa Thompson, and Tuva Novotny also star in the film, which was written and directed by Alex Garland based on the 2014 Jeff VanderMeer novel of the same name.
You can view this weekend's full box office results (via Box Office Mojo) below. 
Top 10 Weekend Box Office Gross
1. Black Panther: $108,046,000 (-46.5 percent), $400,000,422 Total Domestic Gross   
2. Game Night: $16,600,000 (– percent), $16,600,000 Total Domestic Gross  
3. Peter Rabbit: $12,545,000 (-28.3 percent), $71,290,702 Total Domestic Gross   
4. Annihilation: $11,000,000 (– percent), $11,000,000 Total Domestic Gross 
5. Fifty Shades Freed: $6,915,000 (-60.0 percent), $89,560,780 Total Domestic Gross
6. Jumanji: Welcome to the Jungle: $5,650,000 (-28.8 percent), $387,284,215 Total Domestic Gross   
7. The 15:17 to Paris: $3,600,000 (-52.5 percent), $32,257,752 Total Domestic Gross   
8. The Greatest Showman: $3,400,000 (-32.5 percent), $160,766,870 Total Domestic Gross   
9. Every Day: $3,103,996 (– percent), $3,103,996  Total Domestic Gross   
10. Early Man: $1,700,000 (-46.7 percent), $6,779,422 Total Domestic Gross