Chris Hemsworth Is Taking A Break From Acting After Learning That He Is Genetically Predisposed To Alzheimer's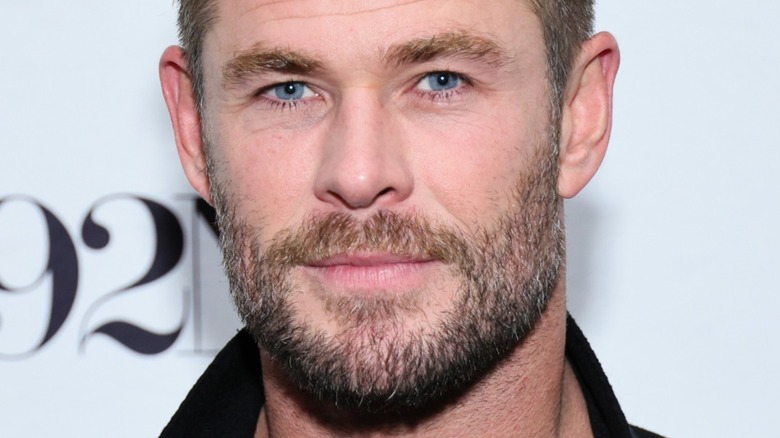 Theo Wargo/Getty Images
Australian actor Chris Hemsworth has been entertaining fans of superhero, action, thriller, comedy, and drama films since the late 2000s. Despite some early hesitations to a career in Hollywood after his role in 2009's "Star Trek," Hemsworth soldiered on and eventually thrived in the movie industry with one blockbuster film after the next. His many acting credits include several entries in the Marvel Cinematic Universe starting in Phase 1 with his role in 2011's "Thor." Despite his propensity for occasionally branching out into serious cinema, such as his role as Formula 1 legend James Hunt in 2013's biographical sports drama "Rush," the actor will always come back around to please his genre fans.
In a 2011 interview with Interview Magazine, Hemsworth commented, "I loved the stuff. As a kid, I loved any fantasy. I grew up in a household with two brothers and we lived in the bush. We were constantly building weapons and forts and things. But I didn't set out to be an action hero." Even if action movies found their way to him, the "Extraction" star has collected a vast group of fans in the last decade and a half. But the actor has decided to slow down his output after discovering that he is genetically predisposed to Alzheimer's disease. Here are the details.
The actor learned of the health risk in the new Disney+ original series Limitless with Chris Hemsworth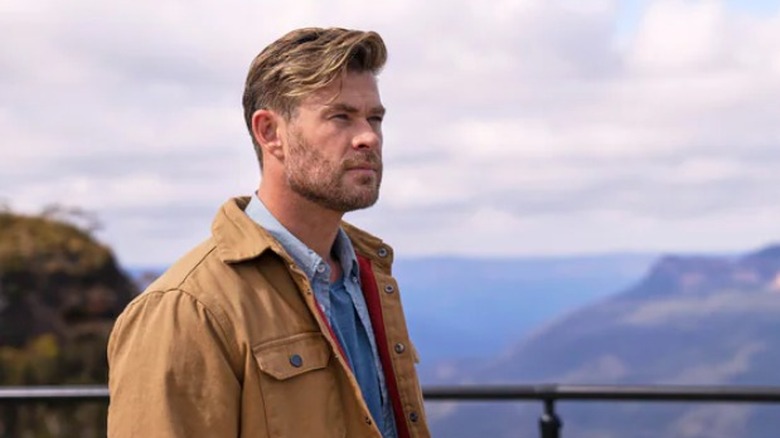 National Geographic/Disney+
While filming "Thor: Love and Thunder," Chris Hemsworth was also intermittently filming what would become the Disney+ documentary series "Limitless." The six-part program follows the actor across different outdoor locations as he puts his body through different trials of endurance in a journey to learn about the science of aging. In an interview with Good Morning America, clips from the first episode of "Limitless" were shown, including the revelation through a scientific test that Hemsworth is pre-disposed to developing Alzheimer's.
When asked if he was apprehensive about taking the test, Hemsworth replied, "To be honest, I didn't know what the test was at the time. The idea was that we were going to do a deep dive into my blood work and look at genetics – and on camera, tell me what they found. We didn't expect to find much." When asked if that was the first time he found out about the health risk, the actor answered that he did so off-camera. He then divulged that it is not a predetermined genetic certainty, but rather an indicator that places him in a high-risk category for acquiring the illness in the future.
He hopes his revelation will motivate others to take better care of themselves
National Geographic/Disney+
Speaking about the indication in Episode 1 of "Limitless" (per IGN), Chris Hemsworth also revealed that the news was enough to have pushed the actor to want to take a break from his career to spend time with his wife and children. Discovering or becoming acquainted with the fragility of life is often enough to make any of us prioritize spending time with those we love and cherish, which seems to have rubbed off on the "Red Dawn" star as well. But Hemsworth also hopes that his experiences in the reality series as well as his sharing of the Alzheimer's risk he faces is enough to help inspire others to take better care of their health.
"Look, if this is a motivator for people to take better care of themselves and also understand that there are steps you can take—then fantastic," he shared. The actor then stated how his main concern was avoiding a need to overly dramatize the health report. His openness also inspired the show's executive producer, Darren Aronofsky. In an interview with IGN, the filmmaker said of Hemsworth, "I think one of the beautiful things about the show is how open Chris is throughout it. He was really vulnerable, and he really gave a lot of focus to it and a lot of access to it, and it's rare that you find a movie star who is so willing to be human."