Chicago P.D. Fans Were Let Down By Upton's Crossover On Chicago Med Season 8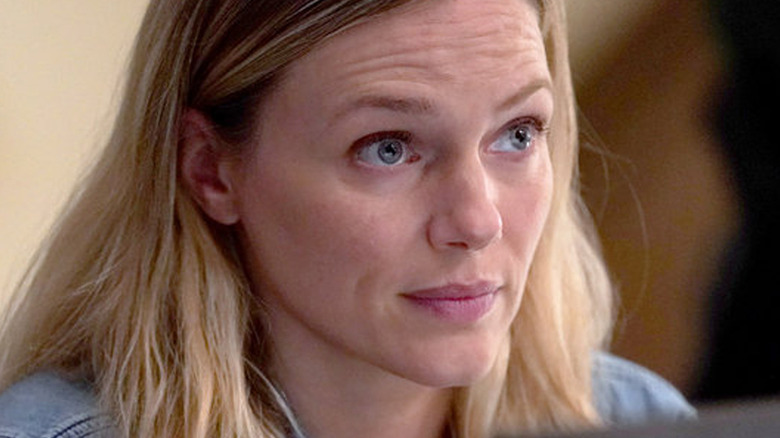 Lori Allen/NBC
Each of the three series that make up NBC's "One Chicago" universe — "Chicago Fire," "Chicago Med," and "Chicago P.D." — typically function independently from one another, localizing their dramas within their discrete groups of characters. Of course, since these shows takes place in a shared universe, crossovers are nevertheless an occasional occurrence within all three of the flagship "One Chicago" series.
In April of 2022, "Chicago Med" producer Diane Frolov suggested that there might not be any crossovers for "One Chicago" in 2022 as a result of difficulties filming while prioritizing COVID-19 safety. In July, however, Marina Squerciati, who plays Kim Burgess on "Chicago P.D.," essentially confirmed a "One Chicago" crossover in an Instagram post of a photo she took behind-the-scenes of "Chicago Med."
After Squerciati then appeared in a couple of "Chicago Med" episodes in 2022, the eighth episode of "Chicago Med" Season 8, titled "Everyone's Fighting a Battle You Know Nothing About" likewise features a couple of "One Chicago" crossovers. Notably, Hailey Upton (Tracy Spiridakos) from "Chicago P.D." appears in this "Chicago Med" episode, though some fans ended up sharing their disappointment about how her character was utilized.
Upton's connection to Chicago Med's Will Halstead remains unexplored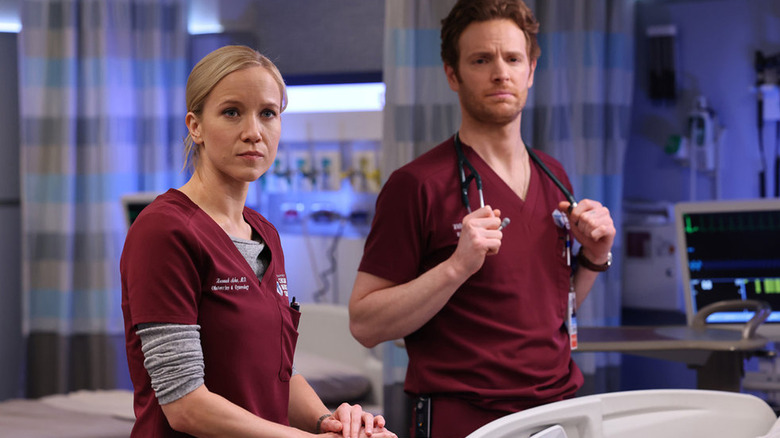 George Burns Jr./NBC
"Chicago P.D." cop Hailey Upton appears in "Chicago Med" Season 8, Episode 8 accompanying a patient as part of a criminal investigation. That said, the only "Chicago Med" mainstay with whom Upton interacts in a significant capacity is Dr. Hannah Asher (Jessy Schram), whereas the fact that Dr. Will Halstead (Nick Gehlfuss) is her brother-in-law is effectively unacknowledged. Fans, as it turns out, were unhappy that this rare opportunity to explore how Upton and Halstead might relate to one another never came to fruition.
Twitter user @anniesardors, for example, wrote "if Will doesn't introduce [Upton] to people as his sister-in-law, I'm gonna riot," and received numerous replies voicing their agreement. Of course, this moment didn't ultimately come to pass. Meanwhile, @Killi0nechicago rhetorically questioned, in all-caps, just when Upton and Will will finally interact.
User @ptvrachael similarly wrote, "The fact we get Hailey in Med but we won't get her and Will interaction," accompanied by a crying emoji.
On Reddit one user even started a thread titled "The Halsteads," questioning the fact that Upton's familial relationship to Halstead remains unexplored. Currently, the "One Chicago" universe seems to be plenty popular among its viewerbase, leaving room to perhaps bring Upton and Halstead together in a way that satisfies fans sometime in the franchise's future.