20 Best Holiday Romance Movies To Watch This Winter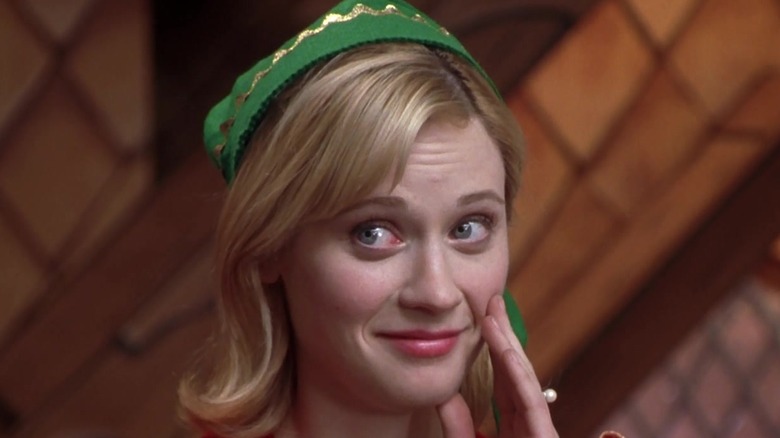 New Line Cinema
The winter holiday season is a time for family, gratitude, love, and watching movies. The perfect choice for the season — the holiday romance film — is an entire genre of its own, with television networks like Lifetime and Hallmark premiering plenty of new ones to binge each year. Watch on and enjoy as a work-obsessed CEO travels to their small hometown to find the true meaning of Christmas, someone reconnects with a love interest from long ago, or people get stuck somewhere due to a snowstorm. Whichever you watch, there's one thing that is almost guaranteed — there is always a happy ending.
There are the go-to classics that audiences watch over and over again, never tiring of them, while studios and streaming sites introduce new options most years to mix up your holiday viewing. With so many movies out there, how do you decide which romantic comedies to watch this winter, and which to put back on the shelf for another time? It isn't easy, but we've put in the work to make your holiday entertainment preparation a little less complicated. Snuggle up on the sofa with a cup of hot cocoa and a cozy blanket as we share the 20 best holiday romance movies that will warm your heart this winter.
Love Actually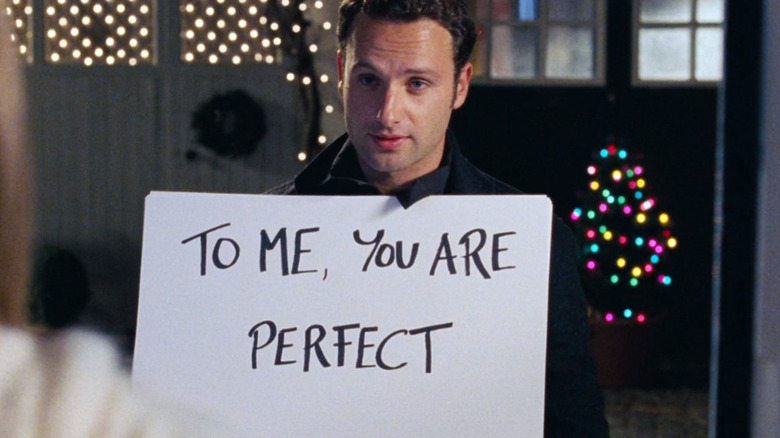 Universal Pictures
It isn't winter without a viewing of "Love Actually." The film's large ensemble cast includes recognizable names such as Alan Rickman, Emma Thompson, Hugh Grant, Keira Knightley, and Liam Neeson. Critics have given it mixed reviews, with Todd McCarthy for Variety calling it "roundly entertaining" with "cheeky wit," while The Telegraph's Sukhdev Sandhu described it as "a stale and contrived let-down." Despite this, audiences adore "Love Actually," and it has cemented itself as a classic holiday film.
"Love Actually" follows nine different stories as they play out one Christmas. They are all subtly connected in some way, with some characters being relatives and others being colleagues. Each story features the main players working through a hardship — from a wife learning about her unfaithful husband to a grieving stepfather trying to cope with his loss — with an epilogue sequence neatly tying everything together at the end. 
"Love Actually" is known for one of the most iconic scenes in romance movie history. Mark (Andrew Lincoln) uses poster board cue cards to silently tell his best friend's wife Juliet (Knightley) that he loves her and always will, though he recognizes it isn't mutual. With "Silent Night" playing in the background, this scene — and the other iconic romantic moments in "Love Actually" — make it a must-watch this winter.
When Harry Met Sally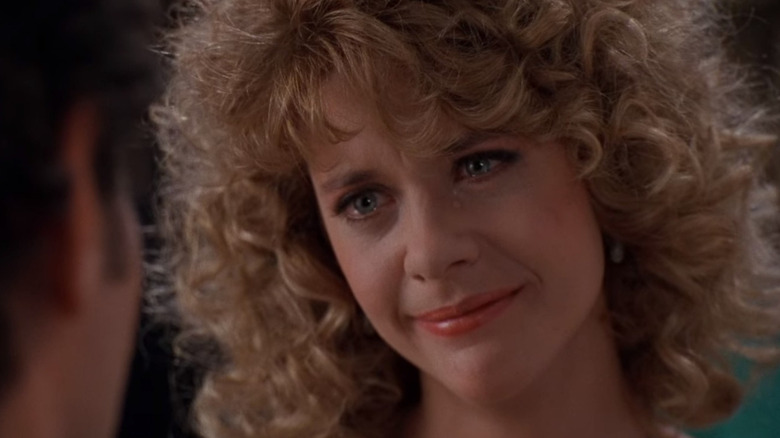 Columbia Pictures
When audiences think of holiday romances, they will almost certainly gravitate toward Christmas movies. But, what about New Year's Eve, the holiday that falls just a week later? In "When Harry Met Sally," the two main characters are pulled together during New Year's Eve parties a year apart — even though they've known each other for a decade and there were plenty of opportunities for them to get together without a Times Square ball drop or fireworks.
Our central couple — Harry (Billy Crystal) and Sally (Meg Ryan) — were always in each other's worlds. They went to the same college and repeatedly dated people close to each other. After five years of decidedly not being friends, everything changes when they reunite in a chance encounter in a bookshop. The next year includes two New Year's Eve parties that start and solidify their romance. 
Considered one of the best romantic comedies of all time, "When Harry Met Sally" is the perfect movie to watch for a romantic that needs a holiday flick in the week leading up to New Year's Eve. With a critic rating of 91% on Rotten Tomatoes, this film is one that should be on your watch list to revisit every holiday season.
Last Christmas
Taking inspiration from the pop song of the same name, "Last Christmas" is a 2019 rom-com starring Emilia Clarke and Henry Golding. It follows Kate (Clarke) — a young woman who lives in London and works as an elf at a Christmas shop. After receiving a life-saving heart transplant the previous year, she has floated through life, trying to make it as a singer but not having much luck. After being evicted, she is forced to move back into her parent's home, which only adds to her struggles. 
Kate starts running into Tom (Golding) — a man who regularly volunteers at a homeless shelter — and tries to figure out who he is while also trying to turn her life around. While slightly contrived, "Last Christmas" has a heartwarming ending in which Kate realizes she's not defined by her past and that she can make something of herself. Kate isn't always the most likable of characters, but the ending proves that almost anyone deserves redemption, and the holiday season is the perfect occasion for forgiveness. 
"Last Christmas" received mixed reviews, with praise for the performances but critiques of the film's screenplay. The notion that Tom is hiding something is a consistent element in the story, but some critics felt this didn't work. Thomas Floyd wrote for The Washington Post that "the possibility that there's more than meets the eye here casts a distracting shadow over the film." Despite the reviews, audiences still enjoyed the film's unique charm — reflected in its strong box office figures.
Happiest Season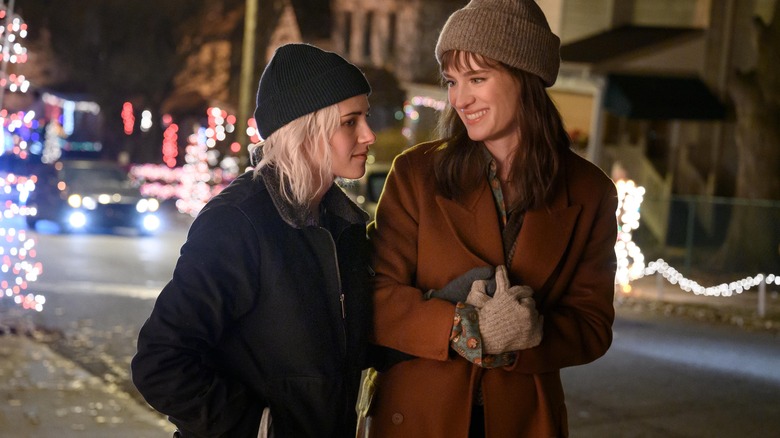 Jojo Whilden/Hulu
Fans of "Twilight" should definitely be adding "Happiest Season" to their holiday watch list. Kristen Stewart stars as Abby, a young woman who has not enjoyed the holidays since the death of her parents. This year, she's spending it with her girlfriend Harper's (Mackenzie Davis) family. The only problem is her girlfriend's family doesn't know she's in a relationship with a woman.
Harper's father Ted (Victor Garber) is running for mayor, which adds a layer of confusion to the occasion. Abby is being passed off as the friend with nowhere to go while being introduced to all of her girlfriend's ex-boyfriends. While some of Harper's behavior catches Abby off-guard — leading her to question how well she really knows her — the film ends on a wonderful note about acceptance and inclusion while the family watches a Christmas movie. 
Most critics gave "Happiest Season" a positive review, with Vox calling it "a cute movie with a lot of heart," while The Chicago Sun describes it as "a guilty pleasure filled with sweetness and warmth." While "Happiest Season" received some criticism for the way it takes the tropes of straight holiday romantic comedies and just applies them to the LGBT+ community, it still resonated with many people, winning the 2021 GLAAD Award for outstanding film (via CNN).
The Knight Before Christmas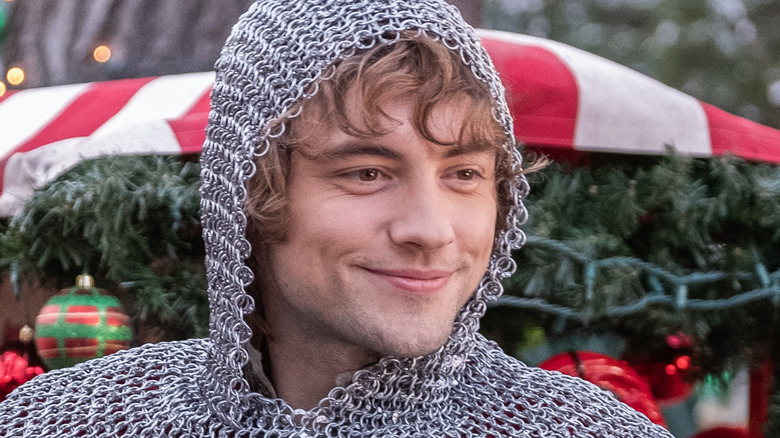 Brooke Palmer/Netflix
Who says romantic holiday movies can't also involve time travel? The Netflix film "The Knight Before Christmas" combines the two unlikely elements, with a knight from the 1300s being sent to the present day to complete a quest. The knight, Sir Cole (Josh Whitehouse), is transported to a small town in Ohio in search of love — even though he doesn't know it. After stumbling into the local Christmas carnival, Sir Cole meets local science teacher Brooke (Vanessa Hudgens) after she accidentally hits him with her car. Suffering from amnesia, Sir Cole temporarily moves into Brooke's house, hoping his memory will return in time to complete his quest. 
As the two get to know each other, the previously anti-romance Brooke thaws to the possibility of love, and Sir Cole learns about the amenities and social intricacies of the modern world. While he is meant to go back to his home and watch his brother be knighted, returning to the 1300s may not be what is best for him after all.
"The Knight Before Christmas" certainly has one of the more outlandish plots of the movies on this list, but that's what makes it one of the best if you can suspend your disbelief enough to go along for the ride. It has a unique premise that still hits all the same notes other movies on this list do, making audiences feel warm and fuzzy as the unlikely couple falls for each other over the festive season.
You've Got Mail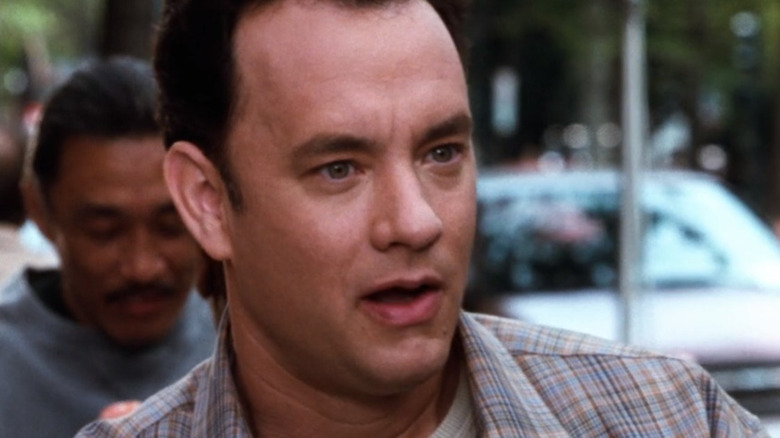 Warner Bros. Pictures
Tom Hanks is known for so many films, but we can't forget his holiday romantic comedy "You've Got Mail." While the movie doesn't just take place at Christmas, the scenes that feature the holiday are some of the most pivotal and romantic. 
Kathleen (Meg Ryan) owns a small, independent bookstore that was opened by her mother. Joe (Tom Hanks) is a member of the Fox family — the owners of a chain of large bookstores, comparable to Barnes and Noble. While they're rivals in the real world, in the digital realm they are email pen pals, becoming great friends and sharing personal anecdotes about their lives. The only catch is the correspondents aren't aware of each other's real-world identities, having met in a virtual chat room before the events of the movie. While one of them figures it out, the other is left in the dark for months until the couple has their happy ending.
"You've Got Mail" is an ideal watch for readers and bookworms during the holiday season and any time of year. The small bookstore gives the movie a cozy vibe, while the constant back and forth between Kathleen and Joe makes for a great rivals-to-lovers story. And it's hard to go wrong when you have the rom-com heavy-hitters Meg Ryan and Tom Hanks in the leading roles.
A Christmas Prince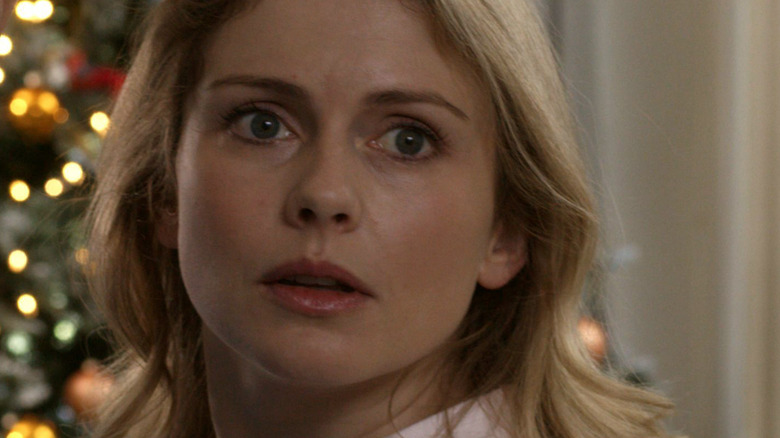 Netflix
If you're a fan of 2004's "The Prince & Me," or other royalty-themed romances, "A Christmas Prince" is the perfect holiday film for you. The film focuses on an American journalist, Amber (Rose McIver), who is sent to Aldovia — a fictitious country much like Genovia in "The Princess Diaries" — to cover a royal press conference. The subject is the young Prince Richard (Ben Lamb), who is about to ascend the throne after the recent passing of his father, who was the reigning king of the country. 
When Prince Richard doesn't appear, the journalist tries to find a story around the palace, refusing to leave empty-handed after finally being given her own assignment. While snooping around, she is accidentally mistaken for the new American tutor, Martha, who was hired to teach Prince Richard's younger sister, Emily (Honor Kneafsey). Taking on the identity of the tutor so she can be close to the family, Amber interacts more with the family and Prince Richard, learning their secrets. One thing leads to another, causing people to fall in love and an almost-lost proclamation that saves the kingdom to be revealed.
If you like "A Christmas Prince," you're in luck as it is the first of a trilogy. Continue watching their story as Amber and Prince Richard get married in "A Christmas Prince: The Royal Wedding" and grow their family in "A Christmas Prince: The Royal Baby." The films are predictable fluff, but they're an undeniable guilty pleasure, and perfect for some feel-good festive fun.
The Holiday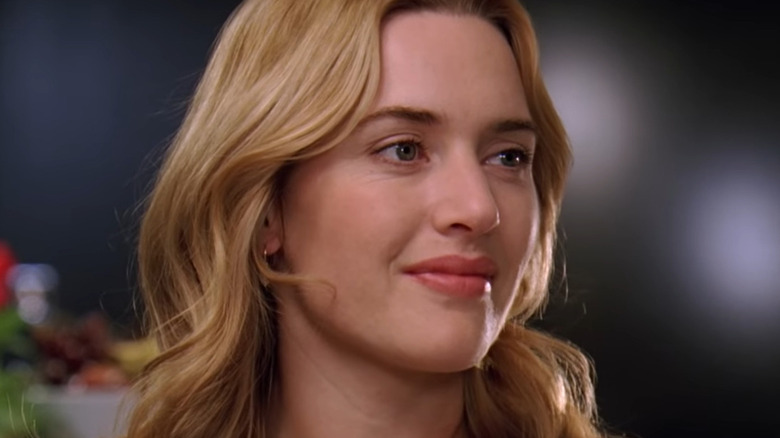 Universal Pictures
Branded as a "modern holiday classic" (via HuffPost), "The Holiday" follows two women — both dealt a lousy hand in the romance department — who swap houses for two weeks during the holidays. Away from the troublesome exes and embracing the change of scenery, each finds a new love interest where they're least expecting it and ends up having a happy holiday season.
Iris (Kate Winslet), a journalist in London, is having trouble letting go of her ex-boyfriend (Rufus Sewell) — even after finding out he's engaged during the office Christmas party. Desperate not to spend the holiday season miserable and alone, Iris swaps houses with Amanda (Cameron Diaz), a movie trailer producer living in Los Angeles. Equally unlucky in love, Amanda recently endured an angry break-up with her boyfriend (Edward Burns) — something that brought back troubling memories of her parent's divorce. While in snowy Surrey, Amanda falls in love with Iris' brother Graham (Jude Law), and in sunny Los Angeles, Iris grows closer to Amanda's colleague Miles (Jack Black) — eventually resulting in the four spending New Year's Eve together by the end of the film. 
While critics weren't the biggest fans of the movie, audiences loved it, giving "The Holiday" an 80% on Rotten Tomatoes. Despite its contrivances, "The Holiday" has many relatable life lessons, and whereas holiday films usually see the characters encouraged to return home, it is refreshing to see one that embraces the idea of branching out and getting away from it all somewhere new.
Single All the Way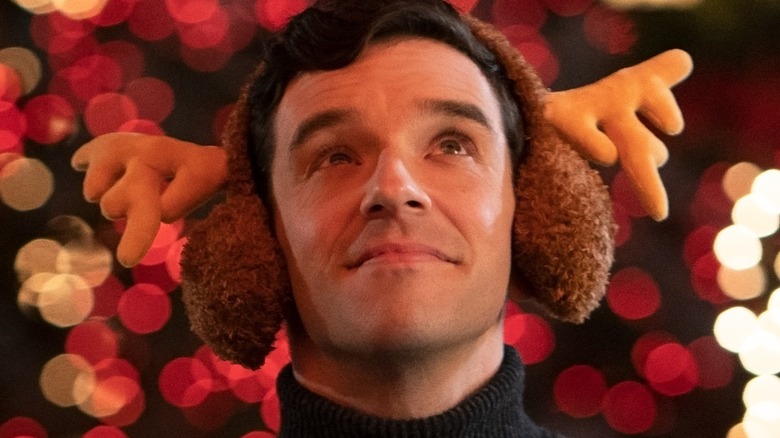 Philippe Bosse/Netflix
After spending holiday after holiday with a family bugging him about when he will have a partner, Peter (Michael Urie) is planning to take his boyfriend, Tim (Steve Lund), to his family Christmas celebration. After finding out Tim is married, he breaks the relationship off and convinces his best friend and roommate Nick (Philemon Chambers) to go with him instead. Peter has already told his family he's bringing someone home, and he doesn't want to show up alone.
Despite Peter showing up with a "boyfriend," his mother has planned a blind date for him with her handsome spin class teacher (Luke Macfarlane). While those two hit it off, Nick is pining for Peter from afar. But with the help of the family, well-timed job mishaps, and a camp Christmas pageant run by Peter's Aunt Sandy (Jennifer Coolidge), Peter and Nick may just find their way this holiday season.
Like "Happiest Season," "Single All the Way" has received criticism for taking romantic tropes commonly used in films about straight couples and directly applying them to a gay couple with little modification. However, "Single All the Way" set itself apart by removing any conflict because of Peter's sexuality. This received praise from critics, with IndieWire's Jude Dry noting, "It's refreshing to see a gay family film that doesn't use its characters' sexuality for dramatic conflict." GLAAD agreed, awarding the film outstanding TV movie (via GLAAD). 
Operation Christmas Drop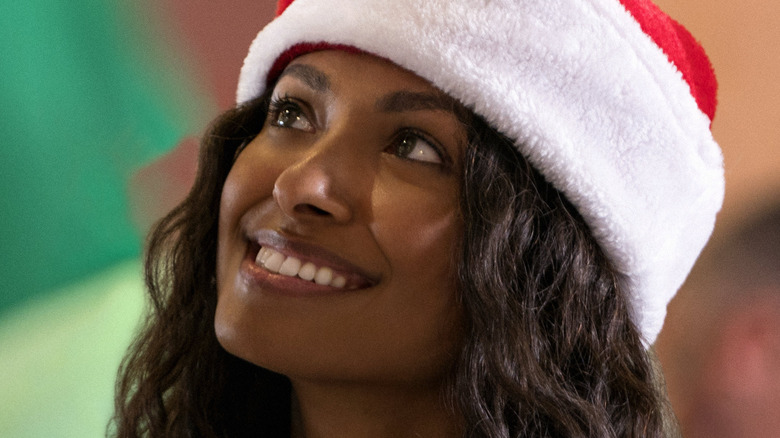 Ricardo Hubbs/Netflix
"Operation Christmas Drop" focuses on congressional assistant Erica (Kat Graham) — an overworked killjoy flown to an Air Force base in Guam to determine if it should be shut down. Assigned to show her around is Captain Andrew Jantz (Alexander Ludwig), who is tasked with providing a compelling enough reason for the base to stay open.
As Captain Jantz gives Erica the highlights, he's also prepping for their annual "Christmas drop." The base uses its planes to drop crates of supplies and goods to the islands around them each holiday season, ensuring they have what they need. During her time at the base, Erica attends a party, sees just how much the local people rely on the annual event, and helps with the crate drops herself following a complete change of heart. Of course, it wouldn't be a holiday romantic comedy if Erica and Andrew didn't find their own happy ending along the way, adding an extra layer of sweetness to this surprisingly enjoyable film. 
"Operation Christmas Drop" is different from many of the holiday movie offerings out there. Rather than take place in a snow-laden environment, the scenery is a gorgeous island. That doesn't mean there isn't any snow, but more importantly, the film embraces the idea that the holidays are for giving and for helping — which always makes for a heartwarming watch.
Last Holiday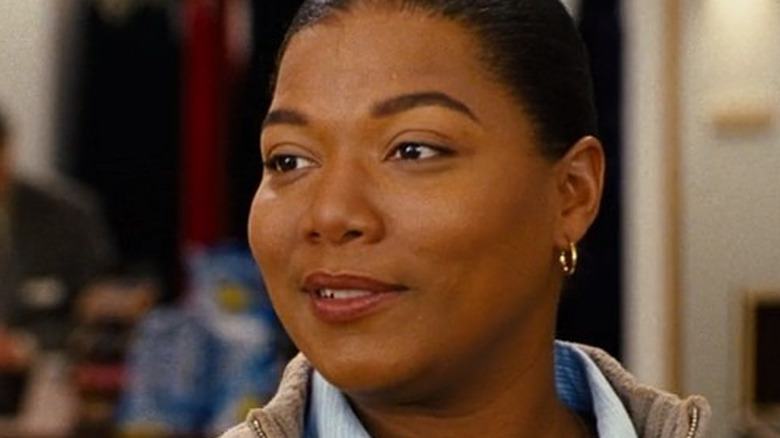 Paramount Pictures
After an injury at work, Georgia (Queen Latifah) finds out she has several brain tumors due to a terminal illness. To try and enjoy what is left of her life — instead of wasting her time working at a department store — she heads out on a lavish vacation in the Czech Republic for the holidays. After a whirlwind trip, she finds love where she hoped it would happen — even though it means someone walks through an avalanche for the chance to share their feelings.
While filled with everything audiences expect in romantic comedies, "Last Holiday" also features schemes, winter sports, and a non-traditional wedding that will be one for Georgia's scrapbook. There is also a surprise plot twist that ensures everyone has a happy ending, even if their life circumstances aren't the best.
Critics gave the movie a score of 55% on Rotten Tomatoes, but audiences were a bit more favorable, giving it a 67%. Queen Latifah's performance is widely praised, with Roger Ebert writing that the movie "takes advantage of the great good nature and warmth of Queen Latifah, and uses it to transform a creaky old formula into a comedy that is just plain lovable."
Four Christmases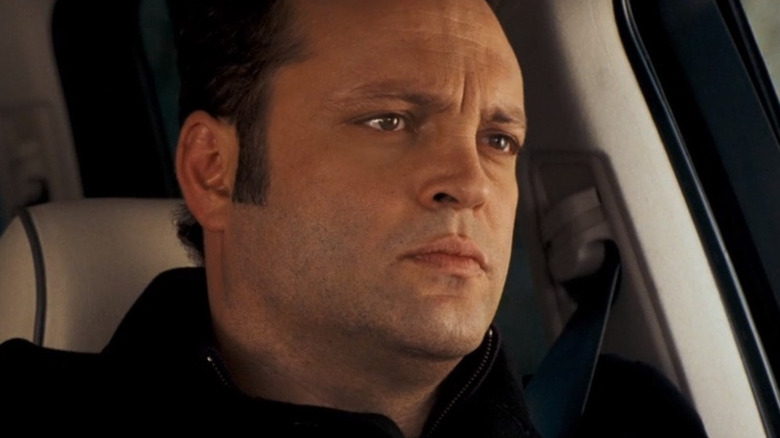 Warner Bros. Pictures
After their flights are canceled and hopes of an international vacation are ruined, Kate (Reese Witherspoon) and Brad (Vince Vaughn) are forced to go home for the holidays instead. There are some complications, however, as both of their parents are divorced, meaning they have four different family celebrations to get to. Now facing the complicated logistics of keeping all the family happy, Kate and Brad are also pushed to consider their own relationship. 
"Four Christmases" follows Kate and Brad not only experiencing a day full of family drama but a journey of learning more about each other, and along the way, secrets are revealed that force them to rethink their choices. Before, they never wanted marriage or kids, but that may change by the end of the day as they realize what they both want in life.
While the movie failed to impress critics, it is notable for featuring a very different premise from the others on this list. Instead of finding love after a bad breakup, or stumbling into their perfect match, Brad and Kate work through their existing relationship, finding out new information about each other to see if they still want to have a future together.
The Princess Switch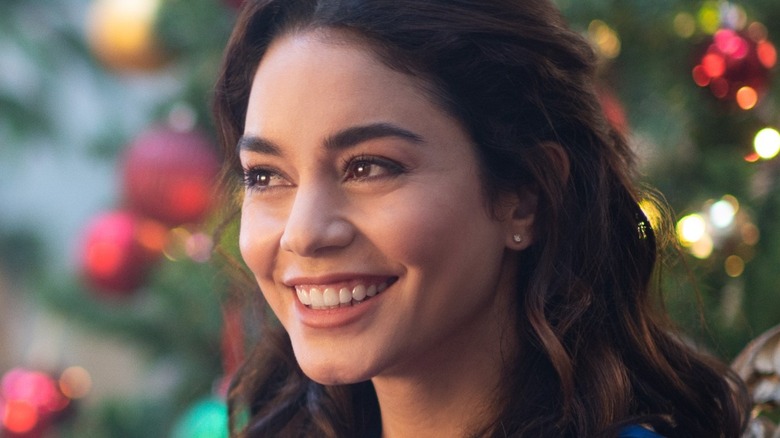 Mark Mainz/Netflix
If you love "The Great British Baking Show" and Christmas movies, then "The Princess Switch" is the perfect film for you. After breaking up with her boyfriend, talented baker Stacy (Vanessa Hudgens) finds out her entry to a baking contest hosted by the Kingdom of Belgravia has been accepted for the final round. Along with her baking partner and friend, Kevin (Nick Sagar), Stacy packs her bags and heads to Europe to compete in the live competition. 
While there, Stacy finds out she looks just like Lady Margaret Delacourt (also played by Hudgens) — the Duchess of Montenaro and the woman meant to marry Prince Edward (Sam Palladio). The identical women agree to switch so Lady Margaret can experience a "normal" life outside of being a royal and Stacy can step into her shoes to get a taste of the aristocracy. The Duchess gets to spend time with Kevin, while Stacy falls for Prince Edward — a man she never would've been able to get close to before — and love and baking combine for two epic romances. 
Like "A Christmas Prince," "The Princess Switch" has become a franchise, with two more films to enjoy. While the subsequent sequels push the boundaries of credibility when another doppelganger is introduced, the original is a sugary-sweet, delectably festive treat.
New Year's Eve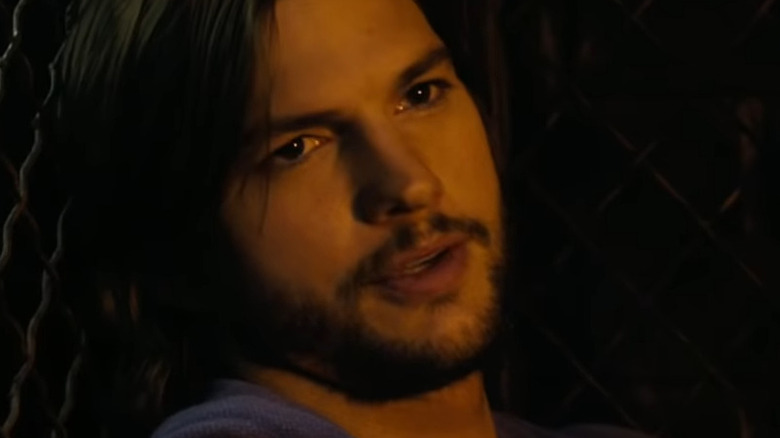 Warner Bros. Pictures
If you're craving another holiday movie with a large ensemble cast similar to "Love Actually," then 2011's "New Year's Eve" is a great pick. If you can get past the poor reviews it received from critics, the unabashedly cheesy film features a cast packed with actors that audiences love, making it worth a watch. Starring Hilary Swank, Zac Efron, Halle Berry, Michelle Pfeiffer, Robert De Niro, and many more, Garry Marshall's second ensemble holiday film — following "Valentine's Day" in 2010 — is a holiday romance to fill the gap between Christmas and New Year. 
With a number of interweaving storylines, the film follows a group making sure everything is ready for the annual ball drop in New York City, a mother trying to convince her daughter to stay in for the night so they can spend time together, and plenty of people falling in and out of love. Some get together for the first time, while others reconnect, but all this happens at the crucial stroke of midnight. Like "Valentine's Day," this film features couples of all ages, meaning every viewer will find a person or couple they connect with.
Christmas Inheritance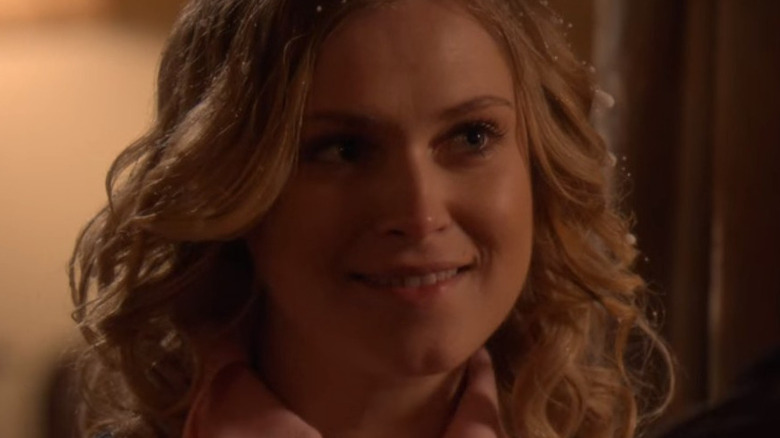 Netflix
Featuring a common holiday romance set-up, "Christmas Inheritance" sees a company CEO sending his spoiled daughter to a small town to deliver a letter at Christmas — and of course, it's only a matter of time before she discovers the real meaning of the holidays. Unbeknownst to Ellen (Eliza Taylor), the task of delivering a letter to her Uncle Zeke (Anthony Sherwood) is a test to see if she's ready to take over the company as her father considers his retirement.
When Ellen isn't able to locate Uncle Zeke, this doesn't deter her, and she stays in the town, hoping to wait him out and make her dad proud. This could prove to be tricky, however, as she has no credit cards and only $100 cash, with no indication of when her uncle will come back. In the meantime, she makes friends with the local inn owner, Jake (Jake Lacy), and begins to help out in the town — even making sure a homeless man has shelter during a bad snowstorm. She solicits donations for a charity auction and begins to understand the town's mentality toward helping each other — that is, until her fiancé Gray (Michael Xavier) shows up. 
As Ellen learns there is more to life than money and possessions, she goes on a journey to discover what she really wants in life. Even with its abundance of cliches, "Christmas Inheritance" is a classic tale of how time in a small town can help someone learn what the holidays are all about and is a great addition to your watch list.
Elf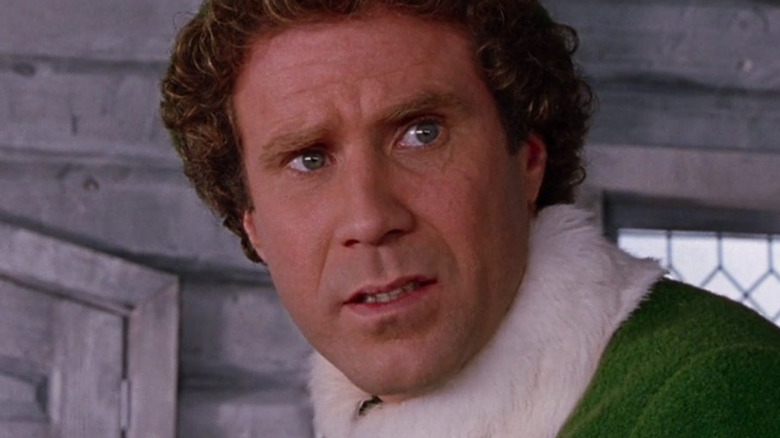 New Line Cinema
As traditional as leaving milk and cookies for Santa and giving gifts, it isn't the holidays without watching "Elf." But, what many forget is that between the endlessly quotable lines and joyful Christmas spirit, "Elf" also hides a charming love story. When a human baby accidentally ends up at the North Pole, he's named Buddy and taken in by the kindly Papa Elf (Bob Newhart). Though he grows up thinking he's an elf, he later finds out he's actually a human. 
In addition, after Santa (Edward Asner) tells Buddy (Will Ferrell) that his biological father (James Caan) is on the naughty list, the elf-raised human heads to New York to try and help his father redeem himself. While his new family initially struggles with his eccentricities and quirks, Buddy finds a kindred spirit in Jovie (Zooey Deschanel) — a fellow department store employee — and he quickly falls head over heels. With Jovie amused by Buddy's childlike qualities, and the elf equally smitten, fireworks fly on their first date and a love story for the ages is born. In addition to finding love, Buddy connects with his biological family and creates lasting relationships in the human world, bringing much-needed holiday spirit to a cynical society. If "Elf" wasn't already on your winter movie list, it's time to change that. It's the perfect family film and has cemented itself as a holiday classic for years to come.
The Holiday Calendar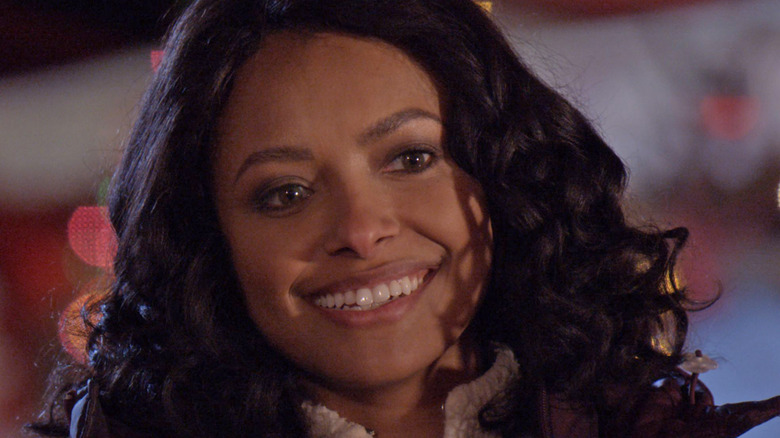 Netflix
Part of the fun of the holiday season is advent calendars. With so many options available, from candy to cosmetics to cheese, how do you know which one to choose? In "The Holiday Calendar," an advent calendar is passed down to photographer Abby (Kat Graham) by her grandfather. However, this is no ordinary advent calendar, and as she opens each day of the calendar, something magical happens related to the small object she finds inside. 
One of these events leads Abby to Ty (Ethan Peck), a doctor whom she immediately connects with. As the two go on several dates throughout December, Abby's best friend Josh (Quincy Brown) is hurting because he likes Abby too but has never shared his feelings with her. With two men trying to win her favor, Abby finds out who will stand by her and help her achieve her dream of owning her own photography studio by the time she opens the last door.
With a new surprise behind every door, a magical advent calendar is a great idea for a holiday film. It's different from the usual premise — even if it still has all the same tropes fans of holiday romances expect — and is definitely one that should be on your watch list this holiday season.
The Best Man Holiday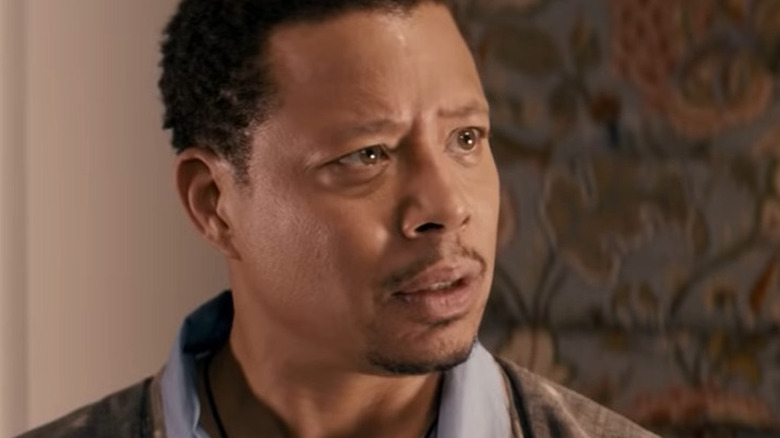 Universal Pictures
"The Best Man Holiday" shows what happens when a group of friends that fell out of touch gets together to celebrate Christmas in New York. Everyone has ventured off on their own paths, with one joining the cast of a reality show, someone recently being let go as a professor from New York University, and one friend even becoming a successful football player. Secrets are revealed, sparks fly, and wires are crossed as the friends reconnect and learn what everyone has been through over the last few years.
There is so much to enjoy in this film, making it one of the best additions to your watchlist. The cast is undeniably impressive, featuring the likes of Taye Diggs, Nia Long, and Regina Hall. In a refreshing change from many Christmas films, "The Best Man Holiday" also received positive reviews from critics, with Time Out's Sam Adams calling it "near-impossible to resist." This holiday treat is a sequel to 1999's "The Best Man," which follows the cast more than ten years before the events of "The Best Man's Holiday." Across both films, the camaraderie of the cast is infectious, making this gang perfect to spend time with for a double feature this holiday season.
Dear Santa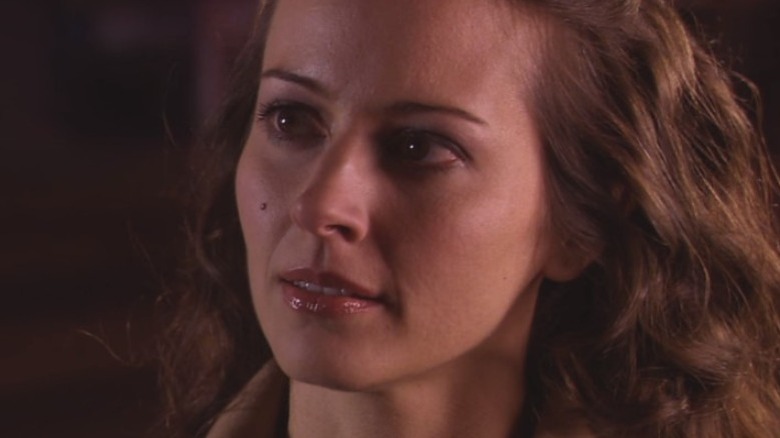 Lifetime
When a woman who lives off of her parents' money finds a lost letter to Santa, her life changes forever, and "Dear Santa" follows Crystal (Amy Acker) as she tries to make the Christmas wish in the letter come true. Olivia (Emma Duke) wrote to Santa to ask him to give her dad Derek (David Haydn-Jones) a new wife for Christmas. He was widowed years before. 
Crystal makes it her holiday mission to grant the wish, especially after she and Derek hit it off. The only snag is that he has Jillian (Gina Holden), an old friend who comforted him after his wife's death. Olivia isn't Jillian's biggest fan, but it looks like Derek is planning to propose for Christmas, much to his daughter's dismay. As Crystal gets closer to Olivia and her father, the lies she told to get in their good graces are revealed. While it may seem like the writing is on the wall for her, she helps make a real Christmas miracle happen and finds love in the process.
"Dear Santa" has all the tropes of a great holiday movie fairytale — an evil almost-stepmother, a public establishment almost closing, and a widower who is just trying to make ends meet while being a single father. The movie is filled with joy, holiday activities, and an ending that will warm even the Grinch's cold heart.
Serendipity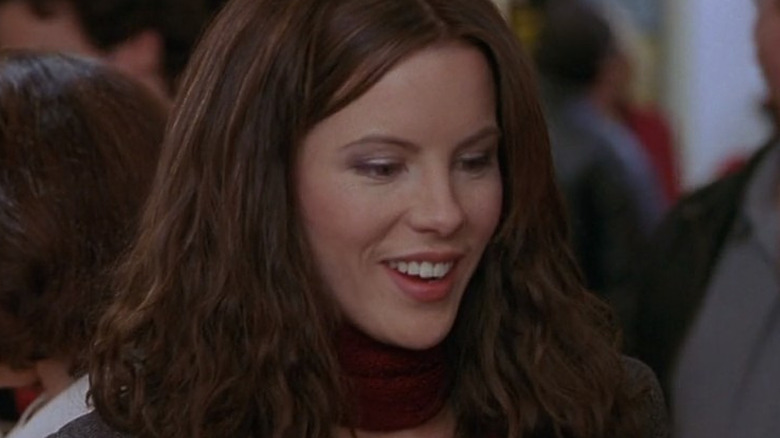 Miramax Films
It might not be the first holiday film you think of, but "Serendipity" opens just before Christmas in New York City, meaning it easily fits the bill. Sara (Kate Beckinsale) and Jonathan (John Cusack) meet while buying gloves at Bloomingdale's. The two have immediate chemistry but are spoken for, so fate has to take the wheel. They reconnect years later just as Jonathan is about to get married and Sara is engaged. Through a series of events, the two find their happy endings, even if it isn't with the person they anticipated. 
The themes of love and destiny in "Serendipity" ensure that its status as a Christmas movie is clear to see, with Decider calling the film "the best Christmas romantic comedy that everyone forgets is a Christmas romantic comedy." Like "You've Got Mail," the entire story does not take place during the holidays, but the couple does meet and have their first "date" around Christmas time.
The movie received mixed reviews from critics, but the chemistry between Beckinsale and Cusack is deemed one of the film's high points, making it worth a watch. Todd McCarthy wrote for Variety, "Cusack and Beckinsale spark well in the opening reel and remain nothing short of energetic and appealing the rest of the time."