Parks And Recreation's Aubrey Plaza Says Andy And April's Wedding Brought Out Real-Life Tears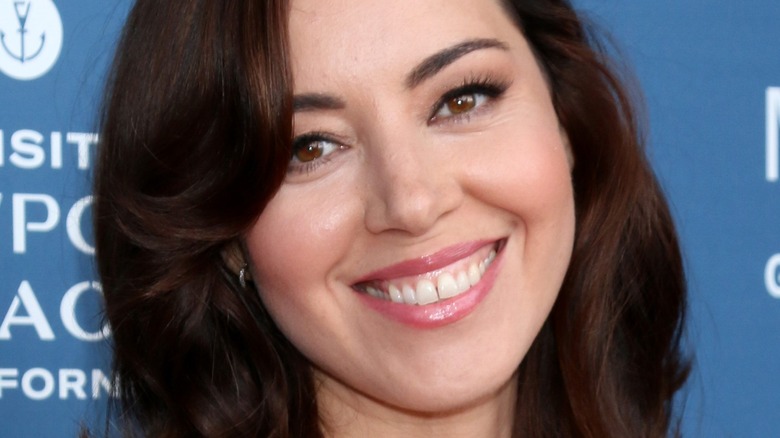 Kathy Hutchins/Shutterstock
When any TV series lasts an extended period, many show fans will inevitably develop some level of personal connection with the characters. It can safely be said that NBC's "Parks and Recreation," which gifted fans over 120 episodes over seven years, is one of these shows. Whether the connection comes from Leslie Knope's (Amy Poehler) career motivation, Tom Haverford's (Aziz Ansari) business ambitions, or Ron Swanson's (Nick Offerman) hatred for government, viewers at home had plenty of reasons to relate with these hilarious citizens of Pawnee.
Of course, when there's any emotional connection between fans and characters, there's bound to be a strong reaction when something noteworthy happens in the show's storyline. This, for sure, was the case in Season 3, Episode 9 ("Andy and April's Fancy Party"), when Andy Dwyer (Chris Pratt) and April Ludgate (Aubrey Plaza) decided to turn their house party into a surprise wedding. Fans of the show reacted in their way, with some creating dedicated wedding websites. NBC even jumped on board the fan buzz by posting an Andy and April wedding registry page.
However, when a momentous event happens between two beloved characters of a series, it's easy to overlook how the actors themselves felt during the production. By the time Andy and April's surprise wedding occurred, the cast had been experiencing their character's growth together for over three years. So, it's no surprise to hear that even though the happy occasion lived purely in a world of fiction, the emotions on set were real.
Plenty of real emotions came from this fake wedding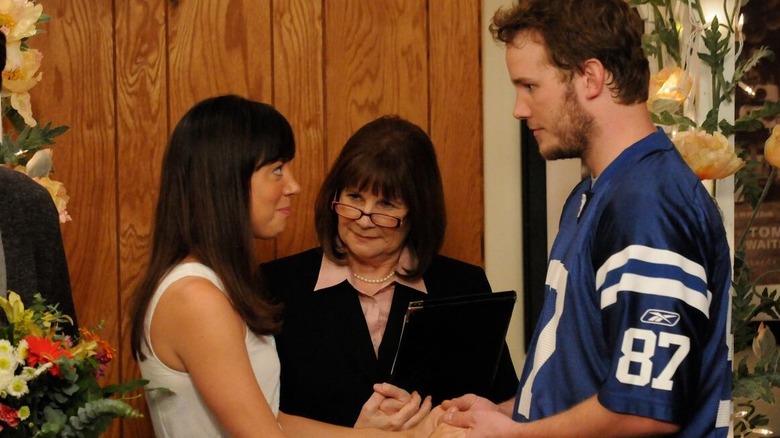 Michael Yarish/NBC
There are things you probably never knew about "Parks and Recreation," but it gave fans plenty of hilarious moments over the seven seasons it aired. With those laugh-out-loud moments came plenty of severe turning points that sent the show's characters toward different plotline directions. For fans at home, these changes were often met with an emotional reaction, and the same could be said about the actors. Aubrey Plaza, who has lingering heartache over the show, spoke with GraziaUK and recalled the atmosphere on-set when shooting the April and Andy wedding episode.
When looking back at filming the specific episode nearly twelve years ago, Plaza explained why this one is one of her favorite memories. "It almost felt like it was really happening," she said about the make-believe wedding. "Like, I'm pretty sure Amy [Poehler] really cried ... it was like she was forgetting April and Andy weren't real." Plaza explained how weddings, in general, bring out "the feels" in everyone involved. "It felt like we were at a real wedding," she said.
Plaza goes on to recall declaring that everyone had to remember the moment wasn't true. "I had to keep going, like, 'I am playing a character,'" she said. That order from Plaza was easier said than done as the emotions caught up with her. "Then, I think I cried," she remembered. This proves that, fictional or not, when a family-like bond develops between people, be it between actors on-set or between characters and fans, momentous occasions, such as a wedding, will inevitably result in a genuine emotional reaction.