The Best TV Couples Of 2022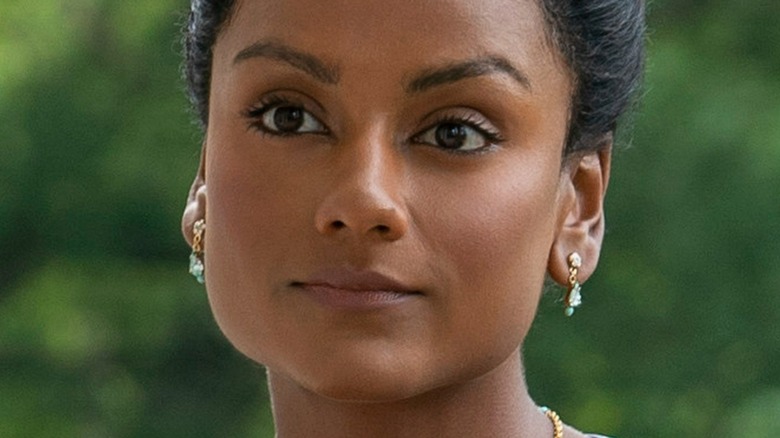 Netflix/YouTube
When you tune into your favorite 2022 TV shows, you're often coming for the story and staying for the couples. Whether it's a romance or a dark fantasy, you can most likely find love at the center, reeling you in with tried and true tropes and, of course, stunning actors. These romances range from wholesomely too good to be true all the way to I can't look away toxic. Don't worry, no matter who you root for, there's no judgment. We all have our secret fantasies we'd like to see fulfilled on our televisions.
Luckily, you don't have to be happily in love to enjoy the best TV couples of 2022. All you carefree singles or bitter skeptics can make the most out of TV's ability to help you escape reality. In real life, you're mindlessly swiping on dating apps, but according to your remote control, you're riding horseback with a hunky nobleman in London's high society. Let your imagination and heart roam free with this list of the best TV couples of 2022 so far.
Charlie and Nick (Heartstopper)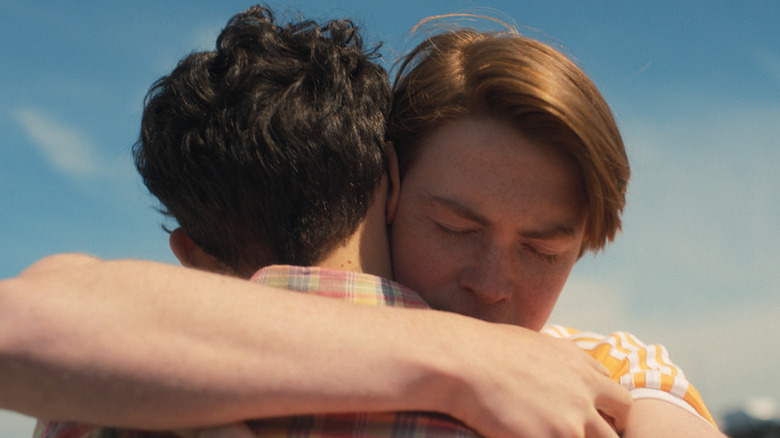 Netlix
Based on the graphic novel series by Alice Oseman, "Heartstopper" created one of TV's most heart-melting, wholesome romances between two friends turned lovers. Teens Charlie and Nick spark up a friendship that may be blossoming into something more — even though it all seems unlikely at first. While Charlie has been recently outed as gay and struggles in a relationship with his ashamed boyfriend, Ben, Nick is still questioning his sexuality. 
This conflict doesn't stop the two from sharing some swoon-worthy moments. Their snow escapades in "Crush" are cute enough to warm the coldest of hearts. Then there's "Secret," when Charlie gets hurt playing rugby and Nick lovingly comes to his aid. Nick even goes as far as getting into a physical fight when defending Charlie against a friend's mean comments. Of course, it wouldn't be a teen romance without miscommunication. The series plays up the question of 'will they or won't they' angle by having the two struggle with the societal pressures that come with their relationship.
However, when Nick and Charlie finally confess their feelings for each other they share a kiss that'll live on as one of the best TV kisses to ever bless our screens. It was so good that Variety reported that the 2022 Edinburgh TV Awards saw a record-breaking number of votes cast for the TV moment of the year — the one award voted for by the public. With more than 100,000 votes across all nominees, Nick and Charlie's first kiss from "Heartstopper" reigned supreme.
Abbey and David (Love on the Spectrum U.S.)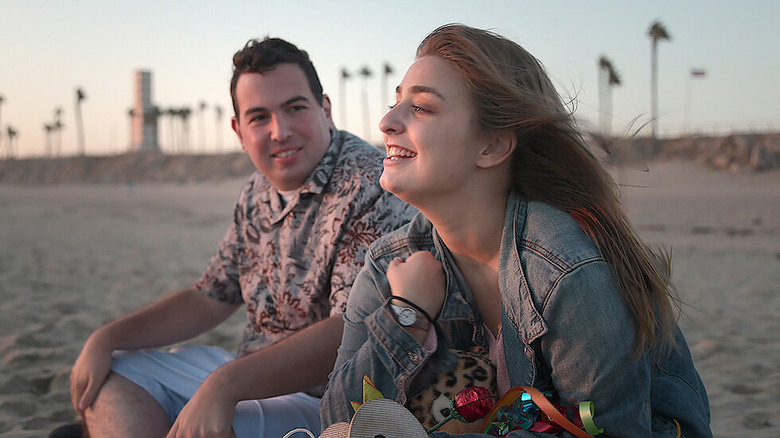 Netflix
The dating reality subgenre has seen its fair share of TV couples — some more toxic than others. However, there's never been a couple as sweet or lovable as Abbey and David from "Love on the Spectrum U.S." A spinoff of the original "Love on the Spectrum," this edition of the reality docuseries follows the same premise in which people on the autism spectrum search for love and navigate the changing world of dating and relationships. It's impossible not to root for all the participants' journeys to finding love, but one couple, in particular, left a lasting impression on viewers.
We first meet Abbey in Episode 1 when she hits it off with fellow animal lover David during their first date at the zoo. Staying on theme, they share a second date at a wildlife sanctuary. David greets Abbey with a thoughtful gift — and it won't be the last. It's clear that David shows his feelings through the love languages of gifts and words of affirmation because he is certainly a sweet talker, calling Abbey "special" and encouraging her while she feeds the lions. They end the date excited for the next and share an iconic kiss on the cheek. Abbey thanks him while slightly rubbing off the kiss remnants. David responds with a "you're welcome" and Abbey with a "you're welcome too."
Based on their undeniable chemistry, it's not surprising to learn Abbey and David are still together as of October 2022, according to a post on Abbey's Instagram. You can find the two posting together on social media to Abbey's many dedicated followers.
Belly and Conrad (The Summer I Turned Pretty)
Amazon Prime Video's "The Summer I Turned Pretty" is another book adaptation that has viewers head over heels for summer's hottest love triangle. Belly and her mother Laurel spend every summer with Laurel's best friend and her two sons, Jeremiah and Conrad. However, this summer is different because this is the summer Belly turns pretty. The boys have always been like brothers to Belly, but she can't deny her attraction to Conrad. To make things even more complicated, Belly starts up a fling with another boy named Cam. Who will she end up with?
Viewers have been choosing their favorite pairing based on the shared chemistry between characters. Jeremiah is the carefree life of the party, while Conrad is the reserved, brooding older brother. Then there's Belly's brief relationship with the awkward Cam. 
Ruling out Belly getting back together with Cam, TikTok can tell us exactly who fans are rooting for. Already a favorite on TikTok's subcommunity BookTok, the TV adaptation is swarming the app. When you search for the names "Belly and Jeremiah," more than 65 million results come up. When you search for the names "Belly and Conrad," that number increases to more than 440 million. After all, Conrad is Belly's first love. Everyone's just waiting for him to reciprocate the feelings when we get their jaw-dropping kiss. Anticipation for more Belly and Conrad in Season 2 couldn't be higher.
Maggie and Ben (Maggie)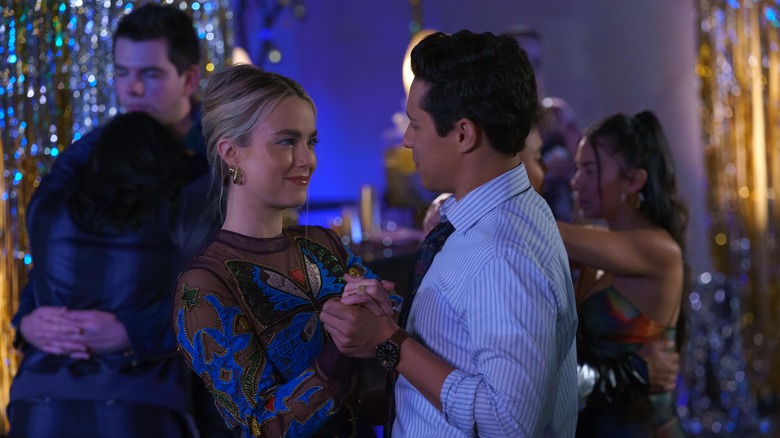 Byron Cohen/Hulu
Gone too soon — Hulu's romantic comedy "Maggie" has been tragically canceled after a single season, Variety reports. However, that doesn't mean we can't enjoy the tension between psychic Maggie and her love interest Ben. As a psychic, Maggie can see into the future of anyone she touches. Strangely, when she does a reading for Ben, she suddenly sees a glimpse of her own future. The two are in love and married with kids. She follows her fate and tries a relationship with Ben — even though she's never had much luck in that department. When she gets another vision of Ben marrying someone else, she breaks it off. The two are seemingly out of each other's lives for good until Ben moves into Maggie's parent's duplex with his new girlfriend Jessie.
It's obvious the two still share an attraction, but it's hard to say whether they'll end up together. Maggie is constantly seeing visions of them together, but she struggles to decipher their meaning. Instead, she must learn to live in the present. By the end of the season, Ben is engaged to Jessie, but it's hardly the end of him and Maggie — or so it seems. Maggie's visions become more confusing as she sees both herself and Jessie as Ben's bride, but which is true? Maybe Season 2 would've had the answer, but no one will really know. Still, Maggie and Ben will always be a favorite.
Rhaenyra and Daemon (House of the Dragon)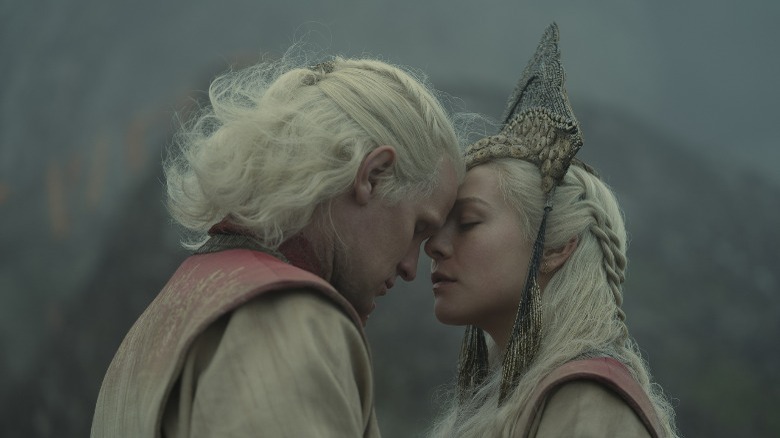 Ollie Upton/HBO
Possibly the most controversial couple of 2022 is Rhaenyra and Daemon from HBO's "Game of Thrones" prequel "House of the Dragon." As far as the Targaryens are concerned, incest isn't off limits, so when niece Rhaenyra and uncle Daemon strike up a love affair, fans can't help but root for them no matter how much it makes them cringe. Everyone loves a forbidden romance, right? 
Their first encounter is as scandalous as they come. When they begin to get intimate at a brothel, Daemon puts a stop to it, leaving viewers with a sense of unfinished business. The two go their separate ways and marry others, but that won't be the last of them. Ten years later, they reignite the spark. This is their chance to marry in better hopes of gaining control of the Iron Throne. Through all the family drama, brutal killings, and graphic births, viewers can warm their hearts to the twisted yet heartfelt relationship between Rhaenyra and Daemon
Stede and Ed (Our Flag Means Death)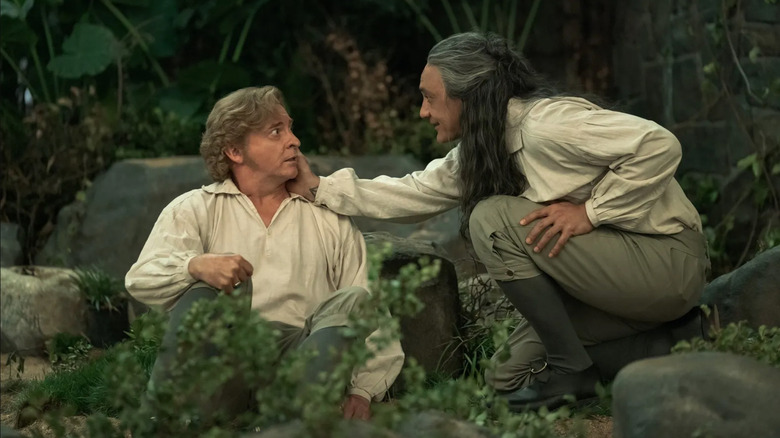 Aaron Epstein/HBO Max
At first glance, you wouldn't think of HBO's "Our Flag Means Death" as a romantic comedy, but there's more to being a pirate than meets the eye. At least that's what gentleman turned pirate Stede Bonnet discovers as he trades in a life of privilege to sail the high seas during the Golden Age of Piracy. He won't only have to learn how to survive against deadly threats from naval warships and other bloodthirsty pirates but also how to navigate falling in love with famous pirate captain Blackbeard, also known as Ed. Although LGBTQ+ relationships weren't exactly normalized during the period, it's easy to imagine how they could've been commonplace.
In an interview with Collider, creator David Jenkins explains, "Just the idea of somebody who has a terrible midlife crisis and decides to do this ... And then the world's greatest pirate takes him under his wing, and then they have a whole voyage together, and we don't know why. It's lost to history. So all of his facts are fascinating, and then all of the questions that are unanswered are fascinating." While filling in the blanks, the relationship between Stede Bonnet and Blackbeard was born. Their relationship isn't the only queer romance on the show, leaving viewers to flock to "Our Flag Means Death" for comedic pirate shenanigans and endearing infatuations.
Kate and Anthony (Bridgerton)
Netflix's historical romance series "Bridgerton," based on the book series by Julia Quinn, broke records in its first season. According to Deadline, "Bridgerton" was watched by 82 million of the 200 million Netflix 2020 subscribers, making it Netflix's biggest series. This is unheard of for the romance genre, but it's hard not to watch and realize why it was such a huge success when Daphne and Simon are on your screen. However, in 2022, we got the long-awaited Season 2 with the new couple — Kate and Anthony. This follow-up season surpassed the first, crowning it Netflix's most popular English-language TV series of all time, Forbes reports.
Daphne's posh eldest brother Anthony is the eligible bachelor in question, and Miss Kate Sharman is just the spinster to put him in his place. They don't meet on the nicest of terms, but their friends-to-enemies arc is as satisfying as they come. Their playful back and forth quickly develops into something passionate. However, it's Kate's sister Edwina who is destined to be Anthony's bride. Inevitably, Edwina sees the true nature of Anthony and Kate's relationship and leaves Anthony at the altar. The sisters reconcile, and Kate and Anthony live happily ever after. 
Next, we can look forward to the romance between Colin Bridgerton and Penelope Featherington in Season 3.
Michael and Colin (Uncoupled)
Michael and Colin from Netflix's romantic comedy "Uncoupled" might be the most unlikely couple to make it to this list since the two break up in the very first episode. However, as Michael attempts to move on with one failed date after another, viewers soon realize there's no one quite like Colin. 
The two had been together for 17 years when Colin abruptly ends the relationship. We follow Michael, who now must navigate the dating scene as a newly single middle-aged gay man. He soon realizes the men on the dating app Grindr don't come close to the man he once shared a life with. There's the hot dermatologist who's packing more than Michael's prepared to handle. Then there's the time he tries his luck during a ski trip with a handsome realtor whom he met years before named Corey — only to end up plummeting down a snowy hill. Still, nothing is more disheartening than the threesome he's offered solely out of pity. Nope, he needs Colin back, but could their couple's counselor be right when he suggests that Michael drove Colin away?
The ex-couple reunites in the season finale during a wedding, and all goes well. Michael is finally coming to terms with their separation when Colin admits he's made a mistake in leaving. We hope to see the two work things out in Season 2 because, as it turns out, dating isn't exactly Michael's forte.
Frances and Nick (Conversations with Friends)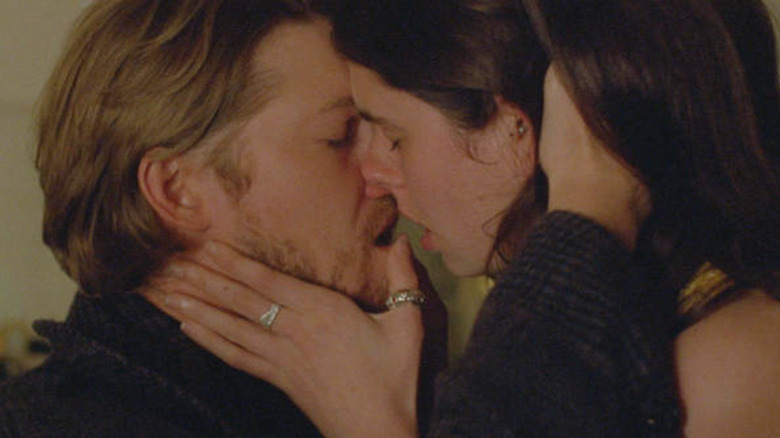 Hulu
It seems like 2022 was the year of book-to-TV adaptations — and we're not mad about it! Unlike the other couples on this list, Frances and Nick from Hulu's "Conversation with Friends" are involved in a polyamorous relationship. Frances and her ex-girlfriend Bobbi get involved with married couple Nick and Melissa. While Melissa and Bobbi hit it off, Frances and Nick form their own connection. 
At first, Frances feels uncomfortable with what seemingly feels like an affair, but Nick reveals their marriage has already survived numerous affairs on Melissa's end. However, this doesn't give Frances the confidence she's looking for, especially after Nick makes things more complicated by not clearly expressing his feelings. The tension between the two is palpable.
The relationship is complicated. Frances is young and inexperienced, making it hard for her to comprehend how Nick can have feelings for both her and his wife. Between the messy feelings and Frances' new diagnosis of endometriosis, she breaks things off with Nick and rekindles her relationship with Bobbi. However, it's clear this won't be the last of them when Frances delivers the final line to Nick — "Come and get me." Although it's still unclear whether a Season 2 is on the way, we can all imagine what Frances and Nick will get up to next.
Mary and John (The Winchesters)
Mary Campbell and John Winchester may be the most daring, strong-willed couple we've seen in 2022. As a prequel to the long-running series "Supernatural," "The Winchesters" takes us back to the epic, untold love story of how Mary and John first met, and it's a classic story of love at first demon slaying. Unlike John, Mary was raised to be a supernatural hunter. That means creatures like ghosts, vampires, demons, and spirits are fair game. While looking into his own father's mysteries, John joins forces with Mary in her search for her missing father. What could be more romantic?
Although we already know the couple's fate, many questions have been left unanswered about their past. The last time the world saw Mary and John together, they were grown up and had two kids, Dean and Sam. However, that was in the first episode of "Supernatural," where Mary is burned to death while pinned to a ceiling. Later in the series, John is slain by the demon Azazel. This is our chance to finally get to know them more intimately.
Colby and Madlyn (The Ultimatum: Marry or Move On)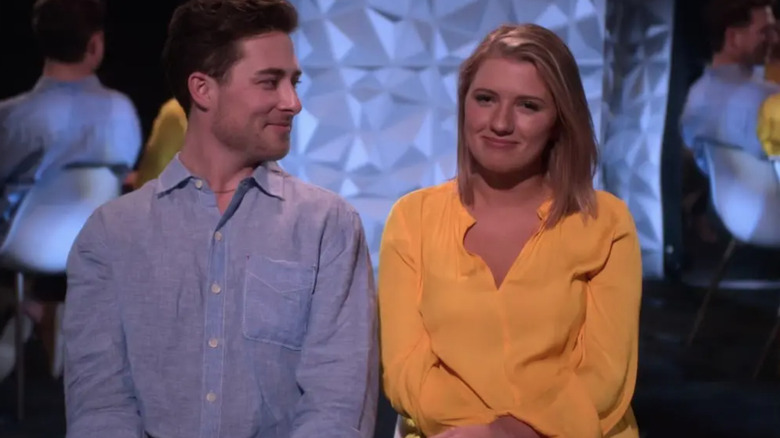 Netflix
Married co-hosts Nick and Vanessa Lachey are back again with their new dating reality show "The Ultimatum: Marry or Move On." This self-proclaimed social experiment features six couples who have eight weeks to decide whether they want to get married or separate forever. The couples then split amongst themselves to discover if someone else might be a better fit for them. 
With any reality dating show, there will always be a fan favorite. Colby and Madlyn are undeniably that couple in this reality show. Madlyn was the only woman contestant who was given the ultimatum, while the rest were given to the men by their girlfriends. Colby and Madlyn's relationship was rocky at the beginning and it seemed as though they'd be another couple who would opt to end things for good. However, with some soul-searching and healthy communication, the two ended up being the only couple to marry at the end of the season. 
Viewers swooned over their elopement in front of a 50-person camera crew. While it wasn't a traditional wedding, the couple lived out their happily ever after. A year later, in May, they welcomed their first child (via People).
Amy and Lino (From Scratch)
Italy is known as the country of love for good reason. In Netflix's "From Scratch" Amy, an American student studying in Italy meets and falls in love with Lino, a Sicilian chef. Their classic meet-cute is love at first sight. What American doesn't dream of scoring a romantic Italian boyfriend? 
In true Italian style, Lino shows his love through food, so when they're not wandering Italy's cobblestone streets, they're in the kitchen, tasting away at their creations of love. The future ahead of them seems as bright as the sun. They travel back to Amy's hometown in Texas, marry, and eventually adopt a daughter, Idalia. 
However, life has a way of throwing curveballs. When Lino faces health issues, the two families must come together to help the couple come out stronger on the other side. 'Til death do us part is put to the test with this 2022 dream couple.