The Ending Of Look Both Ways Explained
Netflix's "Look Both Ways" stars Lili Reinhart (of "Riverdale" fame) as Natalie Bennett, a college senior with a detailed five-year plan. Natalie has a type-A personality with plans to graduate college with honors and find success in the animation industry so she can follow her passion by making her own animated movies. While studying for finals, Natalie's friend Gabe, played by Danny Ramirez (from "Top Gun Maverick") tells Natalie his band has been sponsored to go on tour.
Gabe suggests they quit studying for finals and celebrate this moment by being in the moment. This is when Natalie, a future-focused young woman, throws caution to the wind for a one-night stand with Gabe, a musician who lives for today. When Natalie finds herself praying to the porcelain goddess in the bathroom of her sorority house on graduation night, her best friend Cara (Aisha Dee) buys her crackers and pregnancy tests, just in case 7-11 sushi isn't the culprit.
An unexpected pregnancy would derail Natalie's five-year plan, diverting her from the life path she envisioned for herself. When Natalie apprehensively looks at the results of her pregnancy tests, her life fractures into two divergent realities, similar to "Sliding Doors" starring Gwyneth Paltrow. This what-if film follows Natalie's two futures for five years after graduating college. If these alternating storylines left you dizzy and wondering what was real, keep reading and we'll clarify the ending of "Look Both Ways" and the uplifting message director Wanuri Kahiu's movie embraces.
Natalie moves back to her hometown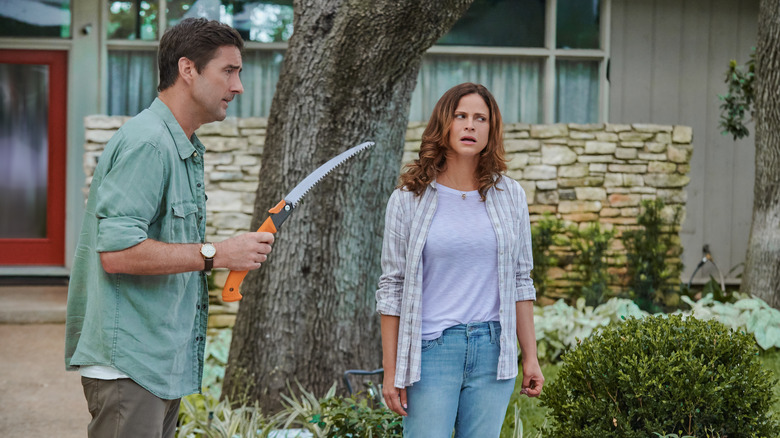 Netflix
In the reality when the pregnancy test is positive, Natalie lures Gabe away from the party to a bridge to tell him she is pregnant. He is stunned and they reel at how unexpected and unfair this unplanned pregnancy is, commiserating about how they were safe and that this type of thing happens to other people, but not to them. Gabe says he supports Natalie's choice, saying he will be there for her, regardless.
Despite her ambitions, Natalie feels compelled to become a young mother regardless of how motherhood will impact her five-year plan. After telling Cara she can't go to L.A. with her, Natalie drives home with Gabe to the suburbs outside of Austin, Texas, where she went to college, and asks her parents, Rick (Luke Wilson) and Tina (Andrea Savage) if she can move home. Natalie's parents resent Gabe, finding his history degree and identity as a musician ludicrous. Gabe promises to do his part. He even proposes to Natalie, although she assures him that isn't necessary.
Natalie's parents believe this pregnancy will stop Natalie from pursuing her dreams. Natalie tries to convince them — and herself — she will still work in animation. She's just putting her plans on hold. Ultimately, Natalie's parents allow her to move home, but the resistance and anger make Natalie question her decision. Of course, now that Natalie has made this huge decision to become a mother, she must live with the consequences, feeling anxiety, doubt, and fear.
Natalie moves to L.A. with Cara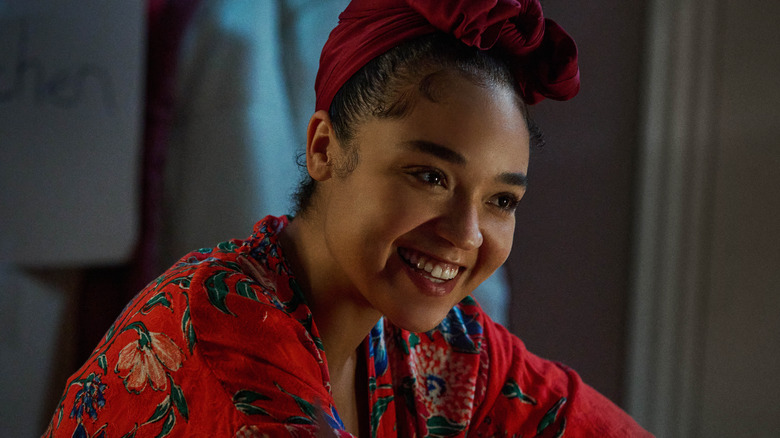 Netflix
In the alternate reality in which the pregnancy test is negative, Natalie celebrates graduation with her friends and continues with her five-year plan by moving to Los Angeles with her best friend Cara. Gabe and their one-night stand are left behind in Austin, where he will go on tour with his band, chasing his dream of being a musician.
Natalie drives to California with Cara, thrilled to be starting their new exciting lives as college graduates in the city of angels. Natalie is ready to dazzle the animation industry with her talent and drive, but things don't go exactly as she expected. She's disheartened when she discovers most job postings in the animation industry are unpaid internships, lamenting the need for independent wealth to aspire to artistic work.
When Natalie sees that her animation idol, Lucy Galloway, is looking for an assistant she applies despite not being qualified, feeling excited about the future she has been planning since she fell in love with animation in childhood. Cara thinks Lucy looking for an assistant just as they move to L.A. is a blessing from God, suggesting that in L.A., Natalie is on the right path.
Natalie struggles with her decision and postpartum depression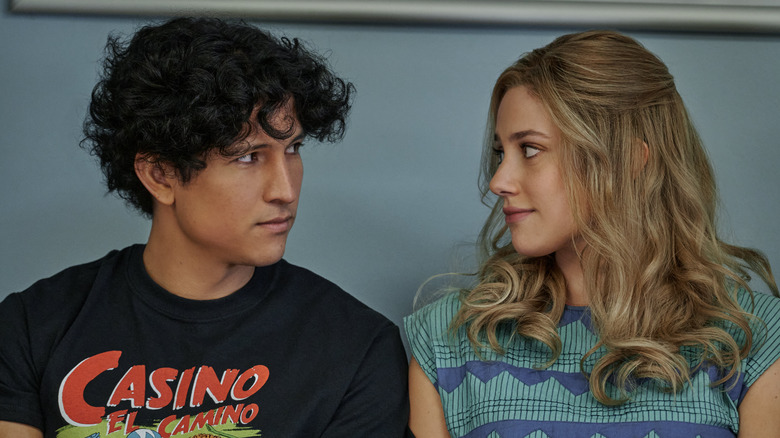 Netflix
In Austin, pregnant Natalie is overwhelmed by her shifting hormones and feels lost after shelving her career plans to become a young mother. Talking to Cara, who is living the life they were supposed to share in L.A., only makes Natalie feel worse about staying in her hometown to become a mom. There are also beautiful moments in this unexpected pregnancy, like Natalie and Gabe finding out they are having a daughter.
After giving birth, Natalie suffers from postpartum depression. She feels physically disgusting and struggles with having no social life outside of her family and Gabe. Seeing Cara's pictures on social media only makes Natalie feel more lonely, and she struggles with her identity. She is no longer sure who she is, now that she is a mother, rather than an animator like she had always planned.
For Natalie, a determined overachiever with her eyes on the prize, a detour as significant as having an unexpected baby — something that changes your life forever — is destabilizing. Natalie was once focused, determined, and confident. Now she feels lost and unsure of herself. Despite loving her daughter Rosie, not knowing where she is headed, and having no social life or career leaves Natalie feeling aimless, wondering if she's made a huge mistake in abandoning her five-year plan to have Rosie.
Natalie struggles to find a job in the animation industry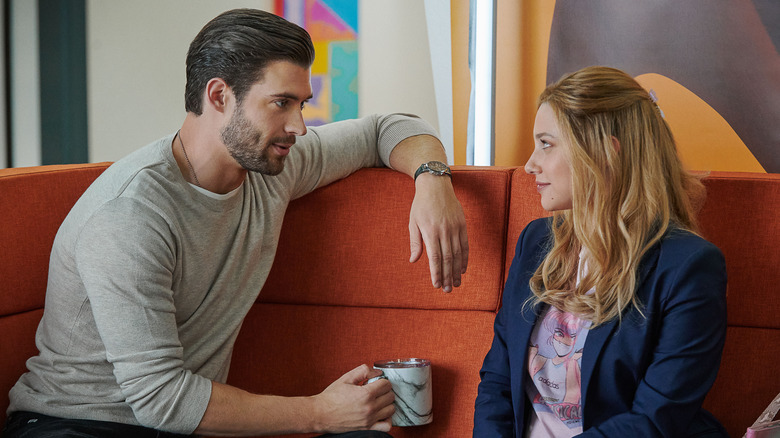 Netflix
Upon arriving in L.A., Natalie struggles to find paid work as an animator. Although she dutifully sends our resumes, even for jobs she isn't technically qualified for, Natalie worries her plans and dreams are out of reach and were possibly unrealistic to begin with. Cara had an advertising job lined up in L.A., so she slips into her post-college career with an ease Natalie must envy.
After not hearing from any of her job applications, Natalie sees Lucy Galloway, the animator at Tall-Story Natalie idolizes and applied for a position with, is having an event. Natalie contemplates the bold move of crashing the event to connect with Lucy. Natalie meets Jake, played by David Corenswet (from Netflix's "Hollywood") at the restaurant where the event is taking place. Jake encourages her to crash the party, where Natalie discovers Lucy doesn't even attend the events she throws for Tall-Story.
Natalie's drive and personality impress Jake, who works at Tall-Story and he puts her resume at the top of the pile. Natalie gets an interview with her animation idol and lands a job as Lucy's new assistant. As exciting as this career development is, Natalie quickly learns Lucy doesn't see her as an animator and understands breaking into animation is more difficult than she imagined. Natalie realizes her five-year plan didn't account for how long it takes to build a career and how rare rags-to-riches stories are. True to character, Natalie soldiers on with blind optimism.
Natalie pushes Gabe away because they are so different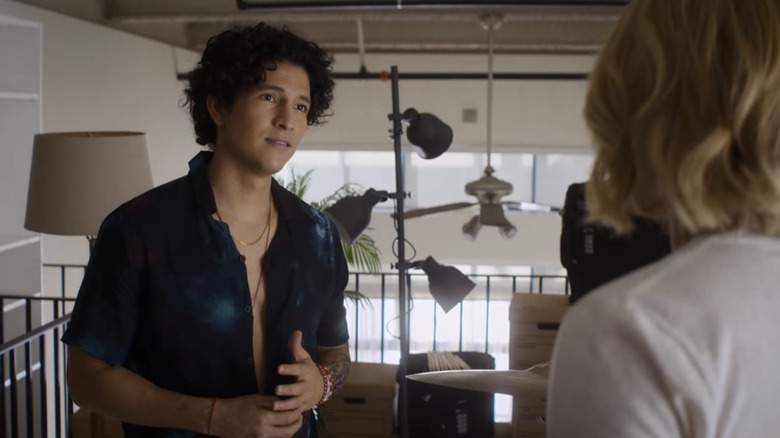 Netflix
In Austin, Natalie and Gabe are getting comfortable with parenthood and moving forward with their lives. After Gabe gets his own loft and moves out of Natalie's parent's place, where he was co-parenting with Natalie, he asks Natalie and Rosie to move into the loft with him. Despite her feelings for Gabe, Natalie declines his offer to take their co-parenting to a new level as a romantic couple.
She awkwardly and insensitively encourages Gabe to start dating. Natalie tells Gabe she's afraid of it not working because they are so different and she doesn't want it to affect Rosie if things end badly. Because of these fears, Natalie can't go down that road with Gabe. Natalie tells herself she pushed Gabe away because she is protecting their daughter, but when Cara visits from L.A., Natalie admits she "screwed up" because she was scared.
Just when it seemed like Natalie stopped doubting her decision and is easing into life as a mother by finding happiness in watching her child grow rather than longing for what she had planned, she makes another decision that ultimately doesn't feel like it was the right choice. It seems Natalie is trying to exert control over her romantic life in compensation for abandoning her five-year plan. Rejecting Gabe only brings Natalie more inner turmoil, rather than giving her the illusion of control she desires.
Natalie falls for Jake, someone she has everything in common with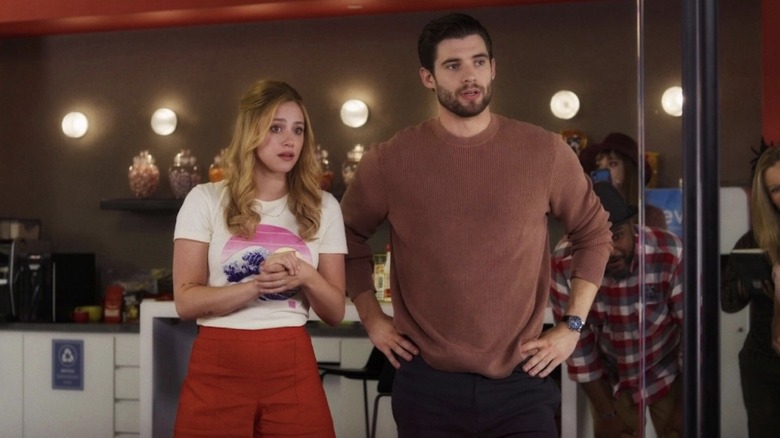 Netflix
In L.A., Natalie and Jake, the guy who helped her get the job, become friends, and it turns romantic when they discover how much they have in common, including a five-year plan and dreams of telling their own stories through filmmaking. These similarities ease her fear of dating because Jake feels like a safe bet. He shares her ambitions, making it easy for them to understand each other's motivations and priorities.
Even if you have a detailed plan, life can throw you a curveball, though, as it does when Jake takes a new job with a production company. After securing funding for a project, Jake has to move to Nova Scotia temporarily to produce a documentary, just after they started looking for an apartment together. Despite her disappointment about their plans to move in together disintegrating, Natalie tries to be happy for Jake because his career is moving forward the way he planned.
Natalie's career seems to be at a standstill. Natalie is waiting for Lucy to review the illustration portfolio Natalie sent her. Although Natalie still has an optimistic attitude, self-doubt is creeping in as she awaits Lucy's feedback. Natalie is understanding that life doesn't always cooperate with your plans and that sometimes you have to learn to compromise.
Natalie focuses on herself when Gabe gets engaged to Miranda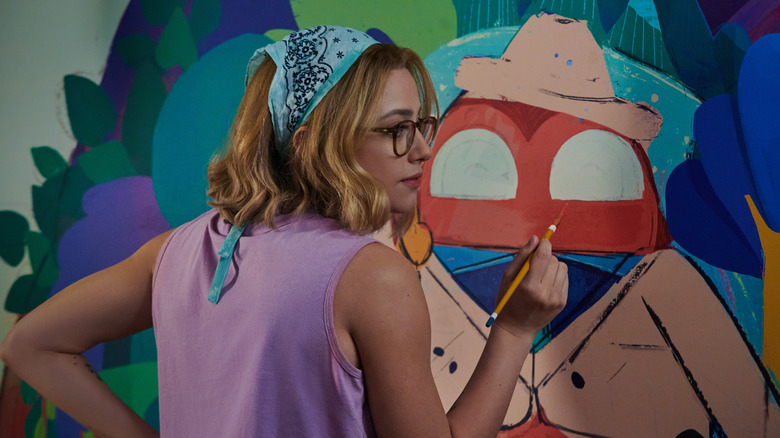 Netflix
In Austin, Natalie is devastated when Gabe gets engaged to his girlfriend Miranda. After talking to Cara when she visits Austin for a baby shower, Natalie realizes she must use this heartbreak as fuel to focus on herself by getting back into art. Natalie creates a comic strip, "Night Owl," inspired by her daughter Rosie's nocturnal sleeping patterns, and shares it online through her website. This phase in Natalie's life is confirmation that doing what you love and focusing on yourself can be healing. Natalie even accepts Gabe's engagement with Miranda, giving them a thoughtful early wedding gift.
When Natalie's comic gains national attention when PopSugar shares it on their platform, Natalie realizes even though she took a different route, and she's using her skills in a different medium than she had expected, she's still an artist and she shouldn't have wasted so much energy doubting herself. Although Natalie saw herself in L.A. working as an animator, her life as a mother in Texas actually gave her the inspiration for her comic strip, and it wouldn't exist without Rosie.
Natalie finds her voice after her job and relationship ends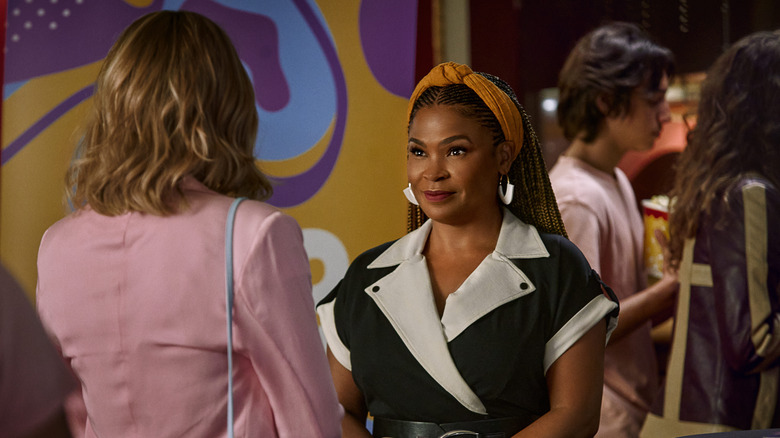 Netflix
In L.A., Natalie finally gets her boss Lucy to look at her portfolio, but Natalie is devastated when Lucy calls her work derivative and unoriginal. Lucy even tells Natalie maybe she should leave her position at Tall-Story, because the demands of her job may hinder Natalie from finding her artistic voice. This was not what Natalie envisioned for her future. She had never imagined failing at attaining her dreams.
When the pressure of keeping a long-distance relationship going with Jake coincides with professional woes, Natalie spontaneously ends things with Jake and slips into a depression. Although Natalie has experienced some setbacks on her ambitious five-year plan, this is the first time Natalie feels like her life is spiraling out of control and she is doubting herself.
Up until this point, Natalie's life in L.A. has seemed charmed and like it may have been the better life path. Natalie has finally hit a rough patch and is learning you can make all the plans in the world, but you can't control everything, and nothing is guaranteed in this life. After wallowing, Natalie recommits herself to her dream of being an animator and throws herself into making her own short-animated film, and submits to the South By SouthWest (SXSW) festival in Austin, Texas.
Natalie is on a panel at SXSW because of her comic strip, Night Owl
In Austin, Natalie is invited to sit on a panel at SXSW because of her popular comic strip, "Night Owl." Natalie even meets her animation idol, Lucy Galloway, who is sitting on the same panel. Despite abandoning her five-year plan, five years ago to have Rosie, Natalie is gaining recognition as an artist because of something her daughter inspired.
After her panel, Natalie, Rosie, and her parents watch Gabe's band play at a venue at SXSW. Even though both Gabe and Natalie put their creative passions and career plans on the back burner to care for their daughter, it seems Natalie and Gabe have both still followed their dreams. Though they took a detour as young parents, they are still arriving somewhere they always wanted to be, even if it looks a little different from what they imagined.
Natalie's animated short Indigo is accepted to SXSW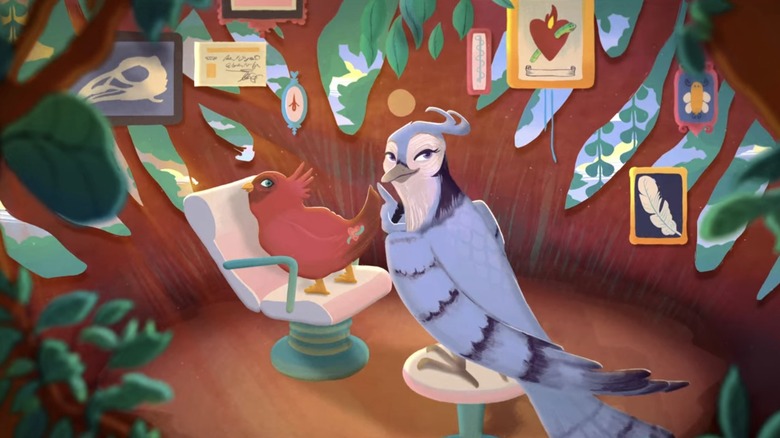 Netflix
Natalie's animated short is accepted at SXSW. Even though Natalie's five-year plan didn't exactly pan out how she had expected, she's still doing what she loves and finding recognition for her efforts. Before traveling home to Austin from L.A. to take part in the festival, Natalie leaves a message for Jake, sharing her exciting news, because she thinks he's the only person who will really understand how important this accomplishment is to her.
At the festival, Natalie and Cara see Gabe's band play. While catching up on the last five years since graduation, Gabe tells Natalie he is married with a baby on the way. In this version of reality, Gabe went on tour with his band after graduation, and found success as a musician, while Natalie chased her dreams to L.A. They both kept to their intended paths in life and found themselves exactly where they hoped to be.
Natalie tells Gabe she's always been in love with him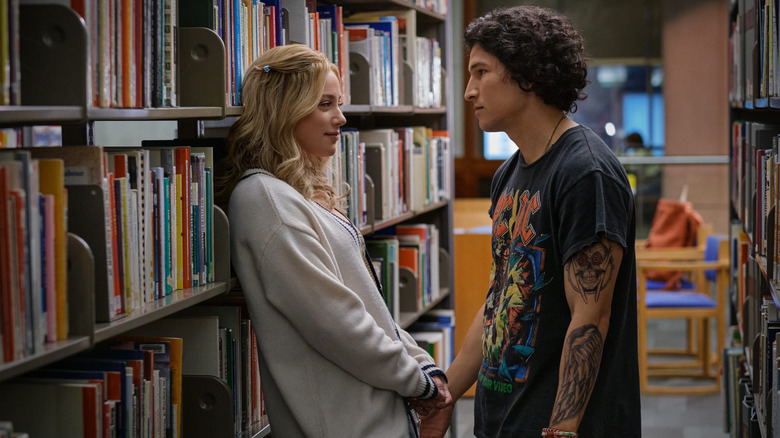 Netflix
After seeing Gabe's band play, Natalie asks where Miranda is, and Gabe tells Natalie he and Miranda broke up. They go for a walk to the bridge where their lives changed when Natalie told Gabe she was pregnant on graduation night. Natalie thanks him for being the best partner in their unplanned journey as parents.
Natalie tells Gabe she's been in love with him this whole time and she's tired of being too afraid it won't work out to go for it, and she finally has the courage to give their relationship a chance. Natalie seems to have accepted trying to control everything and living in fear just stops you from experiencing and enjoying life, rather than protecting you from disappointment and disaster. It finally becomes clear that fear and self-doubt have ruled this version of Natalie's life, the one where she stayed in Texas and became a mother.
When Natalie diverged from her five-year plan, she lost the innate confidence in herself and the future she had as an ambitious college student. Lili Reinhart told Tudum, "The circumstances in her life were changing, but she was still the same woman in both storylines." It wasn't until Natalie poured energy into following her creative dreams that she remembered who she was and found confidence in herself again.
Jake arrives in Austin to support Natalie and they reconcile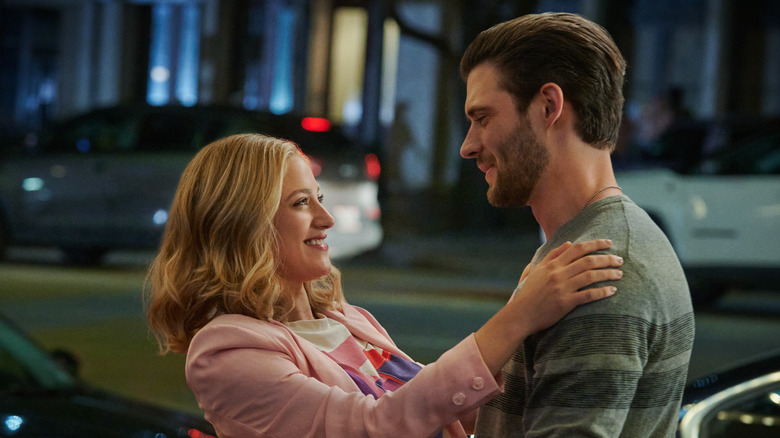 Netflix
When Natalie arrives at the venue where her animated short will premiere, Natalie sees Jake outside trying to scalp a ticket to the sold-out show. Natalie is surprised to learn Jake left the production of his documentary, despite the anger of his collaborators, to support Natalie in Austin. Jake tells Natalie where he wants to be is with her. Jake and Natalie reconcile and watch Natalie's festival submission together.
Lucy Galloway, Natalie's old boss at Tall-Story, approaches Natalie after the screening to congratulate Natalie on finding her voice and invites Natalie to come into the office when she gets back to LA to discuss her future projects. The audience's reaction to the film, and Lucy's interest, confirm Natalie always had what it takes to realize her dreams. Lili Reinhart told Tudum, "I think the film is really beautiful in that it shows how your life can turn out a million different ways. You have to be open to new paths that present themselves."
In this storyline of "Look Both Ways," where Natalie moves to L.A. to chase her dreams, she sticks to her five-year plan. Despite moving forward with enthusiasm and embracing the opportunities that came her way, Natalie still stumbled and doubted herself. From her struggles, Natalie learned you can't control everything. Plans are only a map. Sometimes the road has detours you couldn't have accounted for, but they are part of the journey to where you are going.
There wasn't a right or wrong path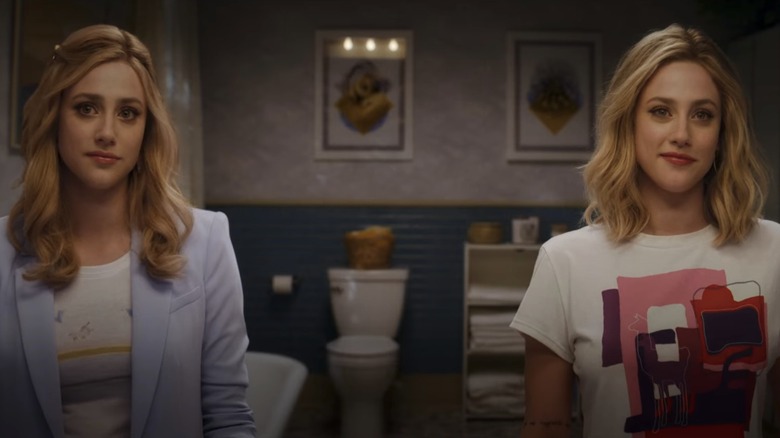 Netflix
At the end of "Look Both Ways," Natalie's two lives converge when they both visit their old sorority house after participating in SXSW. Both Natalies look at themselves in the bathroom mirror where they took a pregnancy and their paths diverged, before telling themselves, "You're okay." This is when we understand there was no right or wrong choice; there was no perfect path, only two completely different and fulfilling possibilities.
After the two Natalies walk out of the room, we flash back to Natalie sitting in the bathroom on graduation night looking down at two pregnancy tests in her hands, we know you're wondering which life was real. In the multiverse, both lives could be real. Maybe neither happened, and both timelines were figments of Natalie's imagination while awaiting the results, as Jerrica Tisdale of Cinemablend suggested.
There are a couple of hints at this possibility. The college girl reading on the couch at the sorority house doesn't react to Natalie walking through the front door. On graduation night, Natalie was wearing two butterfly clips in her hair, one pink and one blue. As Wanuri Kahiu told Variety, both storylines have their own color themes; with greens and blues dominating the color palette in Texas, while reds, oranges, and pinks dominate the color themes in L.A.
It doesn't matter if either storyline was real. Both of Natalie's lives were valid; both paths involved struggles and heartache, surprises and lessons, and success and love.