Alexis Bledel And Liza Weil Had To Endure Weeks Of Training For This Gilmore Girls Scene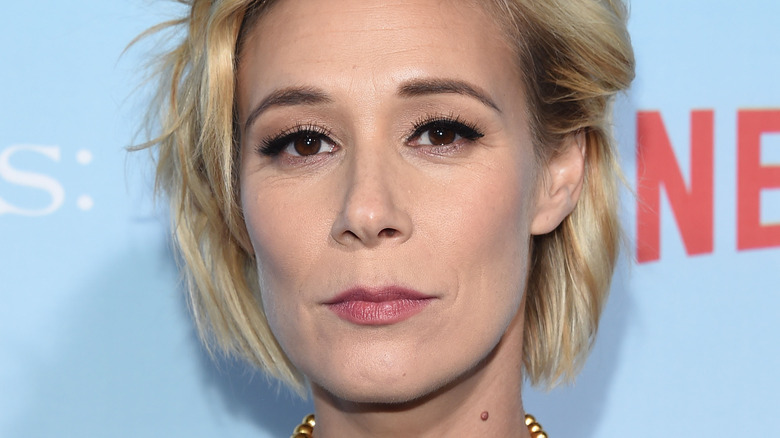 DFree/Shutterstock
For seven seasons, "Gilmore Girls" captured the hearts of fans by celebrating the bond between a single mother and her teenage daughter living in small-town Stars Hollow, CT with a community of quirky friends. The dramedy even got a revival in the form of a limited Netflix series, titled "Gilmore Girls: A Year in the Life," which takes place nearly a decade after the last time we saw the characters.
In an interview with Cosmopolitan, Liza Weil, who played Paris, shared, "The thing that's most lovely to me, looking back at my time on 'Gilmore Girls,' was how fortunate I was to be a young actor and to be on a show that made it really cool for girls to be smart. I really don't think there were any other shows like that at that time that were portraying young girls like that."
What might surprise fans of the original show is that there was one scene in Season 3, Episode 11, "I Solemnly Swear," that Weil and Alexis Bledel, who starred as Rory Gilmore, had to train extensively to film. So what moment was it?
Alexis Bledel and Liza Weil went to fencing school
Those weeks of training led to the fencing episode at Chilton! Liza Weil revealed that this scene where her character used fencing to air out her feelings was one of her favorite storylines for the character because it showed her vulnerability. She also said that the way Amy Sherman-Palladino and Dan Palladino, who created "Gilmore Girls," invested everything into getting the storyline right really helped her as an actor, teaching her a lot by allowing her to actually do it herself. 
"They sent Alexis [Bledel] and me to fencing school, we had weeks of fencing lessons that were really involved," the actress explained to Cosmopolitan. "Whenever I had free time, I would go to this amazing place in the Valley and just fence with people. When you watch the episode, it's not that long of a sequence. But they really invested the money and time for us to do that, which was amazing."
It's definitely interesting to consider how much fun was had behind the scenes for the actors when the moment is actually an argument between Paris and Rory that is caused by a setup meant to ruin their friendship. All of that training definitely paid off and created a memorable moment for both those involved and those watching.