The One Part Of Gilmore Girls That Alexis Bledel Found Really Annoying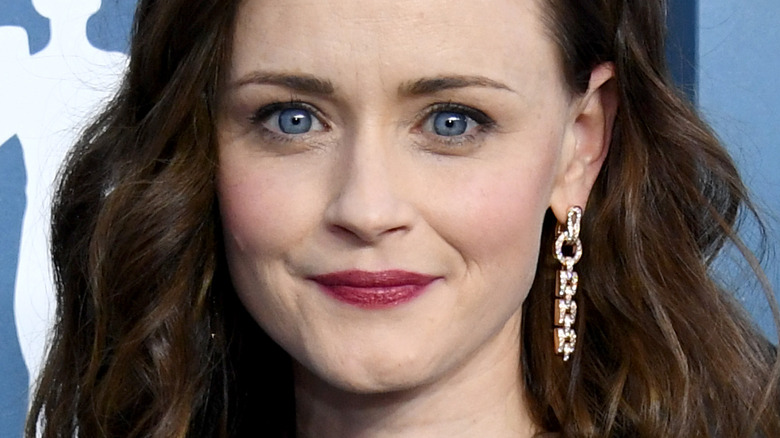 Jon Kopaloff/Getty Images
"Gilmore Girls," created by Amy Sherman-Palladino, ran for seven seasons from 2000 to 2007. The series follows Lorelai Gilmore (Lauren Graham), a 30-something-year-old and her teenage daughter Rory (Alexis Bledel). After getting pregnant as a teen and refusing to marry her high school boyfriend, Lorelai moved to a small town in Connecticut called Stars Hollow, where she raised Rory and made a life for them away from the wealthy world of her parents. However, when Rory gets into a prestigious private school, Lorelai is forced to ask her parents, Emily (Kelly Bishop) and Richard (Edward Herrmann), for help with the tuition, thus inadvertently blending the two worlds.
The series is undeniably a beloved one — hence why Netflix brought it back for a four-part revival series in 2016 titled "Gilmore Girls: A Year in the Life." For the most part, the cast seems to be as fond of the show as the fans are, even if there are a few unresolved plotlines in "Gilmore Girls." But that doesn't mean that filming was all fun and games. There was one thing in particular that annoyed Alexis Bledel — here's what it was.
Alexis Bledel wasn't always a fan of the costumes
Considering how popular "Gilmore Girls" has continued to be since it ended and how many relatable moments there are, it's no surprise that the cast still gets asked about their time on the mother-daughter dramedy. In Alexis Bledel's case, she was asked a lightning round of questions about "Gilmore Girls" while promoting "The Handmaid's Tale" on Watch What Happens Live with Andy Cohen in May of 2021. Amongst questions such as which cast member Bledel texted most recently (it was Lauren Graham) and who Rory should have ended up with (she couldn't choose), Cohen asked if there was a Stars Hollow community member that annoyed her the most.
She insisted that no one annoyed her but that a different aspect of Stars Hollow life sure did. Bledel replied, "None of them! But I was really annoyed when they put me in, like, a silly costume for a town event. That was humiliating."
Her comment makes sense, considering that some of the quirkiest Stars Hollow events include a 24-hour dance marathon, a Revolutionary War reenactment, a Knit-a-Thon, and The Festival of Living Art. In other words, there are plenty of opportunities for some costuming. Even outside of Stars Hollow town events, Rory was once dressed up as a 1950s housewife (in Season 1's "That Damn Donna Reed") and a World War II-themed USO outfit (in Season 6's "We've Got Magic to Do").
Alexis Bledel was grateful to return for the revival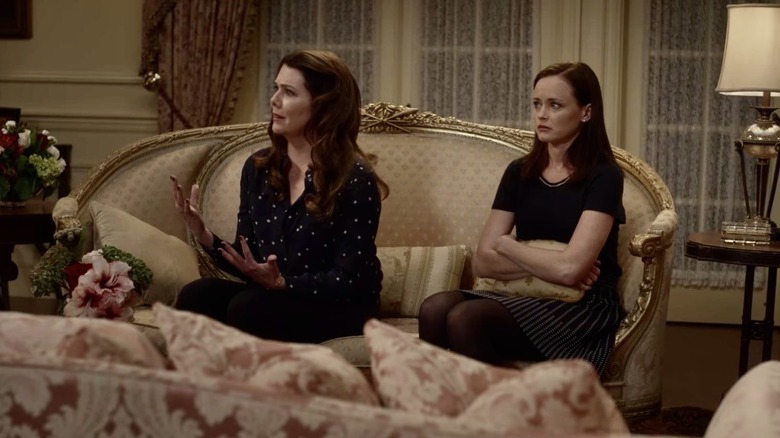 Netflix
Considering that a few outrageous costumes here and there (a minor blip in the grand scheme of things) annoyed Alexis Bledel, it makes sense that she would be more than happy to return to the world of Stars Hollow for "Gilmore Girls: A Year in the Life." In a 2016 interview with Glamour, she and co-star Lauren Graham discussed what it was like to return to the beloved show.
When asked how she has changed since the first round of "Gilmore Girls," Bledel was quick to express her gratitude. She explained, "I'm definitely more grateful. It's like a chance to have a do-over. You never really get that in life. To get to reimagine the same character eight years later, it's kind of great, creatively, to get to do that. You get to take all the things that you find interesting about the character and then hopefully inject that with whatever you picked up along the way personally."