Welcome To Chippendales - What We Know So Far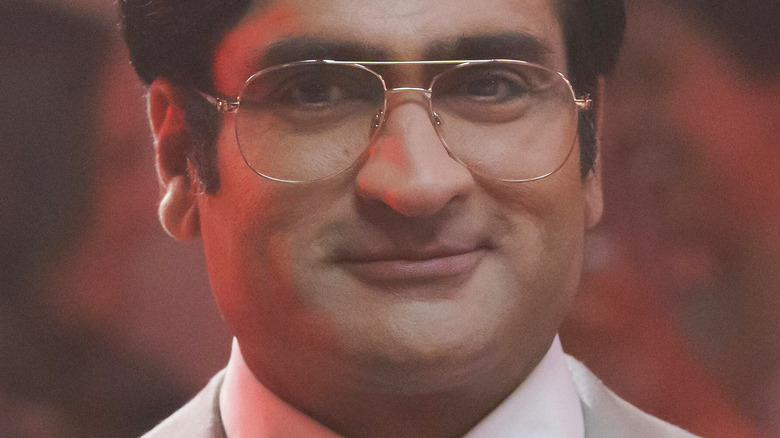 Hulu
It's rare but not unheard of for a series to undergo a name change between its initial green light and when it first airs; Hulu's upcoming "Welcome to Chippendales" is one such project. It's the story of Somen "Steve" Banerjee (Kumail Nanjiani), who founded the eponymous chain of male strip clubs in 1979. The series was originally titled "Immigrant," but we'll never know if a shift in focus from Banerjee's Indian background to his American criminal and business exploits came along with the name change. 
Series creator and executive producer Robert Siegel also created and wrote the Emmy nominated series "Pam and Tommy," as well as writing and directing the Patton Oswalt dark comedy "Big Fan" and the 2018 drama "Cruise." Banerjee led a wild life of sex, drugs, and violence, and Siegel had to prod Nanjiani into taking the role. He told Vanity Fair, "I think he was a little reluctant, or maybe nervous, about playing a bad guy." But what else do we know about "Welcome to Chippendales" aside from the life Banerjee lived?
What is the plot of Welcome to Chippendales?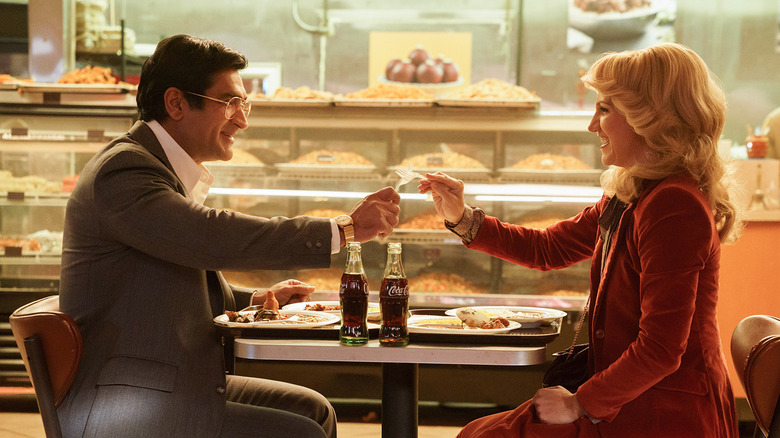 Erin Simkin/Hulu
Steve Banerjee's life certainly is filled with enough television-ready drama to fill multiple series. He came to the United States from India as a young man and founded the famous male strip club in the mid-'70s. In September 1993, he was arrested for hiring a hitman to murder Nick DeNoia (Murray Bartlett), a former business partner. Banerjee eventually agreed to a plea deal that would land him in prison for 26 years, but he hanged himself in his jail cell in October of 1994.
Robert Siegel said he found a story in Banerjee's atypical criminal origin story. "It's bad people doing bad things," he told Vanity Fair of the series. "But what differentiates it from another wannabe Martin Scorsese movie is that you take out Tony Montana and put in this nerdy, socially awkward Indian immigrant."
Nanjiani says that Banerjee's downfall was his own doing. "He had so many moments where he could have taken the right road and he didn't," Nanjiani said. "There are five different forks and each time, each crossroad, he took the exact wrong path." Where exactly that takes him will be up to Siegel and his writing team, but they have plenty of real-life material from which to draw.
Who is starring in Welcome to Chippendales?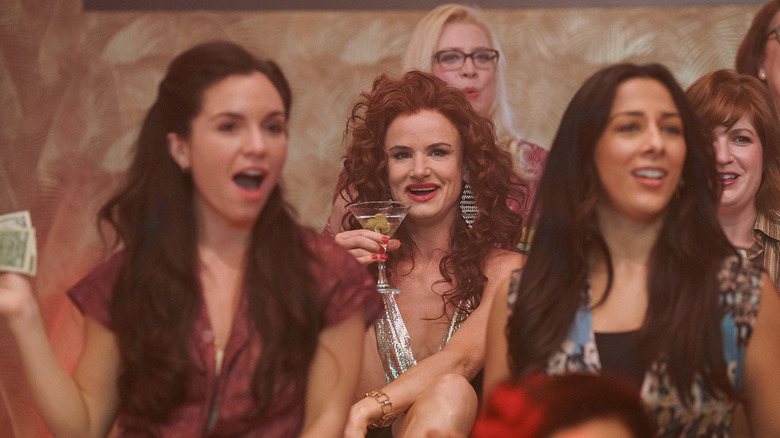 Erin Simkin/Hulu
As mentioned, Kumail Nanjiani will play Banerjee and Murray Bartlett will play DeNoia. Appearing as various Chippendales bartenders and dancers are Quentin Plair ("Roswell, New Mexico"), Colin Seifert ("Babylon"), Zach Palmisano ("Obi-Wan Kenobi"), Italian television veteran Felix Rossi, Darren Lipari ("Mr. Robot"), Cyrus Hobby ("Young Rock"), and Maximilian Acevedo ("The Babysitter: Killer Queen"). 
Juliette Lewis ("Natural Born Killers," "Yellowjackets") appears in one episode as Denise, and Nicola Peltz Beckham ("The Last Airbender," "Bates Motel") plays Playboy Playmate Dorothy Stratten. Other real-life characters who will be part of "Welcome to Chippendales" include Paul Snider (Dan Stevens), who killed Stratten, his estranged wife, and then himself in 1980. Ray Colon (Robin De Jesus), the man who killed DeNoia, and fashion designer Calvin Klein (Jason Bernardo) round out the cast.
Aside from Nanjiani and Lewis, who only appears in one episode, most of the cast of "Welcome to Chippendales" are relative newcomers to acting. Perhaps the most recognizable face beyond those two established stars is Annaleigh Ashford, who played Betty DiMello on "Masters of Sex" but is perhaps best known for her work on the Broadway stage. She plays Banerjee's wife, Irene.
What is the release date of Welcome to Chippendales and what will it be rated?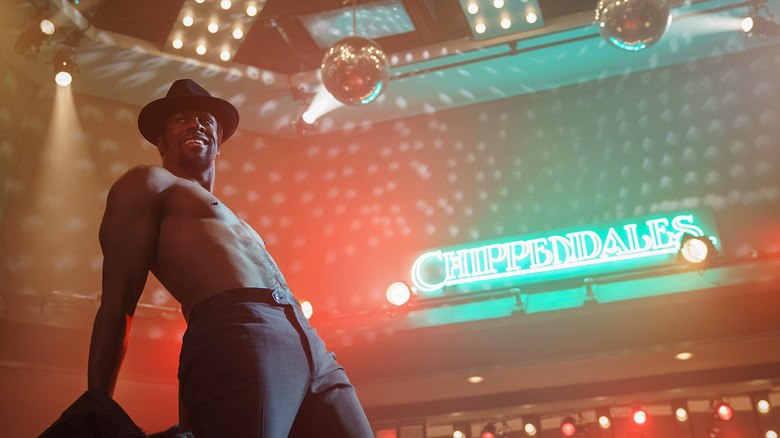 Erin Simkin/Hulu
The first episode of "Welcome to Chippendales" will be released on Hulu on November 22. New episodes will follow weekly. It's not yet known what the series will be rated, but the strip club setting and multiple murders will surely land it near the TV-MA end of the spectrum. Nanjiani himself admits that the story behind the founding of the legendary strip club is outrageous. He told People, "The behind-the-scenes stuff that happens is crazy. It's enough for, like, 10 podcasts."
Robert Siegel agrees that "Welcome to Chippendales" has darkness at its core. "On the surface, it's really shiny and fun," he told Vanity Fair. "But those quiet hints of disaster, of the dark and painful elements skirting the story's edges, get louder episode by episode."
Who is directing Welcome to Chippendales?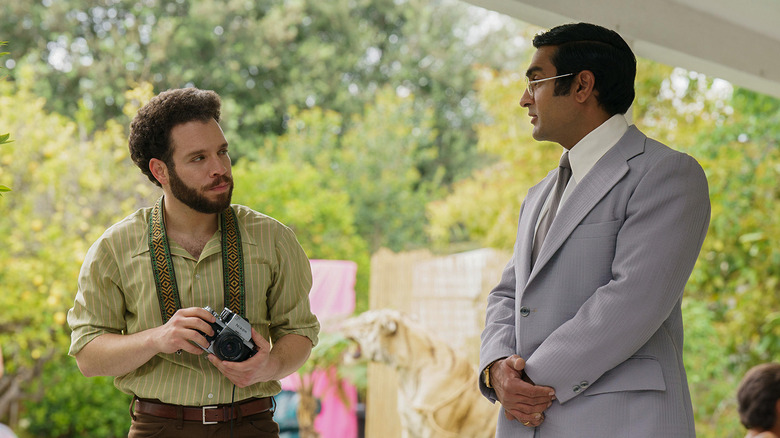 Erin Simkin/Hulu
Matt Shakman will serve as the director for "Welcome to Chippendales." He has two decades of directorial experience, almost exclusively in television — his only released film project is the 2014 crime drama "Cut Bank," but he will direct Marvel's upcoming "Fantastic Four." He directed all nine episodes of "WandaVision" and 43 installments of "It's Always Sunny in Philadelphia" and has been entrusted with episodes of "Game of Thrones," "Grace and Frankie," "Fargo," and "Mad Men," showing his storytelling chops and versatility. For "Welcome to Chippendales," Shakman was brought on to replace Ramin Bahrani, who recently directed "The White Tiger" and the 2018 remake of "Fahrenheit 451."  
David Rubin ("Big Little Lies," "Men in Black") will handle the casting duties and Lynette McCown ("Made for Love," "Drunk History") will manage set decoration. Richard Bloom ("Hunters," "Briarpatch") serves as production designer and Robert Andrade, Jr. is set to manage costumes and wardrobe.