Fans Can't Stop Raving About Zachary Quinto's Performance In AHS: NYC
Zachary Quinto's return to the "American Horror Story" series came as a surprise to many of the show's devoted fans. The actor, best known for his roles as Sylar in "Heroes" and Spock in the latest "Star Trek" movies, first appeared in FX's hit TV show in Season 1, "Murder House." Quinto guest-starred as Chad Warwick, a former owner of the house who originally purchased the Rubber Man suit and whom Tate (Evan Peters) kills. 
Quinto really left his mark on the "American Horror Story" series in the following season, "Asylum." He starred as Dr. Oliver Thredson, a murderous and psychotic doctor at Briarcliff Manor. "Asylum" elevated "American Horror Story" to new heights, and the villainous role landed Quinto an Emmy nomination. However, following the show's second season he decided to take a step back and stop doing AHS – now he's returning nearly ten years later.
In August, Deadline reported on Quinto's return to the series for the then-upcoming Season 11, "AHS: NYC." The newest season focuses on New York City in the 1980s, as detective Patrick Read (Russell Tovey) investigates a series of murders all targeting gay men. The season received an 80% on Rotten Tomatoes but continued the recent trend of low audience scores, sitting at 49%. The critical response to "AHS: NYC" doesn't live up to previous seasons that Quinto appeared in. Critics gave both "Murder House" and "Asylum" certified fresh ratings that paired nicely with their high audience ratings.
With Season 11 airing its two-part finale last night, fans are showing love to the latest season of "American Horror Story," specifically to Quinto's performance.
Zachary Quinto is great in AHS: NYC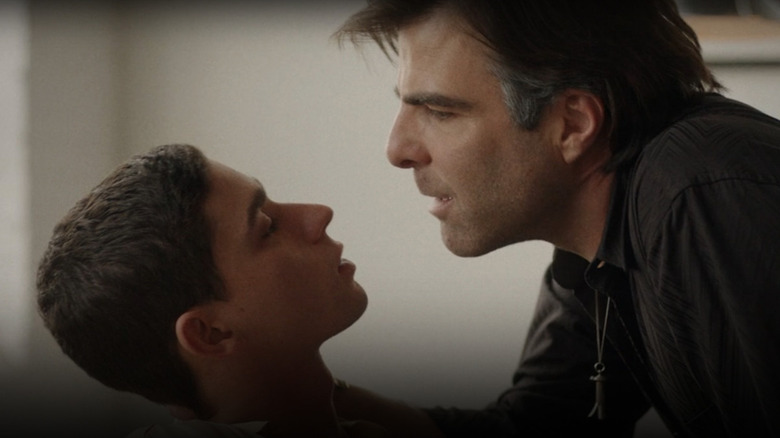 FX
In "AHS: NYC," Zachary Quinto plays Sam, an openly gay art collector fascinated with anything he deems beautiful — art and people alike. He's hyper-sexual, prejudiced against specific individuals, manipulative, and abusive. Quinto's performance is a standout of the season, going so deep that some fans had trouble distinguishing the actor from the character.
Throughout the season, "American Horror Story" fans expressed their love for Quinto and his portrayal of Sam. On Twitter, @Sephera said, "I'm really loving 'AHS: NYC.' I'm sad the finale is coming soon! It's fun remembering Zachary Quinto as Sylar on 'Heroes' oh-so-long ago, and wow, he's killing it this season, as he always does on 'AHS.' I really liked the Dr. Frankenstein riff as well, of course." @P_diggitydawg pointed out that every time Quinto appears, the show treats fans with a great season, stating, "The best seasons of 'AHS' are when Zachary Quinto is playing a murdery psycho. Tell me I'm wrong." Others mentioned how their curiosity pushed them to tune in to the show, but they stayed for Quinto's performance. @Wtf_Olkawa said that "AHS: NYC" doesn't give them the same feeling as previous seasons, but they love watching Quinto perform.
Many — and we mean many — "American Horror Story" fans flooded Twitter about how attractive they found Quinto's Sam. His scary yet sexy demeanor really checked a lot of boxes for some fans. Needless to say, if he decides to stick around for another season, fans would be more than happy to have Quinto back.