Allison Janney Credits James Corden's Late Late Show For Her Role In Netflix's Lou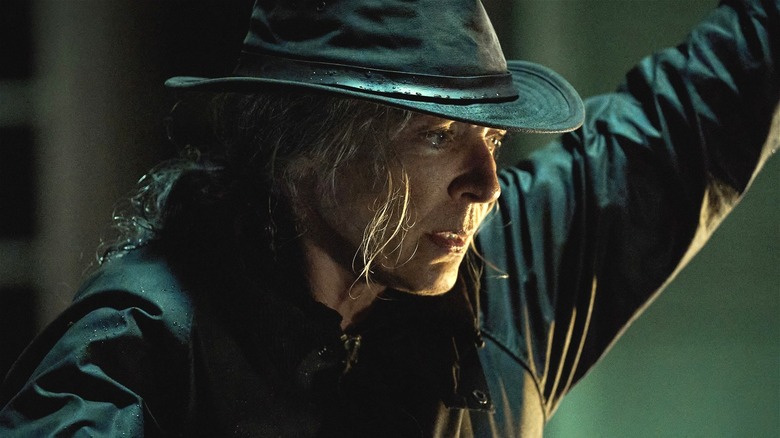 Liane Hentscher/Netflix
Allison Janney can do just about anything. Best known for her character roles in projects like Aaron Sorkin's iconic political drama "The West Wing" and the Margot Robbie-led biopic "I, Tonya," it may have been hard to imagine the lovable actor as a gritty, hardened action star — until 2022's "Lou," that is. Streaming on Netflix, "Lou" transforms Janney into a cross between John Wick and John Rambo, giving the actor a rare chance to flex her martial arts skills. Though audiences may have been pleasantly surprised by Janney's dark turn, the actor has had this sort of role on her mind for several years now.
Returning to "The Late Late Show with James Corden" to promote the film, Janney stated firmly that the talk show paved the way for her character in "Lou." "Is this true, that we here at 'The Late Late Show' had a role in you getting that movie?" asked Corden, to which Janney immediately responded, "Absolutely, 100%."
"I don't remember what appearance," Janney continued, "I was here, and you asked me 'What's next? '... And I was like ... 'I want to play, like, a badass action hero ...' I think I even did a high kick." Though Corden seemingly hasn't posted the exact clip online, Janney can be seen talking about her aspirations in a "Best of" supercut on CBS.com, featuring Corden and Janney's long history together on the talk show.
Janney has wanted to play an action hero since 2018
Just after the three-minute mark in the CBS supercut, James Corden plays a video of Allison Janney performing leg-swinging exercises at a gym. The segment appears to be from 2018, in which she appears with producer and director Judd Apatow (the same episode she recounts the snake infestation on the set of her film "Troop Zero").
"I'm trying to get cast as an action hero," she said at the time, explaining why she was performing the mobility exercise. A clip immediately following that one — seemingly from a year later, during an appearance promoting her series "Mom" — shows Corden asking Janney which superhero she'd like to play. She responded, "The Incredible Hulk." The actor may be referencing either or both appearances when she says the show helped her manifest her role in "Lou."
"A couple of months [after appearing on the show]," she said, "the 'Lou' script showed up on my doorstep. So, I feel like I manifested it right here." Corden went on to ask the actor if she'd like to use the show to manifest more good fortune in her life — in response, she asked to win the next $2 billion lottery, alluding to the recent record-breaking Powerball jackpot (per CNBC). She promised to share it with Corden and co-guest Joe Jonas (there to promote his upcoming film, "Devotion"). Corden closed out the evening by praising Janney's numerous appearances on the show, acknowledging that — in light of his departure — this may be their last time on "The Late Late Show" together.