Where You've Seen The Cast Of Babylon Before
If nothing else, history should remember that December of 2022 was stacked with formidable releases. From a Santa Claus action film (David Harbour in "Violent Night") to a Whitney Houston biopic (Naomi Ackie in "I Wanna Dance with Somebody"), the return of the "Shrek" universe's most enduring sidekick ("Puss in Boots: The Last Wish") as well as James Cameron's most successful characters ("Avatar: The Way of Water"), the choices are as diverse as they are tantalizing.
Paramount Pictures, not to be left behind, offers the debaucherous Hollywood epic "Babylon," chronicling the fabled transition from the silent film era to the rise of "talkies," filtered through the excessively over-the-top party scene of the time. The film is written and directed by Damien Chazelle, the Academy Award-winning filmmaker behind "Whiplash," "First Man," and the beloved ode to  Golden Age big-screen musicals "La La Land." Featuring a star-studded ensemble cast, stuffed with recognizable faces, this is a Hollywood epic that feels as though it has all of Hollywood behind it. Read on for a breakdown of where you've seen its stars before.
Margot Robbie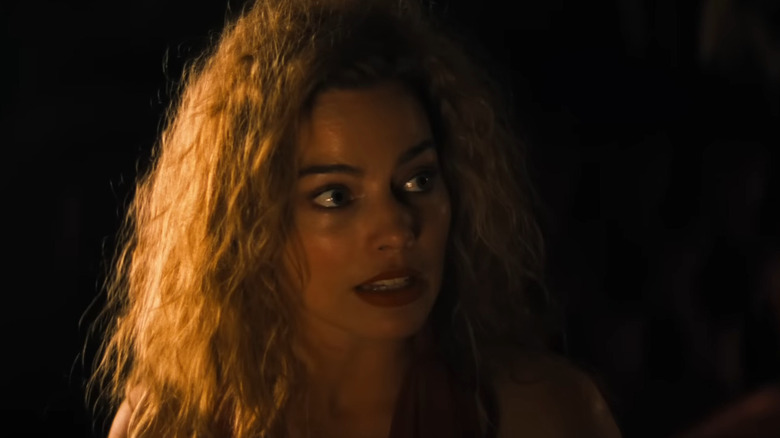 Paramount Pictures
In the past decade, Australian actress Margot Robbie has quickly solidified herself as one of the most in-demand performers working today, and now she's the star of "Babylon." Though she spent a few years in small TV roles before working alongside Christina Ricci as a regular on the short-lived flight attendant drama "Pan Am," it was her role as the beautiful but long-suffering wife of Leonardo DiCaprio in "The Wolf of Wall Street" that shot her to stardom seemingly overnight. Two years later, she was enough of a known property that she could make a cameo as herself in Adam McKay's "The Big Short" and star opposite Will Smith in the con artist love story "Focus."
But in 2016, she first took on the part that she is best known for: that of Harley Quinn, the former psychiatrist turned insane clown-themed supervillain in David Ayer's "Suicide Squad." Though the film was not well-received overall, she was frequently cited as a highlight, and eventually got to develop the character further via her self-produced spinoff "Birds of Prey" and the James Gunn-directed reboot "The Suicide Squad." She has also gained praise for playing a number of historical figures, including controversial ice skater Tonya Harding ("I, Tonya"), actress-turned-Manson victim Sharon Tate ("Once Upon a Time in Hollywood"), and Fox News producer Kayla Pospisil ("Bombshell"). Two out of three of those roles resulted in Robbie getting nominated at the Academy Awards, with plenty more major projects on the horizon.
Brad Pitt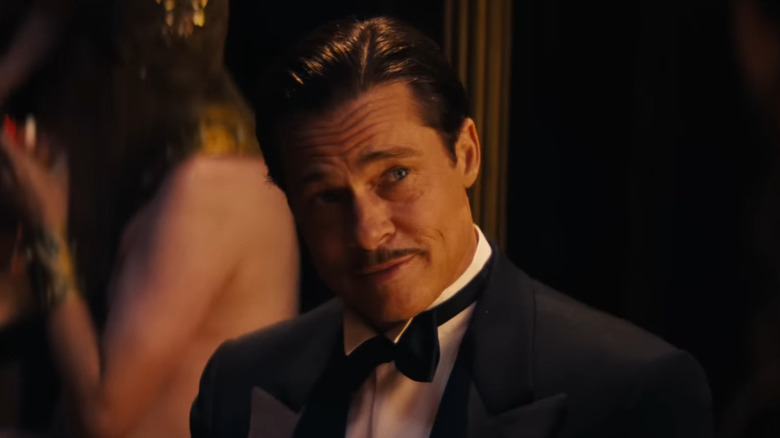 Paramount Pictures
Regardless of the size of his role, it isn't hard to see why the marketing for "Babylon" has placed Brad Pitt front and center. He's one of the biggest, most recognizable stars on the planet, and it's almost unimaginable that even the most casual of filmgoers hasn't seen at least one or two of his movies, or at very least knows him by reputation. After breaking out in the early 1990s with memorable roles in Ridley Scott's "Thelma & Louise" and Robert Redford's "A River Runs Through It," Pitt began an era of big-screen dominance. In the mid-'90s he earned several prominent leading roles, including as a depressed bloodsucker in Neil Jordan's "Interview with the Vampire," a lovesick former soldier in Edward Zwick's "Legends of the Fall," and a hot-headed detective in David Fincher's "Se7en."
As it turns out, Pitt was just getting started. He earned his first Oscar nomination in 1996 for playing a mentally unstable activist in Terry Gilliam's "12 Monkeys," created a cinematic icon as a charismatic terrorist in "Fight Club" (again under Fincher), and became a key player in Steven Soderbergh's trilogy of heist capers beginning with "Ocean's Eleven." He reunited with Fincher as a man aging in reverse for "The Curious Case of Benjamin Button," collaborated with Quentin Tarantino as the scalp-hungry Nazi hunter in "Inglourious Basterds," and more recently, reunited with Tarantino as an over-the-hill stuntman for another showbiz epic, "Once Upon a Time in Hollywood," for which he finally won his first Oscar.
Diego Calva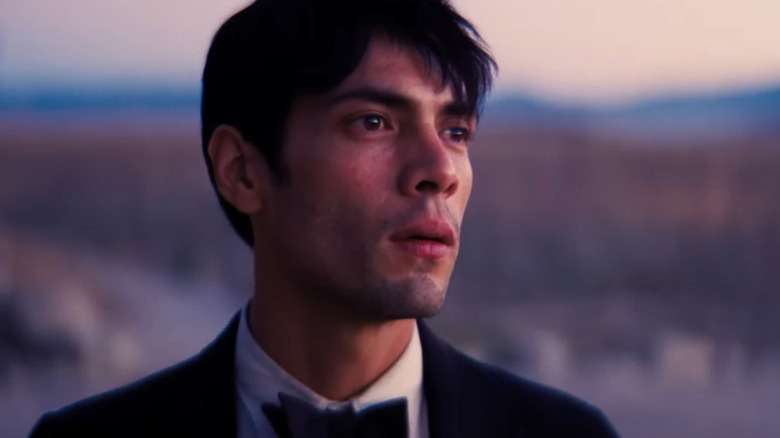 Paramount Pictures
Mexican actor Diego Calva (sometimes credited as Diego Calva Hernández) has only been on the scene for a short while, but is already drawing enough attention that he's been able to join the main ensemble of "Babylon" in a central role. Not bad for an actor who only has 11 acting credits to his name coming into the film.
Calva made his feature film debut with the Mexico City drama "I Promise You Anarchy," which cast him as a skateboarder trying to juggle his love life and dealings with the local mafia. He also appeared in all but one episode of the prison drama "The Inmate," and in eight of the ten episodes in Netflix's road trip dramedy "Unstoppable." After playing one of only two people on screen alongside Tania Lopez in the thriller "Beautiful Losers" (which sees the two of them transporting a corpse while on the run from police), Calva took on the role that American audiences will most likely know him best for: he played Arturo Bertrán Leyva, the leader of a drug trafficking organization in a six-episode run of the Netflix DEA drama "Narcos: Mexico" in the show's third season.
Jean Smart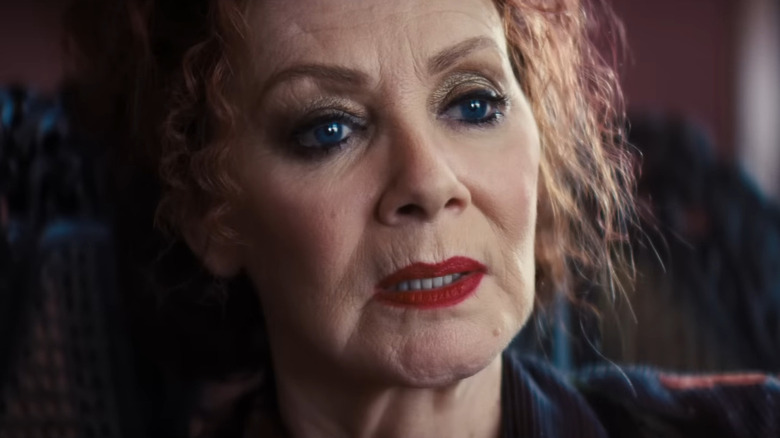 Paramount Pictures
An industry icon with more than 100 film and TV credits, Jean Smart found early success with regular parts on short-lived shows such as playing the principal's secretary in the high school comedy "Teachers Only" and appearing in all six episodes of the elaborate suicide comedy "Reggie"; it was a role playing none other than Marlene Dietrich in the Broadway biopic "Piaf" (adapted into a TV movie of the same name) that started earning her real notice. Several years of supporting roles on smaller films, TV movies, and one-off episodes would pass before she landed a major gig as one of the four leading ladies in the long-running sitcom "Designing Women," which saw her and her co-stars running an Atlanta design firm.
Many years passed, and Smart had by this point firmly established herself as a go-to character actress, with small but significant roles in everything from "Sweet Home Alabama" to "Garden State." She remains most prolific on TV, known to many audiences as the First Lady in Seasons 5 and 6 of "24," or as the protagonist's mother in Disney's "Kim Possible." Recently she's seen something of a resurgence, with key roles as a crime family matriarch in season 2 of "Fargo," the retired Silk Spectre in HBO's "Watchmen," and perhaps most notably, her Emmy-winning lead role as an aging comedian in the HBO Max original dramedy "Hacks."
Max Minghella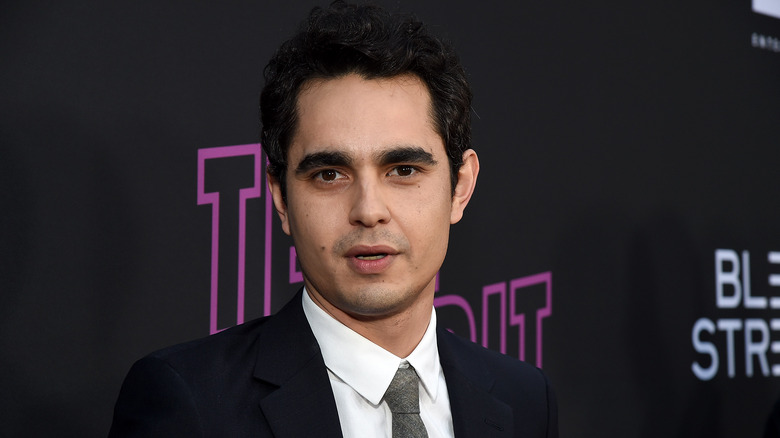 Michael Kovac/Getty Images
With a look that can vary from sweetly romantic to deceptively sinister, Max Minghella has showcased quite a bit of range over the course of his brief but memorable career. Son of the late, acclaimed filmmaker Anthony Minghella, some of Max's very first acting opportunities came via uncredited roles in some of his father's films (notably "The Talented Mr. Ripley" and "Cold Mountain"). He landed his first lead role in 2006 when he was only 21 years old, playing an art student embroiled in a murder mystery in the indie dramedy "Art School Confidential." After a few years working on films of a similar scale, he landed a key part in the ensemble of David Fincher's Facebook thriller "The Social Network," which saw him as one of the plaintiffs suing Mark Zuckerberg for stealing their website idea.
Though he's popped up in supporting roles here and there over the years, including working twice alongside George Clooney (in "Syriana" and "The Ides of March," respectively), Minghella has always maintained a slightly untraceable quality that makes him hard to pin down. This has served him very well in recent roles like "Spiral: From the Book of Saw," where he plays a rookie detective with a few skeletons in his closet, or in his recurring role as a love interest and political operative on Hulu's adaptation of "The Handmaid's Tale." He recently made his directorial debut with the music drama "Teen Spirit."
Tobey Maguire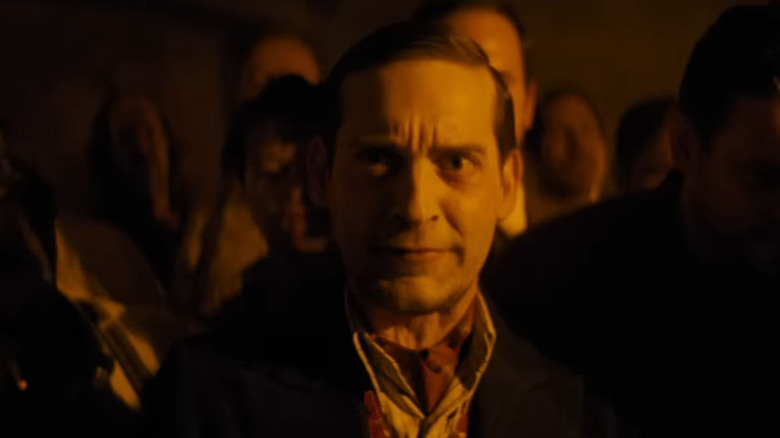 Paramount Pictures
An actor possessing a sweet-hearted nature that can occasionally be weaponized to nasty effect, Tobey Maguire continues his recent return to high-profile work with "Babylon." After a number of years where he mostly worked in one-off roles on TV and took smaller parts in bigger movies (such as "This Boy's Life" and "Fear and Loathing in Las Vegas"), Maguire started to break out with a series of larger dramatic roles in the late 1990s and early 2000s. He played an introvert sucked into his favorite TV show in "Pleasantville," an orphanage doctor who wants to see the world in Lasse Hallström's Oscar-winning "The Cider House Rules," and an aspiring writer opposite Michael Douglas and Robert Downey Jr. in "Wonder Boys."
But if there's only one thing Maguire is known for, it's being the first actor to bring Peter Parker to life on the big screen. Maguire forever cemented his place in superhero cinema history by playing the title character in Sam Raimi's "Spider-Man" trilogy from 2002-2007. The role turned the actor into a household name, and even if he'd never done anything else with his career, he'll always be the first cinematic Spidey. As it is, he continued working primarily in dramatic roles, such as racehorse jockey Red Pollard in "Seabiscuit" and narrator Nick Carraway in Baz Luhrmann's adaptation of "The Great Gatsby." More recently, he reprised his version of Peter Parker in the multiversal extravaganza "Spider-Man: No Way Home."
Li Jun Li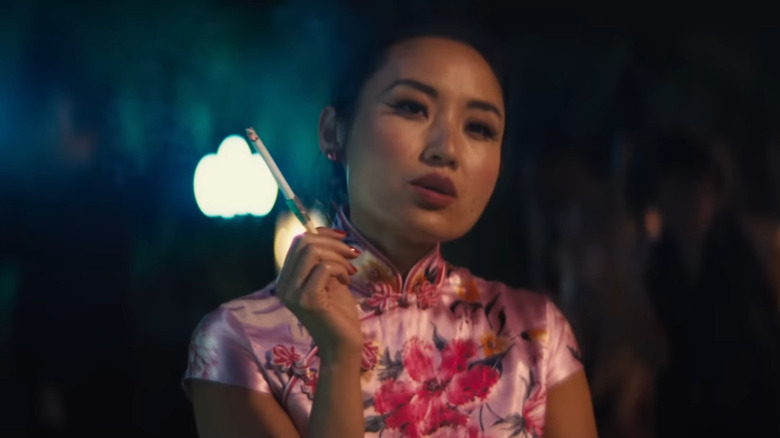 Paramount Pictures
One of the more mysterious figures in "Babylon" is a character named Lady Fay Zhu, played by Chinese actress Li Jun Li. The actress already boasts a unique presence that has served her well throughout her career. She got her start the way many actors do, with a stretch of single-episode TV appearances on shows like "Blue Bloods" and "Law & Order: Criminal Intent." A part with a bit more meat to it came her way in the form of Maggie Huang, a recurring role she played on the last two seasons of the Glenn Close-starring legal drama "Damages."
From there, she started getting more prominent work, including a four-episode arc on serial killer procedural "The Following" and working opposite bigger stars like Al Pacino in Barry Levinson's romantic dramedy "The Humbling" and Meryl Streep in Jonathan Demme's rock star drama "Ricki and the Flash." She was part of the regular cast as a crime scene tech in the short-lived TV adaptation of "Minority Report," and featured prominently in Neil LaBute's pseudo-incest love story "Billy & Billie." Most recently, she had a prominent role in the second season of Fox's TV version of "The Exorcist" (as a social worker caught up in a spate of demonic activity) and also played the hard-working friend of a supernaturally-descended martial artist in the Netflix action series "Wu Assassins."
Jovan Adepo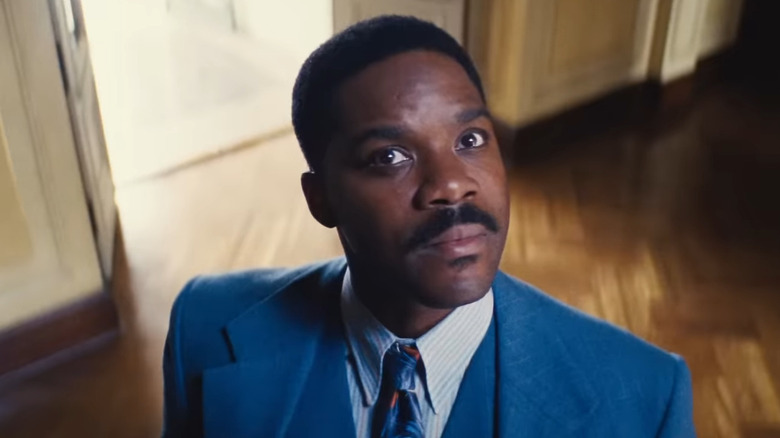 Paramount Pictures
In the role of jazz musician Sidney Palmer (anyone familiar with "Whiplash" and "La La Land" knows how much director Damien Chazelle loves jazz), up-and-coming actor Jovan Adepo joins the cast of "Babylon." Though hardly a household name as of yet, Adepo has been putting in solid work for the past decade, and has quite a few prominent roles to show for it. After a few appearances in various short films, he made himself known in 2016 when he played the resentful son of Denzel Washington in the latter's Oscar-winning adaptation of August Wilson's "Fences," as well as playing the deeply religious Michael Murphy on HBO's "The Leftovers."
He must have made a strong impression on showrunner Damon Lindelof, because a few years later they reunited for the latter's sequel series "Watchmen." Adepo went from playing Regina King's son to playing her superhero grandfather in an episode-long flashback that earned him his first Emmy nomination. In between, he took on the lead role as a soldier behind enemy lines in the WWII action-horror hybrid "Overlord," had an eight-episode arc as a former Navy boat driver on the second season of "Tom Clancy's Jack Ryan," and became a series regular as the brother-in-law to Elizabeth Olsen's grieving widow in the Facebook Watch drama "Sorry for Your Loss." Since then, he starred as a musician faced with helping to rebuild society after the end of the world in the Paramount+ adaptation of Stephen King's "The Stand."
Flea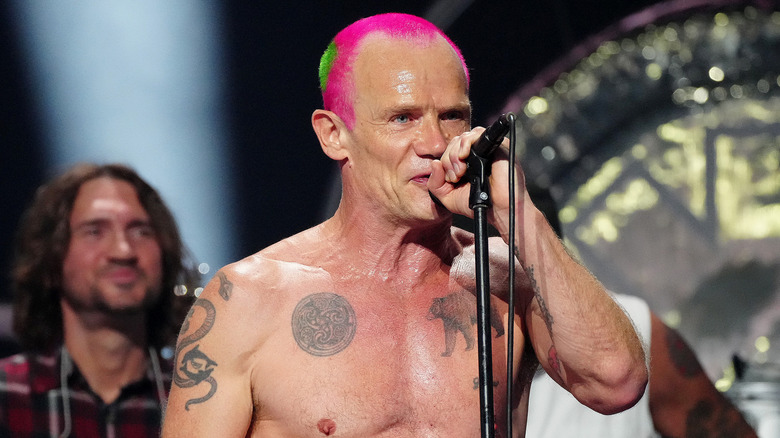 Jeff Kravitz/Getty Images
The Australian-born musician born under the name Michael Balzary has had many accomplishments to his name, and even if you were to look past his Hall of Fame music career, it would still be plenty impressive — after all, who else can claim a place in the universes of "Star Wars," "Back to the Future" and "The Big Lebowski"? 
Of course, Balzary is better known as Flea the world over, and is most recognizable from his day job with the Red Hot Chili Peppers, where he has become arguably the most famous bass guitarist of his generation. Formed in the early 1980s, the Chili Peppers went from underground skate punks to arena rockers to one of the best-selling bands of all time. Over the past few decades, they have won numerous Grammys, shattered records, and were even inducted into the Rock & Roll Hall of Fame in 2012.
Flea has also been acting since the early '80s, when he was credited in films like the Penelope Spheeris classic "Suburbia" as "Mike B. the Flea." He played troublemaker Needles in "Back to the Future Part II" and "Part III," appeared alongside River Phoenix and Keanu Reeves in "My Own Private Idaho," was a hardware store employee in Gus Van Sant's "Psycho" remake and one of the nihilists in "Lebowski." Younger audiences may fondly remember him as the voice of feral child Donnie in "The Wild Thornberrys," and more recently he appeared as a largely inept criminal in Edgar Wright's "Baby Driver" and the creepy kidnapper of a young Princess Leia in the Disney+ prequel series "Obi-Wan Kenobi."
Lukas Haas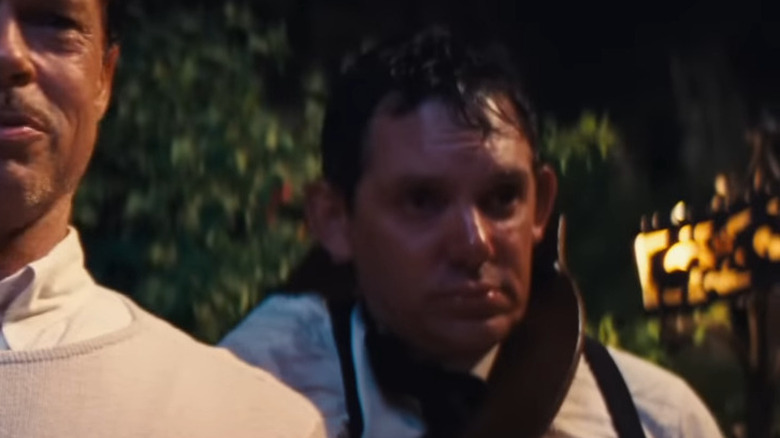 Paramount Pictures
Lukas Haas has been appearing in films both large and small for decades, while always seeming at home no matter how diverse his characters can be. His big break came before he had even turned 10; he starred opposite Harrison Ford in the key role of an Amish boy who witnesses a murder and must be protected in Peter Weir's "Witness." Similar roles followed, including a 1960s boy haunted by the murder of a little girl in "Lady in White" and when he played the titular AIDS victim in the true-story TV movie "The Ryan White Story."
As he grew older, he branched out into more adult parts. He joined the starry ensemble of Tim Burton's "Mars Attacks!" as a sensitive young man who discovers the secret to defeating the alien invaders, and played a club-footed drug kingpin in Rian Johnson's debut high school noir "Brick." He played minor roles in massive ensemble films throughout the 2000s, including the childhood friend of a 20 year-old drug dealer in Nick Cassavetes' crime drama "Alpha Dog" and an incompetent architect working for Leonardo DiCaprio's dream extraction crew in Christopher Nolan's "Inception." Haas appearing in "Babylon" actually marks his second collaboration with director Chazelle, after having played astronaut Mike Collins (who was part of the mission that landed on the moon) in "First Man."
Olivia Wilde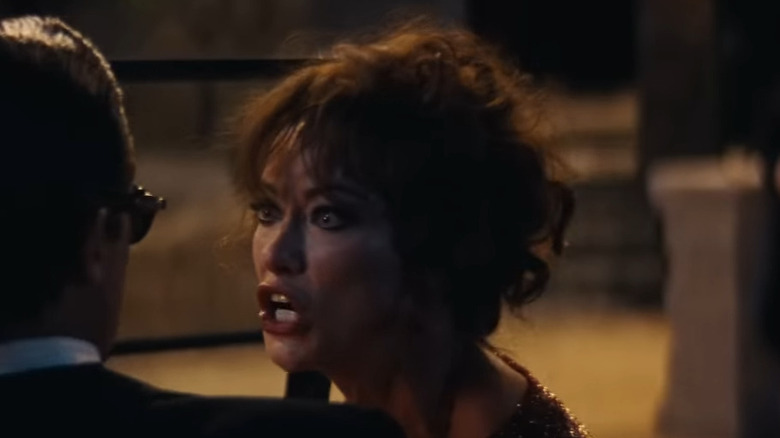 Paramount Pictures
Though Wilde's name has most recently been tied to headlines about the behind the scenes drama in her second directorial effort, "Don't Worry Darling," she is an accomplished actress, and quite possibly among Hollywood's busiest over the last decade and a half.  
Wilde got her start with teen-centric stories, including a minor role in 2004's "The Girl Next Door" and a 13-episode stint on "The O.C." as the resident bad girl. She also appeared alongside "Babylon" co-star Lukas Haas in "Alpha Dog," as the girlfriend of Emile Hirsch's drug dealer who kidnaps a rival's brother. She became a regular cast member in the fourth season of the popular medical drama "House," as a member of the title character's new diagnostic team.
Mainstream audiences got their best look yet at Wilde in the 2010's sci-fi sequel "TRON: Legacy," which saw her playing a highly intelligent program who represents the next stage of evolution. The following year she played a mysterious woman who allies herself with Daniel Craig and Harrison Ford in Jon Favreau's "Cowboys & Aliens," then played Justin Timberlake's dying mother in Andrew Niccol's "In Time." After playing love interests in films ranging from "Drinking Buddies" to "Rush," she took on a rare leading role as a woman brought back from the dead in "The Lazarus Effect." In 2019, Wilde made her feature directing debut with the highly-acclaimed graduation comedy "Booksmart."
Samara Weaving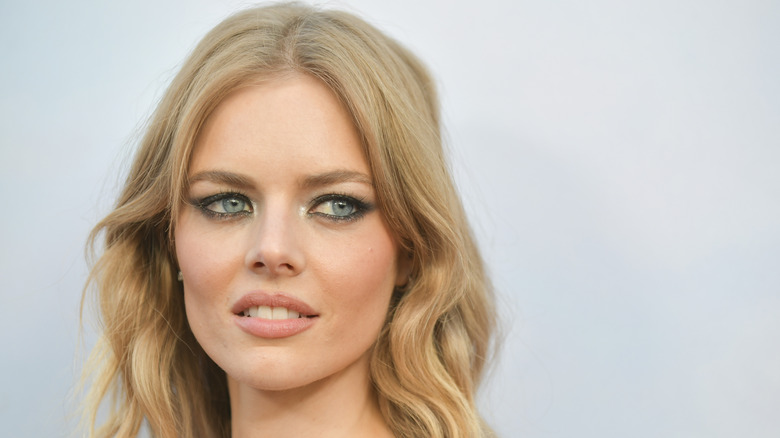 Rodin Eckenroth/Getty Images
Australian actress Samara Weaving, the niece of "Matrix" and "Lord of the Rings" actor Hugo Weaving, booked her first major film in the crime thriller "Mystery Road," which also happened to feature her uncle. Before that, she played a recurring role on the TV drama "Out of the Blue" and did a whopping 336-episode stint on the soap opera "Home and Away," becoming a staple of Australian TV for the first few years of her career.
It was her brief but memorable appearance toward the end of "Ash vs Evil Dead" Season 1, however, that launched her in the horror genre, which would later pay dividends when she joined Steven Yeun in a fight against a virus-infected office building in 2017's "Mayhem," as well as playing the title character (who happens to be a satanic cult member) in Netflix's "The Babysitter" the same year. Her lead role as a newlywed in a bloody game of hide-and-seek in the 2019 horror-comedy "Ready or Not" solidified her as one of the top modern scream queens. These days, Weaving continues to display her chops in all genres, ranging from comedy (as one of the daughters in "Bill & Ted Face the Music") to drama (she had a key role in the acclaimed HBO series "Nine Perfect Strangers") to action (she played Scarlett in the G.I. Joe movie "Snake Eyes").
Eric Roberts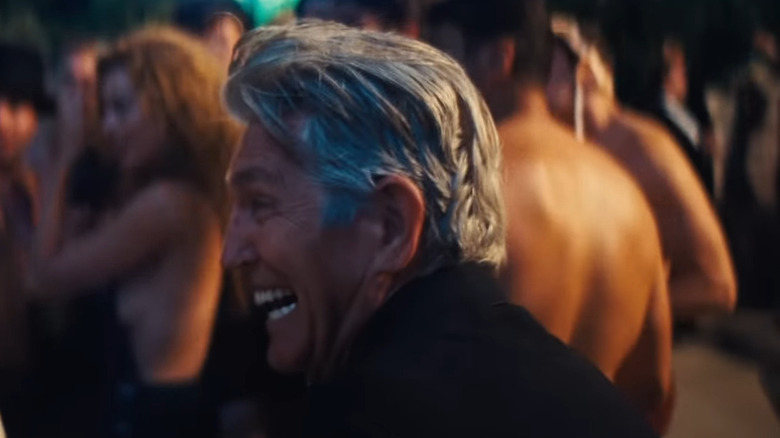 Paramount Pictures
It says a lot about the career of Eric Roberts that being Julia's older brother is one of the least interesting things to say about him. With hundreds of acting credits across film and television, Roberts broke out initially playing the grandson of Sterling Hayden's criminal kingpin in the 1978 drama "King of the Gypsies." Only a few years later, he received his first (and so far only) Oscar nomination, playing an escaped convict alongside Jon Voight trapped on the titular "Runaway Train."
His massive filmography includes steady work throughout the '80s, '90s, and '00s, with most of his output being crime dramas, cheesy horror movies, and B-grade direct-to-video fare (give or take a regular role in the first three seasons of the TV comedy "Less Than Perfect"). His career saw a massive resurgence with his role as mob boss Salvatore Maroni in Christopher Nolan's "The Dark Knight," which brought him back to the public consciousness in a big way — paired with memorable work as a slimy string-puller in the Killers video for "Mr. Brightside." Since then, he has played the main villain of Sylvester Stallone's action team-up "The Expendables," as well as the subject of a drug-fueled manhunt in Paul Thomas Anderson's "Inherent Vice."