Beverly And Jackie's Series-Long Conflict Came To A Head During The Conners Season 5, Episode 8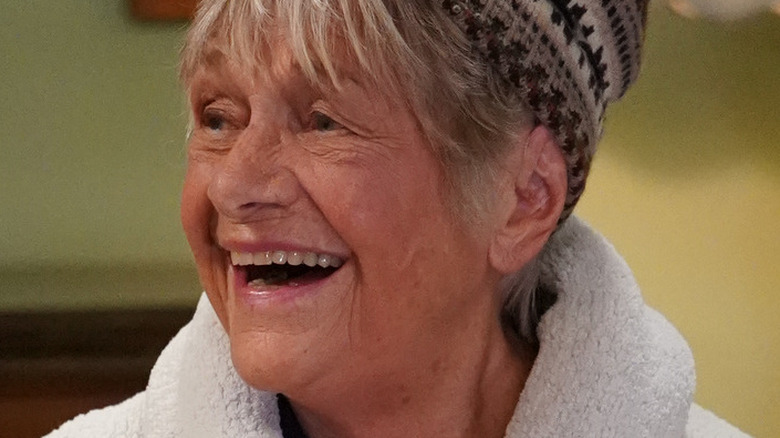 Eric McCandless/ABC
This article contains spoilers for "The Conners" Season 5, Episode 8 — "Of Missing Minds and Missing Fries."
Beverly Harris (Estelle Parsons) has been at war with her daughters Roseanne Conner (Roseanne Barr) and Jackie Harris (Laurie Metcalf) since her very first appearance during Season 1 of "Roseanne." Bev has never been satisfied with Jackie's choices in particular, whether it's her younger daughter's decision to become a police officer, to open the Lunch Box, or to marry Fred (Michael O'Keefe). She often favored Roseanne over Jackie, but definitely wasn't above mocking her eldest daughter's career moves, lack of couth, and poor parenting skills.
It's a dynamic that's lasted throughout all 10 seasons of "Roseanne" and has continued on into "The Conners," encompassing Roseanne's sudden death, Jackie's marriage to veterinarian Neville Goldufski (Nat Faxon), and a hundred different small shifts in the lives of Bev's grandchildren. It seemed as if Jackie and Bev's war would never end. That's what makes the events of "Of Missing Minds and Missing Fries" so stunning. After years of fighting, Bev and Jackie are forced to lay their arms down and confront the wreckage behind them — and fight for a future that will hopefully be somewhat more peaceful.
Jackie doesn't get the last word with her mom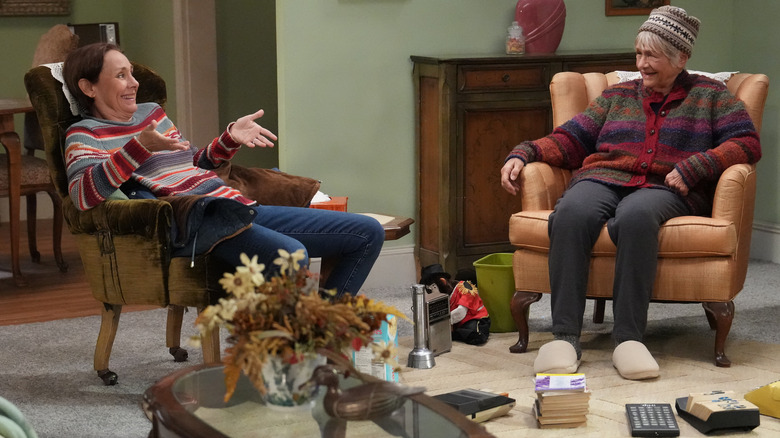 Eric McCandless/ABC
During the course of "Of Missing Minds and Missing Fries," Jackie and the Conner clan come to realize that Bev has begun to display signs of dementia. Testing confirms that Bev is slipping slowly into the past, and Jackie is left alone with a mixture of grief and anger. As she begins to realize that her mother will not recall any of her successes, she tries to act as a conscientious and caring daughter when she's around Bev, but explodes in anger around Darlene (Sara Gilbert) and the rest of the family. "I'm never going to have the satisfaction of telling her that she was wrong about me!" Jackie cries out at one point. Dan (John Goodman) urges Jackie to confront Bev when she's lucid.
She tries one more time to tell Bev that she is married to a fabulous man and is happy and successful — wanting her approval, censure, or ire, or even more importantly, to not need any of those things. But Bev simply emotionally withdraws from the scene, saying she's about to head off to a sock hop with Jackie and Roseanne's then-future father, Al. It's a heartbreaking scene that's easy for fans to relate to, and it definitely leaves a bitter taste in Jackie's mouth. But it also gives her something close to closure, as she comes to realize her mother needs her now more than ever. 
While it's not the end of the road for Bev as "The Conners" fans feared, It definitely puts the long war between Jackie and Bev to rest. And it takes the burden of always being the family screw-up off of Jackie's shoulders — even though the family jokes that they'll take over the job of mocking Jackie now.