Critics Have Seen The Fabelmans And This Is What They're Saying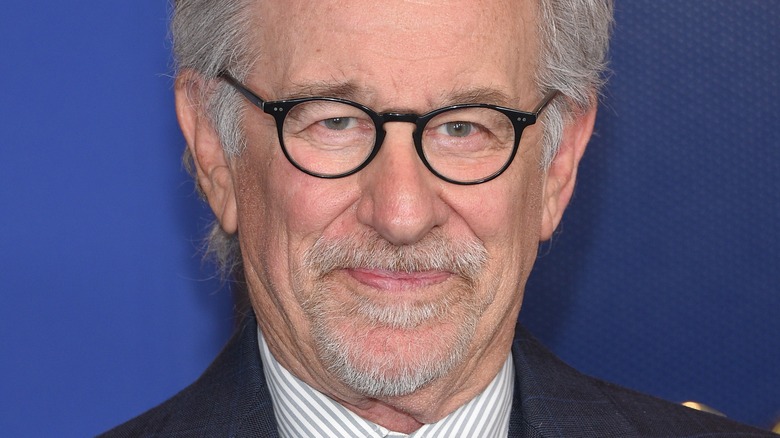 DFree/Shutterstock
Steven Spielberg has been a cinematic force for decades. His creature feature "Jaws" is often cited as being among the very first blockbusters (via IndieWire), and since then, the filmmaker has made dozens of other films, with memorable favorites like "Raiders of the Lost Ark," "E.T." "Schindler's List," and "Jurassic Park" making huge splashes in the world of popular culture as well (via IMDb).
Now Spielberg is turning the lens back on himself with "The Fabelmans." A semi-autobiographical film inspired by the filmmaker's childhood and early obsession with motion pictures, the dramatic film offers fans and viewers a look into the mind of one of the most formidable talents in cinematic history. The film features Paul Dano, Michelle Williams, and Seth Rogen, among others.
Though "The Fabelmans" is already out in some areas with a limited release, critics are starting to weigh in on the early Oscar contender ahead of its wide release on November 23 (via IMDb). While early buzz for the film has already been largely positive, with a majority of reviews collected, we can start to get a pretty good idea of how "The Fabelmans" will perform during awards season.
Critics and audiences alike are extremely positive about the film
As of press time, Rotten Tomatoes has collected over 100 reviews for "The Fabelmans," and fans of Steven Spielberg's work will be happy to know that the director's latest film is sitting pretty with an impressive 95% score from critics. To make the case for the film even more compelling, it has also garnered a knockout score of 90% from audiences.
David Sims of The Atlantic commended "The Fabelmans" for subverting expectations and not leaning too much toward its heartwarming premise. "Viewers expecting a stirring childhood memoir about the power of cinema may be surprised at how bittersweet and raw the story actually is," Sims said. "But that vulnerability is what makes the film a triumph."
Katie Walsh of The Spokesman-Review shared Sims' enthusiasm, calling the movie "A playful, honest and ultimately gracious childhood memoir that derives its universal lessons from its specificity." Meanwhile, David Gonzalez of Reel Talk was also uniformly positive, writing, "Steven Spielberg crafts a vulnerable and moving self-reflective study in The Fabelmans. An earnest timepiece of family dynamics, marriage, and the ultimate power of cinema and art."
Well, with so many critics and audience members seemingly loving "The Fabelmans," it looks like Spielberg's new film will likely be popping up in the upcoming awards circuit, and with such a positive reception on top of Spielberg's already sterling reputation, it seems likely that the film will do well at the box office as well.