What Rotten Tomatoes Reviews Are Saying About A Christmas Story Christmas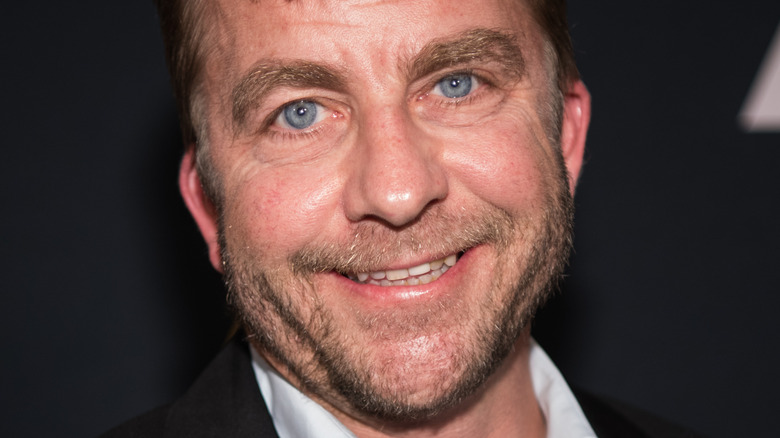 Morgan Lieberman/Getty Images
If you have ever warned another person about playing around with a BB gun, tempted one to put their tongue on a frozen metal pole, or pronounced "fragile" like it is an Italian word, then you are probably familiar with "A Christmas Story." Released in 1983, "A Christmas Story" follows the young Ralphie Parker (Peter Billingsley) as he tells a series of stories involving his family, Christmas, and a coveted item that he wants for the holiday — a Red Ryder BB gun. The movie has ingrained itself deeply in pop culture, and every year, several channels play the movie on repeat for the entire duration of Christmas.
Flash forward to contemporary times, and it looks like fans of the film are getting another helping of the classic in the form of "A Christmas Story Christmas." Bringing back several of the original actors from the 1983 film, this new movie shows off a now-adult Ralphie and his family, and Ralphie is given the task of making this Christmas a special holiday in memory of his late father. The trailer for "A Christmas Story Christmas" promises a fresh look at well-loved characters, and it will be interesting to see if this new film is able to recapture the magic of the first. Now that a popular review site is publishing the opinion of critics, here's a look at what they are saying about "A Christmas Story Christmas."
A Christmas Story Christmas is around 70% on Rotten Tomatoes
So, what is the critical response to "A Christmas Story Christmas" looking like so far? At the time of this writing, the critic score on Rotten Tomatoes is hovering between 60 and 70%, which means that it has delighted some, and aggravated others. The Wrap's Alonso Duralde said of the film, "[It] won't ever stand up on its own in the holiday pantheon, but unlike 'A Summer Story' or the direct-to-video 'A Christmas Story 2,' it makes for a suitable decoration to hang off the original."
Owen Gleiberman of Variety feels like "A Christmas Story Christmas" is a gentle response to the first film, and explained that this new movie has a soft center that doesn't feel like eggnog spiked with a Long Island Ice Tea. Others also felt pretty good about "A Christmas Story Christmas," with Pop Culture Planet's Kristen Maldonado saying, "While [it] starts a little slow, it snowballs (pun intended) successfully into the nostalgia and edginess of the original classic. You'll feel the warm fuzzies as they head back to Higbee's and honor 'the Old Man' — plus the original kid cast all return." Fred Topel of United Press International elaborated their thoughts by saying that Ralphie retreads many of the story beats from the original film, but there is a reasonable basis for that because families often have Christmas traditions that are never quite the same each year.
Not all critics were kind to A Christmas Story Christmas
Unfortunately, not all critics were kind to "A Christmas Story Christmas." Robert Kojder of Flickering Myth said of the film, "It's worth watching for fans, and some might even be able to convince themselves it's great, but to do so would be no better than watching (in the first film) the Old Man talk himself into believing the leg-lamp giveaway prize is exciting and valuable." Kate Erbland of IndieWire gave "A Christmas Story Christmas" a C+ in her review, and said that the movie isn't a sequel, but rather a replica, and even though it may bring some comfort and joy this holiday season, they ponder if one would rather just watch the original "A Christmas Story."
TV Guide's Matthew Jacobs was also apprehensive about this new chapter of the "A Christmas Story" series, and stated, "Sure, it's just a harmless sequel, but 'A Christmas Story Christmas' might leave you feeling like the adult Ralphie did in 1983, peering into the snow globe of your memories to recall a more idealized time." 
Between all of these reviews, both positive and negative, one can glean that "A Christmas Story Christmas" has plenty of nostalgia for long-time fans, but one shouldn't expect this sequel to reinvent the proverbial Christmas wheel. Still, for die-hard "A Christmas Story" aficionados, this movie may prove a suitable addition to their repertoire of holiday-based movies.