Richard Belzer Never Auditioned For His Role On Law & Order: SVU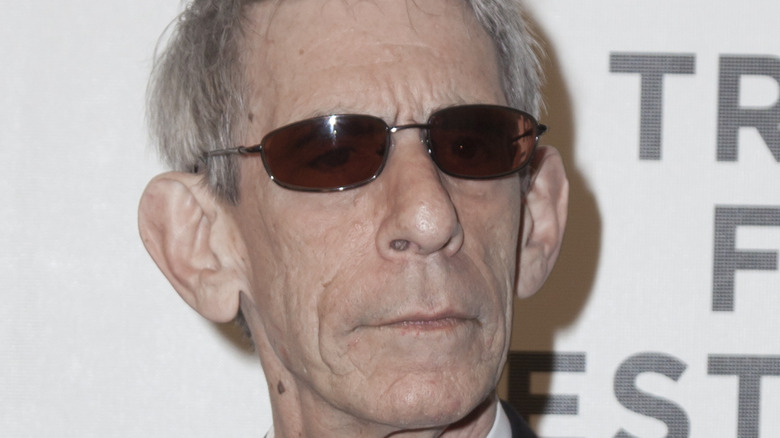 lev radin/Shutterstock
Despite his long acting career, Richard Belzer never intended to be a thespian. According to The Comic's Comic, Belzer aspired to be a journalist before gravitating toward comedy. He worked at clubs around New York and then landed a job as the warm-up act for "Saturday Night Live," even appearing in a few sketches. The "in-your-face" comic was so appealing that musician Warren Zevon brought Belzer on tour with him (via The Baltimore Sun). 
Belzer earned his first real acting credit in the 1974 independent film, "The Groove Tube" (via IMDb). He quickly started appearing in films and on television, including "Sesame Street" and "Miami Vice," and played small roles in "Scarface" and the hit musical, "Fame." Belzer also filmed a comedy special in the 1980s and hosted "The Late Show" for Fox (via The Baltimore Sun). 
Belzer was not a professionally trained actor, yet he continued to win parts, and his iconic role on "Law & Order: SVU" was practically handed to him.
Belzer's Howard Stern appearances led to his casting as Munch
It wasn't until 1993 that Richard Belzer played his most iconic role, Detective John Munch, as part of the cast of "Homicide: Life on the Street." How exactly did a non-professional actor, who was far better known as a stand-up comedian, get to play one of the most memorable television characters of all time? 
Belzer told The Boomer Tube that he never actually auditioned for the part. "Barry Levinson heard me on 'The Howard Stern Show,' and then brought me in to read for the character," he said. "So, right from the beginning, it was kind of magical." Belzer also joked that Munch's paranoia and anti-authoritarian tendencies were close to his own personality, so it wasn't difficult to play the character. 
Originally, the "Homicide" producers had a "hunk" in mind for the Munch character, then reworked him for Belzer, to the dismay of NBC executives (via The Baltimore Sun). Yet, that may have worked out in the end. Not only was Munch a beloved character on "Homicide," but Belzer would play him on 11 different television shows, including "Law & Order: SVU" and "The X-Files." That's quite a feat for an actor who never expected to be an actor, much less a television star.