Wakanda Forever's Danai Gurira Says The Walking Dead Prepped Her For Okoye's Action Scenes
Arguably the most significant addition to the "Black Panther" franchise in "Wakanda Forever" is that Shuri (Letitia Wright) becomes the second incarnation of its titular superhero following the death of her older brother T'Challa, famously once portrayed by the late Chadwick Boseman. Notably, Shuri passes on T'Challa's Black Panther helmet, interpreting the Black Panther role in her own manner, rather than simply approaching superherodom just as T'Challa did before her.
That said, Shuri is far from the only hero with a significant arc in "Wakanda Forever." Among the various secondary and tertiary heroes to factor into the plot of "Wakanda Forever" is the Dora Milaje leader Okoye (Danai Gurira), reprising her role from the first film. In fact, Okoye's significance to the "Black Panther" universe is such that the majority of voters in a 2019 poll predicted that Okoye would be the next Black Panther over Shuri.
While Okoye's dramatic arc in "Wakanda Forever" hinges on a poor decision by Queen Ramonda (Angela Bassett), she's nevertheless the focal point of some big action sequences throughout the movie. As it turns out, Gurira performed some of her own stunts in "Wakanda Forever," a process she revealed was familiar to her thanks to her work on "The Walking Dead."
Danai Gurira brought her Walking Dead mentality to the set of Wakanda Forever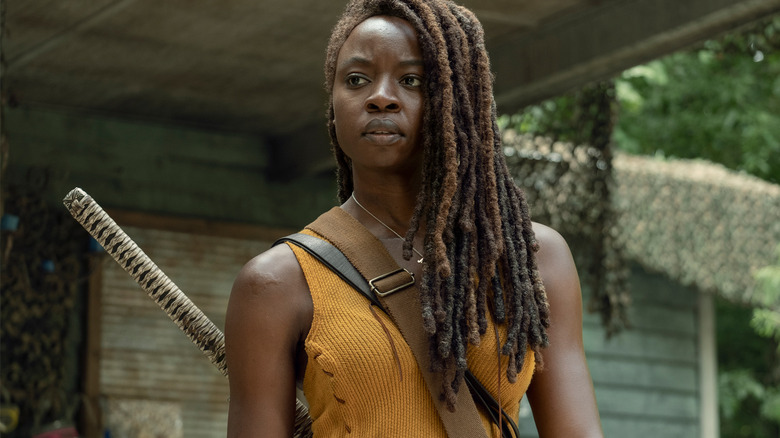 Eliza Morse/AMC
Danai Gurira sat down for an interview with host Trevor Noah on the November 15, 2022 episode of "The Daily Show," during which they discussed her role in "Wakanda Forever" at length. Partway through this conversation, Noah asked Gurira if she appeared in any of the film's action sequences, rather than leaving all of those moments to a stunt performer.
"Yes. I have a little bit of a torn muscle in my shoulder to prove it," Gurira replied. "To me it's like, how do I do the role if I'm not doing the role? She's a warrior."
Gurira then went on to explain that working on challenging action sequences was nothing new to her, thanks to her longtime role as Michonne in the "Walking Dead" franchise. She explained that on the set of "The Walking Dead," she became accustomed to simply going into a scene and doing the work asked of her, which was a mentality she retained during filming for "Wakanda Forever."
"To me that's actually how you become the character. You can't become Okoye outside of how she knows how to fight," Gurira continued. Michonne too is a powerful warrior, so it's hardly surprising that her past experience portraying one capable fighter lent itself to another, similar role.
The Walking Dead occasionally hindered Danai Gurira's Black Panther work as well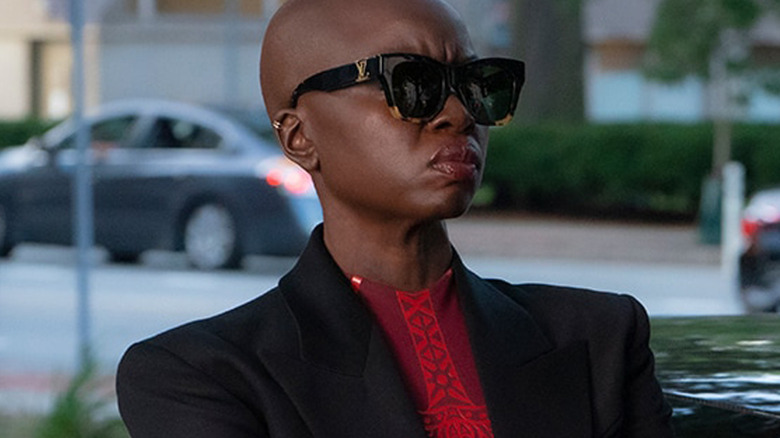 Marvel Studios/Disney
In an interview with Collider published days before the wide release of "Wakanda Forever," Danai Gurira revealed that, while filming the first "Black Panther" film, her work on "The Walking Dead" could likewise present an obstacle she had to overcome.
As it turns out, Gurira appeared in new episodes of "The Walking Dead" and re-shoots for "Black Panther" simultaneously, since both shot in Atlanta. One day, the "Black Panther" team required her to work on a demanding action sequence, at which point she was functioning on three hours of sleep as a result of her busy schedule.
"I was in a harness and I had to flip myself. I had to use my own momentum and flip myself, and then catch my spear, which they had hanging somehow over my head," Gurira said. "My body and my brain were just not even interested."
Nevertheless, Gurira successfully pulled off this sequence in spite of her level of exhaustion. While in this case, her "Walking Dead" work may have made life on the "Black Panther" set more difficult, Gurira's recent comments about how "The Walking Dead" prepped her for these sorts of action scenes in "Wakanda Forever" suggest that her hard work paid off in the end.