Where You've Seen The Cast Of Tulsa King Before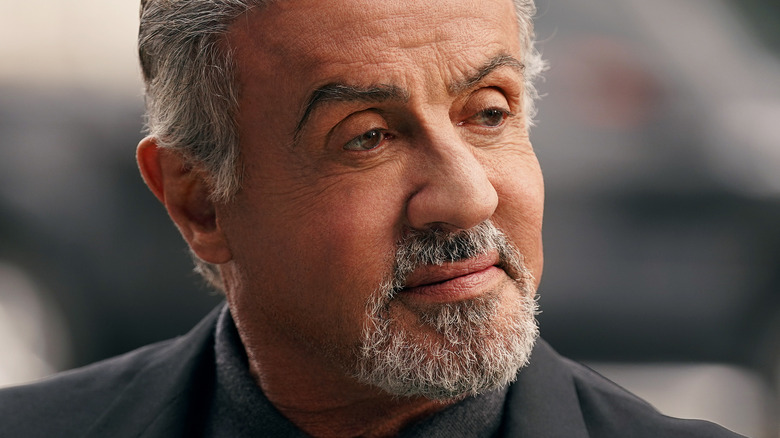 Brian Douglas/Paramount+
Writer, director, and actor Taylor Sheridan is quickly becoming a master of crime fiction and a showrunner who keeps audiences riveted with high drama, compelling characters, and a healthy dose of stinging wit. After his smash hit "Yellowstone," Sheridan quickly pivoted to a crime drama about the prison industry for the Jeremy Renner-led series "Mayor of Kingstown." With two hits under his belt, he launched the period-set prequel mini-series "1883" starring Sam Elliott, Tim McGraw, and Faith Hill in 2021. 
Sheridan has since unveiled a new modern crime comedy starring Hollywood legend Sylvester Stallone. "Tulsa King" puts Sly in the role of Dwight "The General" Manfredi, an aging mafia enforcer who's just been released after a 25-year prison sentence. But his homecoming is cut short when the head of the Invernizzi crime family sends him packing to Tulsa, Oklahoma. But as he recruits new allies to form a criminal syndicate there, he slowly realizes that his bosses back in New York City may have darker designs for him.
With a broad ensemble led by Stallone, the cast of "Tulsa King" is one of the show's biggest strengths. But who are they? If you're wondering where you've seen them before, you're in luck, because we've got the skinny.
Sylvester Stallone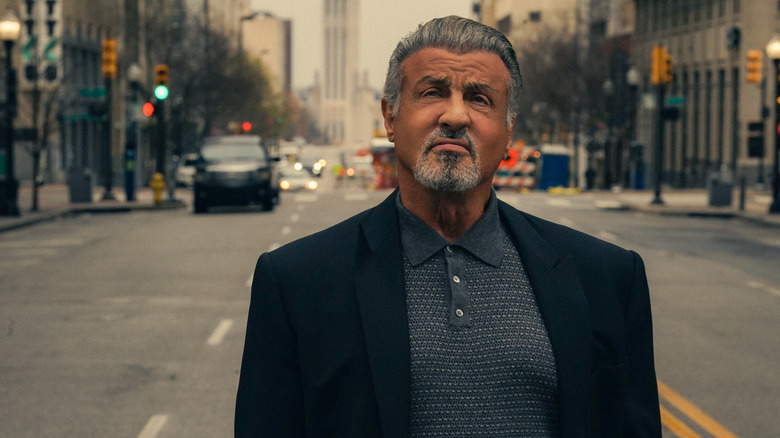 Brian Douglas/Paramount+
You'd have to be living under a rock to not know who Sylvester Stallone is, but it's possible that you haven't been following his career over the last decade. Perhaps you tuned into "Tulsa King" and didn't recognize him with a head of greying hair and a white goatee. Of course, most audiences know Stallone for his stint in a pair of iconic film franchises: the "Rocky" series — started in 1976, and written and directed by Stallone himself — and the "Rambo" movies. In 2010, he led "The Expendables," a bombastic franchise that assembled some of Hollywood's biggest action heroes. 
Stallone has also appeared in several superhero stories, including 2022's "Samaritan," a gritty drama where he plays a grizzled veteran super-powered crime fighter who returns after years of retirement. As well as this, Stallone made a cameo in a pair of James Gunn comic book movies, including "Guardians of the Galaxy Vol. 2" as veteran space ranger Stakar Ogord, and in 2021's "The Suicide Squad" where he voiced the dim-witted King Shark.
Stallone's turn as Manfredi in "Tulsa King" is his first-ever lead role in a television series. In an interview with Decider, the chance to work with series creator Taylor Sheridan is what drew Stallone to the role, as well as the appeal of playing a renegade, saying, "When Taylor called and I read the script, I knew that the role of Dwight Manfredi taps into my desire to play that kind of cowboy character. Perfect timing."
Domenick Lombardozzi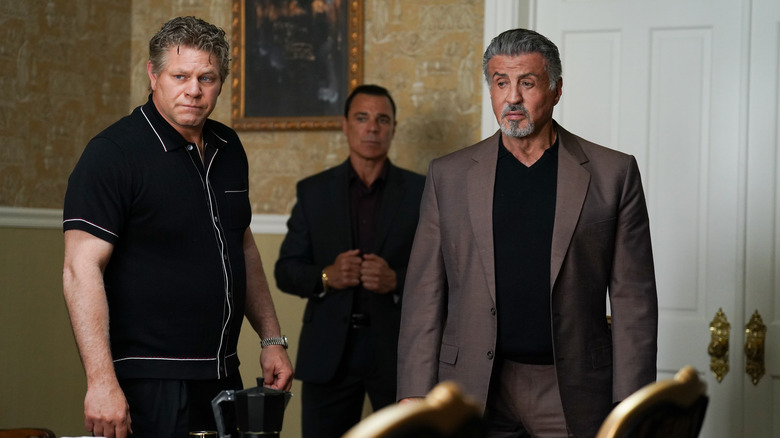 Brian Douglas/Paramount+
Some actors — even journeymen veterans — are so iconic in a single supporting role that even if they never become a big-screen leading star, they are unforgettable to audiences. Such is the case with actor Domenick Lombardozzi who plays Charles "Chickie" Invernizzi in "Tulsa King," a mafia underboss back in New York and a rival to Dwight Manfredi. While he's been around the block and then some, nobody who's ever seen "The Wire" (and let's face it, who hasn't?) can forget him as Detective Thomas "Herc" Hauk, the grouchy and sketchy Baltimore cop with a thick Bronx accent.
Since then, Lombardozzi has made his presence known all over the dial, with a leading role in "Breakout Kings" in 2011, and a recurring part as Ralph Capone — brother to notorious Chicago mobster Al — in "Boardwalk Empire." Known for playing dangerous gangsters and no-nonsense cops in equal measure, he also starred as Detective Ira Hornstock in Fox's Miami-based cop drama "Rosewood," and as mafia man Fat Tony Salerno in Martin Scorcese's 2019 film, "The Irishman."
Other parts include the recurring role of Sean McGrath in Showtime's "Ray Donovan," and Sebastian Nuzo, a friend to Thomas Magnum in the 2018 reboot of "Magnum, P.I." Whether you know him from one of those larger roles, or smaller ones in the likes of "The Good Wife," Netflix's "Daredevil," or "Entourage," Lombardozzi is not a face you forget.
Andrea Savage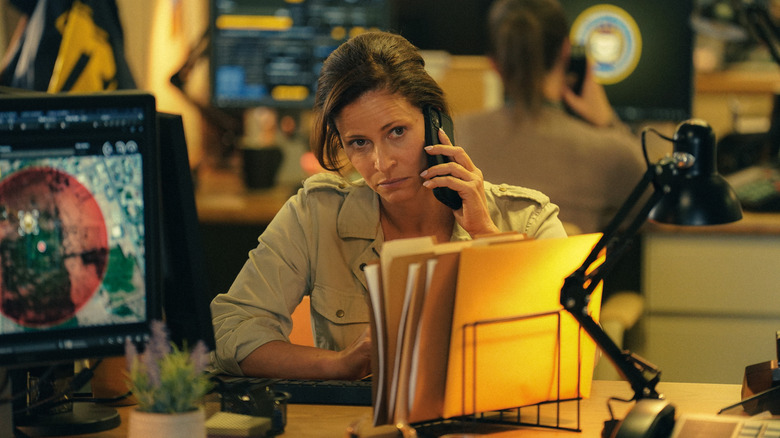 Brian Douglas/Paramount+
In the premiere episode of "Tulsa King," Dwight is still getting situated in his new hometown when he bumps into a group of women at a local cowboy bar. There, he meets Stacy Beale, a rowdy, fun-loving lady who charms the literal pants right off of Manfredi, as the two spend a night together. But when she learns he's almost twice her age, she has immediate regrets, which are compounded when she learns he's a former mafia man; a real problem because in her day job she's a do-gooding ATF agent. Stacy is played by Andrea Savage, who you might not recognize, but nevertheless has a long and diverse career.
Starting out as a teen actress in "Sweet Valley High" in the mid-'90s, Savage went on to have a string of appearances in iconic comedies like "Stark Raving Mad," "Two and a Half Men," and "The King of Queens" in the '00s. She also oddly had two different leading roles in the short-lived but related comedies, "The Hotwives of Orlando" and "The Hotwives of Las Vegas." In 2015, she secured a role as network president Helen Basch in the Matt LeBlanc comedy, "Episodes," which led to a stint in the higher-profile political comedy, "Veep."
Boasting a diverse filmography, you've likely seen Savage before, perhaps even in the 2008 comedy "Step Brothers" as Will Ferrell's therapist, Denise. With "Tulsa King" though, Savage is taking a leading role in a prestige series that has the potential to run for years.
A.C. Peterson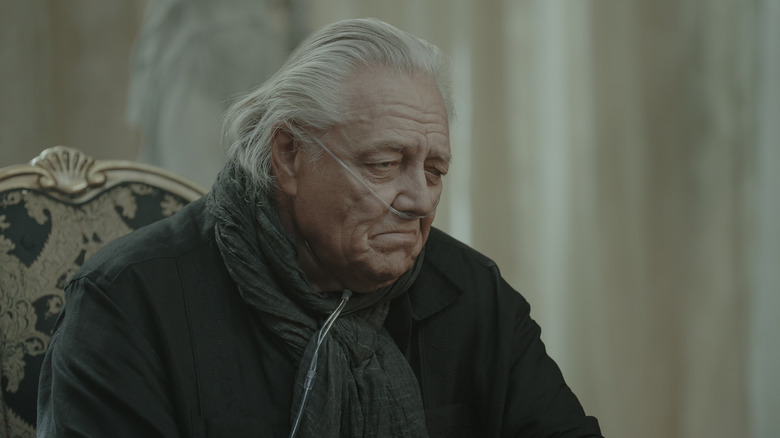 Brian Douglas/Paramount+
For "Tulsa King," creator Taylor Sheridan needed an actor with gravitas and presence to believably give orders to Sylvester Stallone. This actor would play Pete "The Rock" Invernizzi, the aging but still powerful patriarch and leader of the Invernizzi crime family. For the part, he turned to veteran actor A.C. Peterson whose career has been long and varied. 
Back in the '80s, he went by the credited name of Alar Aedma and appeared in mostly forgotten TV shows and movies, but that would change by the '90s. He went on to appear in episodes of "The Commish," "The Outer Limits," "Due South," and in the TV miniseries, "The Last Don II," a sequel to the 1997 series. Eventually, bigger roles came his way, including Saddle Rock Sherrif in 2000's "Shanghai Noon" with Jackie Chan and Owen Wilson.
Peterson continued his string of small roles with notable parts in the BBC crime drama "Copper," the 2018 "X-Files" revival, and as the villainous Kryptonian Zeta-Rho in "Superman and Lois" in 2021.
Garrett Hedlund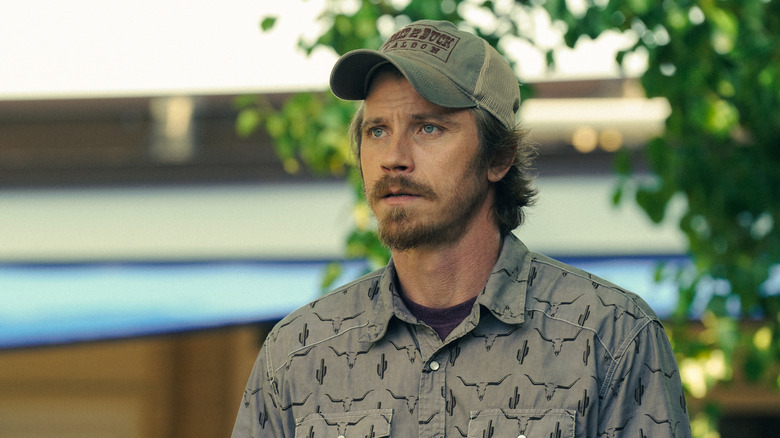 Brian Douglas/Paramount+
The world of "Tulsa King" finds its uniqueness in the clash between Stallone's New York mobster Dwight Manfredi and the Tulsa natives. Down in the Oklahoma burg, Manfredi crosses paths with a different breed of movers and shakers, which includes bar owner and former bull rider Mitch Keller (Garrett Hedlund). You might not recognize Hedlund in the premiere as he sports a goatee, a scruffy outfit, a southern accent, and a trucker cap. Most notably, Hedlund starred in the lead role of the clean-cut Sam Flynn in "Tron: Legacy" back in 2010.
Hedlund famously auditioned for the role of Captain America around the same time as his part in the "Tron" sequel, but turned it down out of loyalty to the role of Flynn, according to Fade In (via CinemaBlend). Since then, Hedlund hasn't had the overwhelming success he might have dreamed of, but he's found plenty of other juicy parts. This includes the role of Joel Hurley in the HBO series, "Mosaic," and as the iconic Captain Hook in 2015's "Pan" which also starred Hugh Jackman.
In 2021, Hedlund was featured in the Hulu original movie, "The United States vs. Billie Holiday," as ATF agent Harry Anslinger, who had targeted singer Billie Holiday in the '40s. After Hedlund missed out on joining the MCU more than a decade ago, a leading role on "Tulsa King" could be just the plum role he's been looking for.
Martin Starr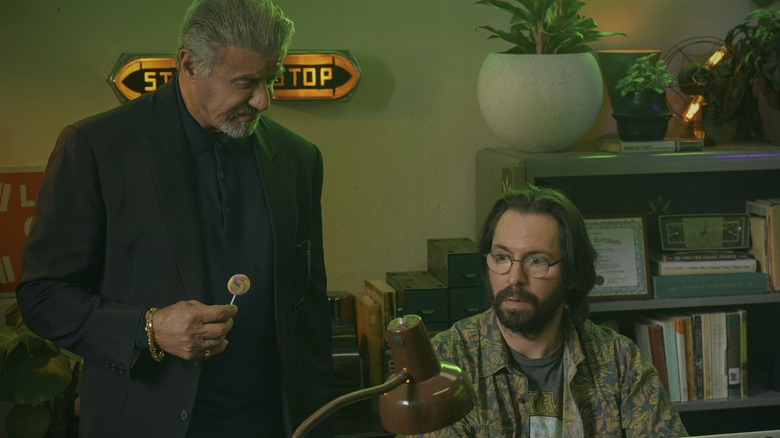 Brian Douglas/Paramount+
In the premiere episode of "Tulsa King," the first target eyed by Dwight Manfredi on his arrival in Oklahoma is a marijuana dispensary operated by Bodhi (Martin Starr). Starr is likely well-known to viewers as he's had recurring and starring roles in a variety of popular shows and films. Early in his career, he appeared mostly in slacker comedies like "Stealing Harvard," "Who's Your Daddy," and later in "Knocked Up" and "Superbad," while on TV he played the lead role of Bill Haverchuck, one of the titular geeks in the quirky cult comedy "Freaks and Geeks."
As his career developed, he took on a main role in the 2011 Adult Swim police spoof "NTSF:SD:SUV::" alongside "Doctor Who" actor Karen Gillan and "Star Trek" stars, Kate Mulgrew and Rebecca Romijn. Over the years he's had guest appearances in everything from "Roswell" and "Undeclared" to "New Girl" and "Parks and Recreation." These one-off appearances filled out his filmography in between his six-season run in "Silicon Valley." 
Starr went on to play Peter Parker's timid but wryly sarcastic school teacher, Roger Harrington, in the MCU "Spider-Man" films in the '10s and had another role alongside Stallone in the superhero drama "Samaritan" in 2022.
Max Casella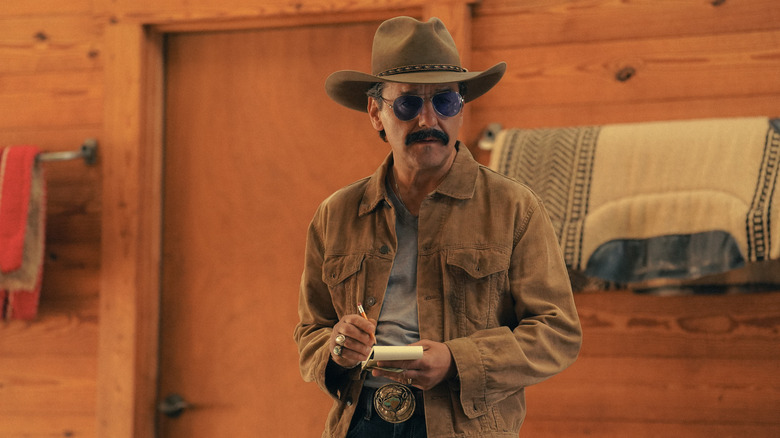 Brian Douglas/Paramount+
We won't be at all surprised if you don't recognize Max Casella from arguably his most famous role — after all, when he starred in "Doogie Howser, M.D." for four seasons between 1989 and 1993, he was barely out of his teens. However, it's probably more plausible that Casella scored the role of Armand Truisi — a member of the Invernizzi mafia — thanks to his previous work as a gangster in beloved shows like "Boardwalk Empire" — as real-life gangster Leo D'Alessio, a bootlegger and drug trafficker out of Philadelphia — and "The Sopranos" as Benny Fazio, Tony Soprano's driver.
Outside of playing gangsters, Casella starred as another real-life figure in the 2007 miniseries, "The Bronx is Burning," as Dick Howser, manager of the New York Yankees. He also played Michael Kessler in "The Marvelous Mrs. Maisel," and Joe Delicious in "The Detour," while also appearing alongside co-star Domenick Lombardozzi in "Ray Donavan" as Emerson Lake. Casella's roles haven't just been limited to the small screen, with feature film roles including "Inside Llewyn Davis," "Blue Jasmine," "Oldboy," and "The Last of Robin Hood," in which he played famed Hollywood director Stanley Kubrick.
Jay Will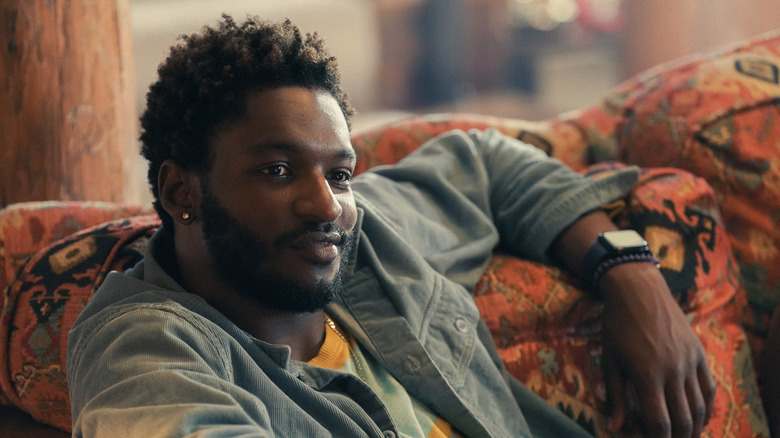 Brian Douglas/Paramount+
Tony Soprano wasn't the only mobster in need of a faithful driver, and while Max Casella played that part in "The Sopranos" it's actor Jay Will who fills it in "Tulsa King." In the series, Will plays Tyson, a fast-talking, street-wise local cabbie who also happens to be the first person Dwight Manfredi meets on his arrival in Tulsa. In need of a faithful assistant, Dwight immediately offers him $2,000 a week to be his driver.
Will doesn't have nearly the resume in Hollywood as co-stars like Stallone, Delany, or Casella, with a guest spot in "Ladies Like Us: The Rise of Neighborhood Watch" in 2018 being his first notable TV role. After appearing in the little-seen indie comedy "Buffed Up!: The Movie," Will scored a recurring role in "The Marvelous Mrs. Maisel" in 2022. That same year, he had a single-episode guest role in the supernatural detective series, "Evil," on Paramount+ before snagging the role of Tyson in "Tulsa King."
Not many actors get to land a main role in a high-profile series alongside a Hollywood legend like Stallone so soon after their acting career begins, but with his part in "Tulsa King," Will may just be on the cusp of well-deserved stardom and is a name to keep an eye on. 
Vincent Piazza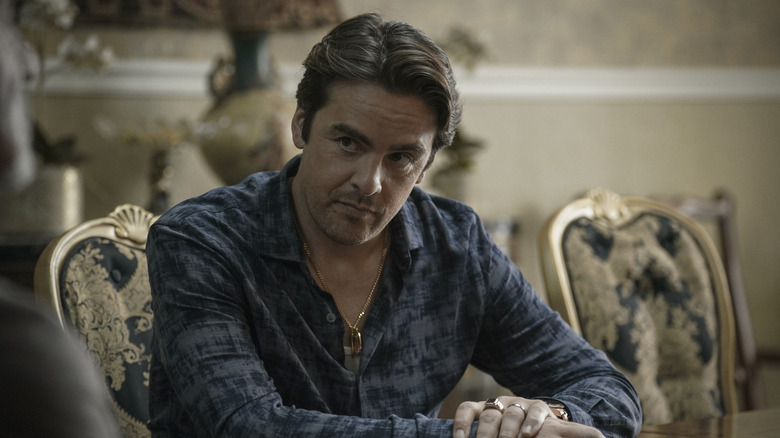 Brian Douglas/Paramount+
Like Domenick Lombardozzi, Vincent Piazza is no stranger to playing slippery, big-time New York mobsters, and that serves him well in "Tulsa King." The actor joined the series as Vince Antonacci, a henchman and hitman for the Invernizzi crime family that Dwight Manfredi hails from. But if audiences recognize Piazza from anything, it's almost certainly his role as famed gangster Lucky Luciano — a member of the Five Points gang and the father of modern organized crime – in "Boardwalk Empire." 
Of course, that's not the only part Piazza has played in a mafia series, as he also played a brief but important role in "The Sopranos" as Hernan O'Brien, a school friend of A.J. Soprano. Outside of mob roles, he also had a recurring part in the firefighter series "Rescue Me" in 2007 and starred in the jukebox musical biopic "Jersey Boys" as Tommy DeVito, one of the founders of the chart-topping group The Four Seasons. In 2019, Piazza featured in a ten-episode stint in the sci-fi series "The Passage," where he played Clark Richards, a federal agent and former colleague of Brad Wolgast (Mark-Paul Gosselaar).
Dana Delany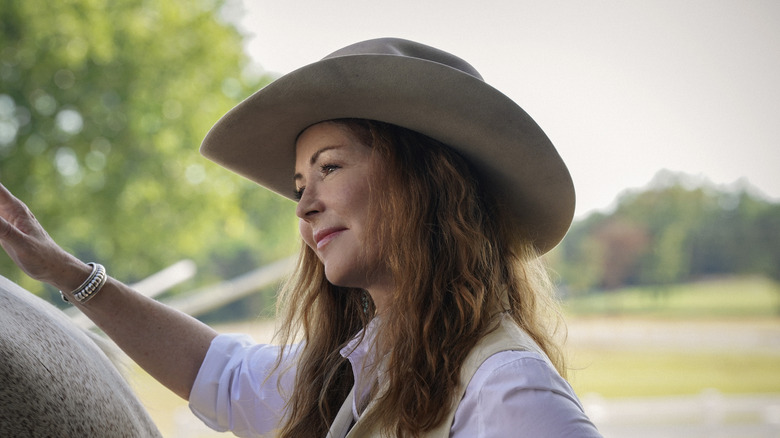 Brian Douglas/Paramount+
If Taylor Sheridan has a true love, it's horses, so it's possible that the regional setting of his new series was picked because the southwestern location gives him the opportunity to play up the cowboy life once again. As such, he'll need some fellow horse lovers in the cast of characters, and that's where Margaret (Dana Delany) comes in. Margaret is the wealthy owner of a horse farm and a skilled rider herself, but she's also a powerful and influential figure in Tulsa and a well-respected member of the Annie Oakley Society. As for Delany, you may recognize her as Katherine Mayfair in "Desperate Housewives," but her career stretches back decades, with her breakout role being in one the more underrated medical shows, "China Beach."
From there, Delany built quite a career playing strong women, with roles in films like the 1993 western "Tombstone," where she played Josephine Marcus (the wife of Kurt Russell's Wyatt Earp). She's also made countless appearances in TV shows too, including as series regular Dr. Megan Hunt in "Body of Proof," Ellie Cain in "Kidnapped," and Crystal Harris in "Hand of God." If you're still unsure, you may recognize her voice as that of Lois Lane in the DC animated universe, first playing the role in 1996's "Superman: The Animated Series," and then in "Justice League," "The Batman," and several direct-to-DVD films.
Annabella Sciorra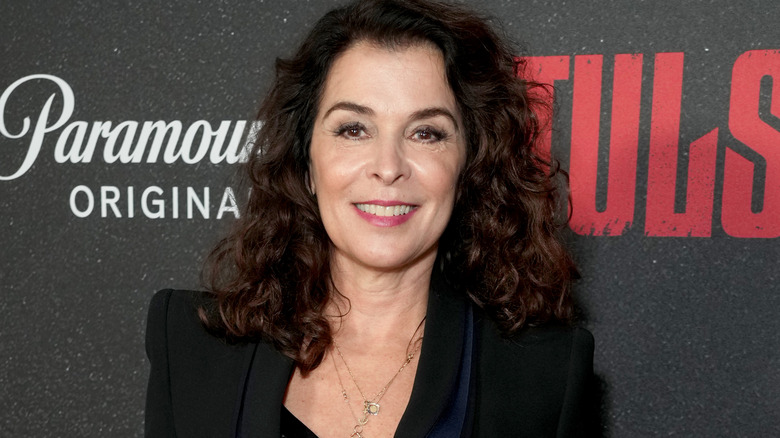 Kevin Mazur/Getty Images
Sylvester Stallone isn't the only Hollywood actor with a starring role in "Tulsa King." Annabella Sciorra also appears in the series as Dwight Manfredi's younger sister, Joanne. Like many in the cast, she also has experience in gangster movies and TV shows and is another to have appeared in "The Sopranos." In the HBO series, she played Gloria Trillo, a car saleswoman who has an affair with Tony Soprano. Other shows she's featured in include "Law and Order: Criminal Intent," as series lead Detective Carolyn Barek, and recurring roles in crime dramas like "New Amsterdam" and "The Godfather of Harlem."
Sciorra also had a recurring role in Netflix's Marvel universe of shows as Rosalie Carbone, a gangster who made appearances in both "Luke Cage" and "Daredevil." Single-episode highlights include "The Blacklist," "ER," "Touched by an Angel," "The Good Doctor," and "Blue Bloods." 
Despite the TV successes, Sciorra has arguably had her biggest roles in movies, starring in the 1991 Spike Lee classic, "Jungle Fever," with Wesley Snipes, and in "The Hand the Rocks the Cradle." "Tulsa King" isn't the first time Sciorra has starred alongside Stallone either, as she played the wife of a New York cop who has an affair with Sly's Sheriff Heflin in "Cop Land."
Tatiana Zappardino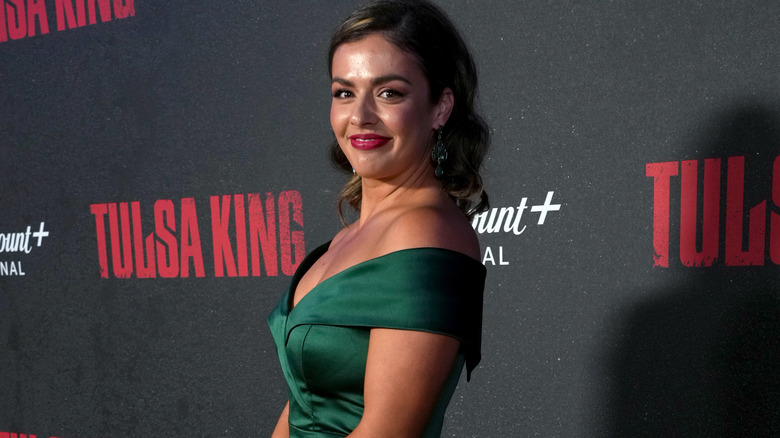 Kevin Mazur/Getty Images
Unless you're a true connoisseur of television, the name Tatiana Zappardino probably isn't ringing many bells for you. The actress joined the cast of "Tulsa King" as the estranged daughter of Dwight Manfredi, who's spent the majority of her life behind bars. Outside of this new recurring role, Zappardino has only one major part to her credit, that of medical examiner Tilly in the SyFy series, "Superstition," a supernatural drama about a funeral home where strange occurrences threaten a small town. The series aired for just a single season and 13 episodes — of which Zappardino popped up in 11 — in 2017.
Outside of "Superstition," Zappardino has made a few guest appearances since her on-screen debut in 2015, including the part of Marie Morales in the pilot episode of the extremely short-lived "Remnant 13," an episode of "NCIS: New Orleans," and an episode of the acclaimed drama, "This is Us," in 2022. Now as a recurring cast member of "Tulsa King," Zappardino has the chance to impress in a major new series.
Barry Corbin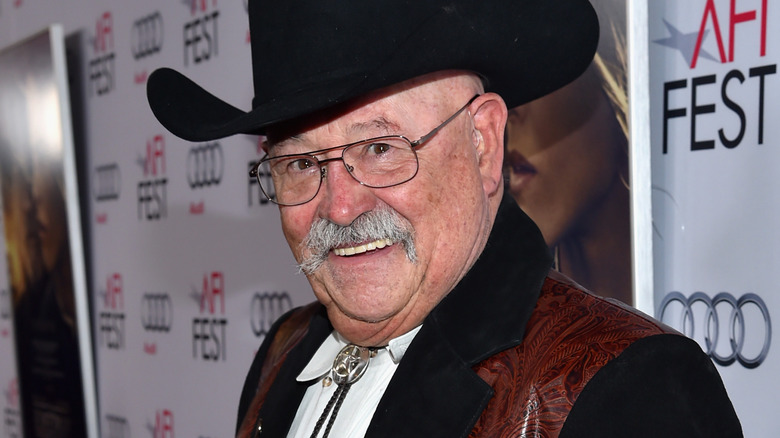 Alberto E. Rodriguez/Getty Images
When looking for a grizzled old cowboy, there are few better than well-traveled character actor Barry Corbin. He featured in "Yellowstone" in 2021 as Ross, a ranch hand at the Four Sixes in Texas who comes to mentor young Jimmy, so it makes sense that when "Tulsa King" needed its own cowboy, Taylor Sheridan called on Corbin once again. The filming of Corbin's "Yellowstone" role was anything but smooth and was nearly delayed following a scary medical diagnosis.
In a 2022 interview with People, Corbin revealed that he had to take time off filming as he required surgery for oral cancer, and admits the fallout was concerning. "I didn't realize how much it would knock me out. I was sleeping 12 to 14 hours a day," Corbin said. "It was a little difficult, but we got it done." So precarious was the surgery, Corbin claims he almost lost his trademark gravelly voice and Southern drawl. "They told me there was a possibility my vocal cords would be impacted and that would cause a big disruption in my business." Luckily for Corbin, and for us viewers, the surgery was a success, the recovery short, and Corbin was quickly back in action.
As well as "Tulsa King" and "Yellowstone," Corbin has previously starred in other popular shows like Netflix's "The Ranch" as hearing impaired Dale Rivers, and enjoyed small stints in "9-1-1: Lone Star" and "Better Call Saul."