Quentin Tarantino's Shopping Spree In Japan Helped Inspire Django Unchained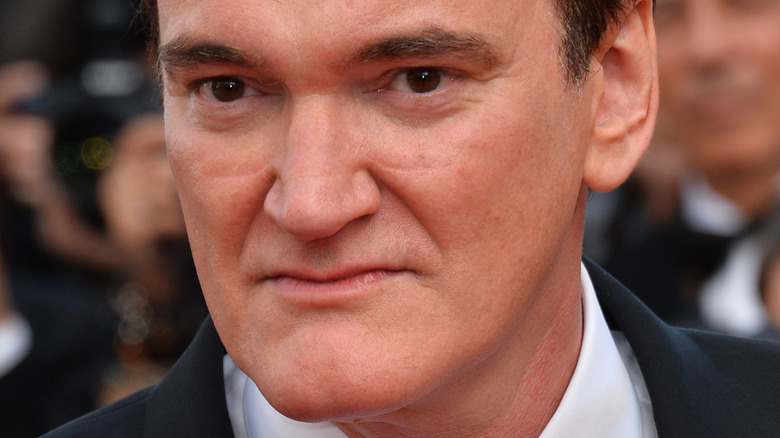 Featureflash Photo Agency/Shutterstock
Many regard Quentin Tarantino as a talented visionary filmmaker whose movies consistently deliver a memorable experience. That is because Tarantino has mastered his craft at seamlessly blending movie genres and topping it all with healthy doses of dark humor, witty dialogue, and grindhouse-bred violence. Tarantino's long career is full of celebrated classics like "Pulp Fiction," "Kill Bill" and "Inglorious Basterds." But the auteur hit an intense home run with "Django Unchained." The 2012 film, which stars Jamie Foxx, Leonardo DiCaprio, Samuel L. Jackson, and Christoph Waltz, takes Tarantino's known formula of hyperviolence and numerous quotable scenes and fuses it into a spaghetti western.
"Django Unchained" performed well critically and commercially. It not only won a couple of Academy Awards, but it also remains Tarantino's highest-grossing film at the box office with $426,074,373 (via Box Office Mojo). It's a film with some of the most intriguing facts about its production, too. For instance, "Django Unchained,' is a hidden treasure trove for cut content. Some scenes that Tarantino deemed too violent, as well as a ballad by artist Frank Ocean, didn't make it into the movie's final version. But just when we thought we'd learn every secret behind the making of "Django Unchained," Tarantino decided to reveal another worthy gem about the movie's initial origins. And it's all rooted in a personal shopping spree in Japan.
Django's opening scene came after hours of listening to spaghetti western music
While talking with Howard Stern, Quentin Tarantino spoke about moments of inspiration for writing his scripts, particularly the opening scenes. And he noted to Stern the opening scene for "Django Unchained" came only after hours of listening to spaghetti western soundtracks. However, none of that would have happened if not for a CD shopping spree in a Japanese music store. Around the 2:04:44 mark, Tarantino recalled that during a Japanese press tour for "Inglorious Basterds," the filmmaker made his way to a music store in Tokyo where he bought stacks of spaghetti western soundtracks. Then while enjoying the likes of Ennio Morricone and Luis Bacalov, he wrote the opening scene of "Django Unchained" with a hotel pen and stationery. "... And when I finished, I go, 'Okay, I guess this is what I'm doing now,'" Tarantino said to Stern.
Tarantino continued to tell Stern that what he originally wrote of the opening scene in that hotel is pretty much the same as what we see in the film. In addition, the only actor he had in mind while writing the script was Christoph Waltz as Dr. Schultz, thanks to the two working together in "Inglorious Basterds." That may have worked out for the duo in the long run. One of the Academy Awards "Django Unchained" earned was for Best Supporting Actor. And Waltz had nothing but praise for Tarantino regarding his characters' dialogues. In an interview for the Scotsman, Waltz said of Tarantino, "The way he does my dialogue, he sings it, he turns it into poetry."