Killmonger's Lover Venomm Would Be A Perfect Black Panther 3 Villain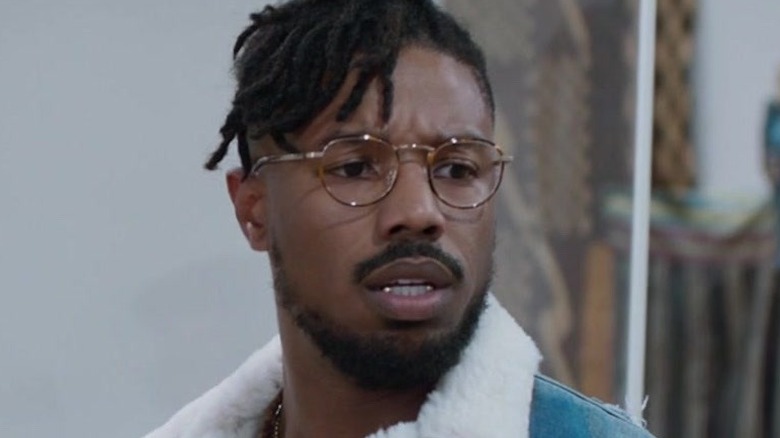 Marvel Studios/Disney
So far, the "Black Panther" franchise has had two very strong villains in both Killmonger (Michael B. Jordan) and Namor (Tenoch Huerta). Fans have noted how the two villains are more morally ambiguous than most Marvel bad guys, and how they're humanized. In a tweet posted during the opening weekend of "Black Panther: Wakanda Forever," @therealsupes commented, "After seeing how complex and multi-dimensional ["Black Panther" director] Ryan Coogler made Namor and Killmonger, I'd love to see his take on Doctor Doom." Others agreed, such as @CReelProduction who tweeted, "Real talk Ryan Coogler should be the only consideration of handling Doom in the MCU. His interpretation of Killmonger and Namor are some of the best antiheroes/villains in the MCU." After seeing Coogler make realistic and flawed villains out of Namor and Killmonger, his take on the iconic Dr. Doom would be interesting to watch, no matter who Doom ends up fighting.
Even when criticizing one of the villains, @rabum_alal_30 still praised the writing of both of them. "Killmonger is easily a better villain than Namor, his background story, his motives is more villain-y than Namor. Even Killmonger can't accept T'challa's mercy in the end. Namor is not a greater villain if compared with Killmonger, but he's still a great written character." With all that in mind, fans seem to have really taken to the way that Coogler writes his antagonists.
While Coogler would be a good choice to bring Dr. Victor von Doom to life, he is primarily a "Fantastic 4" villain. But there's another character from the "Black Panther" comics who would fit in perfectly in a third "Black Panther" film.
Meet Killmonger's lover, Horatio Walters aka Venomm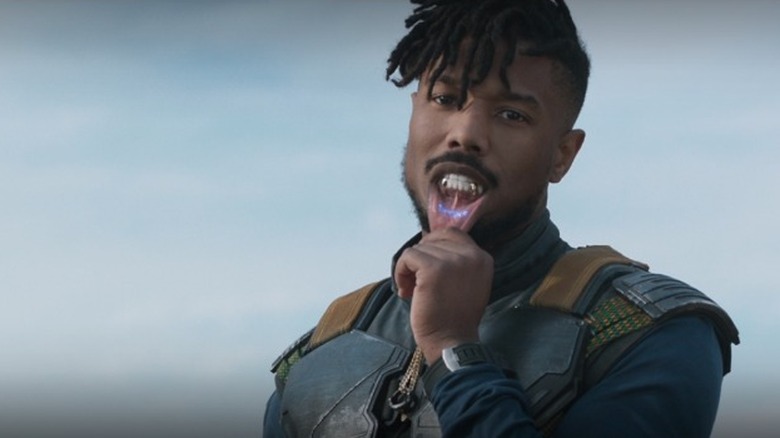 Marvel Studios/Disney
Horatio Walters, better known as Venomm (not to be confused with the similarly named Marvel villain Venom), was first introduced in 1973 in a small cameo in a "Black Panther" title called "Jungle Action" Vol 2 #6, which also introduced Killmonger. Walters was scarred for life as a child when another child purposely threw acid in his face. Retreating from society, he started befriending snakes because of their similar outcast status.
Considering that Shuri (Letitia Wright) fought through grief and a desire for vengeance in "Black Panther: Wakanda Forever," Venomm's grief for his own life and his desire for vengeance against the world could mirror the emotional journey that Shuri already went through, perhaps even giving her a way to find common ground with the villain. It would also explore another common theme in the "Black Panther" series, that of legacy and how actions impact other people. It would be difficult for such a minor villain from the comics to carry a blockbuster movie on his own, however, and he might need to be teamed up with someone else.
In an interview with Marvel, Don McGregor, who wrote Venomm's comic debut, explained that he created the character and his frequent collaborator Taku to be gay lovers, but realized that it would be difficult to get audiences to accept such a relationship. Because of this, Venomm and Taku aren't explicitly said to be gay until 2022's "Marvel's Voices: Pride" Vol 2 #1 where it was also revealed that Venomm was once in love with Killmonger. 
It would be refreshing to have a gay villain for the third "Black Panther" movie, especially since the MCU has had so few LGBTQ+ characters. But part of the reason is that such characters, until recently, were rarely shown in comics.
Other LGBTQ+ characters in comic books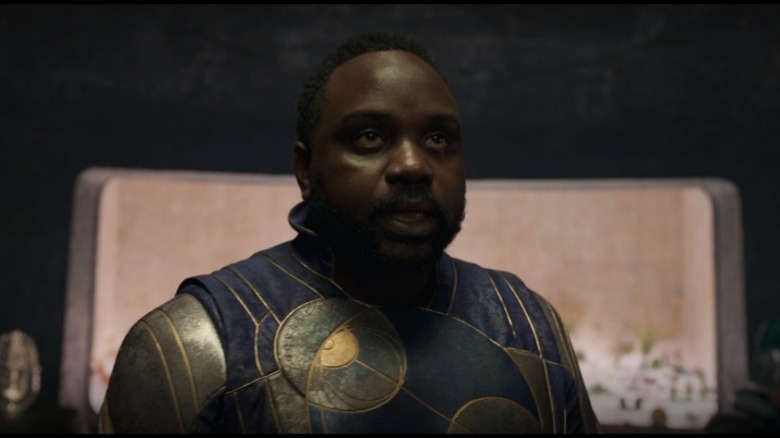 Marvel Studios/Disney
LGBTQ+ characters in comics are still a relatively new phenomenon. Flavorwire put together a timeline of the gay characters in comics and determined the first such character to be Northstar, a member of the Canadian team Alpha Flight who was introduced in "X-Men" #120 in 1979. His sexuality was only hinted at in the '80s and it wasn't until the '90s that he was explicitly stated to be gay.
Today, LGBTQ+ characters are becoming more and more common. NBC News reported that at least a dozen new superheroes came out in 2021. One of these was the current Superman, Jon Kent, son of Clark Kent and Lois Lane, who came out as bisexual in 2021. According to the writer behind the coming out, it's not a gimmick. Writer Tom Taylor told Reuters that making Superman bisexual was one of his main goals when he signed on with DC. "When I was offered this job, I thought, 'Well, if we're going to have a new Superman for the DC Universe, it feels like a missed opportunity to have another straight white savior," said Taylor.
According to an article in Gizmodo, the first gay character to appear in the MCU was an unnamed man in "Avengers: Endgame" at a post-snap support group who talked about the difficulty of losing his partner to Thanos' snap. According to MCU czar Kevin Feige, the scene became a bigger deal than it was meant to be. But what about actual superheroes? Per Variety, the first gay superhero to appear in an MCU movie was Phastos (Brian Tyree Henry) in "Eternals." 
Bringing in a gay villain would require a little bit of complexity and layering to avoid demonizing them for their sexuality, and that's something that Ryan Coogler would seem to be perfect for.