Andrew Garfield Approached Spider-Man: No Way Home As A Buddy Movie About Brotherhood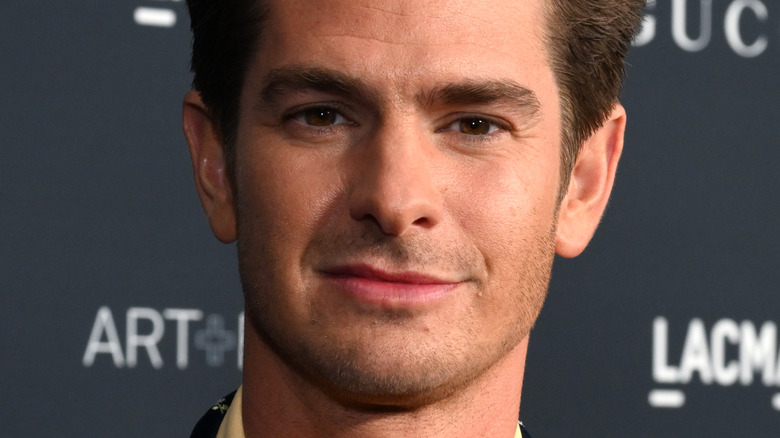 Michael Kovac/Getty Images
Last year's "Spider-Man: No Way Home" was, by far, one of the most anticipated movies of 2021. Not only was it the third film in the Tom Holland-led franchise — following 2017's "Spider-Man: Homecoming" and 2019's "Spider-Man: Far From Home" — but it saw the return of characters from previous "Spider-Man" franchises. This included Willem Dafoe as Norman Osborn, Green Goblin, and Jamie Foxx as Max Dillon, Electro. But while those characters were confirmed to return via the film's trailers, it was the rampant rumors that previous Spider-Man actors Andrew Garfield and Tobey Maguire would be showing up that really had fans ready to flood theaters.
Fans' anticipation paid off, as it turns out that the rumors were totally true — Garfield and Maguire did show up as alternate versions of Peter Parker. It got people talking, to say the least — and had people confronting Garfield about his long history of denying that he was in the film. But once the film was out, Garfield could talk openly about his experience returning to the character and acting alongside Holland and Maguire.
In a recent interview, Garfield opened up even more about the experience — including how he approached the performance.
Garfield thinks the feeling of brotherhood comes through in the film
In a November 2022 interview with GQ, Andrew Garfield spoke in-depth about his recent career endeavors — including his inclusion in "Spider-Man: No Way Home." Garfield described it as a beautiful and carefree experience, one that he could have fun with because there wasn't any pressure on his performance, as Holland was the one at the center of that film.
Garfield continued, "Me and Tobey were there to provide support and have as good a time as possible, actually, and be as inventive, imaginative, and kind of dumb as possible. Y'know, between the three of us, I was like, Oh sh*t, this is going to be interesting. You have three people who feel real ownership over this character." But, above all, there was a kinship between the three actors who had all played the same character. The actor continued, "It was really, like, brotherhood first, I think. And I think that comes through in what we shot."
In the interview, Garfield also discussed the process of moving on from "The Amazing Spider-Man" franchise after his experience playing Peter Parker ended sooner than some may have expected. He said, "There was an undone feeling. Like, What was that experience about? And how do I close that circle in my living room on my own?"
Holland and Maguire also found special meaning in the experience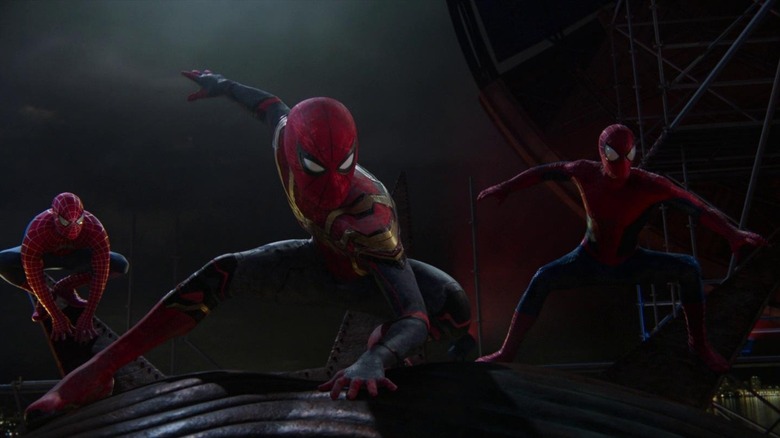 Sony Pictures/Marvel Studios
In January 2022, all three Spider-Man actors sat down with Deadline for a joint interview to discuss coming together for "No Way Home," during which Andrew Garfield also emphasized that their relationship felt like a brotherhood.
Tobey Maguire declared his agreement, stating, "I was just grateful every day. Really, it was such a rich experience and, as the guys have touched on, the kind of sharing of something and the brotherhood of it. It was just so rich, emotional."
Meanwhile, Tom Holland revealed what an emotional experience it was — both in terms of working with the Spider-Men who came before him and the fact of not knowing if he would be returning for a fourth Spider-Man film. Holland said, "We would be getting into these scenes [together] that were incredibly emotional. They're very taxing, and I was so happy to be there, that I had to go at it a different way and kind of go, 'Wow, look at my life. Look what's happened to me. I'm working with Tobey Maguire and Andrew Garfield and we're telling this story.'"