Fans Of The Winchesters Are Freaking Out About Ada's Big Revelation In Episode 5
This article contains spoilers for "The Winchesters" Episode 5.
"The Winchesters" is a prequel to "Supernatural," but Season 1 of the spin-off series has introduced so much untold information about John and Mary Winchesters' lives that the show feels like its own unique beast. For example, before they became lovers and parents, Mary and John took on monsters known as the Akrida — beings from another dimension that possess the power to potentially eradicate all humans, angels, and demons. "Supernatural" never acknowledges this important passage of John and Mary's story, which has led some fans to believe that "The Winchesters" is set in an alternate universe.
Of course, some of the show's surprises are more down-to-earth than interdimensional monsters. It turns out that Sam and Dean's parents also had their own Scooby gang back in the day, and each member had a knack for hunting monsters and bringing unique skills to the table.
These characters — Carlos (Jojo Fleites), Latika (Nida Khurshid), and Ada (Demetria McKinney) — reveal more information about their respective backstories in each episode. That said, Ada's revelation in the latest installment of "The Winchesters" caught many viewers off-guard.
Ada has a son?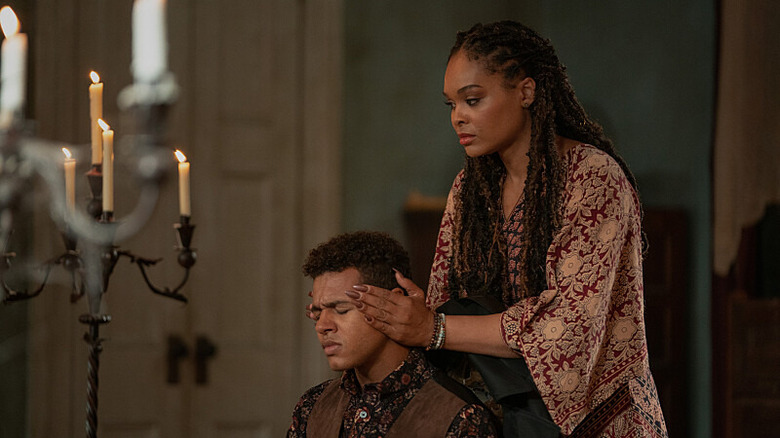 Elliot Brasseaux/The CW
"The Winchesters" Episode 5 broke the shocking news that Ada was keeping a secret of the supernatural kind. Prior to becoming a monster hunter, she had a romance with a djinn, and their relationship produced an offspring called Tony (Tyler Lofton), who inherited his father's powers, as well as some top-notch ninja skills. The good news, though, is that he didn't inherit his old man's bloodlust and instead uses his powers to help people.
Given that "The Winchesters" didn't even remotely tease Ada the notion of Ada having a son until this episode, the news caught some viewers by surprise. "Okay then. You've got some explaining to do Ada," @akhetherington tweeted, echoing the sentiment of many other fans. Fortunately, Ada had a suitable explanation for keeping Tony's existence a secret, revealing that she didn't want her kid to be hunted.
This view was shared by Reddit user Tourniquet_1991, who wasn't expecting Ada to be the subject of such a huge mid-season twist. "An interesting take for Ada's back story wasn't what I was thinking at all," they wrote.
Elsewhere, some fans hope to see more of Tony in future episodes, as they feel that he's an interesting character with more to offer. "Okay I need Tony to come back at some point and be back from time to time because I love him thanks," @TWdailyupdates stated.