Get Lost In The Fantasy With The Trailer For Magic Mike's Last Dance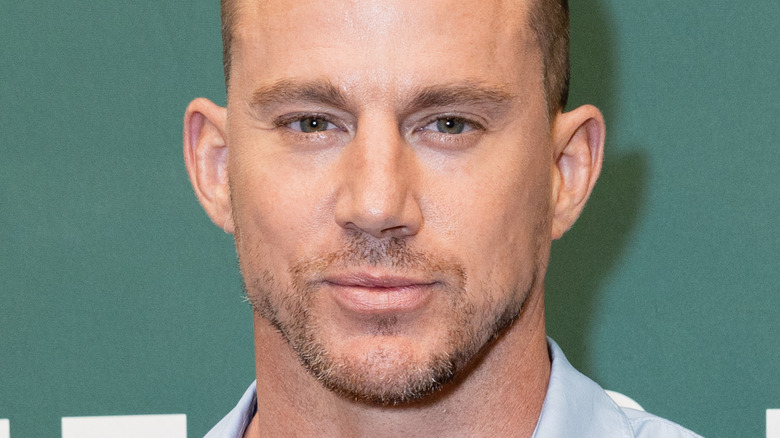 Matt Winkelmeyer/Getty Images
In the late 2000s into the 2010s, Channing Tatum was a star on the rise. Thanks to his work in the likes of "Step Up" and "G.I. Joe: The Rise of Cobra" — an action flick he very much regrets filming – he became one of the most in-demand names in Hollywood, especially since it seemed there wasn't a genre he couldn't thrive in. This immense popularity eventually brought him to what is arguably his most recognizable film to date, the real-life-inspired "Magic Mike" from director Steven Soderbergh. Tatum starred as Michael "Magic Mike" Lane, who took audiences by storm night after night as a male stripper.
To call 2012's "Magic Mike" a cinematic sensation would be a massive understatement. Moviegoers and critics loved it, it made a sizeable profit, and it launched Channing Tatum into the entertainment stratosphere. Thus, it should come as no surprise that a sequel, "Magic Mike XXL," premiered three years later, doing well by all metrics too. Despite this, a third installment in the "Magic Mike" franchise would take a while to become a reality. Nevertheless, the wait is nearly over since the long-awaited debut of "Magic Mike's Last Dance" is only a few months away.
As "Magic Mike's Last Dance" prepares to step through the curtain, we have a trailer that gives us a pretty good idea of what to expect from this threequel.
Mike's mesmerizing moves will soon return to the movies
Warner Bros. Discovery dropped the first trailer for "Magic Mike's Last Dance" on YouTube on November 15, 2022, and much like Mike himself, it doesn't leave much to the imagination. It opens with him working as a bartender in Miami, Florida, where he meets Salma Hayek's currently-unnamed character. They seem to hit it off since he visits with her away from work and shows her his calling: dancing. After seeing his moves, Hayek's character urges him to go to London, England, so he can get back in the game via a huge show. However, is he able to trust his new business partner? Or is there treachery afoot?
Talks of "Magic Mike's Last Dance" date back to late 2021, when Deadline reported that Channing Tatum and Steven Soderbergh would return to the series they made a hit a decade ago. In the months that followed, Caitlin Gerard, Juliette Motamed, Gavin Spokes, Christopher Bencomo, Ayub Khan Din, and more joined the cast (via IMDb), as well as Thandiwe Newton. However, she had to step away from the project in April of 2022, prompting Hayek to step in as her replacement. Additionally, Soderbergh has confirmed that more "Magic Mike"-adjacent productions are on the way, so keep an eye out for more news on those.
"Magic Mike's Last Dance" will hit theaters on February 10, 2023.