Timothee Chalamet's 12 Best Performances, Ranked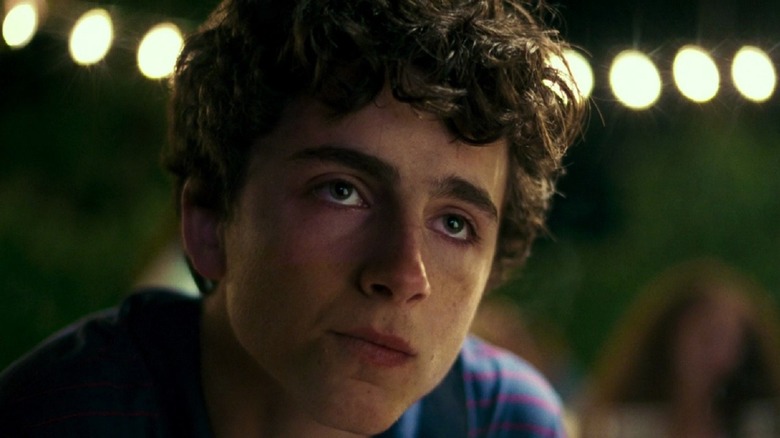 Sony Pictures Classics
After rising from relative obscurity and small-screen roles, Timothee Chalamet is now one of the hottest properties in Hollywood and one of the go-tos when it comes to choosing a leading man. From his first onscreen role (in "Law & Order" at the tender age of 13) to playing the lead character in the behemoth sci-fi blockbuster "Dune," Chalamet's rise to the top has been stratospheric.
Working with a string of high-profile directors — including Wes Anderson, Christopher Nolan, Greta Gerwig, and Denis Villeneuve — Chalamet has proven to be an adept and versatile actor in a number of challenging and varied roles. At just 23 years old, Chalamet also achieved recognition from the Academy when he was nominated for his performance in Luca Guadagnino's tender romantic drama, "Call Me By Your Name."
As a thoroughly modern Hollywood heart-throb, Chalamet has earned legions of fans and been hailed as a style icon, with Vogue calling him "the most influential man in fashion." While he has already accomplished so much, it still feels like the sky's the limit for the young actor, and the Oscar that eluded him in 2018 feels like an inevitability in the future. Whether you're a dedicated fan or wondering where to begin, we've ranked Timothee Chalamet's twelve finest performances.
Interstellar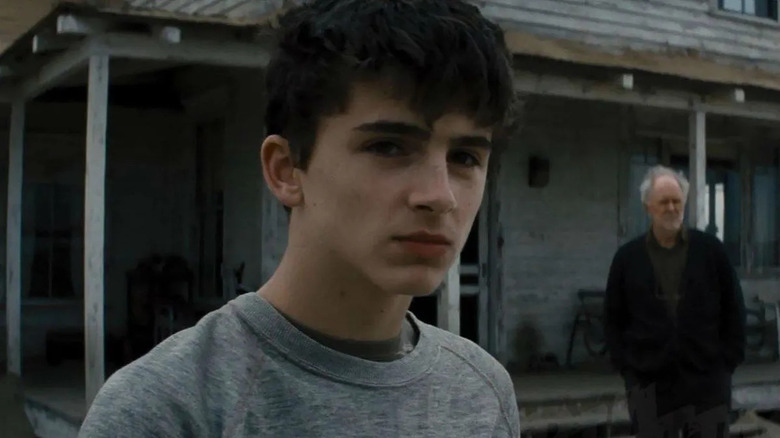 Warner Bros. Pictures
While his screentime may be limited, Chalamet's appearance in "Interstellar" is nonetheless still hugely significant. Aged just 19, Chalamet made the leap from small-budget indies to giant blockbusters in the role of Tom, the teenage son of protagonist Cooper (Matthew McConaughey). The film focuses on Cooper's treacherous journey through a space wormhole to find other inhabitable worlds that will ensure humanity — and his own family — will have a future.
Tom's sister — the head-strong Murph (Mackenzie Foy) — is particularly aggrieved by her father's decision to leave Earth, but Tom maturely takes it all in his stride. Murph aspires to become a scientist, but Tom accepts he will be the one to look after the family's farm, and Chalamet's performance sells this heaviness and sense of responsibility.
In perhaps one of the most significant moments in the film — when Cooper watches the years worth of messages he's received — it is Chalamet's voice that we hear at the beginning ,until so many years pass that the teen is now a grown man with his own kids (played by Casey Affleck). While he was able to recognize the importance of this scene, Chalamet recalled in an interview with Variety how he wept after he watched the film, as he thought he would have a much bigger part. However, the vast timespan of the film necessitated an adult version of the character, and it shows great maturity on Chalamet's part that he appreciated what would be most beneficial for the final product — admitting in the same interview that he saw the film 12 times.
Don't Look Up
It speaks to the kind of person that Timothee Chalamet is that he — even after playing significant roles in big-budget blockbusters — would still be willing to take on this relatively small role in the comedy satire "Don't Look Up." With just over four minutes of screen time, Chalamet just about steals the whole film as well-meaning slacker skater, Yule, who becomes an unlikely beau to Jennifer Lawrence's Kate Diblasky during the impending end times.
In many ways, Yule is the perfect role for Chalamet — a well-intentioned misfit with an oddly philosophical outlook on life hiding beneath his goofy exterior. While the film is frequently brash and on-the-nose, his relationship with Kate is one of the more endearing aspects — both outcasts in their own way who find a kinship with each other in the face of inevitable annihilation.
Whether he is playing the lead or a supporting character, Chalamet has the ability to draw focus and truly make the most of the role he is given. In an interview with Netflix, Chalamet spoke about his preparation for the role and how he took inspiration from Robert Altman movies, in the sense that it was less about the characters and more about the world that they inhabit — something that prepared him to slot into the talented ensemble of "Don't Look Up."
Hostiles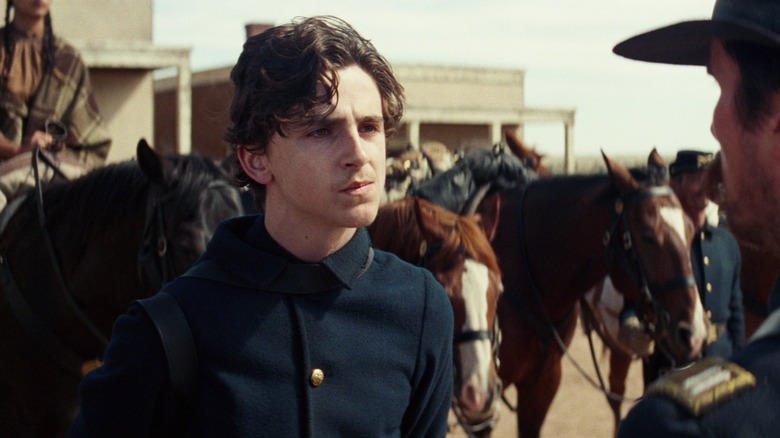 Entertainment Studios Motion Pictures
2018 was arguably the year when "Chalamania" was at its peak, with Oscar buzz building around the young actor for two of his films — "Call Me by Your Name" and "Lady Bird." Alongside these was the Western movie "Hostiles," where Chalamet appears alongside established stars like Christian Bale and Rosamund Pike.
While his role as Pvt. Philippe DeJardin is significantly smaller than the aforementioned Oscar hopefuls, it was another opportunity for Chalamet to show off his proficiency with languages and accents. As Elio in "Call Me by Your Name," Chalamet speaks Italian, French, English, and even a little German, but "Hostiles" sees him stick to a more familiar tongue, as his character speaks with a French accent — something that comes easily to the actor as he is fluent in English and French.
As DeJardin, Chalamet proves that you can say a lot by doing very little and he stands up against the more accomplished actors with ease. It was, however, a role Chalamet had to fight hard for. In an interview with Backstage, director Scott Cooper revealed that Chalamet was the only actor in the film who had to audition for their part, with the other stars having their roles written for them early on in the process. Cooper was full of praise for the young actor though, remarking that "he's a very uninhibited actor... not afraid to take risks."
Beautiful Boy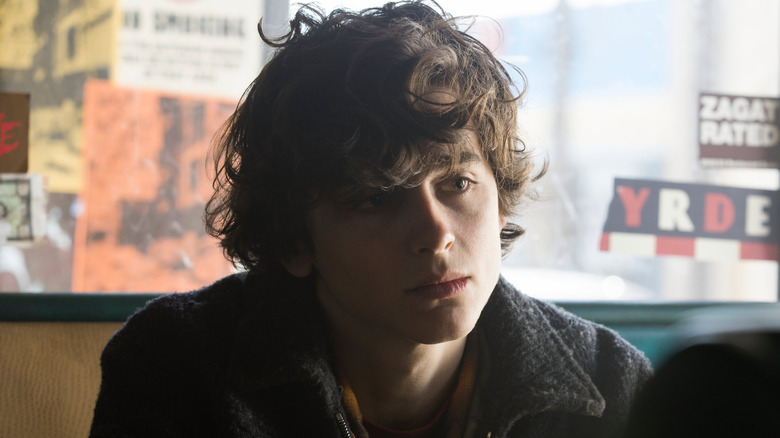 Amazon Studios
By the time this hard-hitting drama was released in 2018, Chalamet already had plenty of experience playing troubled and rebellious teens. However, playing Nic Sheff in "Beautiful Boy" brought its own set of challenges, with Chalamet playing a real person whose struggles with addiction had inspired his father to write a memoir.
Along weith as the added pressure of doing justice to a very real and personal story, the film also grapples with some extremely difficult subjects that would really test Chalamet's skills as an actor. What is clear about Chalamet is that he always brings a sense of authenticity to his roles, researching the parts and the topics thoroughly. As part of his preparation to play Nic, Chalamet dropped 18 pounds before filming began (via Yahoo), which he said gave him a sense of disorientation and mania that helped put him in the mindset of the struggling addict.
"Beautiful Boy" received a mixed critical reaction; however, there was almost unanimous praise for Chalamet's performance. While it was an undeniably challenging role, Chalamet pulls it off with tremendous success. Among the critics who admired Chalamet's work was Empire's Dan Jolin, who called his performance "painfully convincing" and even compared him to a young Robert DeNiro.
The King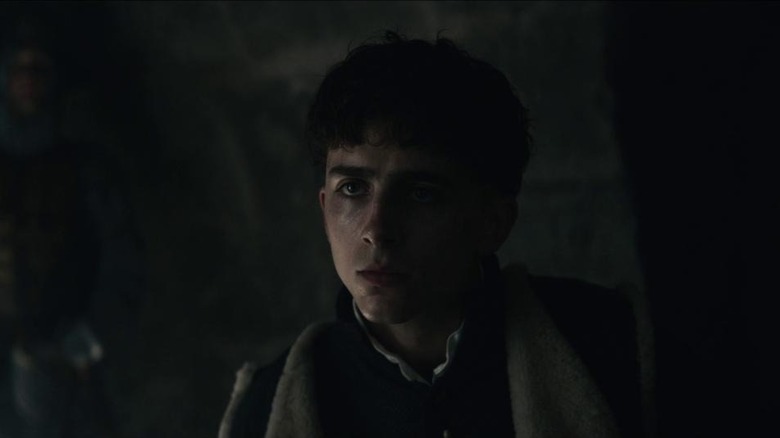 Netflix
Proving his ability to step into almost any genre with ease, Chalamet played the lead role in Netflix's historical epic "The King" in 2019. Somehow pulling off the unflattering bowl-cut hairstyle, and the impeccable English accent, this film tested Chalamet's acting skills and saw him playing against type — far removed from the coming-of-age dramas he had made his name in.
"The King" sees Chalamet play Hal, the Prince of Wales who is later crowned as King Henry V. While he is next in line for the throne, Hal shows little interest in becoming King and isn't disappointed when his younger brother is named as heir instead. However, following the death of his brother and father, the inexperienced and immature Hal is presented with no other choice but to rule. Playing a young character suddenly burdened with overwhelming responsibility feels like the perfect role for Chalamet, and he brings a surprising intensity to the role.
It is a film that feels made for the big screen, but after arriving with little fanfare on Netflix, "The King" remains an underseen — and vastly underrated — historical epic. While it takes sweeping liberties with the real story and Shakespeare's source material, its strong performances and impressive battle scenes make it a film worth watching and it does an effective job of modernizing the story to a degree.
The French Dispatch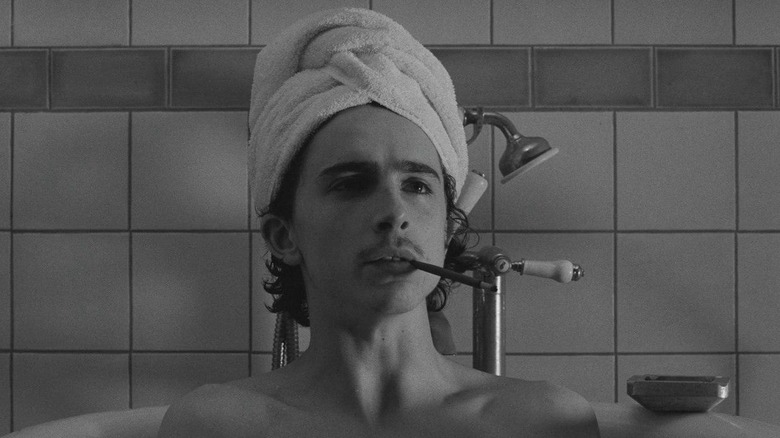 Searchlight Pictures
In Chalamet was able to flex his comedic acting skills once again in "The French Dispatch" by visionary director Wes Anderson. Carving out a name for himself with his meticulously symmetrical shots and a rotating cast of recognizable repeat collaborators, Wes Anderson is at his quirky best in "The French Dispatch."
Told in a unique anthology format, the film operates as a pastiche of the story behind The New Yorker and showcases a number of eccentric characters in a series of short stories. In the story titled "Revisions to a Manifesto," Chalamet plays wild-haired student Zeffirelli alongside journalist Lucinda Krementz (Frances McDormand). While his poorly written manifestos are given a serious dressing-down from Krementz, there is also a surprising romantic element to the story, with the pair embarking upon a brief love affair.
There is always tremendous confidence in Chalamet's performances which makes him such a captivating screen presence, and even alongside veterans like McDormand, he has all the conviction of someone who has been acting for a lot longer. As is the case with most of the directors who have worked with Chalamet, Wes Anderson was also full of praise for Chalamet, saying in a cover feature for GQ that Anderson "knew [Chalamet] was exactly right" for the part of Zeffirelli when he was casting the film. Hopefully, the iconic director and young star will work together again sometime.
Dune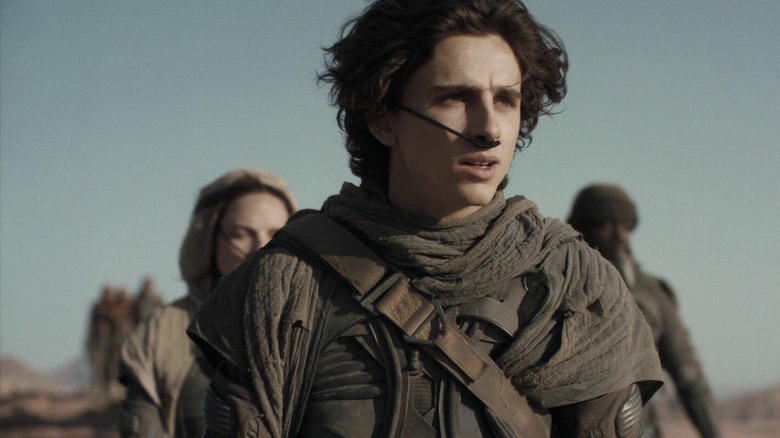 Warner Bros. Pictures
While Chalamet was already a huge star by this point, the thing that cemented his status was Denis Villeneuve's decision to cast him as the lead in the sci-fi blockbuster, "Dune." With an Oscar nomination and a string of successful films already under his belt, it was his appearance as Paul Atreides in "Dune" that would bring him an even bigger audience for a multi-film project.
The film focuses on the galactic power struggles over a valuable resource, with Chalamet playing the son of the ruling House of Atreides. In the film, Paul is considered by many to be the "chosen one," and his journey to accepting his title and fulfilling his family's legacy forms the basis of the first half of the story as war is threatened on the desert planet of Arrakis. Undoubtedly equipped to play this role, Chalamet approached it with a surprising degree of modesty, speaking to Variety about having a big case of "imposter syndrome" alongside the cast's other big names.
These feelings of inadequacy that Chalamet may have had ultimately served him well when it comes to embodying the character of Paul Atreides, a person who often seems burdened by the sense of responsibility and expectation that comes with his name. Vast in scale — both visually and in terms of the broad scope of the story — "Dune" is a massive undertaking for any actor, but Chalamet is up for the challenge.
Bones and All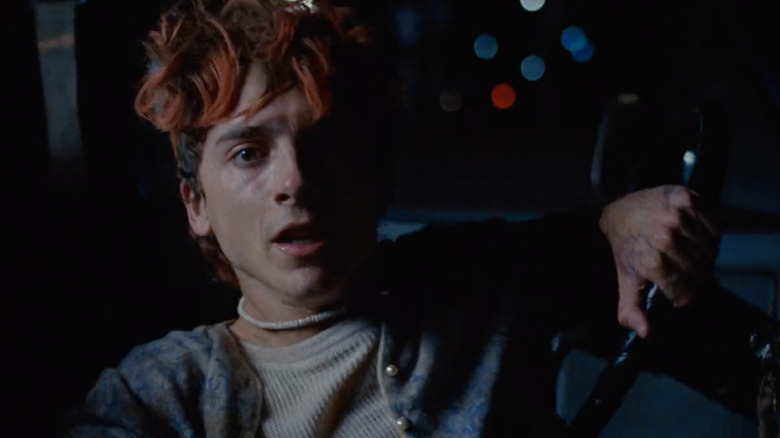 United Artists Releasing
After the success of "Call Me by Your Name," it seemed only a matter of time before Chalamet would work with director Luca Guadagnino again. Though the director and actor's first outing was a summery yet bittersweet romance, "Bones and All" takes a darker approach and gives audiences a lot more to chew on. Chalamet plays Lee, a drifter with a taste for human flesh who falls in love with Maren (Taylor Russell). Both Lee and Maren are pushed to the margins of society, but their cannibalistic tendencies bring them together in this genre-bending movie.
Operating simultaneously as a coming-of-age film, with a tender story about first love, and a visceral, disturbing, and gory horror, "Bones and All" demonstrates Chalamet's willingness to take on challenging projects that truly test his skills as an actor. Both of his films with Guadagnino have presented their own challenges for Chalamet and it is evident — particularly in "Bones and All" — that there is a great deal of trust between them. Speaking to IndieWire, Guadagnino was eager to praise Chalamet, saying that he "made me so proud" and that he shares a "beautiful bond" with him.
Just as the film delicately balances genres, Chalamet also pulls off the nuances of this character, managing to be both vulnerable and scarily intense as the mood dictates. Critics have praised his work in the film, with Sight & Sound's John Bleasdale saying that through the character he exudes an "insolent confidence in his own beauty."
Miss Stevens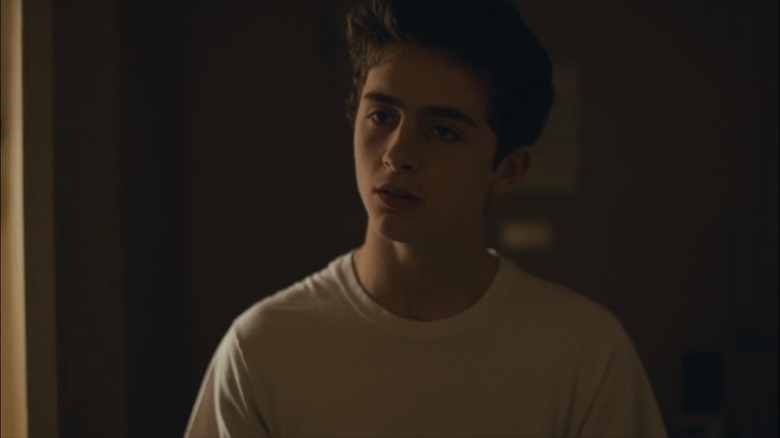 The Orchard
Just one year before Timothee Chalamet became a household name following his appearance in "Call Me by Your Name," he appeared in the criminally underseen indie film "Miss Stevens" as a troubled teen named Billy. Lily Rabe plays the titular teacher, tasked with chaperoning a group of students — which includes Billy — to a drama competition. While he struggles academically and with trying to manage his behavioral condition, Billy shows a talent for the arts that Miss Stevens believes should be encouraged.
As well as the emotional complexity of Chalamet's character, the film also approaches the topic of a student having the hots for his teacher in a sensitive and mature way. This kind of teacher-student relationship runs the risk of becoming inappropriate and can be difficult to convey, but the film wisely focuses on the brokenness these characters feel and how they are able to help repair each other while maintaining appropriate platonic boundaries.
The sense that Chalamet is on the very edge of superstardom is palpable in this film, particularly in a memorable moment where he delivers a passionate monologue from "Death of a Salesman." Displaying the raw emotion that would soon earn him an Oscar nomination, this scene almost feels like Chalamet's audition to become a major Hollywood contender, and it is easy to see from this performance that fame and recognition weren't far away.
Lady Bird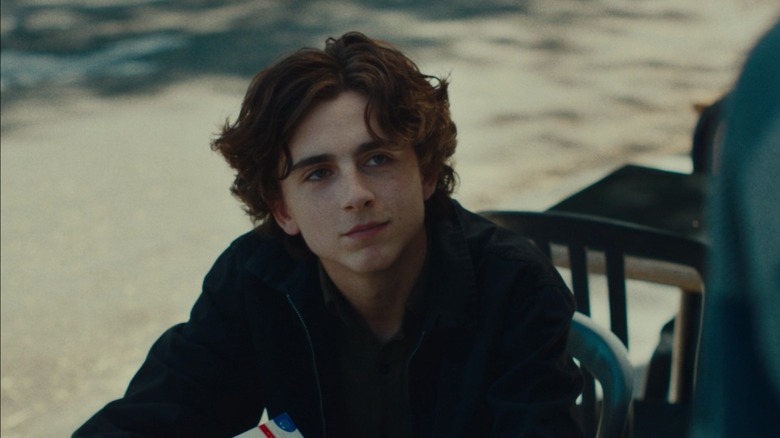 A24
In 2017, Chalamet added to the plaudits he received for "Call Me by Your Name" with a supporting role in the coming-of-age dramedy, "Lady Bird" — a film that was nominated for five Oscars in the same ceremony as the aforementioned Luca Guadagnino picture.
Proving his versatility, the character he plays in "Lady Bird" — cocky bad boy Kyle — is about as far away as you can get from the sensitive Elio. While much of the film centers on the rebellious titular character (played by Saoirse Ronan), Chalamet steals the attention briefly as the occasional love interest of Lady Bird. Kyle ticks almost all the boxes of someone you shouldn't fall for — he's in a band, smokes, and has a huge ego — and yet he still manages to make the character exceptionally likable.
What is clear in a lot of Chalamet's films is that he likes to lean into all of a character's quirks, and that's particularly evident in "Lady Bird." Kyle is over-the-top, brooding, and often unnecessarily philosophical, and the deadpan, quasi-serious way Chalamet plays the character ends up getting some of the film's biggest laughs. As well as forming a friendship with co-star Saoirse Ronan, Chalamet also made an impression on "Lady Bird" director, Greta Gerwig, and the trio reunited to work with each other again in "Little Women" two years later.
Little Women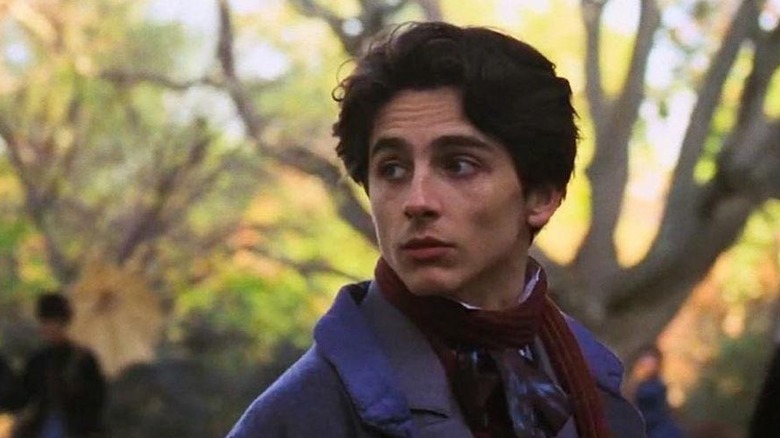 Sony Pictures Releasing
Tasked with bringing to life a beloved literary heartthrob is no easy feat, but given his track record, the obvious choice has to be Timothee Chalamet as Theodore "Laurie" Laurence. Chalamet plays one of the few significant male characters in the 2019 adaptation of Louisa May Alcott's original novel, and while there was understandable pressure to get the character right, Chalamet once again tackles it effortlessly.
Given that Chalamet and Saoirse Ronan had worked together previously — and the tangible chemistry between them translated both off-screen and on — they're the perfect pair to bring to life the will-they-won't-they relationship between Laurie and Jo. However, fans of the book and previous adaptations know that there is no neat or happy ending for the pair, who seem destined to be together but yet their paths are pulling them in very different directions.
On the surface "Little Women" may appear to be a typical period drama, but there is a lot more to it, and Greta Gerwig's version marries the modern and subversive themes with the traditional and nostalgic. The nature of the story dictates that Chalamet is very much a background player to the titular roles of the "little women;" however, he still brings both a commendable vulnerability and a sense of assuredness to the pivotal role that makes the character feel like his own.
Call Me By Your Name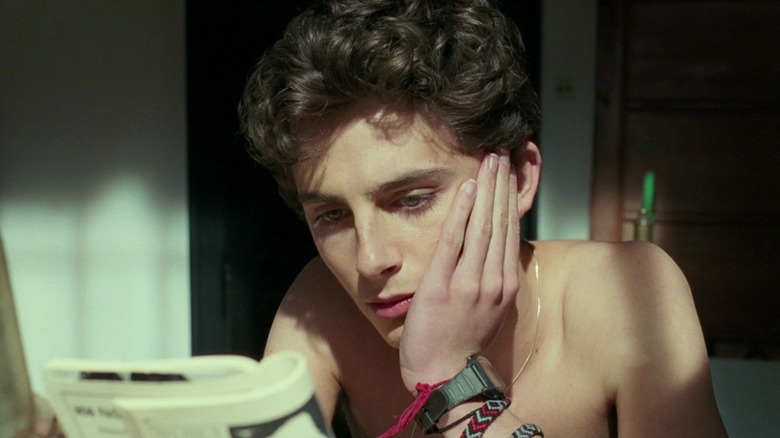 Sony Pictures Classics
Undoubtedly the moment in Chalamet's career where you can say he truly made it, "Call Me by Your Name" made the world sit up and take notice, recognizing the young actor as one of the most promising new talents. Based on the novel by André Aciman, "Call Me by Your Name" details the blossoming romance between precocious 17-year-old Elio (Chalamet) and handsome 24-year-old research assistant Oliver (Armie Hammer).
With the romance playing out against the gorgeous backdrop of a sun-soaked Italian summer, this tender love story gave Chalamet the chance to show off his skills beyond acting and earned him his first Oscar nomination. The character of Elio feels like one that Chalamet was born to play, with the actor demonstrating his proficiency in music and languages in a way that is both utterly convincing and perfect for the prodigious teen he is portraying.
While it plays out in a relatively unassuming way — until the gut-punch of an ending — this role is an emotionally challenging one throughout, and Chalamet is tasked with making the infatuation Elio feels for Oliver seem authentic. Fortunately, Chalamet and Hammer had an instant connection (something they spoke about on The Ellen Show) — and this translated easily into the passionate relationship between Elio and Oliver. Ultimately, "Call Me by Your Name" is still the benchmark for Chalamet's varied and brilliant career so far.