The 13 Best Cameos In Weird: The Al Yankovic Story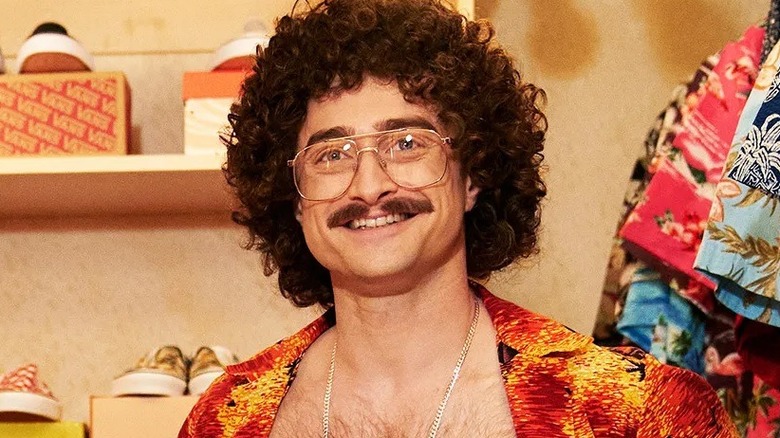 Slaven Vlasic/Getty Images
Beginning life as a trailer parody from Funny Or Die, "Weird: The Al Yankovic Story," pokes fun at the cliches of celebrity biopics by telling a larger-than-life story that shares some factual details with the life of its subject, but takes things to the most absurd degree possible (much like many of Yankovic's songs). Co-written by Eric Appel (who also directed the film) and Yankovic, the movie paints the comedian as a young revolutionary who was cut down in his prime by a vengeful Madonna (played by Evan Rachel Wood) who couldn't forgive him for not helping her run a criminal empire after he murdered Pablo Escobar.
Such a grand spectacle is going to need big names to sell the blockbuster scope the film so expertly satirizes, and plenty of funny celebrities showed up to do Al's story justice. To celebrate the inclusion of such comedy giants, we've assembled a list of the 13 best cameos in the film. These are limited to actors who not only appear on screen but who also deliver a line of dialogue. If we'd included everyone who shows up in this movie, we'd be here all day. Without further ado, these are the 13 best cameos in "Weird: The Al Yankovic Story."
Josh Groban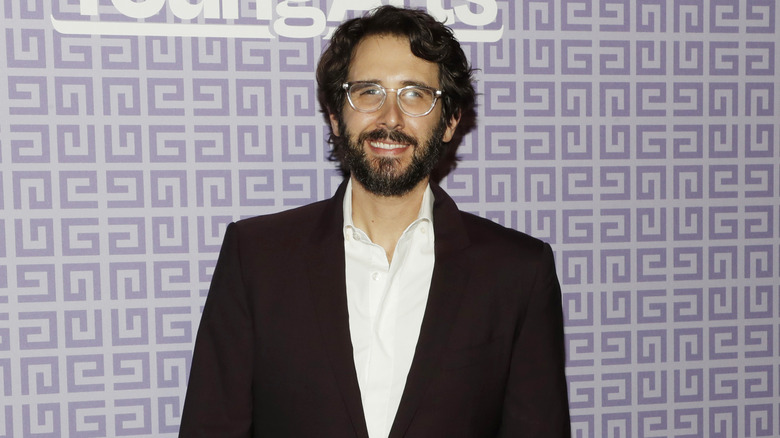 Astrid Stawiarz/Getty Images
Similar to Live lead singer Ed Kowalczyk's cameo as a waiter in David Fincher's "Fight Club," there's really no reason why a famous person (especially one as famous as Josh Groban) needs to be playing the role of the guy who takes Weird Al and Madonna's order in "Weird: The Al Yankovic Story." It's an important moment in the film, but the inclusion of Groban is a little baffling, considering he isn't given much to do.
As Madonna and Yankovic sit down to a meal, the waiter arrives to inform Al he has a phone call. He learns that Michael Jackson has just released a parody of "Eat It" called "Beat It" and is fuming. The poor waiter is given a bit of a hard time as Al takes his wrath out on him before Madonna orders hard drinks for both of them, leading to Yankovic's destructive relationship with alcohol.
That being said, he's great in the role. Aside from being an excellent singer and pianist, Groban is a talented actor as evidenced by titles like "Muppets: Most Wanted" and the television series "The Good Cop" with Tony Danza. His appearance here feels superfluous and that makes it kind of hilarious.
If you or anyone you know needs help with addiction issues, help is available. Visit the Substance Abuse and Mental Health Services Administration website or contact SAMHSA's National Helpline at 1-800-662-HELP (4357).
Demetri Martin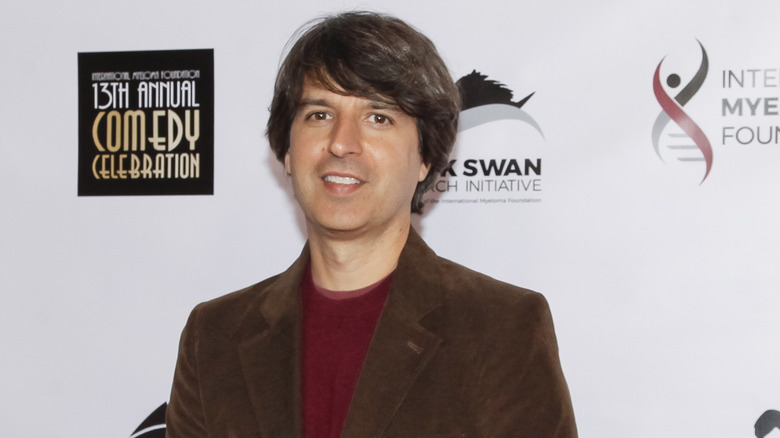 Tibrina Hobson/Getty Images
Al Yankovic's first step into the big time happens at Doctor Demento's pool party in Hollywood. The film portrays Demento (played by Rainn Wilson) as not just the host of a comedy radio show, but a major player in the entertainment industry who rubs elbows with the most recognizable names in comedy, music, and art. Among the party guests are a silent Alice Cooper, Elton John, Devo, Frank Zappa, Elvira, and Divine, to name a few.
One of the first people Demento introduces Al to is the Ukelele strumming, high-pitched singing performer Tiny Tim. Famous for his rendition of "Tip Toe Through the Tulips," Tim (real name Herbert Buckingham Khaury) was considered a novelty act while also being ridiculously famous (40 million people watched him marry 17-year-old Miss Vicky on Johnny Carson), so it makes sense that he'd be attending a party full of novelty acts and kooky pop culture figures.
Standup comedian Demetri Martin portrays Tim in the film. He doesn't have quite the same looming presence as the ironically named performer, but those amazingly fake teeth are a sight to behold. Besides, Martin's often surrealist comedic sensibilities are a perfect match to play this bizarre artist who was a mass of contradictions.
Michael McKean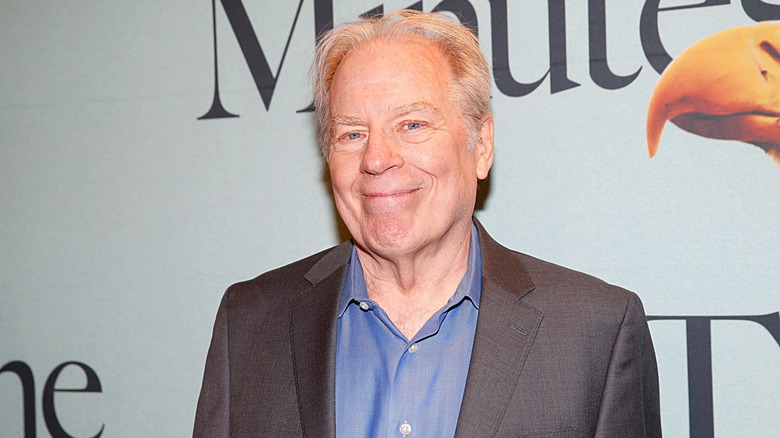 Dominik Bindl/Getty Images
You can not make a music parody film without acknowledging the masters: Spinal Tap. The 1984 mockumentary "This Is Spinal Tap" directed by Rob Reiner and starring legends Michael McKean, Christopher Guest, and Harry Shearer as three British rockers who can't seem to do anything right is the gold standard of music parody films because it so perfectly captures the mundanity and silliness of trying to maintain a certain image while going on tour. Plus, it's just hilarious.
"Weird" director Eric Appel was smart to acknowledge the debt his film owes to "Spinal Tap" by casting McKean as a Sleazy MC at Al's first gig. He doesn't do much other than pop his head in to let Al know he has to go on stage soon and then introduce the nervous performer to his audience, but it's enough. McKean (who was also known for the role of Lenny on "Laverne & Shirley") is fantastic at taking a role and making it live, regardless of the size (that's partially why "Spinal Tap" still holds up so well) and he does the same here.
It's not the first time he showed up to pay tribute to Al either. McKean was one of many celebrities who joined forces to cover Al's song "Eat It" for charity back in 2020.
Patton Oswalt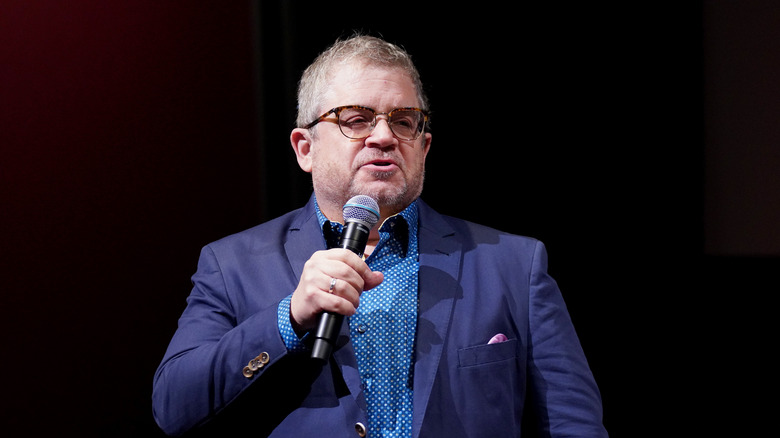 Presley Ann/Getty Images
The audience at Al's first gig isn't quite what he expects. His intention is to go out there and sing his ice cream-centric parody of Joan Jett & the Blackhearts' "I Love Rock 'n' Roll" ("I Love Rocky Road") but is nervous that the audience may be more into vodka and heroin. Among the angry crowd who booed off a punk band (featuring Jonah Ray and Johnny Pemberton) is comedian, actor, and writer Patton Oswalt.
He represents the hardened critic who thinks they know everything, only to have their mind blown by the power of parody. When Al steps out there, Oswalt assumes the act is going to be terrible. However, as Yankovic's band forms and he rallies everyone to embrace their love of ice cream, a tear is brought to Oswalt's eye. It's a fun cameo because he's playing a character, but he also just comes across like himself.
Much of Oswalt's standup features references to the things he loves, like comic books, horror movies, and science fiction. His book "Silver Screen Fiend" chronicles the evolution of his movie addiction, going a long way in explaining what makes him such a keen critic. Therefore, you couldn't ask for a more fitting actor to take the role of a cynical guy who thinks he's seen everything. Also, it's fun to imagine it might be a reference to the emotionally moved food critic from "Ratatouille" (note: Oswalt voiced Remy).
Tom Lennon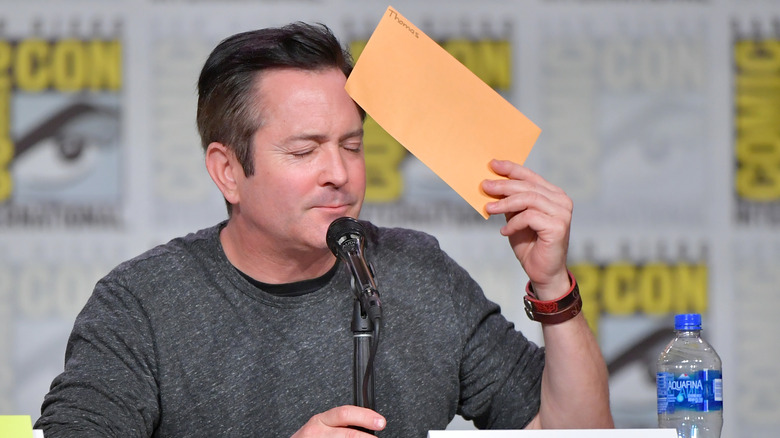 Amy Sussman/Getty Images
Perhaps the single most important moment in Weird Al Yankovic's life is the day a traveling door-to-door accordion salesman arrived on his doorstep. This is the first time he'd ever held the instrument and the exuberant salesman informs him that he has a natural gift that he can't squander. Even though his overly stern father comes in a moment later and violently assaults the salesman for having the gall to bring something as evil as an accordion into his house, this encounter sets Al on his incredible path to superstardom.
That salesman is played with sparkling charisma by Tom Lennon ("Reno 911!"). It's obvious that he understands the ridiculous tone of the movie and the ludicrous amount of importance they're placing on his role and he relishes in it. From the moment the door opens and he steps into the Yankovic home, he exudes charm and really sells the idea that this guy might actually think that accordions are miraculous inventions and that this little boy truly has a gift.
It's not the first cameo in the film, but Lennon stands out from some of the others by setting the tone for the cameos to come and he's always a stellar standout in every project he lends his talent.
Conan O'Brien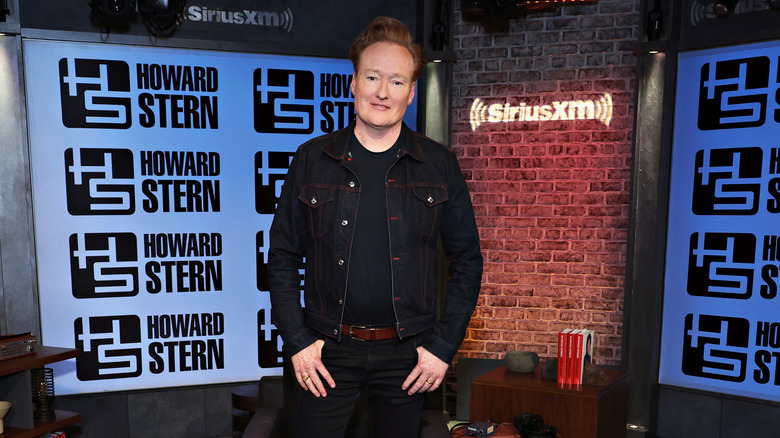 Cindy Ord/Getty Images
Doctor Demento's party has creative geniuses of all kinds milling around the pool, including the legendary artist Andy Warhol, as played by late night TV show host and podcaster Conan O'Brien. We see him slinking around with his 8mm camera and sunglasses, unimpressed by Demento's new wunderkind (he gives his career 15 minutes). It's a fitting inclusion since Warhol built his reputation by repurposing already existing images like soup cans and boxes of soap, making him a predecessor (in a manner of speaking) to Al's uncanny ability to repurpose other people's songs.
O'Brien is perfectly awkward in the role. He plays him confidently, but his costume and bizarre body language make the artist appear like a mischievous imp who's getting away with something. Also, it's just nice to see O'Brien in a movie, especially one so in sync with his comedy stylings as "Weird: The Al Yankovic Story." Both men have made careers out of being unabashedly silly. Unless he's doing voice work, Conan usually plays himself on camera. So it is wonderful to see him get the chance to stretch a little bit and play someone else while still embracing his ridiculous nature — even if it's for a few seconds.
Paul F. Tompkins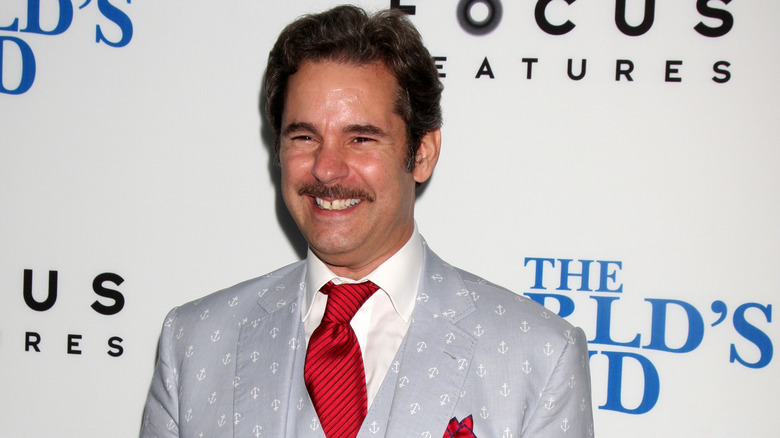 Kathy Hutchins/Shutterstock
Among the famous people who are initially dismissive of Yankovic's talent is the late Gallagher. He sits off to the side with Alice Cooper (who is more interested in his snake than what Gallagher has to say), seething with jealousy as he judges Demento's protégé. He says that Al's act is amateur hour because nobody hands out raincoats and tarps when Yankovic performs, suggesting the comedian naturally assumes his penchant for smashing watermelons with an oversized mallet during his standup is the pinnacle of comedy, and certainly better than changing the lyrics to preexisting songs.
Comedian, actor, improviser, and podcaster Paul F. Tompkins (whom you've most certainly encountered somewhere if his long list of IMDb credits is to be believed) doesn't look a thing like the real Leo Anthony Gallagher Jr., but that doesn't stop him from committing completely to the part. His performance tells us so much about this fictionalized version of the character without having to tell us very much. Hearing him barely attempt to approximate Gallagher's speaking voice, only to throw it away completely as he holds his drink, adopts a distant stare, and repeats "amateur hour" to himself suggests this whole inner life we can only imagine.
Jorma Taccone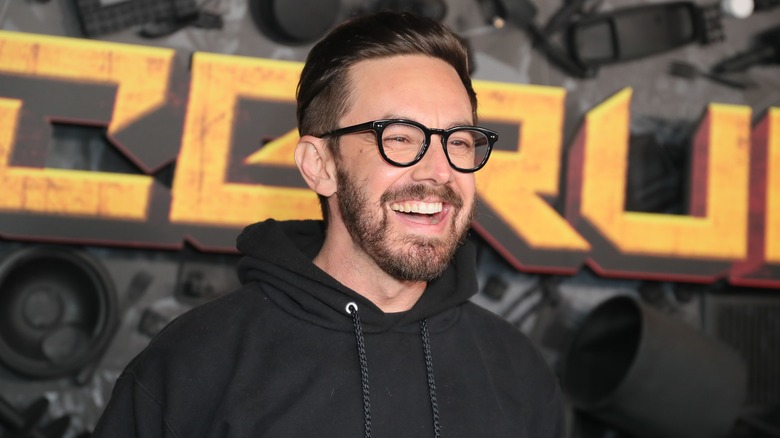 Leon Bennett/Getty Images
The very first person Al meets at Doctor Demento's party is everyone's favorite adult child Pee-Wee Herman. It's important to point out here that Al isn't meeting Paul Reubens, the actor who created and played Pee-Wee Herman: He is meeting the character of Pee-Wee Herman as played by Jorma Taccone. In case you needed a reminder that this movie was supposed to be an over-the-top comedy, a fictional character welcomes Al to the party rather than a genuine celebrity like Elton John.
Pee-Wee is a singular creation and it isn't easy to capture his essence unless you are Paul Reubens. That being said, Taccone does an excellent job of channeling him as well as possible. When Herman meets Al, he offers to shake his hand. Of course, the hand is fake and everyone laughs, but Pee-Wee laughs so hard that he falls on the ground, which is absolutely something the character would do.
We see him a few more times during the pool party sequence, and each shot is impressive because Taccone continues to embody Pee-Wee's childish behavior. As Al performs "Another One Rides the Bus," Herman can be seen doing his tequila dance from the Tim Burton film "Pee-Wee's Big Adventure" and it is spot-on.
Emo Philips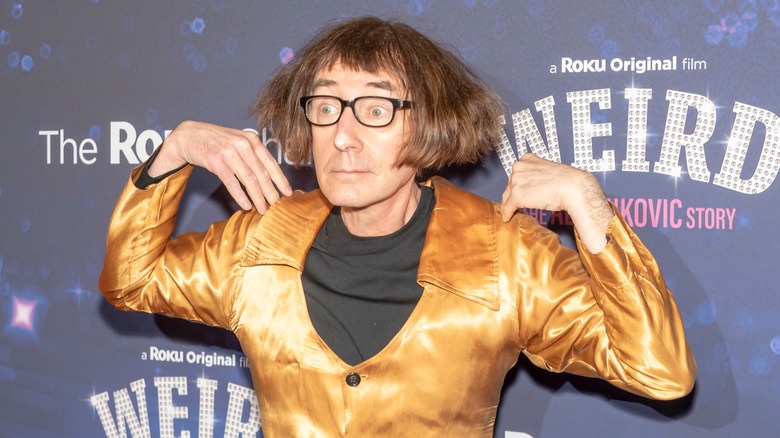 Ron Adar/Shutterstock
The person Andy Warhol decides to sit and have a chat with is fellow artist Salvador Dali. The second Warhol sees him, he says, "Oh, hello Dali," which must be a reference to the classic musical "Hello Dolly," another example of Warhol repurposing pop culture. The surrealist painter then asks what Warhol thinks about Weird Al Yankovic before giving his own insights. What's so funny about this scene (other than the fact that Dali thinks Weird Al is going to change art forever) is the fact that subtitles are used despite the fact that Dali is speaking in English.
Comedian Emo Philips offers the perfect blend of wisdom and pretension in his performance. His Dali is a man who sits by a pool in a full suit with a cane and luxurious mustache contemplating the kind of impact changing the lyrics to popular songs can have on the world of art. It is a subdued performance that (like O'Brien's Warhol) is more about body language than it is line delivery. There is almost no trace of Philips in the role, making him one of the few cameos in "Weird: The Al Yankovic Story" who disappeared into the role.
Lin-Manuel Miranda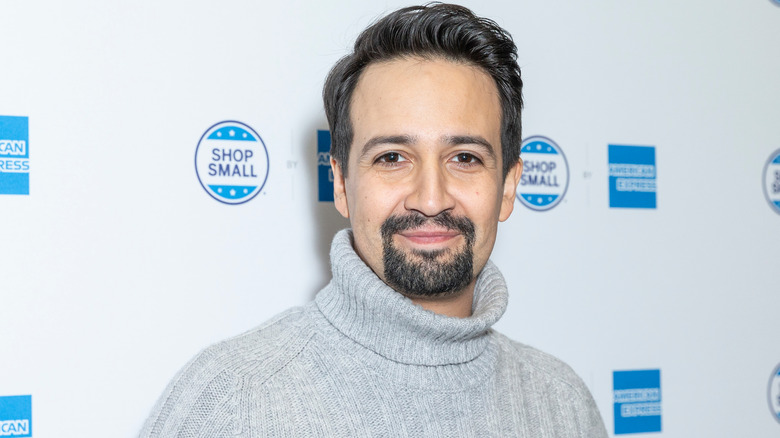 lev radin/Shutterstock
Technically, the first cameo we see in the film is Lin-Manuel Miranda as a doctor trying to save Al's life after he crashes his car as a result of driving drunk. The movie begins with a flash-forward to future events that we see again towards the middle of act two. The gurney is wheeled in, and the doctor looks over him, and he declares that he's dead. When the doctor removes his mask, we see the "Hamilton" and "In the Heights" creator in a borderline heroic reveal, letting us know there are more cameos like this to come.
Like Josh Groban, he doesn't do a whole lot, but it's great to see him. It's especially fitting when you know his history with Weird Al. As he discussed on "The Tonight Show Starring Jimmy Fallon," Miranda has always been a big Weird Al fan. There's even a viral video of Miranda reacting with childlike glee to Yankovic's polka medley of "Hamilton" songs that just warms your heart. So, he may not have much to do, but seeing a fan like him pitch in to tell Al's story is heartwarming.
Quinta Brunson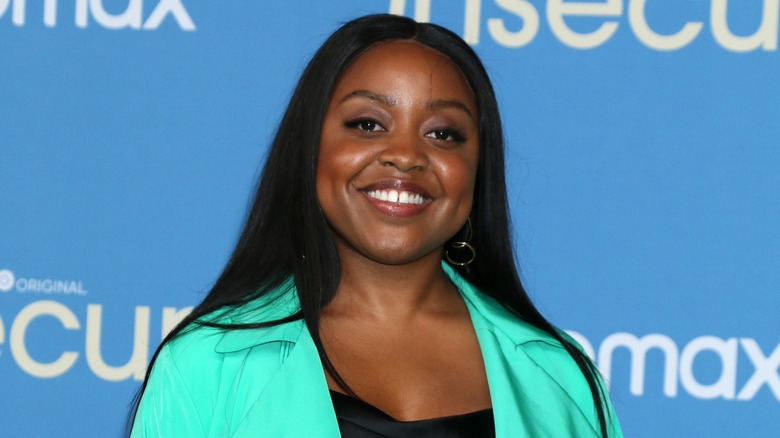 Kathy Hutchins/Shutterstock
There's a sequence early in the second act of "Weird: The Al Yankovic Story" that communicates a ton of information, sets up the ending of the film, and manages to make you laugh the whole way through. It's the moment when Madonna first discovers the concept of the Yankovic bump (the sales bump artists who were parodied by Yankovic receive thanks to the increased publicity).
Oprah Winfrey is doing a story on him and she provides us with all the necessary context to remind us where Al has been and tease us as to where he's going. We learn that Pablo Escobar is a huge fan of Al, the artist wears platinum records on a chain around his neck, and he's still hung up about his parents. A major contributing factor to what makes the sequence so funny is Quinta Brunson's performance as Winfrey.
She isn't doing an impression of the icon, but you can't escape the fact that you're watching the creator and star of "Abbott Elementary" and not Oprah. She doesn't have many jokes, but her reactions to some of Al's dialogue are priceless and the heart with which she portrays Winfrey is obvious.
David Dastmalchian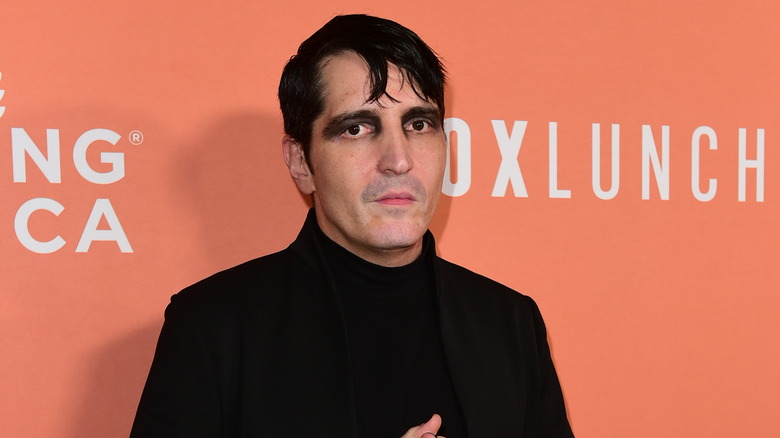 Vivien Killilea/Getty Images
Although the majority of those in attendance during Doctor Demento's pool party seems to have no love for Weird Al, only two people take the step of confronting Al and making him prove what he can do. One of those people is the bassist for Queen John Deacon, played by character actor David Dastmalchian. It's a fitting casting choice because Dastmalchian has a habit of playing small roles in big movies so convincingly that you don't even realize it's him half the time.
The joke with John Deacon's appearance in this film is that nobody remembers who he is. He says his name like everyone is going to recognize him right away, but nobody does. He suggests Al parody the Queen hit "Another One Bites the Dust," but is convinced it's too difficult for anyone to replace those lyrics with something else. When Al wows everyone with his impromptu performance, Dastmalchian's eyes look bloodshot as if he'd been crying in the face of such exquisite genius. It's an excellent acting performance that feels real in a wonderful way.
Jack Black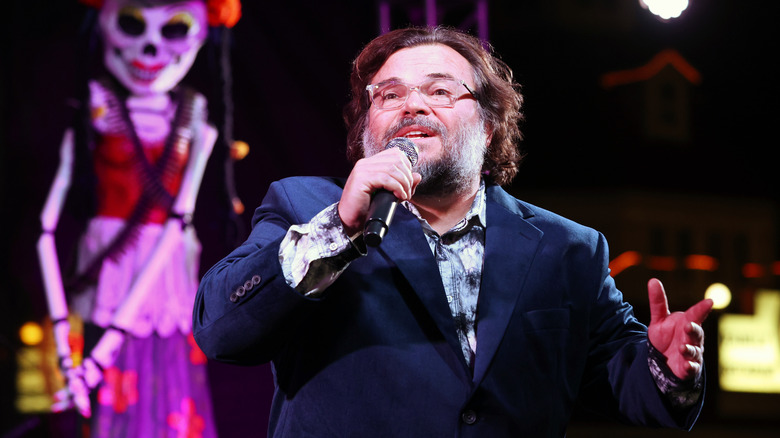 Mario Tama/Getty Images
Of course, the man who isn't afraid to challenge Al's genius is the boisterous and legendary rock DJ Wolfman Jack as played by Jack Black. Every word he says is dripping with distaste and condescension. When he describes Al's work he lingers on the word lyrics as though he's trying to shame the young performer in some way. Jack Black's impression is fantastic and he obviously loves hamming it up with everyone else.
His turn by the end of the scene is probably the most drastic. He begins by peacocking all over the place, but after hearing what Al does with "Another One Rides the Bus" he is a changed man. The bravado of his deep and raspy voice falls away and a genuine tone of awe replaces it. The joke here is obvious, but Jack Back leans into it so hard that it almost feels like a legitimately heartwarming moment.