Winston Duke Split His Pants While Wrestling Chadwick Boseman For His Black Panther Audition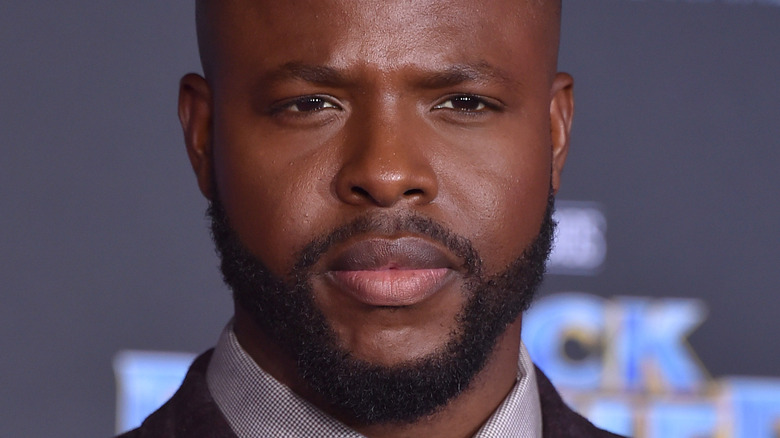 DFree/Shutterstock
Wakandans don't choose their next leader in a traditional way. Some countries have royalty, elected representatives, or dictators who have used martial might, while Wakanda has a means of selecting its next leader (and hero) through a watery wrestling match and the ingestion of heart-shaped herbs. This means of selecting leaders probably wouldn't work for the rest of the world, but it would be hilarious to see some modern-day politicians wrestle with each other. It would certainly make a filibuster more interesting, wouldn't it?
Joking aside, the first "Black Panther" sees T'Challa (Chadwick Boseman) battle both M'Baku (Winston Duke) and Killmonger (Michael B. Jordan) for the right to command Wakanda. After finally defeating Killmonger in the origin film's finale, T'Challa becomes the protector of the people.
Unlike Killmonger, though, M'Baku is a steadfast ally of T'Challa and the late king's family, and the character lends his talents in both "Avengers: Infinity War" and "Black Panther: Wakanda Forever." Duke plays the part to perfection, and it'd be hard to imagine anyone else in the role. Despite having a hilarious audition, the actor was able to nab one of the biggest roles of his life.
Duke split his pants while wresting Boseman during an audition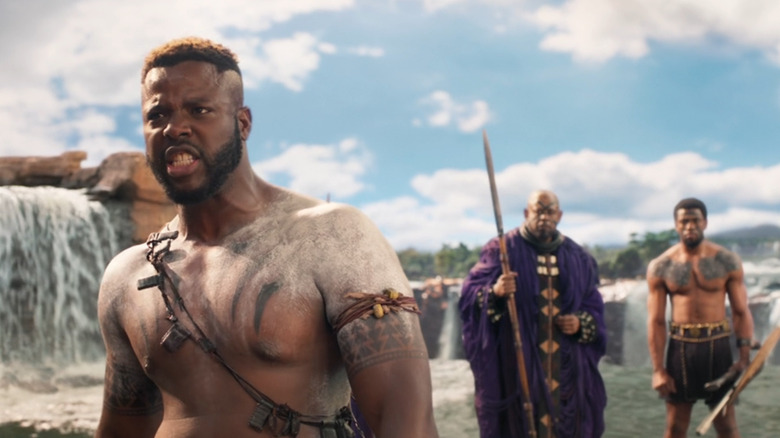 Marvel Studios/Disney
M'Baku's aggression and constant conflict with Black Panther in the comics has been reduced in the MCU films so far, but there is still a bit of a friendly rivalry between him and those outside his clan. This is something that, ironically enough, began during Duke's audition process.
In a recent interview with Esquire, Duke said his "Black Panther" audition was very secretive, and he wasn't even sure what he was trying out for. At the time, the movie was being referred to as an untitled Marvel property. Upon reaching the studio for the audition, Duke noticed several big-name actors like Michael Jai White and Sterling K. Brown, and he immediately felt like he wasn't going to get the part. 
"They said, 'Ryan Coogler would like to meet you.' And then I got in there, and it was Chadwick and myself at the screen test," Duke remembered. "And they just kept saying, 'do more stuff,' you know. 'Can you guys wrestle?' So we wrestled, and I split my pants. My underwear was out and everything, and I was like, 'you know what? If I don't book this job, you guys gotta buy me new pants.'"
Duke knew he couldn't let something like split pants ruin a once in a lifetime opportunity
This story from the "Black Panther" audition wasn't the first time Winston Duke invoked imagery of split pants. The actor told GQ in 2018 that he ruined some of his jewelry in that same wrestling match with Chadwick Boseman. However, he told himself to go with the flow, as h realized this moment was a once-in-a-lifetime opportunity and that champions always adjust when something unexpected comes their way.
Duke remembered going home completely full of adrenaline from the process. "I took a shower, and I had this really wonderful sense of calm that washed over me," Duke recounted. "It was almost as if I heard the words: 'Everything's gonna be okay. You're gonna be okay in this path that you've chosen. If you got the job, great. If you didn't, it just wasn't for you. There's nothing else that you could have done. You worry a lot, and it's not easy, but you're gonna be fine.' I'd never felt that before in my life. And I walked out of the shower at peace." 
The "Wakanda Forever" star said that 48 hours later, he got the call that he had landed the role of M'Baku. Ultimately, his willingness to engage in a wrestling match to the point of ruining his pants must have cinched the deal, and fans are hoping to see M'Baku lead in the future.