Looper's Exclusive Survey Uncovered Community Fans' Choice For The Best Season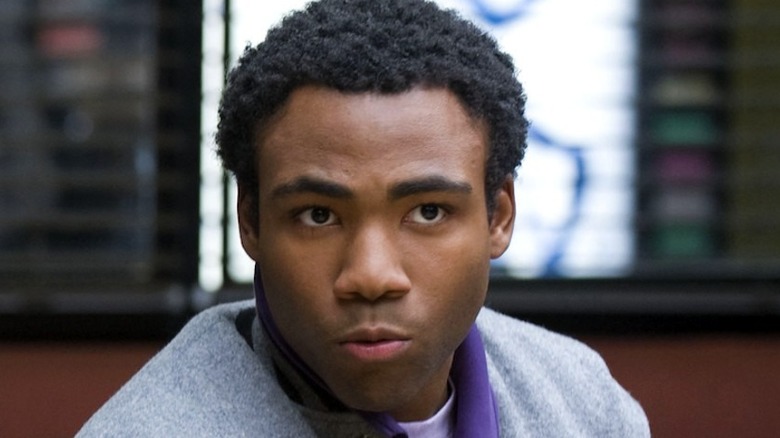 NBC
Ah, "Community." The iconic NBC sitcom is the definition of a cult classic. It may not be the biggest show on the block, but its fanbase is about as rabidly loyal as they come. The show also saw many major personalities making a name for themselves early in their career arcs, including the Russo Brothers, Dan Harmon, and Donald Glover. Its first five seasons aired on NBC (despite multiple shaky points) before it was officially canceled by the studio. By then, the popular show-based hashtag #sixseasonsandamovie (initiated by Abed in Season 2) was in full swing, even if its NBC run had fallen a full season and a movie short. To fans' collective delight, the abandoned IP found new life in the eleventh hour when Yahoo!, of all places, renewed it for a sixth and final season. Was that season everything they ever hoped and dreamed it would be? Not really. But it counted. Years later, news broke that the long-lost "Community" movie was indeed in development, officially turning prophesy into reality.
That's the definition of a cult classic, right? Yeah. It's the sloppy, desperate, hilariously awesome definition of a cult classic.
The question remains: What part of this crazy rodeo did fans enjoy the most? Was it the early seasons when the show established its beloved storytelling technique and incredible dialogue sequences? Was it the middle seasons where themed episodes and breaking the fourth wall were the order of business? Or was it the truncated, odd, and surprisingly entertaining final seasons that left the strongest impressions on fans' hearts? We asked 600 U.S. members of the Looper community about their thoughts on the show of the same name, and while there was plenty of love to go around, there's one season that came out on top.
Season 3 is the Looper fan-favorite season of Community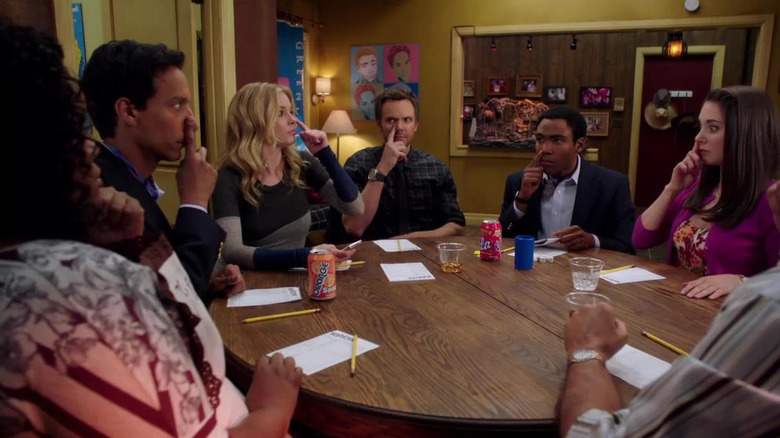 NBC
Every season of "Community" has its merits. Season 1 is a charming introduction to the show. Season 5 has an entire episode devoted to The Floor Is Lava. Season 2 has the Russo Brother's incredible Star Wars-themed paintball episode that helped them catch the eye of Marvel Studios. And yet, when asked, fans pointed to Season 3 as the show's ultimate achievement, and the reasons are immediately apparent.
Season 3 has some of the most famous episodes in the entire show. Rather than listing off random favorites, though, let's let the ratings do the talking. "Remedial Chaos Theory" — where viewers see what happens when various members of the study group go to get pizza in different timelines — has a staggering 9.8-star rating on IMDb. "Documentary Filmmaking: Redux," which traces a Greendale documentary gone awry, is similarly popular, as is "Pillows and Blankets," an installment that brings a Ken Burns flare to an epic intra-school civil war. The nine-star-plus episodes keep rolling with "Basic Lupine Urology," a Law & Order-themed take on a stolen yam from biology class. And three of the four final episodes also rank in the nine-plus club as they trace the study group's showdown with an out-of-control Chang along with their attempt to help Pierce navigate his deluded and racist video game inheritance.
Add it all up, and nearly a third of the season is rated nine stars or higher. And, truth be told, the above-listed episodes really are vintage "Community" entertainment. They showcase everything that made the show great, from witty, fast-paced dialogue to eclectic character interactions, self-aware scripts, "a new theme a week" storytelling, and so much more. Everything about Season 3 is cinematic gold, and it's the high watermark of the show. 'Nuff said.
Seasons 1 and 2 are contenders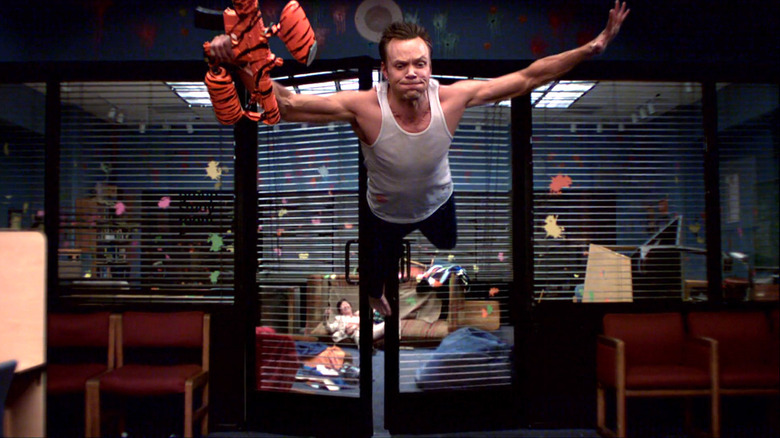 NBC
When polled, 26.17% of respondents chose Season 3 as their favorite. However, Seasons 1 and 2 came in a close second and third place. Season 1 garnered 25.50% of the vote, while Season 2 had a respectable 21.83%. Again, the reasoning here is simple. While the later seasons were focused on a cult following that was perpetually clamoring for more, the first three seasons are collectively what made that clamoring possible. They demonstrate a remarkably consistent level of elite comedic quality, even as the show develops from a scrappy Spanish study group to a posse of friends trying to survive Anthropology 101 to the "Greendale Seven" on an "Oceans 11" mission to retake the school from the clutches of a Chang that has finally fully gone off the rails.
Throughout the first two seasons, we get countless moments of sheer brilliance. Season 1 alone features several inspired installments, all of which are equally capable of capturing new audience members. No, seriously, fans on Reddit are still torn between "Spanish 101," "Football, Feminism and You," and "Debate 109" as three equally effective entry points for first-time viewers.
Season 2 takes this strong start and cranks things up to 11. From a Betty White-led Anthropology course to an Apollo 13-esque shuttle mission, a zombie Halloween episode, conspiracy theory-driven night school, a claymation Christmas, insane Dungeons & Dragons showdowns, and, of course, that two-part paintball finish, the season is chock full of memorable moments.
And yet, when push comes to shove, those two seasons only set the stage for the show's greatest triumph. Season 3 brings it all together, inspiring loads of laughs, lots of warm, fuzzy feelings, and plenty of raised eyebrows as one of television's greatest cult comedies delivers on every level imaginable.