Henry Cavill's Most Talked-About Mission: Impossible - Fallout Scene Was Totally Improvised
Theo Wargo/Getty Images
Henry Cavill is well known for his devotion to each role he takes on. Whether it's being faster than a speeding bullet as Superman to grumbling his way through a fantasy world as Geralt of Rivia on "The Witcher," he knows how to give his all in every role and genuinely applies himself to every single part he accepts.
In "Mission: Impossible — Fallout," the actor took on the character of August Walker, a CIA hire tasked with keeping an eye on the entire Impossible Missions Force through their Special Activities Division. That puts Walker on a collision course with death-defying Ethan Hunt (Tom Cruise), a member of the IMF and head of a globetrotting, tech-loving unit of misfits and rogues. After a film filled with derring-do, the two men fight it out via a helicopter duel, then battle to the death on the edge of a cliff. Naturally, it's Walker who meets his maker instead of Hunt. While Walker chases Hunt up the sheer side of the rock formation, he's smashed in the eye with some of the rigging attached to one of the disabled helicopters when it comes unmoored from the rockface. He falls into the explosion caused by the now-dislodged helicopter as it hits the ground, leaving Hunt to scramble to safety.
There's another, more iconic moment Cavill's character took part in — one that he admits he's seen discussed multiple times on Reddit — and you may not be surprised to learn that he improvised that bit of onscreen action. It turns out his sense of humility and his wicked sense of humor were both factors in birthing the moment to life. Here's what he says about the iconic moment he improvised during a very memorable fight scene.
The actor came up with the arm-loading gesture by himself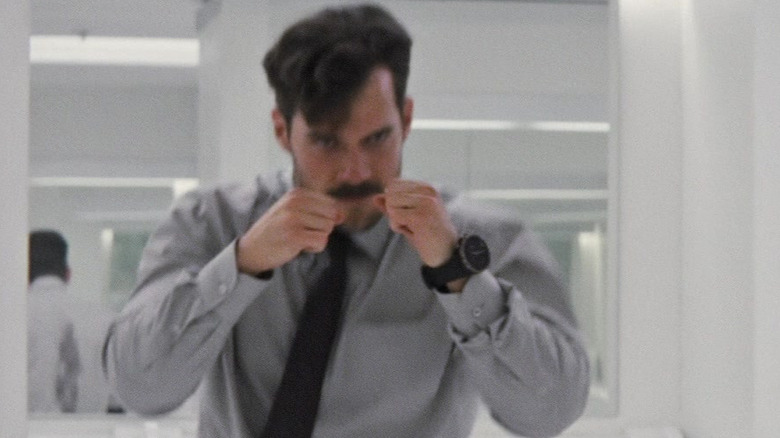 Paramount Pictures
During the film, Hunt and Walker are involved in a bathroom brawl. As Walker approaches his opponent, he seems to be pumping his arms, "reloading" his biceps as if they were guns. The moment became something of an online meme and even earned a reference on the show "Krypton" via actor Cameron Cuffe during a brawl between Seg and Lobo (Emmett J. Scanlan).
During an October 2022 appearance on the podcast Happy Sad Confused, Cavill admitted that the moment was an unscripted improvisation he came up with off the cuff. "It was a rather intense fight scene. We'd actually been shooting it for about three weeks at that stage, which is a long time in comparison to things like 'The Witcher,' where you get a day. Everything starts to get quite sore after a while because it's just a lot of repetitive motion, and the connective tendons in my biceps were getting sore, so I had to warm them up before I threw punches." The gesture Walker makes in the film is apparently the same sort Cavill would make to warm his muscles up properly.
"I did it once, and I thought, 'oh god, that probably looked really stupid, I can't believe I did that.' I said, 'Sorry McQ [director Christopher McQuarrie, who helmed "Mission: Impossible -- Fallout"], I won't do that again.'" To Cavill's surprise, the director didn't seem to notice the gesture. "Then I did another take without doing it, and he's like, 'Why didn't you do ... that thing? That was really good.' And I was like, 'That was GOOD?' And he said, 'Yes, definitely do that, do that.' And so we did."
Never let it be said Cavill lacks a sense of humor.
Cavill is no stranger to improvisation
Theo Wargo/Getty Images
Henry Cavill is no stranger to thinking on the fly while on set. He told Digital Spy ahead of the release of the second season of "The Witcher" in 2021 that, to better avoid missing a critical character moment from the novel series in which Geralt communes with Death, Cavill inserted some of that dialogue into a different scene. "I thought it was such a shame that we missed that beat in the story. It's such an informative beat, as to Geralt's personality." He improvised some of the novel's dialogue from that scene into the moment where Geralt must deal with the death of his horse, Roach.
Cavill also recently spoke with Looper about "Enola Holmes 2" and admitted that during filming, he and actress Millie Bobby Brown indulged in some improvisational work on-set. "Yes, there was plenty of improvising. There [are] things that don't make the cut sometimes, and there was plenty of stuff done there which was a lot of fun to do but not fitting for the pace or the moment and how they want to present it. But lots of improv. The script was very much a shell which we worked from, and Millie's a wonderful actor to improv with," he said. Now that's called dedicating yourself to the art of acting.