Black Panther Is The Top-Grossing Film Ever At 80 AMC Theaters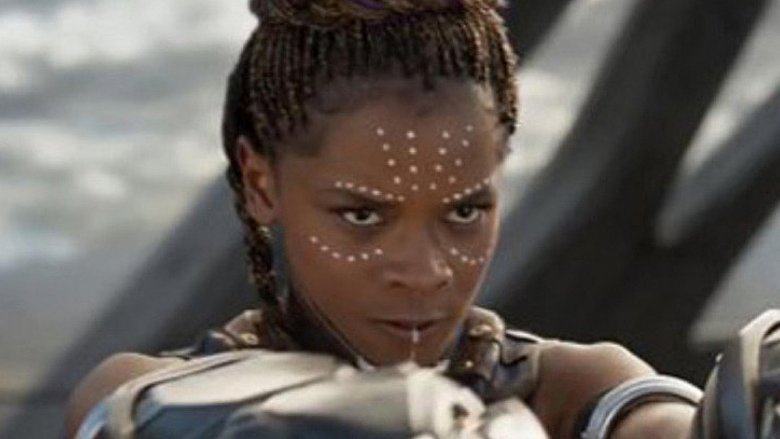 Black Panther is breaking records left and right. According to The Hollywood Reporter, the latest Marvel movie is now officially the highest grossing film of all time at 80 AMC theaters across the country.
Initial estimates had Black Panther tracking for a $100 to $120 million opening weekend, but it managed to blow away those predictions thanks to stellar word-of-mouth and reviews. The movie opened to a three-day total of $192 million, good for the second biggest MCU opening after only The Avengers and the fifth biggest opening weekend of all time. The movie also earned a rare A+ CinemaScore from audiences, becoming only the second Marvel movie to do so, after The Avengers.
By the end of Friday, AMC reported that the movie had become the top grosser ever at 33 of their locations, meaning that the movie earned more in advance tickets, Thursday previews, and Friday night showings than any other movie had over the entire weekend. By the end of day on Saturday, Black Panther had become the top grosser at 80 locations, more than 10 percent of the company's 661 North American theaters. "Black Panther has taken on a life of its own," AMC Executive Vice President and Chief Content and Programming Officer Elizabeth Frank said.
Black Panther follows Chadwick Boseman's T'Challa as he heads home to the technologically advanced African nation of Wakanda to take his place as king. His mettle is tested when the dissident Erik Killmonger (Michael B. Jordan) begins to threaten his rule. He also has to deal with Ulysses Klaue (Andy Serkis), who presents a threat to the Wakandan way of life, and Winston Duke's M'Baku, who is part of a mountain tribe that opposes T'Challa's power.
The rest of Black Panther's cast includes Letitia Wright as T'Challa's tech genius sister Shuri; Lupita Nyong'o as Nakia, a Wakandan spy and T'Challa's ex; Angela Bassett as T'Challa's regal mother and advisor Ramonda; Danai Gurira as Okoye, the head of T'Challa's all-female secret service the Dora Milaje; Forest Whitaker as the shaman Zuri; Daniel Kaluuya as T'Challa's best friend W'Kabi; and Martin Freeman as CIA operative Everett K. Ross. Sterling K. Brown and Florence Kasumba also star.
Ryan Coogler directs Black Panther based on a script he co-wrote with Joe Robert Cole. The film is in theaters now.