Angela Bassett's Performance Routinely Left Letitia Wright In Awe In Black Panther: Wakanda Forever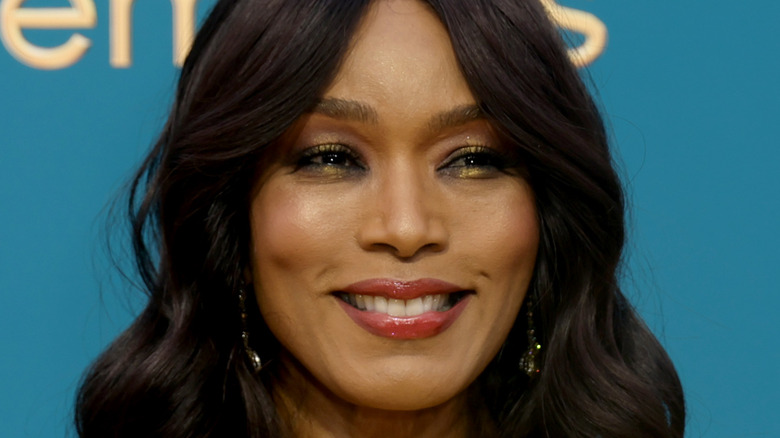 Momodu Mansaray/Getty Images
The reception of Marvel's "Black Panther: Wakanda Forever" — the sequel to 2018's "Black Panther" — has been positive so far, as it currently has an 84% Tomatometer score on Rotten Tomatoes next to a 95% audience score. Directed by Ryan Coogler (who co-wrote the screenplay alongside Joe Robert Cole), the film sees the residents of Wakanda mourning the death of King T'Challa (the late Chadwick Boseman, who died in 2020) as they face the new threat of Talokan, an ancient civilization of underwater-dwelling people.
While the sequel sees a slew of new cast members coming into the mix — such as Tenoch Huerta Mejía, who plays Namor, the king of Talokan — plenty of familiar faces reprised their roles from the first film. Two of the key actors to return are Letitia Wright and Angela Bassett, who play T'Challa's sister Shuri and T'Challa's mother Queen Ramonda, respectively.
Fans who have already seen the film know that Shuri and Ramonda are both highly integral to the sequel's plot — and Wright's and Bassett's skilled performances undeniably contribute to the acclaimed nature of the film. And, as it turns out, the cast is also impressed with each other's performances. Namely, Wright found herself in awe of Bassett's performance while filming "Wakanda Forever."
Wright has nothing but praise for Bassett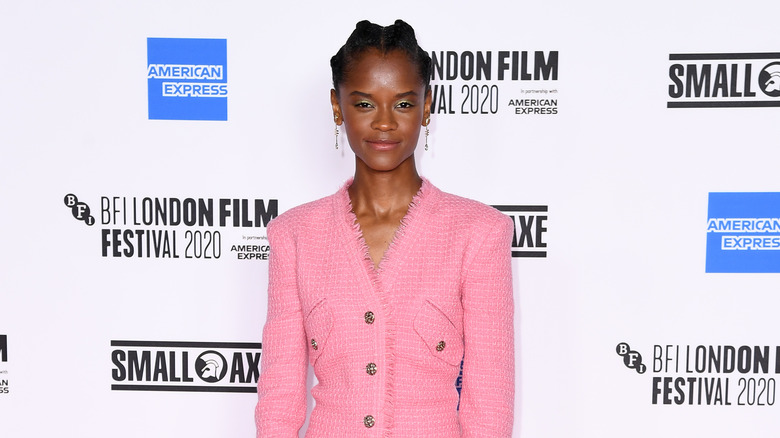 Gareth Cattermole/Getty Images
In a recent interview with Glamour Magazine, "Black Panther: Wakanda Forever" star Letitia Wright opened up about her experience filming the movie — including the admiration she felt for co-star Angela Bassett while working on the film.
Wright said, "Witnessing Mama Angela just be on set and just bring that depth and that care — the ruler of the nation again, but also having to take care of her daughter who has lost her brother? That's a depth and a skill that you can't fake." (via MSN) She continued, saying she believed Bassett used being a mom in real life to convey that kind of strength on screen. Further, she thinks that Basset eluded a new layer of strength in this performance which viewers haven't seen from the veteran actress yet. In fact, witnessing this strength even affected Wright's performance. Wright continued, "Sometimes I get lost, like, I forget my cues because I'm just watching her get lost in this moment."
Wright also revealed to Glamour that working with Bassett on the "Black Panther" films has proven to be a bit of a full circle moment, recalling how she used to watch "Akeelah and the Bee" (which stars Bassett) when she was younger and would dream of becoming an actor. Wright continued, "And then I'm on set and Angela Bassett is my mom. It's like, that's madness. She's one of the finest, most excellent actresses you can get to play your mom."
Bassett used her own grief in her performance
In an in-depth interview with Variety, Angela Bassett (alongside Letitia Wright and director Ryan Coogler) discussed all things "Wakanda Forever" — including, of course, what it was like to move onto the sequel without Chadwick Boseman. For Bassett, the idea was daunting at first, especially after Coogler emphasized how important the relationship between Ramonda and Shuri was going to be in the follow-up film.
Bassett was worried, she said, "Almost to the point that I was going to get a complex, like, 'Am I going to be able to deliver what you're asking for?' She had to be strong. She had to be a mother. She had to be a leader. [Coogler] was just throwing all of this at me." (via Variety)
The longtime actress told Variety that she wanted to give her all to Ramonda — a role that she described as rich and satisfying — and even worked with a dialect coach to make sure that she was able to maintain the accent even in the most emotional moments. Furthermore, it was the type of role that made her want to put the immense grief she felt about Boseman's passing into the work. Bassett said, "Use [the grief]. Make it good for something. You're experiencing it. Don't be ashamed of it. It's part of life. The tears you see are indicative of the love I have — or the justice I demand or want or seek or desire."