Stranger Things Season 5's Pitch Brought Tears To Netflix Executives' Eyes
It will still be a while before "Stranger Things" Season 5 is released on Netflix, but fans are already anticipating the show's final season, and some limited information about it is already available. Although there is not an official release date for the fifth season yet, filming is scheduled to begin in 2023, suggesting that the season will probably come out in 2024. Co-creator Matt Duffer said that Season 5 will probably be longer than Season 1, but shorter than Season 4, based on how much of the story and character arcs need to be wrapped up.
Of course, Season 5 will pick up where Season 4 left off, with the alternate dimension of the Upside Down seeming to have been fully unleashed into the town of Hawkins, Indiana. However, co-creator Ross Duffer said he's sure they will do a time jump in between Seasons 4 and 5 to account for the rapidly-growing teenage actors who play most of the show's core characters. 
"Stranger Things" Season 5 will return to its Season 1 roots by taking place in Hawkins (not Russia or other locations) and focusing on the original characters rather than introducing a bunch of new characters and places. Apparently, when Netflix executives heard the plan for the plot and ending of Season 5, it was quite an emotional moment. 
Netflix executives cried when they heard the ending of Stranger Things Season 5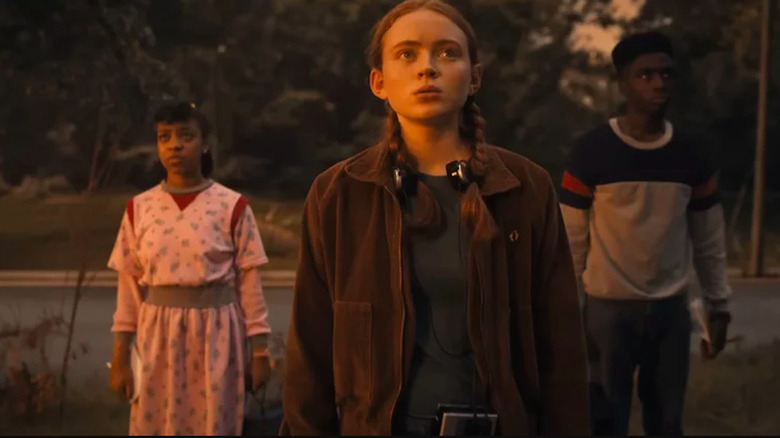 Netflix
According to The Hollywood Reporter, "Stranger Things" creators Ross and Matt Duffer and executive producer Shawn Levy recently took part in a panel in Los Angeles where they discussed some information about the upcoming final season. Ross Duffer said Season 5 will continue to explain the mysteries of the Upside Down that have started to be explored in previous seasons. "We do have quite a bit more to get in. But just as important as the supernatural, we have so many characters now — most who are still living — and it's important to wrap up those arcs. A lot of these characters have been growing since season one so it's a balancing act between giving them time to complete their character arcs and also tying up loose ends and doing our final reveals." 
When they pitched the full season, including the ending, to Netflix, Matt Duffer said "We did get our executives to cry, which I felt was a good sign ... The only other times I've seen them cry were like budget meetings." Shawn Levy described Season 5 as "a culmination of all of the seasons, so it's sort of got a little bit from each, whereas before each season was so distinctly — three, this is our big summer blockbuster season with our big monster; four was the psychological horror ... what we're trying to do is go back to the beginning a little bit in the the tone of [Season] 1, but scale-wise it's more in line with what [Season] 4 is."