10 TV Shows That From Scratch Fans Should Watch Next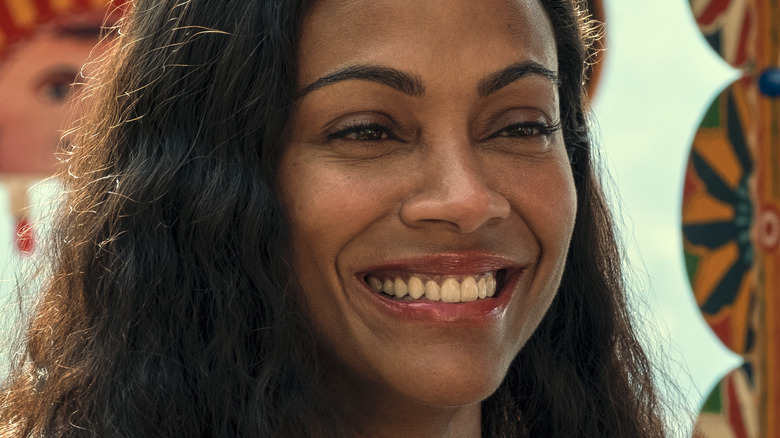 Stefano Montesi/Netflix
Great romantic dramas find universal ways to connect with audiences instantly. Because everybody likes a good love story, it feels as though the genre has been so oversaturated over the years and it's become harder to come up with something unique. However, Netflix's latest romantic miniseries, "From Scratch," tells a profoundly moving and authentic love story of two people who come from vastly different cultures and fall deeply for each other.
One of the many reasons the show works on multiple levels is that its story — created by Attica and Tembi Locke – is based on the latter's memoir of the same name. Her journey isn't only compelling, but it also offers a realistic depiction of a relationship (including its ups and downs) that so many other shows and movies fail to achieve. Of course, this was unlikely to ever be the case without its two excellent leads, Zoe Saldaña as Amy and Eugenio Mastrandrea as Lino, and a stellar supporting cast that provides the characters with heart and soul.
If you enjoyed this miniseries, we're here to recommend more of the same. Here are 10 TV shows that resemble "From Scratch" in one way or another.
Sorry For Your Loss
Kit Steinkellner's dram "Sorry For Your Loss" tackles thorny subjects such as grief, mental health, and suicide with tact and consideration. Although it only ran for two seasons on Facebook Watch, the show was embraced by both critics and viewers, with Rotten Tomatoes reporting a 90% audience score. There's an emotional maturity both in "From Scratch" and "Sorry For Your Loss" when it comes to the delicate but realistic depiction of grief.
The plot concentrates on a young widow, Leigh (Elizabeth Olsen), who is trying to cope with the untimely and tragic death of her husband Matt (Mamoudou Athie). Starting with the aftermath of his passing, the series works its way backward to show us their romance and relationship through Leigh's memories in flashbacks, focusing on grief and the secrets she hadn't known about Matt while he was alive. As we learn more about the nature of their relationship, we also get to know Leigh's and Matt's family members who are supporting her in the present.
Despite the heavy topics, "Sorry For Your Loss" also maintains an upbeat, if slightly dark, humor that functions as a release for the characters and the viewers as well. Thanks to the talented cast that also includes Jovan Adepo, Janet McTeer, and Kelly Marie Tran, the series quickly establishes a connection with the audience to make us feel like part of their family.
This Is Us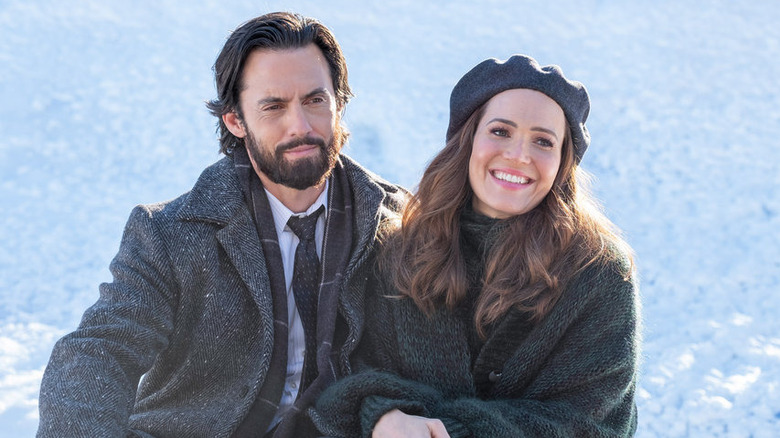 Ron Batzdorff/NBC
Dan Fogelman's six-season drama "This Is Us" became a modern classic for a reason. Due to the exceptional writing, flawless casting, and Emmy Award-winning performance by Sterling K. Brown, "This Is Us" melted hearts everywhere. It did that simply by showing us a family's journey from birth to death — and there's nothing more universal. If you enjoyed the exceptional love story and the importance of family in "From Scratch," "This Is Us" will certainly offer you that and even more.
"This Is Us" follows the lives of three siblings, Kevin (Justin Hartley), Kate (Chrissy Metz), and Randall (Brown), and their parents, Beth (Susan Kelechi Watson) and Jack Pearson (Milo Ventimiglia). Employing an aptly effective storytelling structure of separate timelines, we get to know these characters as kids, teenagers, and adults. Although they're not a traditional family by any means, they struggle with the same (or similar) everyday problems. But regardless of what they do or where they're at in life, the bond they share always connects them through time and space. We're by their sides at every significant life moment to feel and understand the emotions they're going through.
Unsurprisingly, Fogelman's show was bombarded with nominations and awards during its run and went on to win four Emmy Awards and numerous other accolades. If you were a fan of "From Scratch," "This Is Us" should definitely be your next watch.
Six Feet Under
Alan Ball's classic drama "Six Feet Under" served as a template for any television show set on following the life of a particular family. The HBO series was a dominant influence on how families were portrayed and perceived on the small screen. The way it depicted dysfunction and death was bold and distinctive from the beginning and it's not a coincidence that "Six Feet Under" is regarded as one of the best TV shows of all time.
The plot follows the Fishers, who run a funeral home in Los Angeles. The family consists of Nate (Peter Krause), David (Michael C. Hall), Claire (Lauren Ambrose), and their parents, Nathaniel (Richard Jenkins) and Ruth (Frances Conroy). After Nathaniel is killed in a car accident in the very first episode, Nate — the black sheep of the Fishers — flies home to the funeral. He's struck by the fact that his father left him half the business instead of leaving it to his brother entirely. This leads to some tension between the two, but Nate eventually decides to stay and help run the company alongside David. From then on, each episode deals with an individual death and how it affects the Fishers separately and together.
Through its five seasons, "Six Feet Under" addressed delicate and grim topics such as death, grief, religion and sexuality. Due to the outstanding writing and acting, it received multiple awards, including nine Emmys, three Golden Globes, and a Peabody Award. The ending of "Six Feet Under" is regarded as one of the most satisfying TV finales ever.
Friday Night Lights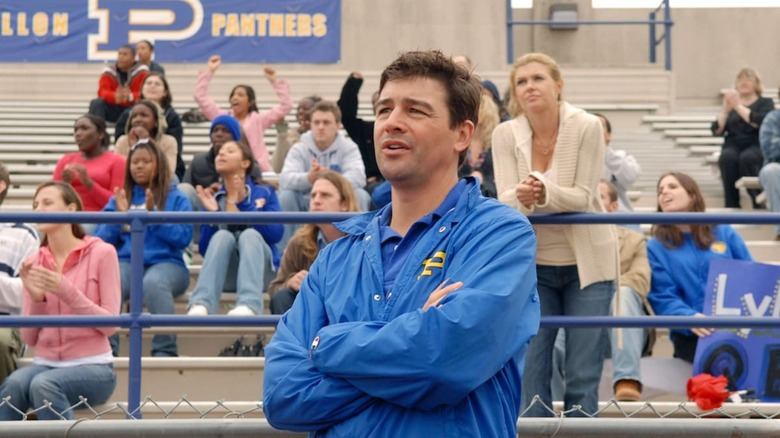 NBC
Peter Berg's "Friday Night Lights" is one of the more inspirational series about a small town and its residents. The plot follows the local high school football team, the Dillon Panthers, in the tight-knit fictional town of Dillon in rural West Texas, where everything revolves around the sport, its players, and its fans. The main characters are mostly teenagers, and we get to see their everyday lives and the struggles they face on the field, at school, and at home. Through five seasons, we witness everything significant the Panthers achieve, but the emphasis always stays on the characters — their relationships, school performances, and careers — and the value of family.
"Friday Night Lights" is famous for its ensemble cast and how it helped both younger and older actors — such as Taylor Kitsch, Zach Gilford, Jesse Plemons, Michael B. Jordan, Kyle Chandler, and Adrienne Palicki — to make a name for themselves in these breakout roles. However, this couldn't have happened without the striking writing and convincingly realistic atmosphere the showrunners created throughout. Although the show never reached high ratings while it was on the air despite rave reviews from critics and fans, per Rotten Tomatoes, it has become a cult classic over time. During its run, "Friday Night Lights" won three Emmys and received numerous award nominations.
Similarly to "From Scratch," "Friday Night Lights" shows us how families can pull together and support each other in the toughest of times.
Parenthood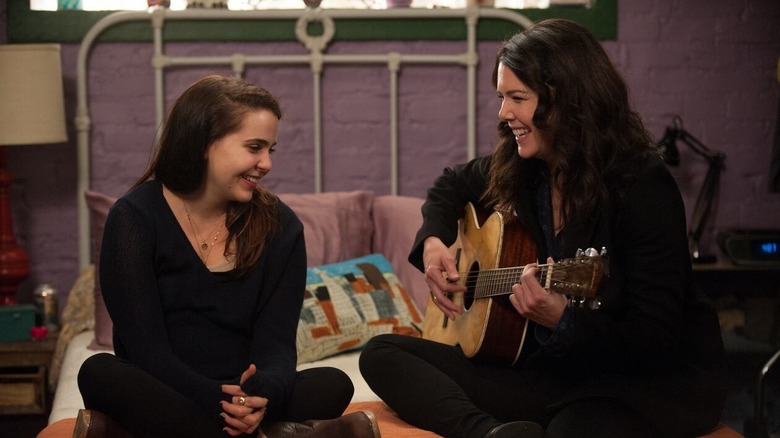 Colleen Hayes/NBC
NBC's "Parenthood" was developed by Jason Katims — one of the executive producers and writers of "Friday Night Lights" — who brought over the same high-quality writing but focused entirely on one big family made up of three different generations. It could be suggested that this show is a predecessor of "This Is Us" without the flashbacks and flashforwards.
Loosely based on Ron Howard's 1989 dramedy of the same name, "Parenthood" follows the everyday life of the Braverman family. Adam (Peter Krause), Sarah (Lauren Graham), Crosby (Dax Shepard), and Julie (Erika Christensen) are the four kids of Zeek (Craig T. Nelson) and Camille Braverman (Bonnie Bedelia) who all have respective families of their own. Since they all live in Berkeley, California, they're constantly involved in each other lives and try to support one another as much as they can. We get to take a peek at their lives — separately and together — as they go through good and bad, share joy and happiness, and cope with tragedies that life throws at them.
"Parenthood" might not be as highly regarded as some other shows were in their era, but if you enjoy realistic dramas about families with lots of romance, just like "From Scratch," as well as nostalgia and friendship, you should definitely give it a go.
After Life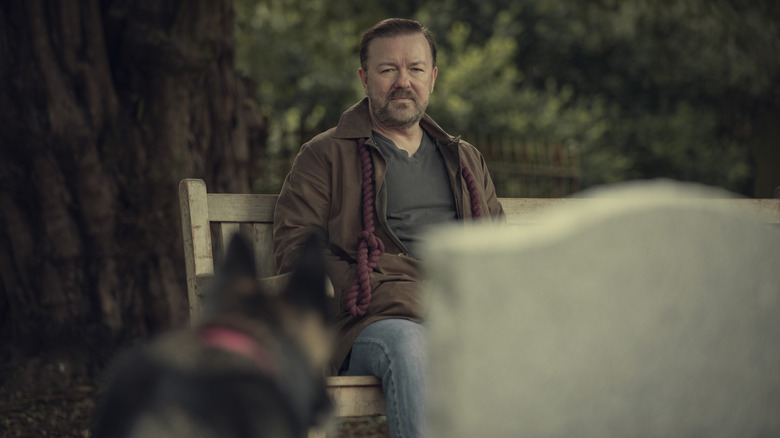 Natalie Seery/Netflix
Ricky Gervais — who wrote and directed every episode for all three seasons of "After Life" — uses his trademark humor to make light of a tragic and depressing situation. Perhaps not as sharp, original, and heartfelt as "From Scratch," "After Life" still delivers a sweet yet sorrowful story about a man who thinks he hasn't got anything left to live for but tries anyway.
Set in a fictional English town, the series follows local journalist Tony Johnson (Gervais), who recently lost his beloved wife Lisa (Kerry Godliman) to cancer. After contemplating suicide, Tony decides against it because there would be no one to look after his dog, whom he loves more than people. But just because he chooses not to kill himself doesn't mean he has to be pleasant company. In fact, he doubles down on being moody and rude to others simply because he can't — or rather won't — put up with their idiocy. But thanks to a small group of friends, colleagues, and strangers he meets by chance, Tony attempts to become a better person and find new things worth living for.
Not always as profound as it's meant to be, "After Life" is still a heartwarming series about love and death. Similarly to "From Scratch," it provides a convincingly painful portrayal of what it means to look after a loved one with a terminal illness. It will occasionally break your heart, but it will never give up on piecing it back together.
If you or anyone you know is having suicidal thoughts, please call the National Suicide Prevention Lifeline by dialing 988 or by calling 1-800-273-TALK (8255).
Generation 56K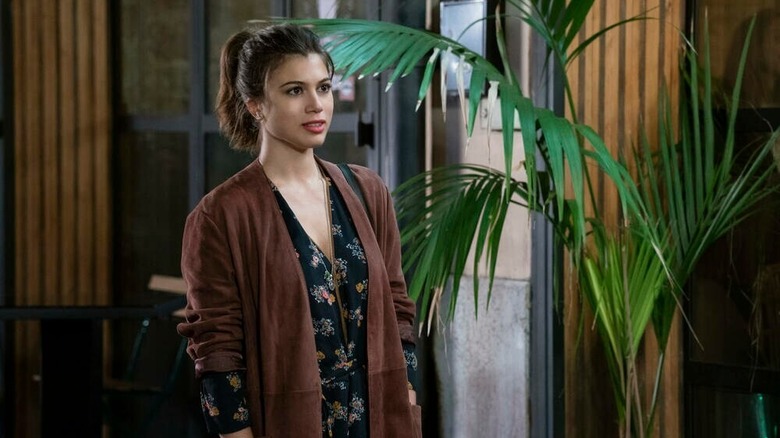 Netflix
It feels like due diligence to mention at least one great Italian series since the soulfulness and passion at the heart of "From Scratch" are clearly rooted in its Sicilian background. Francesco Capaldo's "Generation 56K" is a feel-good, hilarious, and charming rom-com that explores love and friendship with all of its complications and heartbreaks in an endearing way.
Set in southern Italy, the show follows Daniel (Angelo Spagnoletti) and Matilda (Cristina Cappelli), who meet by accident in front of a bar as adults. Daniel mistakes Matilda for a woman from a dating app, but she doesn't correct him for a very important reason. In fact, she plays along because she realizes is the very guy she had a crush on when they were kids. Although they have a wonderful time together, Matilda doesn't reveal the truth about their past, or even that she's in a relationship. When Daniel finds out, things quickly change, and the two are forced to reckon with their feelings from the past and the present.
Thanks to its structure, "Generation 56K" allows us to explore the pair's past as children and in the present as adults. Their love story is unique yet familiar, filled with nostalgia and heartache that will make you root for them to overcome the obstacles that life put between them over the years. If you loved the early romance, vibe, and sense of humor in "From Scratch," you'll become a fan of Capaldo's show too.
Looking For Alaska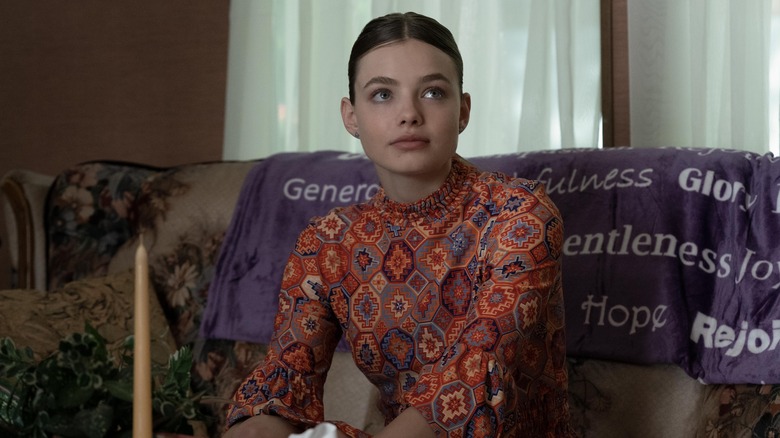 Alfonso Bresciani/Hulu
The 2019 Josh Schwartz miniseries "Looking For Alaska" is based on John Green's debut novel of the same name. Although the eight-episode series might not capture every crucial nuance of the book — and even deviates from it at times — it's still a potent adaptation. The show depicts sensitive issues such as underage drinking, grief, and young adult relationships convincingly. The love story between the two protagonists also resembles some of the intense and passionate feelings that Amy and Lino share in "From Scratch." Per Rotten Tomatoes, critics and viewers highly praised the show for its performances, early '00s vibe, and bittersweet teen romance.
The plot follows teenager Miles Halter (Charlie Plummer), who decides to leave his Florida high school to attend Culver Creek Academy in Alabama for his junior year. He wants more excitement in his life and to make a friend or two along the way. Funnily enough, he doesn't only find amazing people to be friends with, but he also falls in love with one of them, Alaska Young (Kristine Froseth). Alaska is everything a teenage boy can dream of — she's gorgeous, mysterious, and smart. In the end, Miles will have to learn to let go and accept that sometimes tragedies happen in life that you can do nothing about — even if they completely shatter your world.
As far as tragic romantic dramas go, "Looking For Alaska" fits right in, and fans of "From Scratch" shouldn't miss it.
A Million Little Things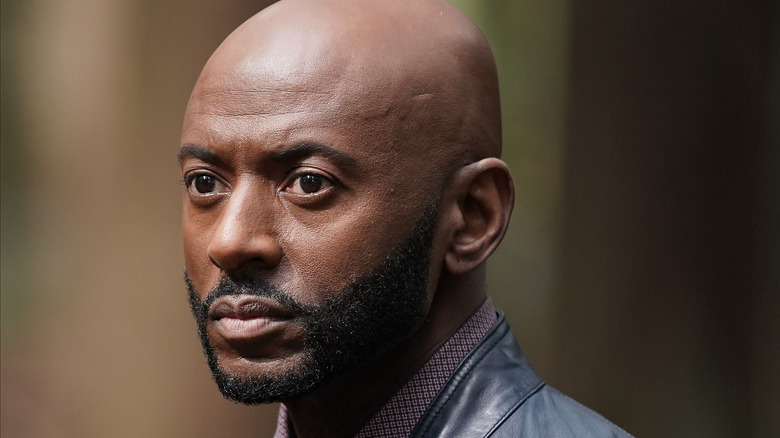 Darko Sikman/ABC
D.J. Nash's "A Million Little Things" is a family drama that shares similarities with "From Scratch" in how it deals with heavy topics such as love, cancer, infidelity, and marital problems. 
The plot follows a group of friends in Boston who come together when one of them unexpectedly dies by suicide. Eddie (David Giuntoli), Rome (Romany Malco), Gary (James Roday Rodriguez), Regina (Christina Moses), Delilah (Stéphanie Szostak), and Katherine (Grace Park) are all shocked when they find out about the death of their dear friend, Jon (Ron Livingston).
Stunned by the news, they all do their best to support each other and the wife and kids he left behind. Jon's untimely death also serves as a wake-up call as each friend is stuck in one way or another. In fact, the tragic event inspires them all to take the first steps toward becoming the people they want to be. They make a promise to help and listen to each other's problems and struggles along the way to avoid another tragedy.
"A Million Little Things" might not be as bold and moving as shows like "This Is Us" or "Six Feet Under," but thanks to its intriguing and likable characters, it could easily be a favorite for fans of the genre.
If you or anyone you know is having suicidal thoughts, please call the National Suicide Prevention Lifeline by dialing 988 or by calling 1-800-273-TALK (8255).
El Embarcadero (The Pier)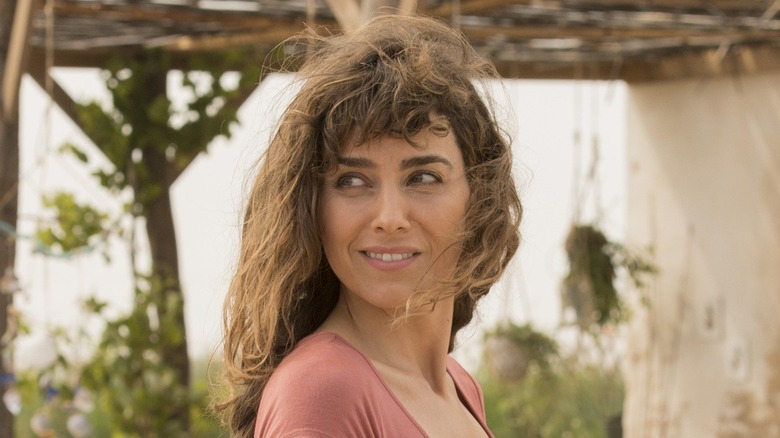 Movistar+
Filled with intrigue and fierce passion, Álex Pina and Esther Martínez Lobato's "El Embarcadero (The Pier)" is a testament to how far Spanish television has come. The often overwhelming yet rewarding love that made "From Scratch" irresistible is also present here, but also combined with a murder mystery which makes the series uniquely sincere and original in its approach.
The plot follows successful architect Alejandra (Verónica Sánchez) whose husband Óscar (Álvaro Morte) recently died by suicide — at least, that's what the police claim. Devastated by the loss, Alejandra is desperately trying to find answers about how and why he would do this. By piecing together the clues and going through her husband's phone, she learns that Óscar led a double life and was the lover of a young woman named Verónica (Irene Arcos). Unable to resist the urge, Alejandra drives to Verónica's house and uses a fake identity to befriend her in order to learn more about her husband's death and, more importantly, why he was in love with this woman.
The compelling writing and the excellent performances by the main trio are what make this drama addictively captivating. Empowered by burning desire and liberating sexual freedom, the show proves how vital passion is. f you enjoyed the untraditional aspects of "From Scratch," chances are good that you'll also love "El Embarcadero," which explores the nature of uncommon romantic relationships even further.
If you or anyone you know is having suicidal thoughts, please call the National Suicide Prevention Lifeline by dialing 988 or by calling 1-800-273-TALK (8255).