Wakanda Forever Fans Are Ready To Boot One Character From The Black Panther Franchise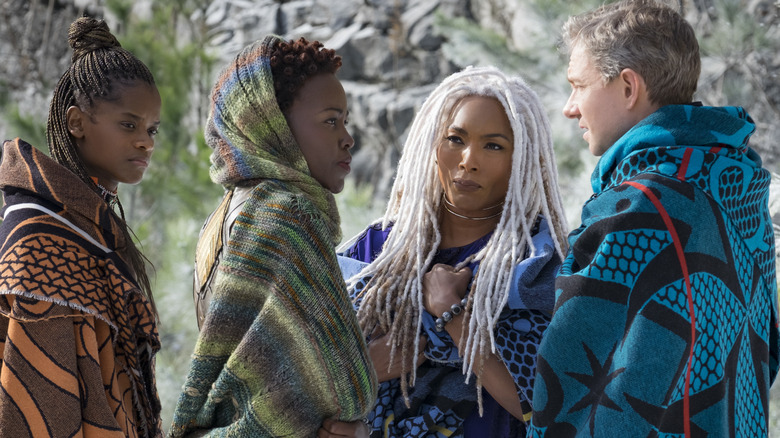 Marvel Studios/Disney
Contains spoilers for "Black Panther: Wakanda Forever"
"Black Panther: Wakanda Forever" has a hefty helping of secondary characters, and all their storylines contribute to the very lengthy (and possibly unnecessary) 161-minute runtime. Most of the "Black Panther" supporting stars are back for the sequel, with the film mostly revolving around Shuri (Letitia Wright) and her journey to becoming the next protector of Wakanda.
Also appearing are Okoye (Danai Gurira), Queen Ramonda (Angela Bassett), M'Baku (Winston Duke), Ayo (Florence Kasumba), and Killmonger (Michael B. Jordan). All shined in their scenes, and fans were more than happy to have them back. Joining as new secondary characters in "Wakanda Forever" are Aneka (Michaela Coel) and Riri Williams (Dominique Thorne), who fans took to instantly. But there was someone in the new sequel that fans think didn't need to be in the film at all. It's not that anyone has a problem with the character, but their time in the "Black Panther" world should probably come to an end, especially when plenty of other franchises could benefit from their appearance.
Some Wakanda Forever fans think Ross was given too much time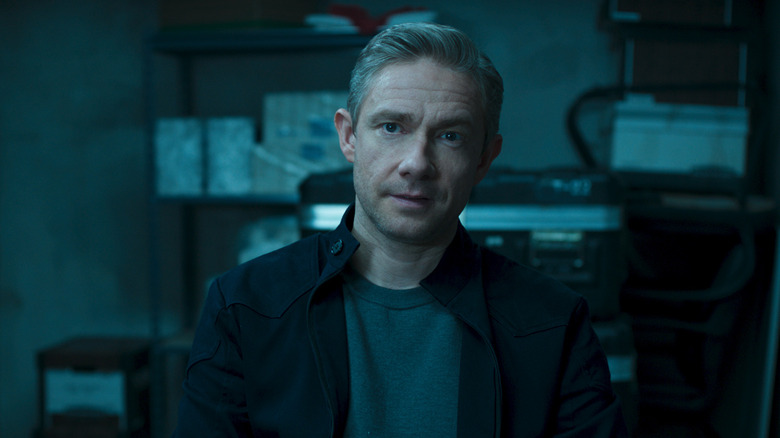 Marvel Studios/Disney
Making a not-so-surprise appearance in "Black Panther: Wakanda Forever" is Everett Ross (Martin Freeman). The CIA Agent was featured in the trailers for the film, but what role he played in the Wakakdan's battle against the Talocans was a mystery. It turns out Ross's role is somewhat unnecessary, and he mostly works as an informant to Queen Ramonda about how the CIA plans to respond to the recent events in Africa. He doesn't affect the plot or move it forward in any real way, causing MCU fans to express their frustrations about Ross in the "Black Panther" franchise.
"The subplot with Val and Ross is frustrating, an MCU stepping stone in an otherwise concentrated plot, filled to the brim with merely hinting at the future," @OpenMothersMale tweeted. Val here is Valentina Allegra de Fontaine, played by the great Julia Louis-Dreyfus. Val debuted in "The Falcon and the Winter Soldier" and later in the end credits of "Black Widow." It looks like "Wakanda Forever" included Ross in a way to move Val's story forward, as a person with great power inside the CIA. We also learn that she and Ross used to be married, which was quite the twist no one saw coming.
For others, Ross's inclusion felt forced. "I feel like the Ross stuff was completely unnecessary perhaps reshoots?" @lilrizk tweeted.
Ross doesn't need to leave the MCU, but maybe just the Black Panther world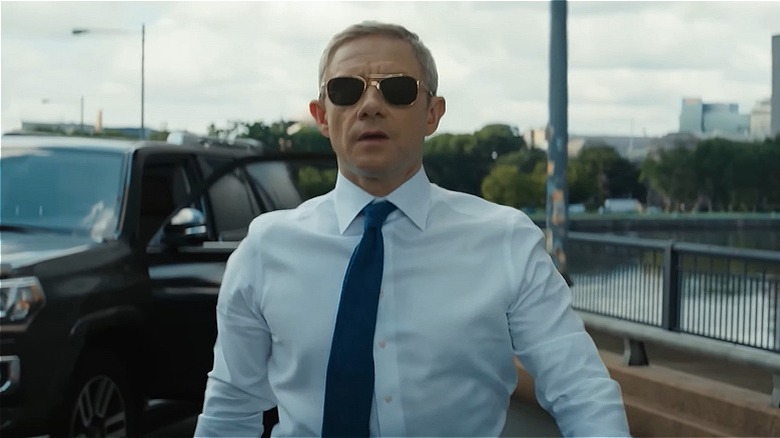 Marvel Studios/Disney+
Another interesting point made by a "Wakanda Forever" viewer is that other characters in the movie could have gotten more development if Ross and Val were left out. "My only complain [sic] about bp is that needed more of aneka/ayo and less of ross and val," @TH0RJANE wrote. "Wakanda Forever" doesn't feature Ayo heavily, but she's proven to be a fan favorite character, especially after her "The Falcon and the Winter Soldier" appearance. Her romantic relationship with Aneka was only teased in the blink of an eye, and diving deeper there would have been more beneficial than spending unnecessary time on Ross.
Some fans were a little more vocal about their disappointment. "Black panther 2 was great, have a slight point of contention with the motives of the villain and the inclusion of Agent Ross pisses me off given the CIA's involvement in Africa," @GMDK3_YT tweeted. In a film that wouldn't have suffered from losing 20 minutes, cutting out Ross and his storyline would have made a lot of fans happy.
While most moviegoers don't seem to have an issue with Ross himself, they feel like his inclusion in "Black Panther: Wakanda Forever" just wasn't needed. It certainly seems like we'll see him again after Okoye busts him out of his prison transport van. Where he goes from here remains to be seen, but hopefully, it's not in "Black Panther 3" — if that film happens. Perhaps Everett Ross is better suited for the "Thunderbolts" moving forward.