10 Movies Like Three Thousand Years Of Longing To Enjoy Next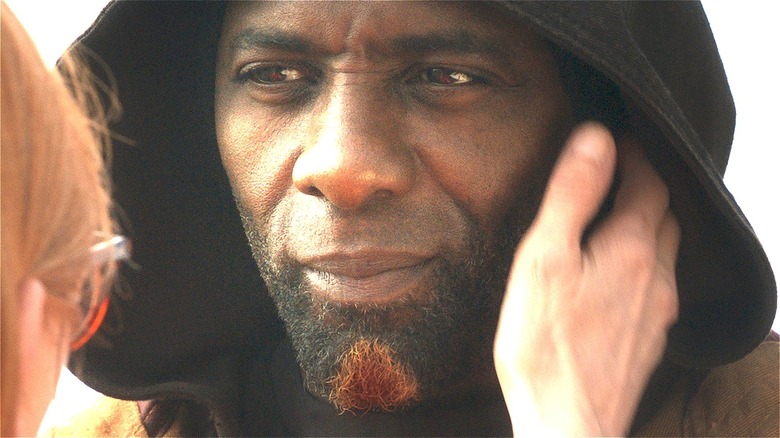 MGM
Epic fantasy movies like "The Lord of the Rings" and "Harry Potter" series have widespread appeal for viewers of all ages. However, sometimes adult fantasy fans appreciate when the popular genre caters to more mature audiences. The movie "Three Thousand Years of Longing" does just that by including adult romantic relationships that are ripe with complexity, as well as content that is not intended for young eyes.
Starring Tilda Swinton, Idris Elba, and directed by "Mad Max" creator George Miller, "Three Thousand Years of Longing" is based on a short story by British author A.S. Byatt. Swinton plays a woman named Alithea, an expert in the field of narratology or narrative structure (via Brittanica). While visiting Istanbul for a conference, she purchases a unique ceramic bottle from a local shop, only to discover upon cleaning it that a magical djinn (Elba) is imprisoned inside.
As the djinn relays the tale of his imprisonment to Alithea, he weaves a rich tapestry of stories to draw in Alithea as well as the audience. After listening to his tale, Alithea can't help but fall in love with the djinn — but the lovers soon discover that romance between a human and an immortal is not without dire consequences.
Fans who appreciate the romance, lush visual storytelling, and complexities of adult relationships in this film will probably be eager for more similar content. You've come to the right place, because Looper has the ultimate list of movies like "Three Thousand Years of Longing" to check out next.
The Fall
Roadside Attractions
If you are a fan of high adventure, sweeping romance, and compelling drama, but haven't yet seen "The Fall," then you're in for a treat. Tarsem Singh's 2006 film is a visual masterpiece, yet somehow seems to have escaped the notice of many movie-goers. 
Roy Walker (Lee Pace) is a stuntman from Hollywood's silent film era, who tells an epic tale to an inquisitive little girl named Alexandria (Cantinca Untaru) while they are both patients at the same hospital. The tale Roy weaves is full of swashbuckling adventure and high romance, and the art direction and costumes are a sight to behold. 
Although "The Fall" begins as a seemingly sweet story of the bond between Roy and Alexandria, it soon becomes apparent that Roy hides a dark secret. He suffers from depression and suicidal thoughts after his girlfriend leaves him for another man, and as his illness worsens, the story he tells Alexandria takes a dark turn.
Fans who enjoyed "Three Thousand Years of Longing" will appreciate "The Fall" for similar reasons, as both movies use rich storytelling to illuminate complicated and sometimes unexpected or surprising human relationships. "The Fall" also has lush cinematography filled with bold colors and artistic visuals, which won cinematographer Colin Watkinson an award from the Austin Film Critics Association (via IMDb). 
If you or anyone you know is having suicidal thoughts, please call the National Suicide Prevention Lifeline​ by dialing 988 or by calling 1-800-273-TALK (8255)​.
The Fountain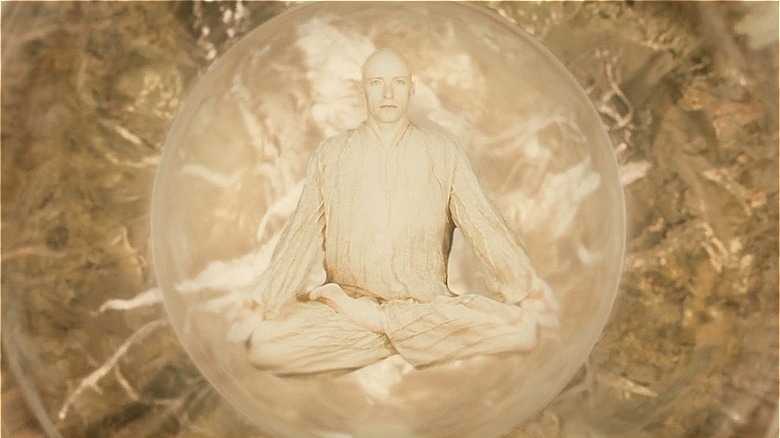 Warner Bros. Pictures
Filmmaker Darren Aronofsky followed up his first two difficult and harrowing features — 1998's indie breakout "Pie" and 2000's drug-induced haze "Requiem for a Dream" — with the metaphysical fantasy "The Fountain" in 2006. 
Hugh Jackman plays a trio of roles here: conquistador Tomás Verde, surgeon Thomas Creo, and futuristic monk Tommy the Space Traveler. The movie jumps between the past, present, and distant future, as each of these characters seeks to fulfill their own personal quest. 
Verde is sent by the beautiful Queen Isabella (Rachel Weisz) to search for the mythical Tree of Life in Central America. Meanwhile, Creo is determined to find a cure for his wife, Izzi (Weisz), who is dying of cancer. Finally, Tommy is flying through space on a ship that is powered by a mystical tree similar to the Tree of Life.
Although the movie was met with mixed reviews by critics, there's no denying that "The Fountain" is filled to the brim with amazing special effects and a mind-bending existential journey.
Fans of "Three Thousand Years of Longing" will be drawn in by the stunning visual effects of "The Fountain," as well as some similar meta storytelling elements. "The Fountain" also contains a story-within-the-story, as the tale of Tomás Verde and Queen Isabella is actually a story that Izzi is writing to give to her grieving husband when she is gone. 
The way the three stories connect together in the end of "The Fountain" may be confusing to some, but ultimately, it's an awe-inspiring movie that tackles complex themes of love, loss, and learning to live again. For this reason and more, those who loved "Three Thousand Years of Longing" may fall for "The Fountain."
Don Juan DeMarco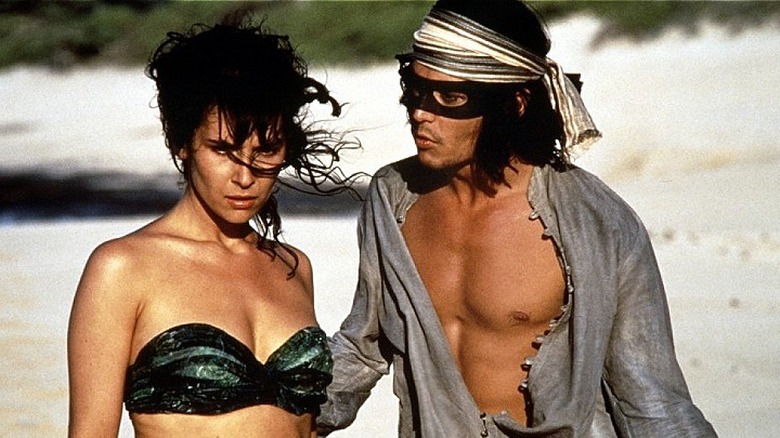 New Line Cinema
The 1995 fantasy rom-com "Don Juan DeMarco" centers around John (Johnny Depp), a patient at a mental hospital, who believes that he is the legendary lover Don Juan. John tells his story to his psychiatrist, Dr. Jack Mickler (Marlon Brando) and as he does so, Mickler gets swept up in the tale of romance, sex, and true love. When it comes time to administer treatment for the young man's delusions, Jack struggles between his duty as a doctor and destroying the patient's spirit.
In more recent years, "Don Juan DeMarco" has gotten more favorable reviews, although Roger Ebert argued that Brando's "petulant presence spoil[s] the fun" of an otherwise "delicate, oddball fantasy."
"Don Juan DeMarco" is a must-see for those who liked "Three Thousand Years of Longing." It's a romantic romp with a fable-like feel, as Don Juan spins his story in a similar way as the fantastic tales told by the Djinn. "Don Juan" has a lighter tone than "Three Thousand Years of Longing," but is no less enchanting, whether you agree with Roger Ebert's brutal takedown of Marlon Brando or not.
Pan's Labyrinth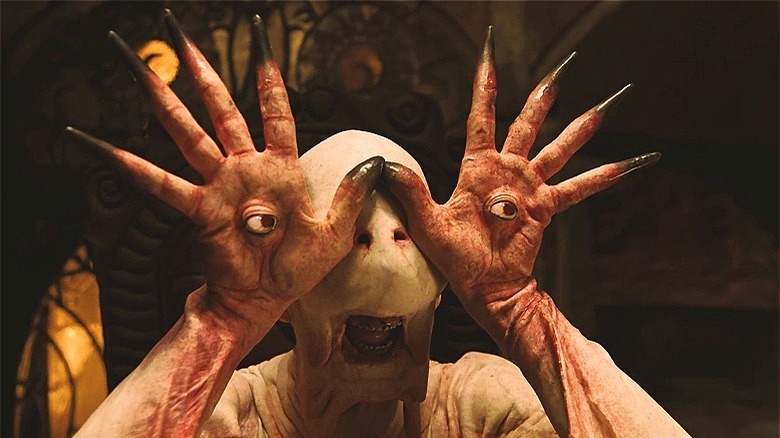 Warner Bros. Pictures
Master of fantasy horror director Guillermo del Toro first wowed international audiences with his 2006 breakout film "Pan's Labyrinth." The Spanish-language film was awarded three Oscars for its cinematography, makeup, and art direction in 2007 (via IMDb). Anyone who has seen the movie will understand why it has been lauded worldwide for its stunning special effects and arresting visuals, and anyone who liked "Three Thousand Years of Longing" will want to put this one on their watch list.
Set in Francoist Spain in 1944, a young girl named Ofelia (Ivana Baquero) accompanies her pregnant mother to the home of her new stepfather, a fascist military officer named Captain Vidal (Sergi Lopez). In a nearby ruin of a labyrinth, she meets a magical Faun (Doug Jones), who informs Ofelia that she is the reincarnation of a fairy tale princess. 
In order to prove her worth so she can return home to her true family, Ofelia must complete three tasks. Between the monsters of the real world and those in the magical realm, the dangers surrounding Ofelia threaten her from all sides — yet she manages to stay pure at heart, and makes the ultimate sacrifice for the ones she loves.
The universally beloved "Pan's Labyrinth" masterfully combines the horrors of the real world with the frightening aspects of dark fantasy. Like "Three Thousand Years of Longing," it has the essence of a fairy tale combined with the emotional trials of humanity. 
Life of Pi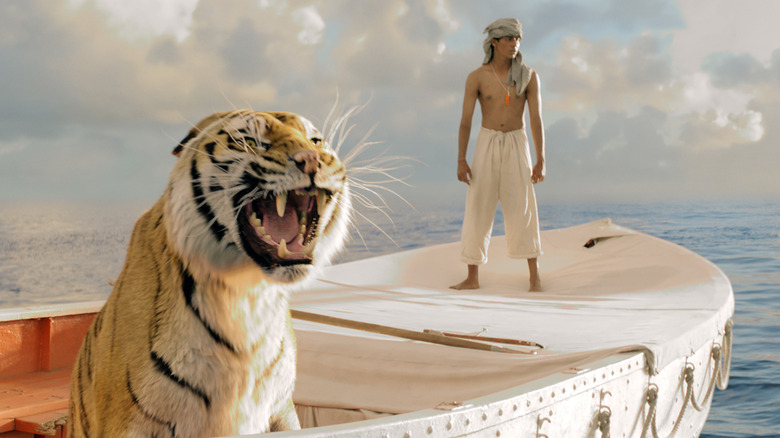 20th Century Fox
Based on the best-selling novel by Yann Martel, "Life of Pi" was directed by Ang Lee of "Crouching Tiger, Hidden Dragon" and "Brokeback Mountain" fame and won four Oscars out of a whopping 11 nominations in 2013 (via IMDb). 
Pi (Irrfan Kahn) relates his life story to a British writer (Rafe Spall). As a boy, young Pi (Suraj Sharma) lives with his family in Pondicherry, India. His father owns a zoo there, but one day decides to relocate his family and all of the animals to Canada.
When the freighter that they are traveling on is shipwrecked, Pi manages to find safety on a life raft, though his family dies during the disaster. Pi is soon joined on the raft by a few of the animals, including a zebra, an orangutan, a hyena, and a tiger named Richard Parker.
Pi's story is so fantastic that it makes those he tells it to wonder whether it is real or an allegory. Like the Djinn's tales in "Three Thousand Years of Longing," we are drawn into the strange journey with him regardless, so it hardly seems to matter either way. For those to like to be lost in a compelling story, "Life of Pi" will do just the trick.
Anomalisa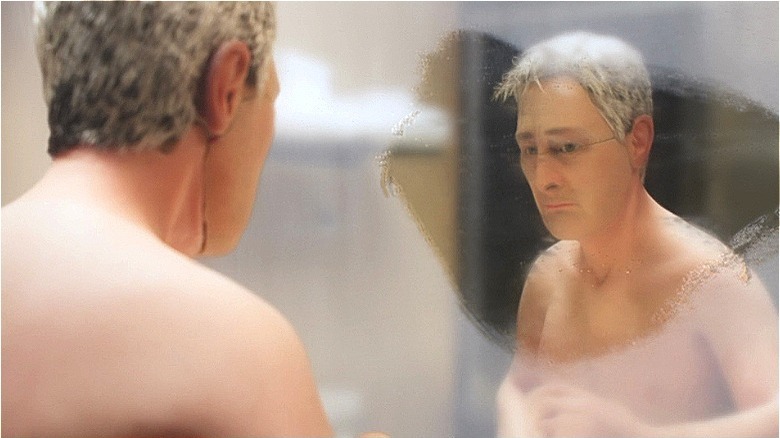 Paramount Pictures
With films like "Being John Malkovich" and "Eternal Sunshine of the Spotless Mind," writer and director Charlie Kaufman's absurdist movies have a tendency to stay in our minds. In 2015's "Anomalisa," Kaufman's first feature-length animated film, he combines psychological drama with his trademark surrealist humor. 
Michael Stone (voiced by David Thewlis) is a writer who travels to Cinncinnati, Ohio to talk about his new book at a hotel convention. Everyone he encounters, including close family and friends, all resemble one another and have the same voice (Tom Noonan voices all of the supporting characters). 
When Michael hears the voice of a woman named Lisa (Jennifer Jason Leigh) that differs from the rest, he is immediately drawn to her. Yet Michael soon discovers that the pursuit of desire is very different from actually getting what he wants.
Kaufman based the concept of the film — and his own play that he adapted it from — on Fregoli Syndrome, a delusional disorder where someone believes that everyone in the world is the same person in disguise or in different appearances (via U.S. News).
The movie's unique look — and the uncanny valley aspect of its characters — is due to the use of stop-motion animation style in which puppets were constructed using a 3D printer (via The L.A. Times). It was the first animated feature with an R rating to be nominated for an Academy Award (via Gold Derby).
Like "Three Thousand Years of Longing," "Anomalisa" touches on themes of loneliness and longing. Though it may lack a similar kind of fantasy element, "Anomalisa" does offer unique visuals that make it impossible to take your eyes off the screen.
The Green Knight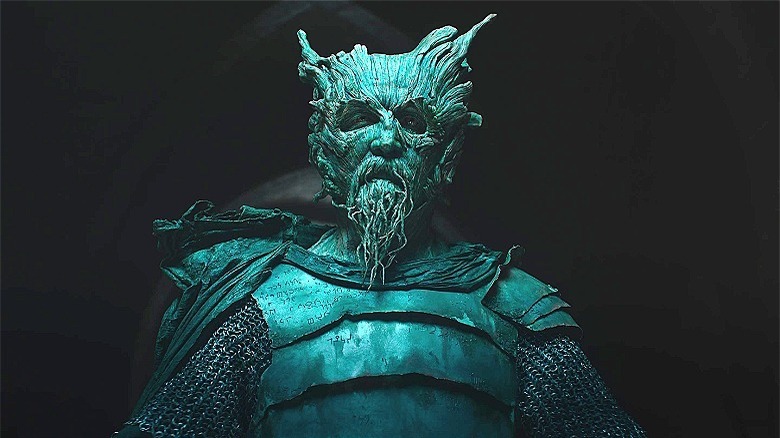 A24
Tales of King Arthur, Camelot, and the knights of the round table may go back as far as the 12th century (via The British Library), but they continue to hold our fascination today. There have been countless movie and television adaptations featuring tales and characters from Arthurian legend over the decades, and it doesn't appear to be going out of style anytime soon. In 2021, writer, director, and producer David Lowery continued the tradition with the dark fantasy, "The Green Knight."
Gawain (Dev Patel) is nephew to the king (Sean Harris) and a layabout, who would rather spend his time at the local brothel than commit any acts of chivalry. While everyone celebrates Christmas in the king's great hall, a mysterious stranger with an ethereal tree-like appearance interrupts the festivities to offer a challenge. Anyone who wishes to strike a blow against the Green Knight will meet with him in one year to have that blow returned. Feeling pressure to prove himself to the king and queen, Gawain steps up to meet the challenge.
Gawain's acceptance of the macabre game becomes an epic journey — one that teaches him about honesty and honor, as well as awakening him to the heavy responsibilities that he must carry. Fans of "Three Thousand Year of Longing" will appreciate "The Green Knight" for the fantasy adventure aspect of the film, and for its more serious themes of self-discovery and accountability.
Big Fish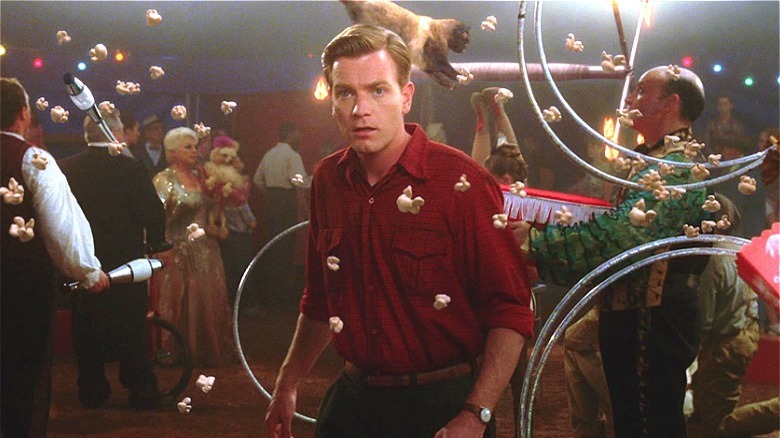 Sony Pictures Releasing
While some fans of goth-loving director Tim Burton may associate him with darker films like "Edward Scissorhands" and "Sweeney Todd," he also made the whimsical fantasy drama "Big Fish." In many ways, this adaptation of Daniel Wallace's novel of the same name marked a departure for the director, which some saw as Burton's best work to date. Directed by Burton with a screenplay by John August, the film is a charming tale of a man's life story — or, at least, how he views his life to be.
Like "Three Thousand Years of Longing," "Big Fish" is a series of stories within a story. When an elderly Edward Bloom (Albert Finney) is diagnosed with cancer, his adult son Will (Billy Crudup) decides to pay him a visit to say farewell. Edward is notorious for telling elaborate tall tales that he claims are true, but Will has never believed a word of it. 
During their visit, Edward goes on to relate a series of adventures involving giants, werewolves, and witches. We see them acted out through flashbacks, with Ewan McGregor portraying young Edward Bloom.
Although we know that Edward's stories are exaggerations, it's hard not to be taken in by his charm and creativity. "Big Fish" has a little something for everyone: romance, comedy, fantasy, and a celebration of the human spirit.
Meet Joe Black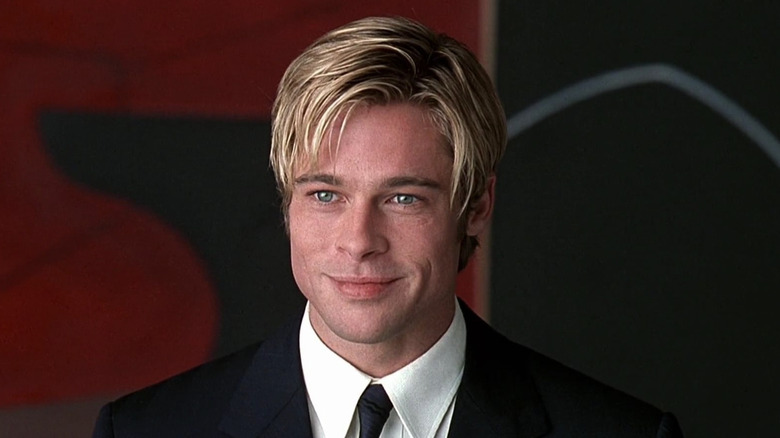 Universal Pictures
Combining fantasy, romance, and drama, the 1998 movie "Meet Joe Black" is an oft-forgotten gem of a film. Directed by Martin Brest and featuring a hauntingly beautiful score by composer Thomas Newman, "Meet Joe Black" is a story about living life to the fullest and remembering what matters most. 
Bill Parish (Sir Anthony Hopkins) is a wealthy media mogul, who is about to celebrate his 65th birthday. At his family birthday dinner, he is visited by a mysterious figure (Brad Pitt), who reveals himself to be the grim reaper in the flesh. The ominous visitor adopts the name of Joe Black and is invited by Parish to experience what it's like to live as a human.
In exchange, Black will put off Parish's inevitable exit from this world. Black's appearance causes a stir among Parish's family and business partners, and things get even more complicated when Parish's daughter, Susan (Claire Forlani), begins to fall in love with Black.
"Meet Joe Black" is a heart-warming drama with a compelling romance at its center. Like "Three Thousand Years of Longing," it explores the relationship between an immortal being and a human, and the consequences that come from such a match. If you loved "Three Thousand Years of Longing" but haven't yet seen "Meet Joe Black," make sure to be on the lookout for this charming fantasy drama.
Everything Everywhere All at Once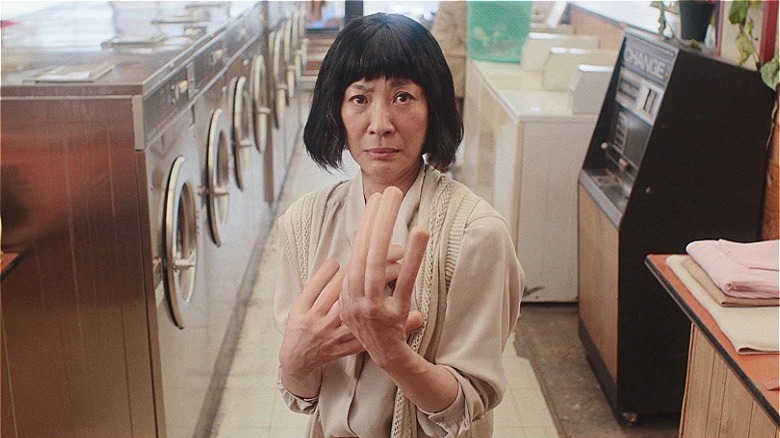 A24
For fans of surrealist sci-fi and fantasy, "Everything Everywhere All at Once" is as surreal as it gets. Directed and written by the Daniels (Daniel Kwan and Daniel Scheinert), this film is a wild ride unlike anything you've experienced before. If you were blown away by the impressive art direction and special effects in "Three Thousand Years of Longing," get ready to have your mind exploded into a million pieces when you see this awe-inspiring spectacle.
The illustrious Michelle Yeoh plays Evelyn Quan Wang, a wife and mother who moved from China at a young age to America, where she owns and runs a laundromat with her husband, Waymond (Ke Huy Kwan). Evelyn has become discontented with her tedious life, as she struggles to keep the business afloat and reconnect with her college-age daughter, Joy (Stephane Hsu).
Things take a decidedly unexpected turn when Evelyn is visited by a version of Waymond from another dimension, who warns her of an evil presence that is bent on destroying the multiverse. He also informs Evelyn that she has the ability to travel between universes and experience life as her other selves. 
What follows is a bizarre series of events rife with thrilling action, absurdist humor, and heartfelt drama that will have you reaching for the tissues. "Everything Everywhere All at Once" is a weird and wonderful movie in the best way and should be considered required viewing for everyone.