Black Panther: Wakanda Forever's Mabel Cadena Praises Ryan Coogler's Amazing Energy On Set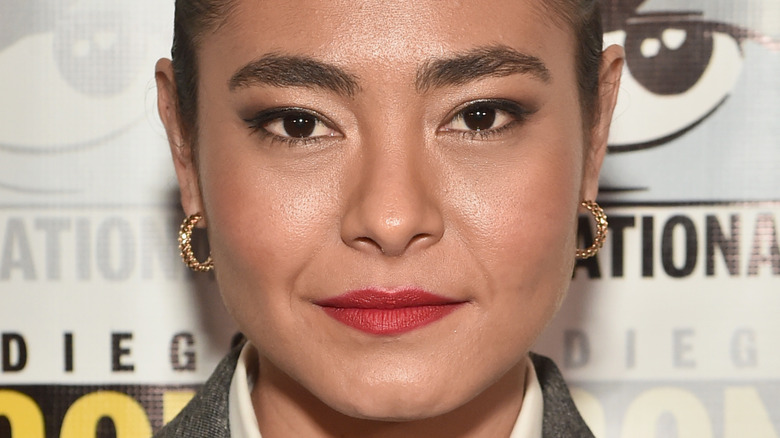 Alberto E. Rodriguez/Getty Images
It's probably difficult to imagine what the energy on the set of "Black Panther: Wakanda Forever" must have been like for its cast and crew. It's arguable that the pain felt by fans from the unexpected death of Chadwick Boseman has yet to fully heal. How does the world heal from the passing of someone who gave so much, someone who inspired and gave a whole generation a hero to aspire to look up to?
For the team behind "Wakanda Forever," many of whom personally knew and had the joy of working with Boseman on the first "Black Panther," the pain must have been especially hard. The monumental task of crafting "Wakanda Forever" more than likely took a gargantuan effort from everyone involved, most prominently for the film's director and co-writer Ryan Coogler.
Coogler, whose first "Black Panther" made history as the highest-grossing film from a Black director (via The New York Times), was put in a tricky place with the sequel. Not only did he have the daunting task of making a grand-scale follow-up that would have to be bigger and better than its predecessor, but he had to do it all without his titular hero. Keeping up morale and energy during such a heavy production could not have been an easy task for anyone. But thankfully, not only was Coogler able to deliver another spectacular superhero epic, but his cast and crew were kept in high spirits and motivated throughout the production.
Ryan Coogler went above and beyond to make his cast feel comfortable
The making of "Black Panther: Wakanda Forever" was full of logistical and emotional challenges for its team to get through, but it seems that they couldn't have asked for a better leader to take on these hurdles than Ryan Coogler. The director and co-writer managed to pull together everything for the sweeping story of love and grief, and he made a profound impact on all involved. For actress Mabel Cadena, who plays Namora in the film, this was especially important as "Wakanda Forever" would be her first American film role.
"He had an amazing energy because he whispers all the time," Madena explains in an interview with Collider. " ... he tried all the time to speak our language, he tried to learn Spanish ... he tried to learn some Mayan words and it's amazing because you can find a lot of complicity with your director."
Similarly, Alex Livinalli, who plays Attuma, shared his experience with Coogler, who directed the actor using basketball terminology, given Livinalli is a fan of the sport. "For me, it was such an amazing experience because he brings humanity out of each character," the actor explains to Collider. "And it was such a unique experience because he finds a way to communicate with you in your own language." Thankfully, despite the immense difficulties that Chadwick Boseman's death brought the team, Ryan Coogler's guiding hand ensured Boseman's heart and spirit remained intact.