Where You've Seen The Cast Of Bodies Bodies Bodies Before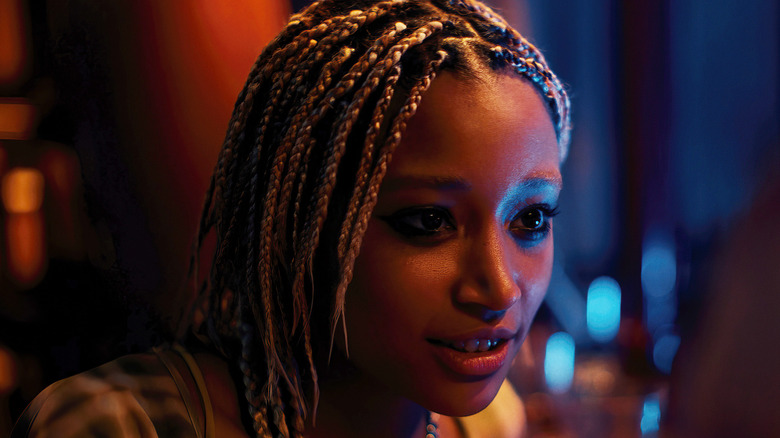 A24
A24 has become a household name in independent film distribution, responsible for some of the biggest horror movies in recent memory. Their catalog includes intense psychological thrillers like "The Witch" and "The Lighthouse," as well as straight-up nightmare fuel such as "Hereditary" and "Midsommar." Yet, A24 isn't without a sense of humor, and that's why the release of 2022's "Bodies Bodies Bodies" secured its place as another staple of the A24 collection.
"Bodies Bodies Bodies" is a horror comedy directed by Dutch filmmaker Halina Reijn in her English-language film debut, and is rooted heavily in the tradition of other staples of the genre such as "Heathers," "Tucker and Dale Vs. Evil," and the "Evil Dead" franchise. The story of "Bodies Bodies Bodies" revolves around a group of rich kids in their early 20s who gather together for a "hurricane party." Things quickly start going off the rails after one of the party-goers ends up dead with his throat slashed open, leaving the rest to point fingers at one another.
While not a blockbuster by any means, "Bodies Bodies Bodies" has proven to be a hit with critics and audiences alike since gaining initial buzz at South by Southwest, praised for its Gen-Z sensibilities and energetic performances. Read on to find out where you've seen the cast of "Bodies Bodies Bodies" before.
Maria Bakalova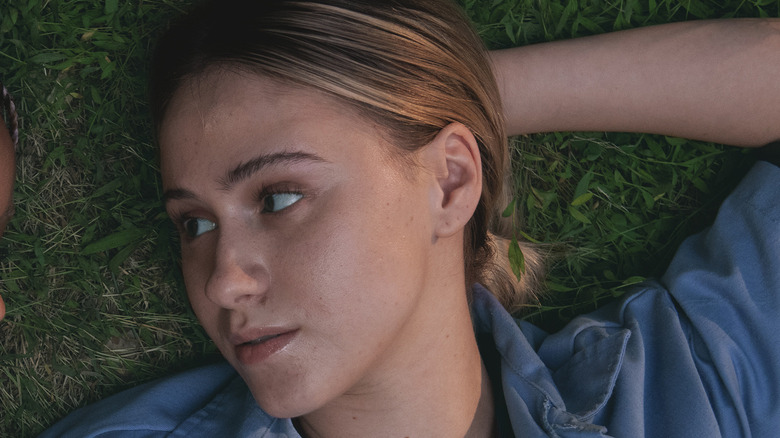 A24
Taking the lead in "Bodies Bodies Bodies" is Maria Bakalova as Bee, an Eastern European girl who tags along to the hurricane party festivities with her rich girlfriend. Unlike the rest of the characters stuck in the mansion, Bee is more down-to-earth, thanks to her working-class background. She quickly becomes the voice of reason in the chaos. Bee is the one who discovers the first bodies in "Bodies Bodies Bodies," setting the film's plot in motion as a result.
Bee is portrayed by up-and-coming actress Maria Bakalova, who made waves back in 2020's "Borat Subsequent Moviefilm" as Borat's daughter, Tutar. That performance earned her numerous accolades at the time, including an Academy Award nomination, a Golden Globe nomination, and a Critics Choice Award for Best Supporting Actress. Bakalova has proved to be an utterly fearless performer who pushed boundaries during the filming of "Borat,' including one infamous moment where she interviewed former mayor of New York City Rudy Giuliani. She has also been prominently featured in other noteworthy projects such as "The Father," "Last Call," and Judd Apatow's "The Bubble." Look out for Bakalova in future appearances, since she's slated to have a role in "Guardians of the Galaxy Vol. 3" as the voice of Cosmo the Spacedog.
Amandla Stenberg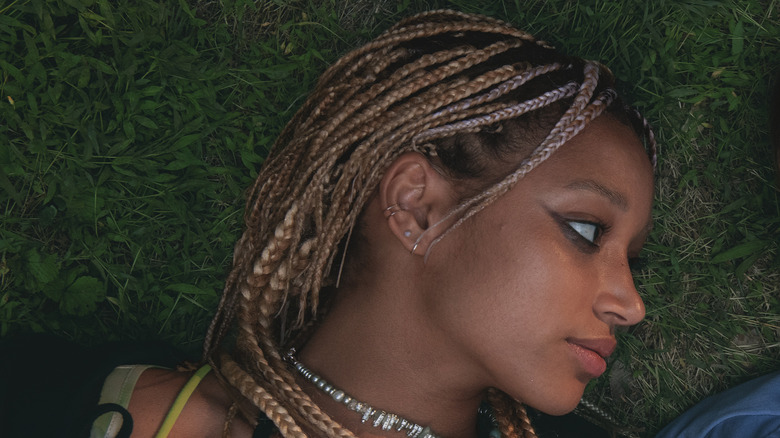 A24
Starring alongside Maria Bakalova is Amandla Stenberg as Sophie, Bee's wealthy girlfriend who encourages her to come along to the hurricane party in the first place. Sophie shares a personal connection with the mansion's owner, David, as they were friends as young kids. While Bee and Sophie seem to have an ideal relationship, the tension of a life-threatening situation causes serious strain between the two as "Bodies Bodies Bodies" goes on. We don't want to spoil anything, but part of the fun of this movie is wondering which characters are lying and which are being truthful as their paranoia destroys their minds.
Sophie is played by the incredible Amandla Stenberg, who has made a name for herself in the past few years with several performances in both film and television. Stenberg began her career early as a child model and actress, with her first feature appearance in 2011's "Colombiana" as Zoe Saldana's daughter. From there, she has continued building her filmography with starring roles in major franchises, including Rue in "The Hunger Games." Additionally, she has also had roles in projects such as "The Hate U Give," "Everything, Everything," and "Dear Evan Hansen." Stenberg is also notable for her activism on behalf of the LGBTQ+ community.
Pete Davidson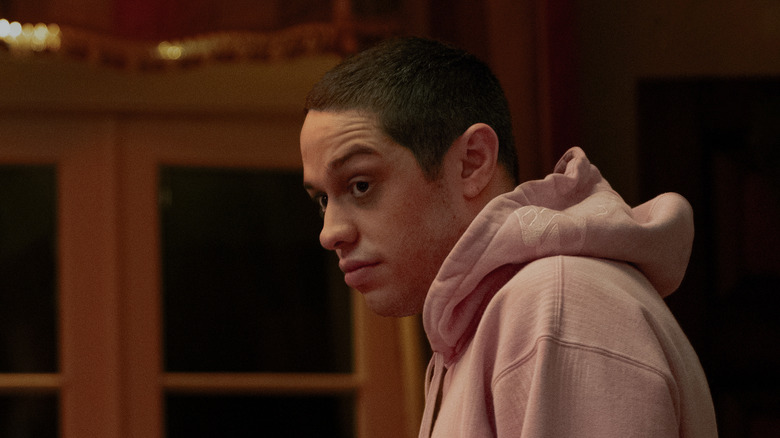 A24
Pete Davidson has become a household name in recent years for both his onscreen and offscreen antics, and his small part within the cast of "Bodies Bodies Bodies" is appropriately essential to the story. Davidson plays the part of David, the rich and not-so-bright host of the hurricane party which brings all the characters together. His mysterious death throws his friends into a chaotic tailspin of paranoia, while the unexpected explanation for his death ends the film on a hilariously bizarre note.
Appearing in yet another minor comedic role in this movie, similar to his role in "The Suicide Squad," it seems like Pete Davidson was born to be killed off for comedic effect early on in movies. Davidson got his start in the entertainment industry by doing standup, appearing in brief supporting roles before his career-making moment of being added to the cast of "Saturday Night Live" in 2014. Since then, he has become more known for his personal life than his professional career, after having had several high-profile relationships with celebrities such as Ariana Grande, Kate Beckinsale, and Kim Kardashian. He has also been featured in films like "Trainwreck," "The King of Staten Island," and "Marmaduke" where his comedic talents were on display.
Rachel Sennott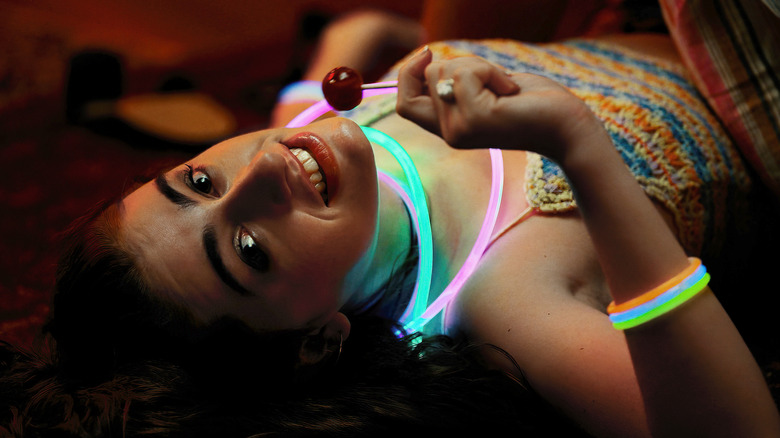 A24
One of the breakout stars of "Bodies Bodies Bodies" is actress and comedian Rachel Sennott, who plays the role of a ditzy podcaster named Alice. As a fun night of drug-induced partying devolves into murder, Alice is caught in the middle as her older boyfriend is one of the first guests to be implicated in David's death.
Rachel Sennott is quickly becoming a rising star, thanks to her strong starring role in "Bodies Bodies Bodies," which has received particular praise from critics. In her review for RogerEbert.com, Tomris Laffly notes how impressive Sennott's performance is. She writes that the character of Alice is "played by an intensely bold, charismatic and present Rachel Sennott, the easy standout of the cast as a hilariously oblivious podcaster who can afford to talk a little less." She got her start in the New York City comedy scene, and prior to "Bodies Bodies Bodies," her biggest role was starring as Danielle in the 2020 comedy "Shiva Baby." There, she starred as an aimless college student who unexpectedly runs into her sugar daddy at a family funeral. This project marked the first of her mainstream collaborations with director Emma Seligman: The two are slated to work together again on the upcoming sex comedy film "Bottoms."
Myha'la Herrold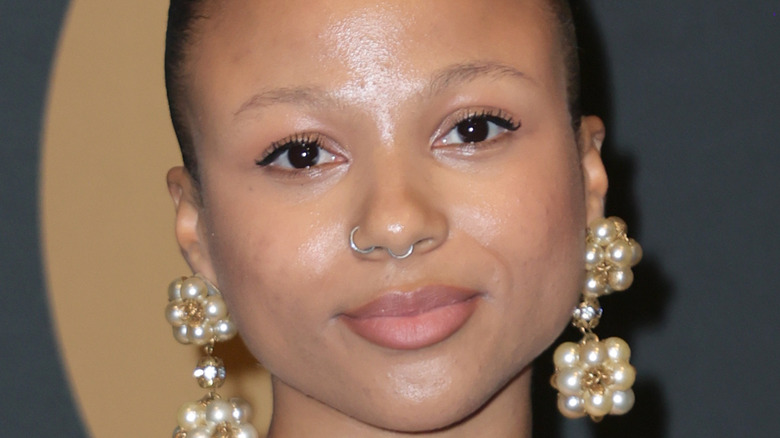 Michael Loccisano/Getty Images
Yet another impressive performance in the cast of "Bodies Bodies Bodies" is that of Myha'la Herrold as Jordan, a mysterious party guest. She doesn't come as anyone's plus-one or date but instead is all on her own. Jordan is one of the main characters to point fingers at Bee throughout the night, sowing distrust and suspicion after deaths keep piling up. She is also at the center of accusations of infidelity between herself and Bee's girlfriend, Sophie, which only adds to the mayhem.
As Jordan, Myha'la Herrold plays an important supplementary character within this small ensemble cast. She is still relatively new to the acting scene, having only started her career in 2018 with a role in "Rehabilitation of the Hill," but has since continued to make appearances in other projects as well. Herrold is also known for her work in "Modern Love," "Industry," and "Plan B." She has a leading role in the HBO original series, "Industry," as a smart young investment banker who is assigned to the Cross Product Sales desk. Additionally, Herrold gained theater credentials during her time touring with "The Book of Mormon" in the role of Nabulungi.
Chase Sui Wonders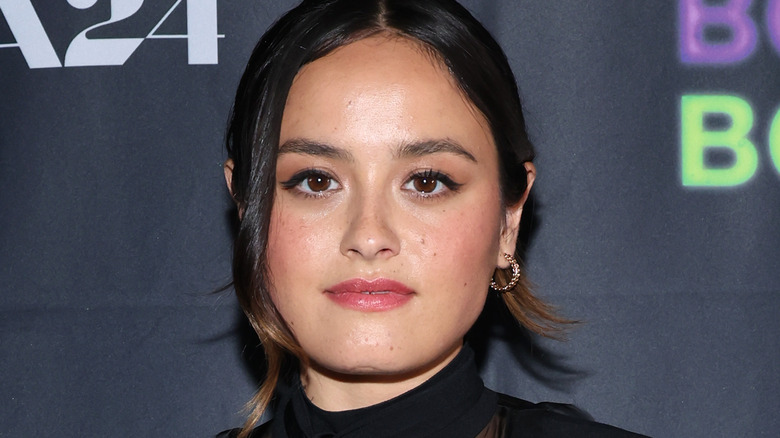 Cindy Ord/Getty Images
Chase Sui Wonders stars in "Bodies Bodies Bodies" as Emma, an actress who begins the story as David's girlfriend but grows into a much more complex character after his unexplained death. The two get into a dramatic fight early on in the film which causes David to go out into the storm, where he is later found dead. Many more complications develop around Emma as she is involved in secret confessions of love, drugs, and backstabbing seductions until she meets her own climactic fate.
As a creator, Chase Sui Wonders has been working in the entertainment industry since 2009 as an actress, writer, director, and model. She got her start at Harvard University, where she graduated magna cum laude in film studies while also writing for the Harvard Lampoon humor magazine (following in the footsteps of writers like Conan O'Brien and Colin Jost). From there, Wonders went on to be featured in projects like "Daniel Isn't Real" and "On the Rocks," before joining the cast of "Bodies Bodies Bodies." She was also a prominent member of the one-season HBO series "Generation," where she played the role of Riley.
Lee Pace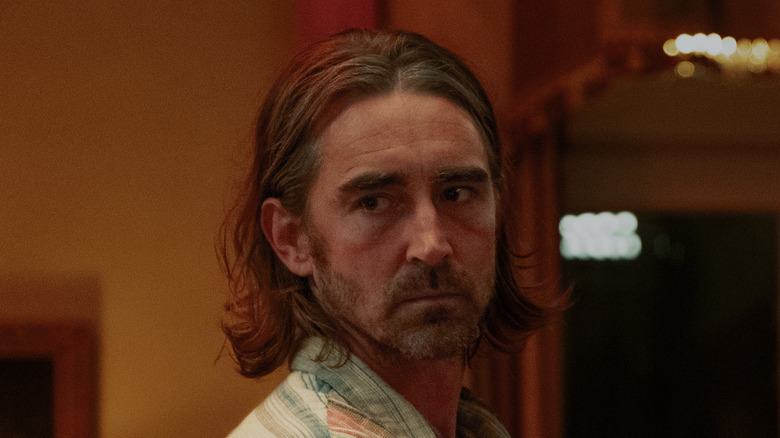 A24
One of the biggest movie stars to appear in "Bodies Bodies Bodies" is Lee Pace, who plays the role of Alice's much older boyfriend named Greg. Playing the character as a bit of a dumb jock (or "himbo," as they say), Pace brings some humor to the role despite not being in the movie for very long. Greg is one of the first people confronted for David's murder and, as a result, gets into an extreme confrontation with the other party-goers.
Lee Pace is definitely someone you've seen on the big screen before, even if you didn't realize it at the time. He is a longtime professional actor and Julliard graduate who has appeared in major film franchises over the past two decades, such as "The Hobbit " trilogy as Thranduil and the first "Guardians of the Galaxy," where he played the villainous alien called Ronan the Accuser. Pace has also been featured in projects such as the AMC series "Halt and Catch Fire," ABC's "Pushing Daisies," Steven Spielberg's "Lincoln," Marvel's "Captain Marvel," and the recent Apple+ series "Foundation" (based on the works of Isaac Asimov). He has established himself on Broadway as well, having appeared in stage productions of Tony Kushner's "Angels in America" and Larry Kramer's "The Normal Heart."
Conner O'Malley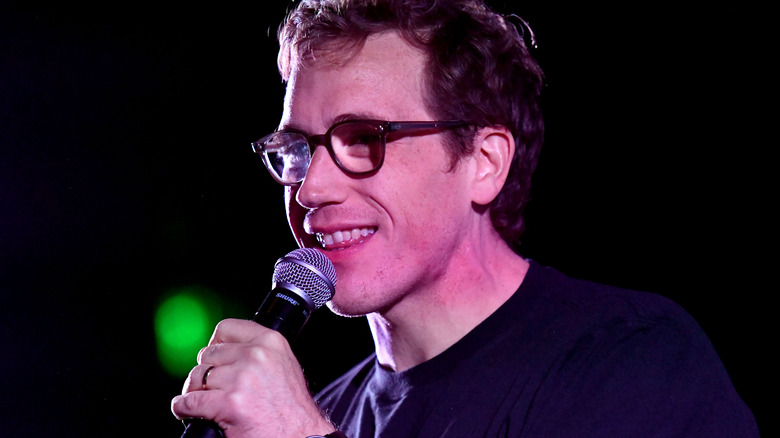 Scott Dudelson/Getty Images
Comedian Conner O'Malley plays a smaller role in "Bodies Bodies Bodies" as Max, but packs a powerful punch. Max is mentioned early in the story as a friend who leaves David's party after the two get in a fight, and is theorized to be the killer as a result. After revelations involving him confessing his love for Emma come to light, he eventually returns in person to the mansion at the very end of the film in a genuinely funny moment.
Getting his start doing improv at the Annoyance Theater in Chicago, O'Malley has developed a comedic style all his own. He garnered attention after moving to New York with his future wife, Aidy Bryant, where he began making popular Vines. These days, he is best known for his work on Adult Swim's "Joe Pera Talks with You," where he serves as a writer and occasional on-screen presence as Joe's neighbor Mike. O'Malley may be familiar to fans of "Late Night with Seth Meyers," where he played different recurring characters on the show. He has also been featured in "Broad City," "I Think You Should Leave with Tim Robinson," and "Palm Springs."