Why Queen Ramonda's Wakanda Forever Death Is Final (& Won't Be Reversed)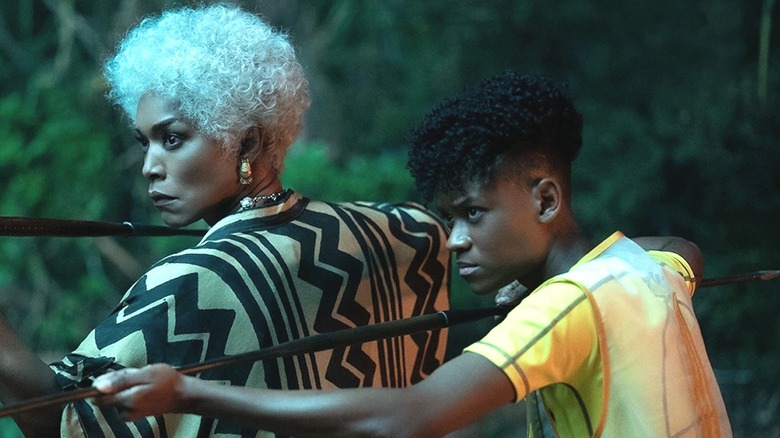 Marvel Studios/Disney+
Contains spoilers for "Black Panther: Wakanda Forever"
When two tribes go to war, casualties are, to quote a late and not-so-great Titan, inevitable. Such is the case, thanks to stupidly cool Kukulcan, aka Namor (Tenoch Huerta), who walks up to the shores of Wakanda and begins to cause absolute chaos as all good supervillains should. Unfortunately, as with notable big bads, taking down significant players from the home team is always on the cards, including members of the Wakandan royal family.
If there wasn't enough already tipping Shuri (Letitia Wright) over the edge, cutting another branch on her family tree would undoubtedly do it, and that's precisely the case with "Black Panther: Wakanda Forever." It's the final straw that sends her into a spiral and returning from the Ancestral Plane with vengeance on her mind. That being said, though, this is the MCU, where its most beloved chapter blipped half of its titular universe back into existence, so could the same happen here? Heck no! Sorry folks, but those that have passed (even those that steal the show for most of the film) are in the past. Heartbreaking as it may be, the departure adds an interesting layer to Shuri's future and everything that's to come in the world of Marvel and the new Black Panther specifically.
Queen Ramonda's passing is crucial to Shuri's journey in Wakanda Forever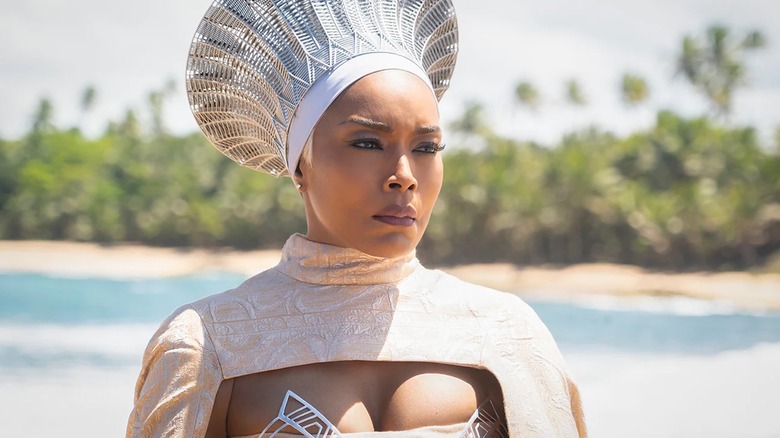 Marvel Studios/Disney
She may dominate almost every scene of "Wakanda Forever" that she appears in, but sadly the reign of Queen Ramonda ends in the "Black Panther" sequel, and the MCU is all the lesser for it. Rushing to save Riri Williams (Dominique Thorne) from Namor's attack, the former queen of Wakanda sadly doesn't survive her act of bravery, which has a considerable impact on an already rattled group of characters, including the next in line to the throne. It's this fresh tragedy that pushes Shuri into a place she struggles to come back from, and even when she does, the results are ever-changing.
With another family member gone, Shuri finds herself on a path of vengeance that she only just manages to pull herself back from (even though there still might be lingering effects). Like Odin to Thor or Aunt May to Peter Parker, this is a mentor and parent whose passing can't and shouldn't be undone. To do so would undermine the heartbreak and development of those it impacted. "Only the most broken people can be great leaders," Namor (Tenoch Huerta) explains to Shuri before he strikes at the opposing nation, and as proven by the end of the film, Shuri certainly is a testament to that. That being said, just because Queen Ramonda is no longer present in the land of the living doesn't mean she's gone forever.
Queen Ramonda could return in a Black Panther sequel
The record shows, so far, that trips to the Ancestral Plane for the appointed Black Panther haven't always ended well. T'Challa (Chadwick Boseman) defied his ancestors in the first film before Killmonger (Michael B. Jordan) had a bittersweet encounter with his father. Then he appeared to Shuri in a shocking surprise for the new movie pushing Shuri into a vengeful mindset. Thankfully, wise words from her mother during her battle with Namor helped the new Black Panther overcome her opponent. While it was a fleeting moment, there's no reason why there can't be more in the future for Shuri and her mother in the afterlife.
It would be nice to break the chain of a Black Panther having a disheartening visit to the afterlife, and what better way to be greeted by Shuri's mother the next time around? The new protector of Wakanda may not be without allies, but she is one of the last in the Panther tribe bloodline, so seeing who she describes as "the last person that truly knew me" would be a moment of reassurance in the future. Who knows. The Black Panther will return — can't her Mom visit her too?